You know after you had breakfast and about an hour later your tummy starts grumbling and by the second hour screams, "Get in my tummy!" It's because we always forget a very important rule – to snack! As being a mom, I carry snacks for the kids all the time. I know they are always hungry but as an adult, I didn't start to snack until I had kids! I would push through the normal office load and then eat a big lunch. (Personally the Indian buffet was always my favorite and I could chow that down!) Those were the days!
Now in my new life, the mom life, I have to think ahead and Plan! Plan! Plan! I can't explain that enough. I am a firm believer in structure. (Not everything but most things.) Thinking ahead, organizing, being ready is what will help us be better prepared for events. Breakfast, snacks, lunch and dinners for the week are all thought of and wrote down on Sunday's. By taking this extra step, I know what I'm making without any questions and that all the ingredients are there. (I go shopping on Sunday's as well.)
Then I take it one step further…that's right….
I cut the vegetables for snacking during the week down to size. Meaning, wash, trim and cut then bag again. When Monday comes around and it's snack time, the chances I made it the night before or that morning are pretty good. I make the hummus, for example, (easy peasy right?) then I save the extra 5 minutes with already prepared veggies! Just reach in the bag and go. I feel like I just did something great and saved time.
Another tip I do is prep where I can. If I know I'm making a soup the next day and have some down time, I cut up all my vegetables and put them back into my glass containers. When I'm ready to make my soup, I dump and go. Again, it's what works for you. I like spending a whole day with preping myself and my food so the week is as easy as I can make it be.
Tips to Save Time:
Prep what you can when you can
Make a list in the beginning of the week not to run around wondering what is in the kitchen
Work according to schedule. If you know ahead of time that you are working late and need an easy meal, plan for one!
Have a back up something. Let's say, I burn something or the kids have my attention and I can't really cook, I have something frozen, quick and easy that I can throw in the oven for an emergency!
If cooking for the evening doesn't appeal to you, cool – have lots of vegetables for a quick salad on hand!
Back to snacking – make sure to have something and eat it so your tummy doesn't eat you!
My daughter and I love hummus. It's healthy and a very easy and appealing snack. Anything in dip form, kids usually love. Especially when you play airplane with them 🙂
Ingredients:
Two cans (15.5 oz) garbanzo beans: drained and rinsed
2 cloves of garlic: minced
1/2 cup water
1/4 cup Tahini
2 Tbs olive oil
salt
pepper
Benefits:
Tahini: Is a paste made from ground sesame seeds. There are many vitamins in tahini  B1, B2, B3, B5 and B15. These vitamins help promote healthy cells and also enhance immune system!
Garbanzo Beans: Have amazing fiber! 2 cups is enough for the Daily Fiber intake. It is also said that they help the digestive tract function.
Recipe:
Step 1: Combine all ingredients but olive oil in a food processor and blend for 20-30 seconds.
Step 2: Keep the machine running and slowly pour in olive oil.
Step 3: Scoop and Serve!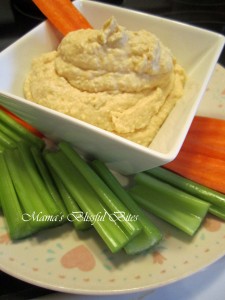 Hummus is fabulous because you can add so many different spices and vegetbles to it! One of my favorites is a nice roasted red pepper hummus! mmmmm, I'm thinking I need to get back in the kitchen!
Enjoy!