This is my 5am creation. Did you ever have one of those nights that you can't sleep…and are thinking of food? Perhaps I didn't eat enough before bed or I'm just seriously obsessed with food. Either way, you have the most tastiest, sweet and naughty granola before you.
Naughty did you say? Oh yes, filled with semi-chocolate chips. Sweet? Those dried cherries and raisins both hit the spot. Or perhaps its the peanut butter and all its sugar glory tied tightly with honey. Can we say sugar? Sugar? Sugar? This went from breakfast to dessert quickly.
Ingredients:
1/4 cup dried cherries
1/4 cup raisins
1 cup rolled oats
1/4 cup pecans: chopped
1 tbs flax seeds
2 Tbs semi-chocolate chips
1/4 teaspoon cinnamon
1/4 cup peanut butter
1/4 cup honey (I used orange blossom)
1/2 teaspoon vanilla extract
I am the first one to admit this – with all the healthy ingredients in this dish, I can't call this healthy. The peanut butter and honey have so much sugar that it would eliminate the word "healthy" in my book. Try changing it up by adding agave and a nut butter instead. If you want a great dessert granola – it's here, you have found it. Sometimes, it's okay to be a little naughty…seriously, I still think you're sweet.
Step 1: Mix oats, cherries, raisins, pecans, flax seed, chocolate and cinnamon in a bowl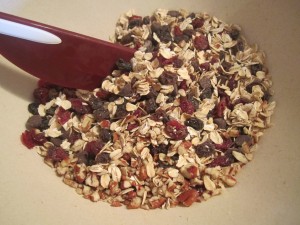 Step 2: Stir peanut butter, honey and vanilla over low heat in a saucepan until smooth and thinned out. (About 5 minutes). Keep an eye on it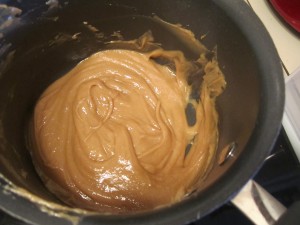 Step 3: Add peanut butter/honey mixture to the oat mixture and stir to combine.
Step 4: Grease a 9×9 baking dish. Pour mixture into dish, cover with plastic and refrigerate for 30-45 minutes.
Step 5: Break apart pieces and place in an air-tight container. Munch away!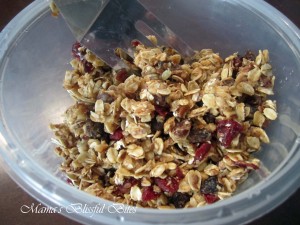 It turns out to be these peanut butter clusters if you will. You can pick up "balls" of cherries, raisins and chocolate in clumps of peanut butter. Do I really need to say more? Amazing delicious dessert.
On a personal note: I would add pretzels to the mix. I like it to be sweet and salty.
Enjoy!