I took the bull by the balls and went full force shall we say and am riding my weight loss challenge to the finish! Wow! I have no clue where that came from! After my last post for Vegetarian Stir Fry Resolution, I jumped on becoming healthier for me. I face two obstacles: 1. Eating enough 2. Exercising. Eating enough comes from not taking time for myself. I am preparing meals for the kids and while they are eating, I am doing laundry or dishes or whatever chore I think I can do within that time frame. I am not hungry in the morning, so I have been making a hemp protein drink which seems to get me through until snack time. I pretty much skip out on food all day until the evening when its dinner time. This is my time to sit down with the family and actually share a meal. Finding a balance between chores, play time and preparing dinners can be challenging. But something I am working on.
Exercising – not my thing, well, at first. I have come to realize that every time I was having a stressful breaking moment, I ran. Not figuratively but literally! I went outside and ran as fast and as hard as I could. Then about a minute later (just kidding) I would feel relieved. The tension left my body, the problem seemed a little bit more minute. I could handle it. Although I have never been a "runner' I have to tell you, I did something crazy. This year, I decided to sign up for my first 5k. Wait, it doesn't stop there – I again, am not a runner. I love a good challenge. I absolutely do, so this one is going to be a fantastic one for me. I have eight weeks to get my jog on but I know if I work hard enough I can do it. It's not about running the fastest (geez, I hope I can cross the finish line!) but it's about getting me back and a healthier me at that. I never understood the whole "running thing," but since I have been jogging a few nights, I can find lots of benefits. I not only got up at 4am for my first jog, I ended up doing another 20 minute jog this evening. Why? Honestly, the trash was still left on the street and I was following the garbage men, this did not make me happy. Nothing like rolling out of bed, heading out for the first jog in the biter cold and feeling sick to my stomach the whole time. So I ran a whopping .1 miles. That's right baby. I gave up quickly. Tonight I jogged/walked 1.5 miles in 20 minutes. It's by far great but it's my start. Something about having my alone time, my iPod, my voice makes the run special. I am officially doing something for me.
In lieu of my first jog, I made a special "treat." This is one of my favorite energy ball recipes. If you love coconut and almonds, you will love this too. You see, I am a major sugar-a-h0lic to say the least. I crave sweets the majority of the time. I am learning how to replace my Mountain Dew bottles, coffee with two tablespoons of sugar (organic, lol), and chocolate cravings. By adding more root vegetables (believe it or not) they help reduce cravings such as carrots and also altering a few other favorites . For example my favorite drink to juice is grapes and spinach which is perfect for a Mountain Dew replacement. It's sweet and I actually prefer the flavor over the soda! I also like to switch out dates for chocolate. Once in a while, I get into a must-have-not-wait chocolate moment but if I have dates, I will choose them first.
Besides this delicious sweetness, they have a bit of a crunch and a finish of coconut which makes them all the more better. I could snack on these all day long and sometimes we do. If I'm craving a sweet treat or prior to a workout, I eat about two or three. I have a big appetite and they are quite filling.
Dates: Are low in calories and great energy boosters. Contain natural sugars such as glucose, sucrose and fructose, thus called an energy ball 🙂 They have a high content of iron which helps in preventing anemia and also help improve the digestive system by containing insoluble and soluble fibers
Almonds: Are helpful in lowering bad cholesterol, provides healthy fats and helps in weight loss and help alkaline the body. This is important to help prevent low energy and weight gain.
Flax seeds: Great source of fiber and natural laxative. They can also help in lower cholesterol. It's also high in Omega 3 fatty acids and help fight inflammation.
Ingredients:
12 pitted dates
1/2 cup sliced almonds
1/2 Tablespoon flax seeds (optional)
1/2 cup shredded coconut
1 teaspoon vanilla extract
1/4 cup water or less
Step 1: Put all ingredients but water in a blender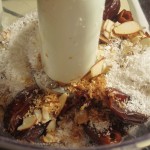 Step 2: Blend until incorporated for 20-30 seconds
Step 3: Add water, while running, until moist.
Step 4: Form into balls and roll into extra coconut (optional)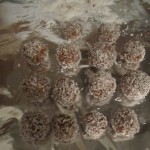 Step 5: Store in an air-tight container and store in fridge.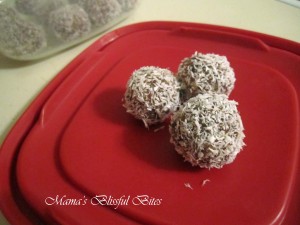 These will go fast. They are goooooood. Even my husband who tells me all the time, he dislikes coconut, loves these. My kids adore them!
Enjoy a healthy snack!
Mama