Most of us do it, we are fully committed with resolutions of becoming a better person for the new year ahead of us. Charged with enthusiasm, we make resolutions like paying the bills, becoming organized and my favorite, losing weight. As the count down to the New Year begun and our 2012 year disappeared, I was left without resolutions. This is quite unlike me. I love writing lists, it's one of my favorite things to do yet my list was bare. Not even a number one was in place. I watched as my friends Facebook statuses lit up with goals. Losing weight topped the charts. I finally caved in and committed to the adventure…on a public status. By saying it out loud , I am committed. I'm now forcing myself.
It is now January 5th and I have eaten horrific and by the way, loved every moment. Maybe the new year came upon me too fast (as if I didn't see the 365 days ahead of me!) or perhaps I really wanted to indulge in that chicken sandwich, stuffed-crust pizza or my favorite chocolate, just one more time. Whatever the reason, I achieved. I posted to my friends my goal and then ate like a wild women with no control. The truth is, my year started off rocky. It didn't fall into place with a clear slate. I have related to eating unhealthy to not taking care of myself. I was punishing me again. Things were out of my control and what I can control is the run through the drive-thru fast food joint and yes, it fulfilled me for that moment. As I drank my big Mountain Dew bottle before me, I had a second one lined up. I finally stopped and observed my actions. What was I doing to myself? I still drank it anyways. Perhaps for the torture that followed. I drank it knowingly I didn't want to.
So here we are, Day 5. My friends have posted their great adventures of running and working out and even wonderful healthy dishes. Yesterday, I ordered a pizza because I didn't "feel" like cooking. As I finally got a moment of peace to myself and was able to put together my past week, I made connections of where things were going wrong. No, I can't help the circumstances to all the situations that are presented before me. I have tried desperately but there has to be another way. What I can control is being healthy. I can control eating better so I can live longer for life and what it has lying ahead of me. I dedicated this year, the year for me. Learning to love myself again and treat myself physically and mentally better. This year, I am preparing lots of healthy dishes for you all and my family. I hope you join me on my journey and perhaps one day, we can live in a healthier world together.
Vegetarian Stir Fry
1 Tbs grape seed oil
2 cups brown rice: cooked
1 carrot: julienne (1 cup worth)
1 green pepper: julienne (1 cup worth)
1 tablespoon: minced fresh ginger
1 tablespoon: minced fresh garlic
1/2 tablespoon tamari (or soy sauce)
1/2 tablespoon rice vinegar
1/2 teaspoon brown sugar
Usually, I would list the steps now however I want to tell you why I chose what I did:
Wok: If you don't have a wok, I highly suggest on purchasing one. Prices vary from $20-$200 depeding upon material, weight, size and if it comes with a lid. If you love stir fry dishes or Asian dishes, I would put more money into a higher quality one. There are many benefits to woks. For starters, the shape of the wok is amazing. It holds a lot of food and all in its place! The walls are very high making it easier to maneuver the pan so you're food doesn't spill out. It also holds intense heat very well. You want to be sure to use wood utensils not to damage the pan. Rest assure you can boil, braise, deep fry, pan fry, roast, sear, steam and more!
Grape Seed Oil: I feel like grape seed oil is slowly making its way out of hiding and more consumers are purchasing it, however that's from my personal experience in speaking with people. Grape seed oil is derived from seeds of grapes. Research has shows that there are many health benefits to grape seed oil (it even comes in capsule, tablets, oil and powder) however I love using it because it has a higher point for heat.
Ginger: I feel I can not say enough good things about the ginger. It's has amazing properties that can help nausea, toot-tooting, nose congestion and is an anti-inflammatory (just incase those joints are bothering you!) Be sure to check out this delicious Ginger-Lemon Tea recipe. I drink it daily during the winter months prior to bed. This is actually my first recipe posted when I was battling with many issues to help me out of my slump. I never throw out a good remedy! (PS I actually have a cup by me now).
Brown Rice: I love the heartier flavor of this rice. You may know that brown rice is a whole grain, meaning both the germ and bran parts of the grain have been preserved. It has more fiber than white rice and that's a big bonus in my book.
Now off to the good part:
Step 1: Cook the brown rice according to package. I made two servings since I was planning on a two-person meal.
Step 2: Add oil in a wok over medium-high heat. Wait until it's nice and hot then add garlic and ginger. Toss for thirty seconds.
Step 3: Add carrots, pepper, tamari, rice vinegar and sugar. Stir consistently for 2-3 minutes.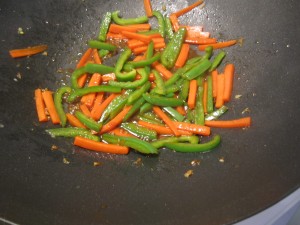 Step 4: Remove from heat and stir in rice. Serve.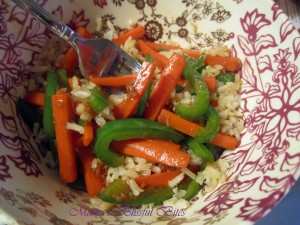 Stir fry dishes are great because they cook up in a snatch and are also versatile. You can use any pretty much any vegetables you have lying in your fridge at any point of time. Need a protein? Add some chicken, shrimp, beef you name it. Being healthy doesn't have to taste like cardboard. I know this is true. There are many hearty and delicious dishes out there that we will be exploring together. To a healthier me and you. Happy New Year.