New Years' Day is a time for new beginnings. Throw out the old and bring in the new. Shine light on the year we have to unfold before us. We get so lost and consumed by mid-year and lose focus on what we have set in the beginning for ourselves. Will it be an organizational year? Perhaps a time to commit to our health again? Whatever your goals or resolutions may be, bring them in with positivity and joy. Embrace the New Year or the New You.
I like starting off each year with a Southern tradition. The saying goes:
Eat poor that day, eat rich the rest of the year. Rice for riches and peas for peace!
I'm not superstitious but then again, I don't know what would happen if I didn't eat this dish…so I do it just because, in hopes…sure why not. Is there anything wrong with good fortune? Absolutely not! Plus, my husband said TWICE to me, how good this was. (He doesn't ever do that, so big compliments there!)
Ingredients:
3 Tbs butter
1 onion: diced
3 cloves garlic: minced
2 stalks celery: chopped
1 pepper: chopped (I used poblano. Use whatever is to your taste. Green peppers are great in here too!)
12 oz ham: diced (or whatever size comes in a small package at your store)
11 oz fresh black-eyed peas (or a can if fresh is unavailable): soaked in water for 6 hours
15.5 oz can of diced tomatoes
32 oz. chicken broth
1/2 teaspoon to 1 teaspoon red pepper flakes
salt and pepper
Step 1:
Over medium-medium low heat add butter in a saucepan until melted
Step 2:
Add onion, celery, pepper and garlic and saute for 5 minutes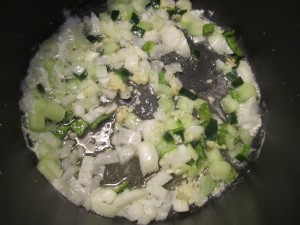 Step 3: Add ham and a touch of salt and pepper. Saute for another 3-5 minutes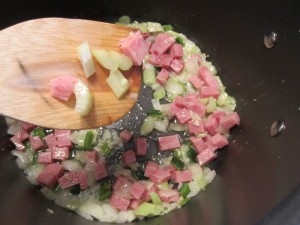 Step 4: Stir in beans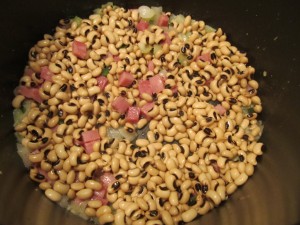 Step 5: Add broth, tomatoes and red pepper flakes. Bring to a boil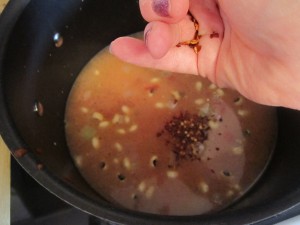 Step 6 : Cover and lower the heat to a simmer for thirty minutes.
Step 7: Uncover and cook for additional 15-20 minutes depending upon thickness. You want to make sure there's enough liquid left but not a soup!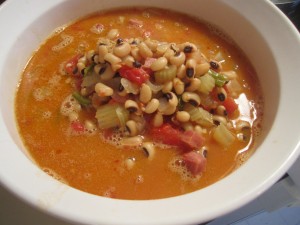 Step 8: Cook up some rice and serve with it! (I used Jasmine)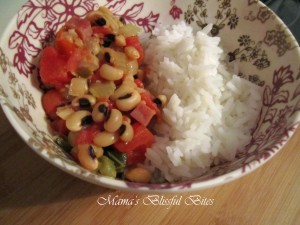 Remember to add the juice in over the rice and mix it well! It adds so much delicious flavor!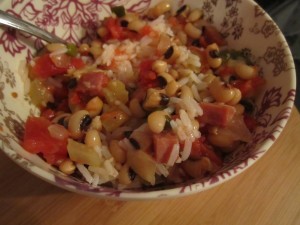 Just because its supposed to bring good fortunes for the New Year doesn't mean you can only have it once a year! Make it whenever you feel a little need for some positivity!
Happy New Year to you all!
xoxo