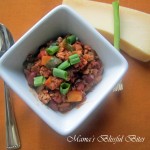 Chili is a winter staple in our house. It's comforting, filling and can be made many different ways. When I was a vegetarian for 7+ years, I always made a big bowl filled with many different types of beans, veggies and a thick sauce.  We had it at least once a week during the cold season, always. Plus, it's a staple for the big Super Bowl game!
Chili is amazing because there's so much debate on what defines chili. Some people think chili must have chilis, some people think it must have chili powder, some think chili can not be made with tomatoes while others love tomatoes in their bowl! Wowza! How confusing! So this is how we make chili in our house. Different almost every time – except for two recipes. This is one of them. It has my heart of sweet and creaminess. Second day is always better. It just is.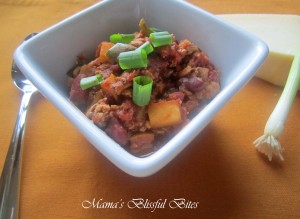 I use turkey but if you use ground beef for your chili dish, go for it! I know I switched it up at my Pampered Chef show last week and nobody noticed. But hey, don't take my word, try it for yourself!
Ingredients:
1 lb turkey
1 Tbs olive oil
1 onion: chopped
2 cloves garlic: minced
1 jalapeno pepper: chopped
1 poblano pepper: chopped
1 green pepper: chopped
2 organic Granny Smith apples: cubed (don't prep these too early…read the recipe first)
15.5 oz canned organic kidney beans: drained
14.5 oz canned diced organic tomatoes
15.5 oz organic salsa (any time, I use mild)
1 Tbs cocoa powder
1 Tbs Mexican-style chili powder
salt and pepper
green onion (optional for garnish)
Step 1: In a big saucepan brown and cook meat until done and place in a bowl. Set aside for later use.
Step 2: Wipe out same pan and add olive oil over medium-low heat. (I always start with a tablespoon of oil and then take a napkin and wipe out the excess. I just like to season the pan and not over season it! Plus it knocks down calories!)
Step 3: Add onion and cook stirring often for 3 minutes. Be careful not to burn them!
Step 4: Add all peppers and garlic. The jalapeno, poblano and green pepper. Your pan is going to look so green and beautiful!  Season with salt and pepper and stir every so often for about 7-8 minutes more.
Step 5: While you are watching the pepper soften, cut your apples. This way, they don't turn brown early. (wink. wink) When you're finished cutting (after 7-8 minutes of cooking peppers) add them to the pan. Stir again for another ten minutes until that crunch is gone.
Step 6: Add meat back into pan and stir for about thirty seconds to get it warmed up. Add diced tomatoes, salsa, cocoa powder and chili powder. Season with salt and pepper.
Step 7: Cover (half way!) and keep stirring every so often for 20 minutes. All the flavors combine and it tastes A-MAZ-ING!
Step 8: Plate up and serve with green onions and any cheese your heart so desires.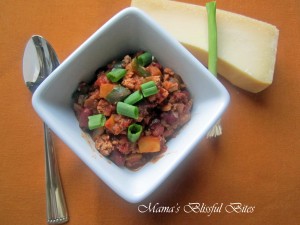 Now, this is where I brag. Well, not on the chili but the team. I am from Baltimore, Maryland so I am cheering on my Ravens!!!! I can't wait to ROCK THIS SUPER BOWL!
PS If you want to spice up this chili please do so. Step up the salsa and make it HOT add some green chilis or better yet, keep the seeds in the jalapeno! Enjoy the game! I will be with my big bowl of chili and my delicious Cheese Stuffed Jalapenos. Another great addition to the game! Enjoy kids!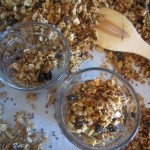 Growing up, we never ate granola, ever. Cereals were filled with sugar and I could always find something fluffy and kid-friendly floating in the mounds of milk. Then I grew up and things became foreign all over again. I realized there were not only granola cereals but granola bars and some packets at 100 calories or less so I wanted to explore this granola world.
One thing to know, granola is fabulous and I do mean fabulous. There are so many ways to use it! First, let's talk about making it. You will never go and purchase a granola box again after you make it from scratch. Ever. Why would you? It's like buying a pre-made apple pie wrapped in plastic wrap that's been sitting on a shelf in a store versus a decadent mouth-watering scrumptious apple pie baking in your oven. Which would you prefer? Exactly – the one I didnt' have to bake. (ha! ha! JUST PLAYING!)
It's easy-peasy. Throw in a few ingredients, mix, bake, eat and enjoy. I know you can do it. Then once you do it, you will make all different kind of variations that you like. No excluding those shreds of coconut or pieces of chocolate (who can resist chocolate?) Make it according to the things you LOVE so you will fall in LOVE with eating HEALTHY GRANOLA!
Shew, not sure where all of that came from. But you love me and I love you – so hey, it's all good, right?
Not sure what you can do with granola? Keep reading.
Ingredients:
1/3 cup coconut oil
1/4 cup maple syrup (you know, the real kind!)
1/8 cup honey (vegan? Awesome – switch it for Agave syrup, bada bing bada boom!)
2 cups rolled oats (not instant folks…switch up the box!)
1/2 cup organic shredded coconut (I personally love Let's Do…Organic, USDA approved)
1/4 cup organic raisins
3/4 cup almonds: sliced (I like to see big chunks when I'm eating but you can chop them as well)
1/2 cup sunflower seeds
1/4 cup flaxseed
1 teaspoon cinnamon (I used The Pampered Chef pantry line called Cinnamon Plus Spice Blend. It contains nutmeg, allspice, ground orange peel, cloves and ginger. Highly recommend. If you don't have it, no worries. Substitute it for cinnamon!)
Step 1: Preheat oven to 270 degrees
Step 2: Prepare an 11×13 baking sheet with parchment paper. (I always use stoneware so you may need to adjust time accordingly)
Step 3: In a medium sauce pan over low heat, combine the first three ingredients. (Coconut oil, honey and maple syrup). Stir to combine and warm for about five minutes.
Step 4: Meanwhile, in a larger bowl, combine the remaining ingredients.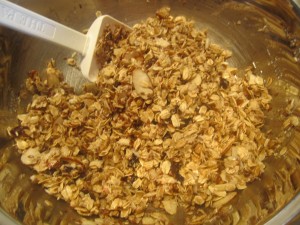 Step 5: Pour stove mixture to the oat bowl and stir well to combine.
Step 6: Spread mixture evenly over prepared baking pan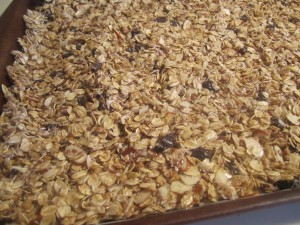 Step 7: Bake for 60-70 minutes. Keep checking on it. The house should start to give a cinnamon aroma but if it turns to a burnt aroma, you know you're baked! (hahahahahaha, get it?!)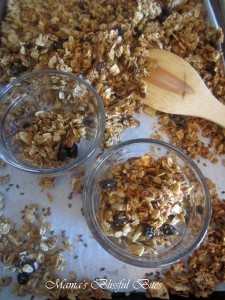 Step 8: Allow to cool. Break up with a wooden spoon into smaller chunks.
Here are some really cool things to do with granola:
Eat it as it is…as a snack
Pour milk (I love vanilla almond milk) and have a bowl of cereal
Place it on top of a baked apple….wowza!
Mix it with yogurt for a great breakfast
Enjoy on top of a salad
I like to keep mine in an air-tight container in my purse. When you have kids and a snack-attack arrises, I rather be prepared then have nothing at all!  Tell me, how do you like your granola?
PS I am linking this recipe up with Foodie Friends Friday. Check out other fantastic bloggers as well at http://www.foodiefriendsfriday.com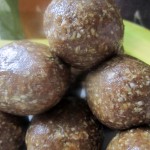 This easy and fun snack is delicious and perfect for an early morning treat! When I'm in a rush, I pull together a green smoothie and eat two of these banana treats. They are quite filling so don't be fooled! Make them the night before and place in a container (they will be soft), put in fridge and in the morning, get one and go! Could it be any simpler? Yeah…I think not.
Filling and yummy…what more could you ask for??? Oh that's right…did I mention healthy?
Ingredients:
1 banana
2 cups rolled oats
3/4 cup almond butter
1/4 honey
1 teaspoon vanilla extract
1 teaspoon cinnamon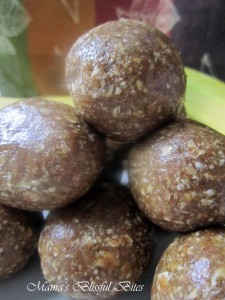 You can also try rolling these in cocoa powder for an extra chocolatey treat or coconut!
Step 1: Mix all ingredients into a food processor and blend until all blended together
Step 2: Take a scooper or two spoons and form 24 small balls or 12-13 bigger balls
Step 3: Place in fridge overnight until firm and enjoy in the morning!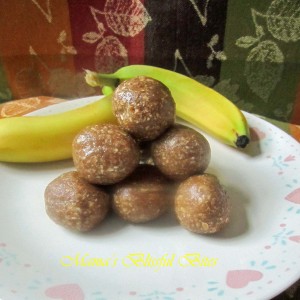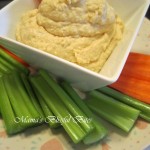 You know after you had breakfast and about an hour later your tummy starts grumbling and by the second hour screams, "Get in my tummy!" It's because we always forget a very important rule – to snack! As being a mom, I carry snacks for the kids all the time. I know they are always hungry but as an adult, I didn't start to snack until I had kids! I would push through the normal office load and then eat a big lunch. (Personally the Indian buffet was always my favorite and I could chow that down!) Those were the days!
Now in my new life, the mom life, I have to think ahead and Plan! Plan! Plan! I can't explain that enough. I am a firm believer in structure. (Not everything but most things.) Thinking ahead, organizing, being ready is what will help us be better prepared for events. Breakfast, snacks, lunch and dinners for the week are all thought of and wrote down on Sunday's. By taking this extra step, I know what I'm making without any questions and that all the ingredients are there. (I go shopping on Sunday's as well.)
Then I take it one step further…that's right….
I cut the vegetables for snacking during the week down to size. Meaning, wash, trim and cut then bag again. When Monday comes around and it's snack time, the chances I made it the night before or that morning are pretty good. I make the hummus, for example, (easy peasy right?) then I save the extra 5 minutes with already prepared veggies! Just reach in the bag and go. I feel like I just did something great and saved time.
Another tip I do is prep where I can. If I know I'm making a soup the next day and have some down time, I cut up all my vegetables and put them back into my glass containers. When I'm ready to make my soup, I dump and go. Again, it's what works for you. I like spending a whole day with preping myself and my food so the week is as easy as I can make it be.
Tips to Save Time:
Prep what you can when you can
Make a list in the beginning of the week not to run around wondering what is in the kitchen
Work according to schedule. If you know ahead of time that you are working late and need an easy meal, plan for one!
Have a back up something. Let's say, I burn something or the kids have my attention and I can't really cook, I have something frozen, quick and easy that I can throw in the oven for an emergency!
If cooking for the evening doesn't appeal to you, cool – have lots of vegetables for a quick salad on hand!
Back to snacking – make sure to have something and eat it so your tummy doesn't eat you!
My daughter and I love hummus. It's healthy and a very easy and appealing snack. Anything in dip form, kids usually love. Especially when you play airplane with them

Ingredients:
Two cans (15.5 oz) garbanzo beans: drained and rinsed
2 cloves of garlic: minced
1/2 cup water
1/4 cup Tahini
2 Tbs olive oil
salt
pepper
Benefits:
Tahini: Is a paste made from ground sesame seeds. There are many vitamins in tahini  B1, B2, B3, B5 and B15. These vitamins help promote healthy cells and also enhance immune system!
Garbanzo Beans: Have amazing fiber! 2 cups is enough for the Daily Fiber intake. It is also said that they help the digestive tract function.
Recipe:
Step 1: Combine all ingredients but olive oil in a food processor and blend for 20-30 seconds.
Step 2: Keep the machine running and slowly pour in olive oil.
Step 3: Scoop and Serve!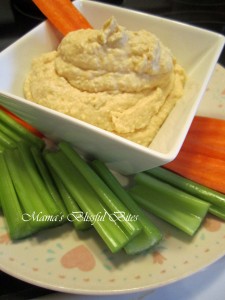 Hummus is fabulous because you can add so many different spices and vegetbles to it! One of my favorites is a nice roasted red pepper hummus! mmmmm, I'm thinking I need to get back in the kitchen!
Enjoy!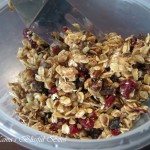 This is my 5am creation. Did you ever have one of those nights that you can't sleep…and are thinking of food? Perhaps I didn't eat enough before bed or I'm just seriously obsessed with food. Either way, you have the most tastiest, sweet and naughty granola before you.
Naughty did you say? Oh yes, filled with semi-chocolate chips. Sweet? Those dried cherries and raisins both hit the spot. Or perhaps its the peanut butter and all its sugar glory tied tightly with honey. Can we say sugar? Sugar? Sugar? This went from breakfast to dessert quickly.
Ingredients:
1/4 cup dried cherries
1/4 cup raisins
1 cup rolled oats
1/4 cup pecans: chopped
1 tbs flax seeds
2 Tbs semi-chocolate chips
1/4 teaspoon cinnamon
1/4 cup peanut butter
1/4 cup honey (I used orange blossom)
1/2 teaspoon vanilla extract
I am the first one to admit this – with all the healthy ingredients in this dish, I can't call this healthy. The peanut butter and honey have so much sugar that it would eliminate the word "healthy" in my book. Try changing it up by adding agave and a nut butter instead. If you want a great dessert granola – it's here, you have found it. Sometimes, it's okay to be a little naughty…seriously, I still think you're sweet.
Step 1: Mix oats, cherries, raisins, pecans, flax seed, chocolate and cinnamon in a bowl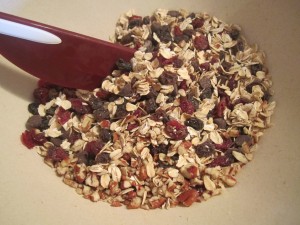 Step 2: Stir peanut butter, honey and vanilla over low heat in a saucepan until smooth and thinned out. (About 5 minutes). Keep an eye on it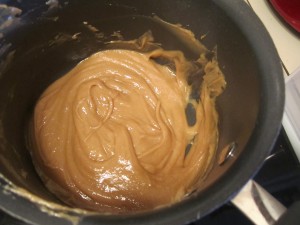 Step 3: Add peanut butter/honey mixture to the oat mixture and stir to combine.
Step 4: Grease a 9×9 baking dish. Pour mixture into dish, cover with plastic and refrigerate for 30-45 minutes.
Step 5: Break apart pieces and place in an air-tight container. Munch away!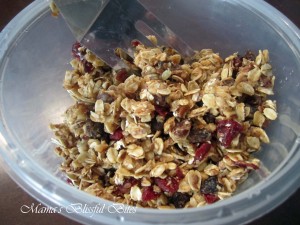 It turns out to be these peanut butter clusters if you will. You can pick up "balls" of cherries, raisins and chocolate in clumps of peanut butter. Do I really need to say more? Amazing delicious dessert.
On a personal note: I would add pretzels to the mix. I like it to be sweet and salty.
Enjoy!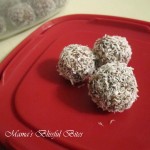 I took the bull by the balls and went full force shall we say and am riding my weight loss challenge to the finish! Wow! I have no clue where that came from! After my last post for Vegetarian Stir Fry Resolution, I jumped on becoming healthier for me. I face two obstacles: 1. Eating enough 2. Exercising. Eating enough comes from not taking time for myself. I am preparing meals for the kids and while they are eating, I am doing laundry or dishes or whatever chore I think I can do within that time frame. I am not hungry in the morning, so I have been making a hemp protein drink which seems to get me through until snack time. I pretty much skip out on food all day until the evening when its dinner time. This is my time to sit down with the family and actually share a meal. Finding a balance between chores, play time and preparing dinners can be challenging. But something I am working on.
Exercising – not my thing, well, at first. I have come to realize that every time I was having a stressful breaking moment, I ran. Not figuratively but literally! I went outside and ran as fast and as hard as I could. Then about a minute later (just kidding) I would feel relieved. The tension left my body, the problem seemed a little bit more minute. I could handle it. Although I have never been a "runner' I have to tell you, I did something crazy. This year, I decided to sign up for my first 5k. Wait, it doesn't stop there – I again, am not a runner. I love a good challenge. I absolutely do, so this one is going to be a fantastic one for me. I have eight weeks to get my jog on but I know if I work hard enough I can do it. It's not about running the fastest (geez, I hope I can cross the finish line!) but it's about getting me back and a healthier me at that. I never understood the whole "running thing," but since I have been jogging a few nights, I can find lots of benefits. I not only got up at 4am for my first jog, I ended up doing another 20 minute jog this evening. Why? Honestly, the trash was still left on the street and I was following the garbage men, this did not make me happy. Nothing like rolling out of bed, heading out for the first jog in the biter cold and feeling sick to my stomach the whole time. So I ran a whopping .1 miles. That's right baby. I gave up quickly. Tonight I jogged/walked 1.5 miles in 20 minutes. It's by far great but it's my start. Something about having my alone time, my iPod, my voice makes the run special. I am officially doing something for me.
In lieu of my first jog, I made a special "treat." This is one of my favorite energy ball recipes. If you love coconut and almonds, you will love this too. You see, I am a major sugar-a-h0lic to say the least. I crave sweets the majority of the time. I am learning how to replace my Mountain Dew bottles, coffee with two tablespoons of sugar (organic, lol), and chocolate cravings. By adding more root vegetables (believe it or not) they help reduce cravings such as carrots and also altering a few other favorites . For example my favorite drink to juice is grapes and spinach which is perfect for a Mountain Dew replacement. It's sweet and I actually prefer the flavor over the soda! I also like to switch out dates for chocolate. Once in a while, I get into a must-have-not-wait chocolate moment but if I have dates, I will choose them first.
Besides this delicious sweetness, they have a bit of a crunch and a finish of coconut which makes them all the more better. I could snack on these all day long and sometimes we do. If I'm craving a sweet treat or prior to a workout, I eat about two or three. I have a big appetite and they are quite filling.
Dates: Are low in calories and great energy boosters. Contain natural sugars such as glucose, sucrose and fructose, thus called an energy ball

They have a high content of iron which helps in preventing anemia and also help improve the digestive system by containing insoluble and soluble fibers
Almonds: Are helpful in lowering bad cholesterol, provides healthy fats and helps in weight loss and help alkaline the body. This is important to help prevent low energy and weight gain.
Flax seeds: Great source of fiber and natural laxative. They can also help in lower cholesterol. It's also high in Omega 3 fatty acids and help fight inflammation.
Ingredients:
12 pitted dates
1/2 cup sliced almonds
1/2 Tablespoon flax seeds (optional)
1/2 cup shredded coconut
1 teaspoon vanilla extract
1/4 cup water or less
Step 1: Put all ingredients but water in a blender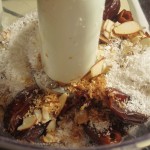 Step 2: Blend until incorporated for 20-30 seconds
Step 3: Add water, while running, until moist.
Step 4: Form into balls and roll into extra coconut (optional)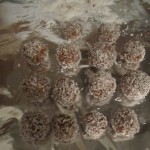 Step 5: Store in an air-tight container and store in fridge.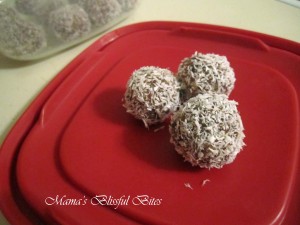 These will go fast. They are goooooood. Even my husband who tells me all the time, he dislikes coconut, loves these. My kids adore them!
Enjoy a healthy snack!
Mama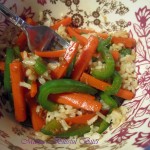 Most of us do it, we are fully committed with resolutions of becoming a better person for the new year ahead of us. Charged with enthusiasm, we make resolutions like paying the bills, becoming organized and my favorite, losing weight. As the count down to the New Year begun and our 2012 year disappeared, I was left without resolutions. This is quite unlike me. I love writing lists, it's one of my favorite things to do yet my list was bare. Not even a number one was in place. I watched as my friends Facebook statuses lit up with goals. Losing weight topped the charts. I finally caved in and committed to the adventure…on a public status. By saying it out loud , I am committed. I'm now forcing myself.
It is now January 5th and I have eaten horrific and by the way, loved every moment. Maybe the new year came upon me too fast (as if I didn't see the 365 days ahead of me!) or perhaps I really wanted to indulge in that chicken sandwich, stuffed-crust pizza or my favorite chocolate, just one more time. Whatever the reason, I achieved. I posted to my friends my goal and then ate like a wild women with no control. The truth is, my year started off rocky. It didn't fall into place with a clear slate. I have related to eating unhealthy to not taking care of myself. I was punishing me again. Things were out of my control and what I can control is the run through the drive-thru fast food joint and yes, it fulfilled me for that moment. As I drank my big Mountain Dew bottle before me, I had a second one lined up. I finally stopped and observed my actions. What was I doing to myself? I still drank it anyways. Perhaps for the torture that followed. I drank it knowingly I didn't want to.
So here we are, Day 5. My friends have posted their great adventures of running and working out and even wonderful healthy dishes. Yesterday, I ordered a pizza because I didn't "feel" like cooking. As I finally got a moment of peace to myself and was able to put together my past week, I made connections of where things were going wrong. No, I can't help the circumstances to all the situations that are presented before me. I have tried desperately but there has to be another way. What I can control is being healthy. I can control eating better so I can live longer for life and what it has lying ahead of me. I dedicated this year, the year for me. Learning to love myself again and treat myself physically and mentally better. This year, I am preparing lots of healthy dishes for you all and my family. I hope you join me on my journey and perhaps one day, we can live in a healthier world together.
Vegetarian Stir Fry
1 Tbs grape seed oil
2 cups brown rice: cooked
1 carrot: julienne (1 cup worth)
1 green pepper: julienne (1 cup worth)
1 tablespoon: minced fresh ginger
1 tablespoon: minced fresh garlic
1/2 tablespoon tamari (or soy sauce)
1/2 tablespoon rice vinegar
1/2 teaspoon brown sugar
Usually, I would list the steps now however I want to tell you why I chose what I did:
Wok: If you don't have a wok, I highly suggest on purchasing one. Prices vary from $20-$200 depeding upon material, weight, size and if it comes with a lid. If you love stir fry dishes or Asian dishes, I would put more money into a higher quality one. There are many benefits to woks. For starters, the shape of the wok is amazing. It holds a lot of food and all in its place! The walls are very high making it easier to maneuver the pan so you're food doesn't spill out. It also holds intense heat very well. You want to be sure to use wood utensils not to damage the pan. Rest assure you can boil, braise, deep fry, pan fry, roast, sear, steam and more!
Grape Seed Oil: I feel like grape seed oil is slowly making its way out of hiding and more consumers are purchasing it, however that's from my personal experience in speaking with people. Grape seed oil is derived from seeds of grapes. Research has shows that there are many health benefits to grape seed oil (it even comes in capsule, tablets, oil and powder) however I love using it because it has a higher point for heat.
Ginger: I feel I can not say enough good things about the ginger. It's has amazing properties that can help nausea, toot-tooting, nose congestion and is an anti-inflammatory (just incase those joints are bothering you!) Be sure to check out this delicious Ginger-Lemon Tea recipe. I drink it daily during the winter months prior to bed. This is actually my first recipe posted when I was battling with many issues to help me out of my slump. I never throw out a good remedy! (PS I actually have a cup by me now).
Brown Rice: I love the heartier flavor of this rice. You may know that brown rice is a whole grain, meaning both the germ and bran parts of the grain have been preserved. It has more fiber than white rice and that's a big bonus in my book.
Now off to the good part:
Step 1: Cook the brown rice according to package. I made two servings since I was planning on a two-person meal.
Step 2: Add oil in a wok over medium-high heat. Wait until it's nice and hot then add garlic and ginger. Toss for thirty seconds.
Step 3: Add carrots, pepper, tamari, rice vinegar and sugar. Stir consistently for 2-3 minutes.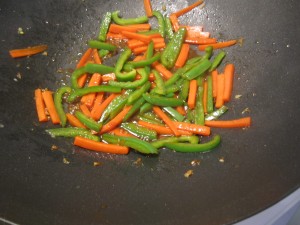 Step 4: Remove from heat and stir in rice. Serve.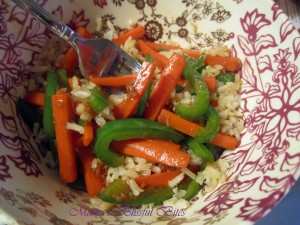 Stir fry dishes are great because they cook up in a snatch and are also versatile. You can use any pretty much any vegetables you have lying in your fridge at any point of time. Need a protein? Add some chicken, shrimp, beef you name it. Being healthy doesn't have to taste like cardboard. I know this is true. There are many hearty and delicious dishes out there that we will be exploring together. To a healthier me and you. Happy New Year.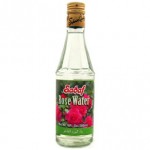 I was in the supermarket the other day and saw a bottle of rose water and grabbed it. I can't believe I have forgotten one of my favorite skin treatments! I first fell in love with rose water years ago from a "natural" company who provides clean cosmetics.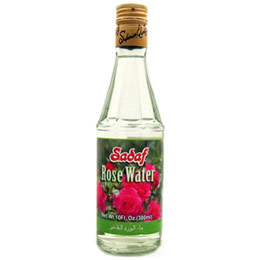 According to Wikipeia, Rose water is the hydrosol portion of the distillate of rose petals. Rose water, itself a by-product of the production of rose oil for use in perfume, is used to flavour food, as a component in some cosmetic and medical preparations, and for religious purposes throughout Europe and Asia.
Here are some many uses for rose water:
1. You can cook with it. It pairs very well with seafood, oranges and strawberries.
2. I use it for beauty!!! Use it for make-up remover. Just put a little bit on a cotton ball.
3. My favorite: Use on dry skin. During the winter time, my face becomes dried out – especially if I have a cold and blow my nose constantly. I just place some on a cotton ball and it clears it up pretty quickly. It's a fabulous toner!
4. Because rose water makes your skin very soft, place 1/2 – 1 cup in a nice warm bath – Yes, you will thank me for this one. Your skin will feel VERY soft and leaves a rose scent behind.
5. Taste fabulous in sorbets!
It's very affordable – I bought my bottle for $2.20. It can be found in the Asian section of grocery stores or you can spend more and purchase some for "cosmetic" purposes in the cosmetic aisle.
You can also MAKE YOUR OWN! Place real rose petals in a bowl and pour hot (almost boiling) water over top. Allow to cool down. Place lid on container and put in fridge for 24 hours. Strain and discard petals. Place back in fridge. Keep for 1 week.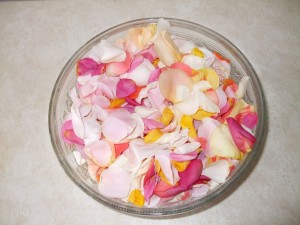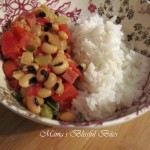 New Years' Day is a time for new beginnings. Throw out the old and bring in the new. Shine light on the year we have to unfold before us. We get so lost and consumed by mid-year and lose focus on what we have set in the beginning for ourselves. Will it be an organizational year? Perhaps a time to commit to our health again? Whatever your goals or resolutions may be, bring them in with positivity and joy. Embrace the New Year or the New You.
I like starting off each year with a Southern tradition. The saying goes:
Eat poor that day, eat rich the rest of the year. Rice for riches and peas for peace!
I'm not superstitious but then again, I don't know what would happen if I didn't eat this dish…so I do it just because, in hopes…sure why not. Is there anything wrong with good fortune? Absolutely not! Plus, my husband said TWICE to me, how good this was. (He doesn't ever do that, so big compliments there!)
Ingredients:
3 Tbs butter
1 onion: diced
3 cloves garlic: minced
2 stalks celery: chopped
1 pepper: chopped (I used poblano. Use whatever is to your taste. Green peppers are great in here too!)
12 oz ham: diced (or whatever size comes in a small package at your store)
11 oz fresh black-eyed peas (or a can if fresh is unavailable): soaked in water for 6 hours
15.5 oz can of diced tomatoes
32 oz. chicken broth
1/2 teaspoon to 1 teaspoon red pepper flakes
salt and pepper
Step 1:
Over medium-medium low heat add butter in a saucepan until melted
Step 2:
Add onion, celery, pepper and garlic and saute for 5 minutes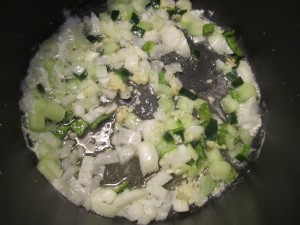 Step 3: Add ham and a touch of salt and pepper. Saute for another 3-5 minutes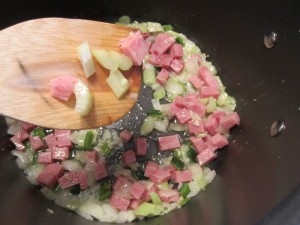 Step 4: Stir in beans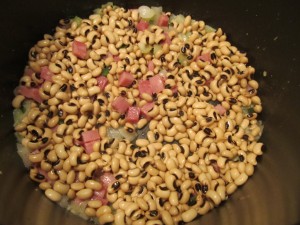 Step 5: Add broth, tomatoes and red pepper flakes. Bring to a boil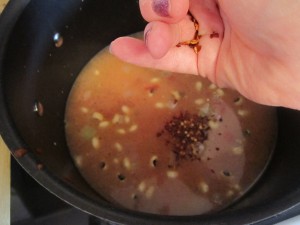 Step 6 : Cover and lower the heat to a simmer for thirty minutes.
Step 7: Uncover and cook for additional 15-20 minutes depending upon thickness. You want to make sure there's enough liquid left but not a soup!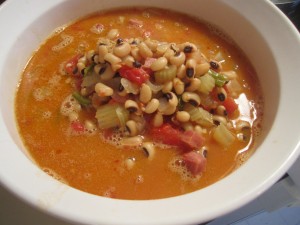 Step 8: Cook up some rice and serve with it! (I used Jasmine)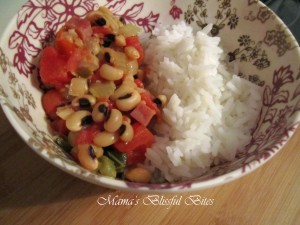 Remember to add the juice in over the rice and mix it well! It adds so much delicious flavor!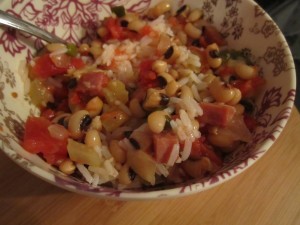 Just because its supposed to bring good fortunes for the New Year doesn't mean you can only have it once a year! Make it whenever you feel a little need for some positivity!
Happy New Year to you all!
xoxo