If you are a fan on my facebook page, here, you will know that I have been sick for 9 days. Yes, nine and counting. I really dislike seeing doctors for many reasons however I was comforted by the thought of indulging in Panera Bread's soup afterwards.
I could not wait to get my hands on a nice soothing, warm and inviting bowl of soup. I already planned out which mouth-watering soup I was going for, well that was, until I got into line. My heart never derails from the delicious Broccoli Cheddar ever, but I was having a moment of betrayal. Their Low-Fat Vegetarian Garden Vegetable with Pesto had me too. They were both pulling at my shirt. What's awesome about the LF Vegetarian Garden Vegetable with Pesto soup is its seasonal. I love my dishes to be in season. It's what makes them so darn delicious! Using in-season produce is critical in serving up a sumptuous bowl of soup! On the other hand, their Broccoli Cheddar soup is so creamy and thick. You can see the big chunks of broccoli pieces in the soup. I love a hearty soup and this one is by far my favorite so I went with it! Which is your favorite? Click here for list!
I started to not feel well again in line, so I asked for the "pick two" option. Again, another brilliant idea and trust me, Panera is filled with them! I had my eyes set on my favorite sandwich, the Mediterranean Veggie. Filled with big chunks of peppers, feta cheese, cucumbers, lettuce, tomatoes, onions, cilantro and to top it off the PERFECT Jalapeno hummus (wowza) on top of Tomato Basil Bread. I LOVE PANERA. To be perfectly honest with you, I haven't had anything on the menu that I haven't liked. It's just that darn good.
Anyways, back to me not being able to breathe and coughing in line…(sorry about that by the way), I had to get my dinner to go. Go ahead, mark that as another point for Panera Bread! I love that I can call in my order and pick it up quickly. This time, I didn't call it in because the doctors is right next door, however having the option to take a big hearty bowl of soup home and crawl into bed sounded fabulous to me.
I wanted to take a picture, I really did. But my starving non-medicated self couldn't hold out on eating. I indulged in the sandwich on the ride home. Each bite left me wanting more, more and more. The bread was ridiculously soft and good. Have I mentioned to you about their bread yet? All homemade baby! They have a variety and I do mean a variety of different kinds. Their bakers work all throughout the night to be able to provide us with the remarkable taste of their bread and it shows each and every time I get a slice to eat! mmm mmm mmm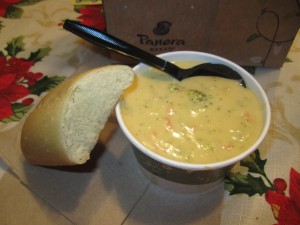 I gathered my soup and "dipping" bread and relaxed and enjoyed every minute of soup there was. And then I realized, it was gone 🙁
One more thing I must tell you about my favorite place, Panera Bread. They have this amazing place on their site called "Explored Soup" (click here) and there's so much to learn. From how their chef creates the soups, to their daily soups to cooking techniques and more. BE SURE to check it out and then run to your nearest Panera Bread. Believe me, you'll thank me.
As part of the DailyBuzz Food Tastemaker program, I received a gift card and stipend to try Panera Bread soups. All thoughts and opinions are my own.
xoxo,
Mama Poole