One of my favorite Christmas presents was from my step-mother when I was a teenager. She always gave me "goofy" gifts or gifts that a teenager may not expect, and that year was no different from the rest. I received a jar with a label that read, "Cookies in a Jar." I was baffled at how this made cookies, especially since at the time, I didn't cook or bake! I just turned 18 and had my own apartment with my boyfriend then, now husband. The jar was beautifully decorated and had two little scoops on the front. I could not wait to get home and figure out what I needed to do! From that moment on, I fell in love with any kind of baking in a jar. There's something almost magical about it.
When I received Desserts in Jars: 50 Sweet Treats That Shine (The Harvard Common Press – June 2012), I spent no time running to the kitchen to bake! There are so many wonderful recipes inside that are creative and mouth-watering. Sink your mind around Neapolitan Cakes, Pumpkin Cheesecakes, Apple Pancakes Puffs and Rosemary-Peach Cobblers in a jar! I can't wait to make them!
Not only does this book have easy to-follow instructions but beautiful photos of each recipe! I love knowing how beautiful my dessert will be, don't you? In addition, the talented Olmanson is a blogger herself and takes her own photos! A very talented woman to say the least! You can find her blog at Food For My Family and enjoy more recipes and tips!
To make it even sweeter, Shaina Olmanson gave me one extra cookbook to give away to a lucky Mama's Blissful Bites reader! (I know, I couldn't wait to say it!) Sit down, sit down, let me tell you the details:
Giveaway details:  Mama's Blissful Bites is giving away one cookbook of Dessert In Jars to one sweet reader.  To qualify, please leave a comment of what your favorite dessert to share with your friends and family is! A winner will be choosen by Random. org and contacted thru email.  Open to US Residents only.  Contest closes December 23, 2012 at 11:59 PM CST.
Additional Entries:
Important: Leave a comment on here after doing each additional entry so I know you completed the action!
Now I couldn't leave you hanging with out a sneak peak treat right? I was completely head-over-heals excited to try Campfire Bars Mix – it is FAB-U-LOUS!!!! We go camping a lot, uhm….in our backyard and house…the kids like it, so these bars are a perfect addition to our family tradition!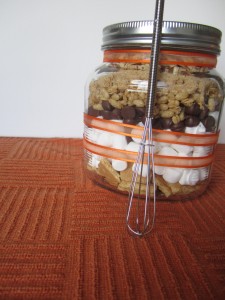 Ingredients:
1 cup graham cracker pieces, each about 1-inch square
1 1/2 cups mini marshmallows, homemade (recipe page 140) or store-bought
3/4 cup milk chocolate chips
1/2 cup granola
1/3 cup packed light brown sugar
1/2 cup chopped almonds
In a 1-quart jar, layer the graham crackers, marshmallows, chocolate chips, granola, brown sugar and almonds. Seal with the lid, decorate the jar if you like, and attach a label with these instructions for the recipient:
TO MAKE CAMPFIRE BARS
8 tablespoons (1 stick) unsalted butter, melted
Preheat the oven to 350 degrees F. Pour all the contents of the jar into a large bowl. Stir in the melted butter until all the pieces are coated. Press into a 9-inch square baking pan. Bake for 12 to 15 minutes. All to cool. Cut into bars and serve
Believe me, these bars are delicious. It tastes just like a smores should be, only ten times better. These jars are perfect for holiday gifts too and bloggers (wink, wink) love to receive them…just kidding, kind of. Alright, your family and friends would LOVE them too…. 🙂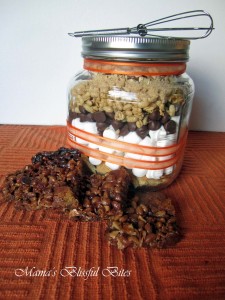 Be sure and stop by to see our bloggers this week and be sure to enter their give-away as well! That's right, ten more chances to win a copy!
Monday
Tuesday
Pam from The Meltaways – Spiced Hot Chocolate Mix with Cinnamon Marshmallows
Heather from girlichef – Orange White-Chocolate Cheesecakes w/ Cranberry Sauce
Wednesday
Thursday
Friday
And if you can't help yourself and are head over heals in love with this cookbook as much as I am, you can also purchase it by clicking here.