Are you here for the party? So am I! This week, Conni from The Foodie Army Wife, is our host for this weeks #SundaySupper. We bring to you – Holiday Drinks and Appetizers! Since this is the best time of the year, I really like to follow that up with a fantastic feast! If you know my blog by n0w or are friends with me on my FB page, you may have noticed that I am converting over to whole foods.  I've been working on a whole foods menu for our Christmas dinner and this dip is one of my favorites on the list, so simple and yet so delicious.
You see, I love to eat and I am not exaggerating one bit. I LOVE to eat, constantly and all day long…especially in the winter months. I feel like it's almost the perfect excuse, winter = FEAST! The only thing I don't enjoy is adding on extra weight. When that happens, I feel negative towards myself. So this year, I made a promise to myself not to add-on extra's but enjoy and be healthy. Is this possible? All the parties? All the gatherings? Of course there's bound to be some food, right? Of course!
If you invite me to your party, (which I would love to attend, wink, wink), I am bringing my healthy dip and some celery, perhaps even carrots. If you want me to go all out – I volunteer to take over a vegetable side dish too!
Ingredients:
4 organic sweet potatoes (or two conventional. I find organic sweet potatoes to be smaller in size)
2 Tbs olive oil
1/8 teaspoon ground cinnamon
sea salt
raisins (optional)
pecans (toasted or not, delicious add…optional)
Step 1: prehead oven to 400 degrees. Poke holes using a fork through potato skins to let heat escape. Place on baking sheet and bake for 45-55 minutes until soft
Step 2: After potatoes cool down, peel off the skin. Put flesh, cinnamon and salt into blender. Blend and slowly add olive oil until desired consistency
Step 3: Place in serving bowl and add raisins and pecans on top.
I make this often in our house for snack time as well. Served with celery, peppers, carrots or crackers – I know it's going to be devoured. I always feel good serving it to my children knowing the ingredients from which its made and how good sweet potatoes are for you!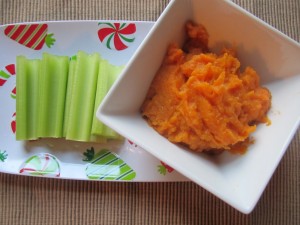 Now, because Christmas is a very special time of year – I'm stepping it up a notch by adding sweet raisins and some large chunks of pecans. Pan-fry the pecans in a small skillet over low heat, shaking every few seconds being careful not to burn.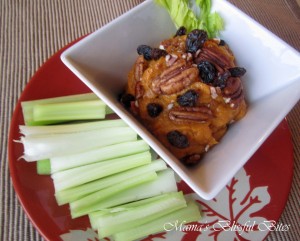 Be sure to also check out more fantastic recipes by our #SundaySupper group! Enjoy your holidays!
Party Beverages
Appetizers or Hors d'oeuvres
Can you believe all those goodies? I can't wait for this party to start!
Do you have a favorite dish or beverage to take to a party?  Please join on us on Twitter throughout the day during #SundaySupper on December 16th.  In the evening we will meet at 3 pm AKST/7 pm EST for our #SundaySupper Party live chat.
All you have to do is follow the #SundaySupper hashtag or you can follow us through TweetChat.
We'd also love to feature your recipe for holiday parties on our #SundaySupper Pinterest board to share them with all of our followers, too.