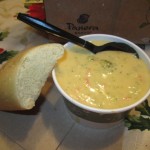 If you are a fan on my facebook page, here, you will know that I have been sick for 9 days. Yes, nine and counting. I really dislike seeing doctors for many reasons however I was comforted by the thought of indulging in Panera Bread's soup afterwards.
I could not wait to get my hands on a nice soothing, warm and inviting bowl of soup. I already planned out which mouth-watering soup I was going for, well that was, until I got into line. My heart never derails from the delicious Broccoli Cheddar ever, but I was having a moment of betrayal. Their Low-Fat Vegetarian Garden Vegetable with Pesto had me too. They were both pulling at my shirt. What's awesome about the LF Vegetarian Garden Vegetable with Pesto soup is its seasonal. I love my dishes to be in season. It's what makes them so darn delicious! Using in-season produce is critical in serving up a sumptuous bowl of soup! On the other hand, their Broccoli Cheddar soup is so creamy and thick. You can see the big chunks of broccoli pieces in the soup. I love a hearty soup and this one is by far my favorite so I went with it! Which is your favorite? Click here for list!
I started to not feel well again in line, so I asked for the "pick two" option. Again, another brilliant idea and trust me, Panera is filled with them! I had my eyes set on my favorite sandwich, the Mediterranean Veggie. Filled with big chunks of peppers, feta cheese, cucumbers, lettuce, tomatoes, onions, cilantro and to top it off the PERFECT Jalapeno hummus (wowza) on top of Tomato Basil Bread. I LOVE PANERA. To be perfectly honest with you, I haven't had anything on the menu that I haven't liked. It's just that darn good.
Anyways, back to me not being able to breathe and coughing in line…(sorry about that by the way), I had to get my dinner to go. Go ahead, mark that as another point for Panera Bread! I love that I can call in my order and pick it up quickly. This time, I didn't call it in because the doctors is right next door, however having the option to take a big hearty bowl of soup home and crawl into bed sounded fabulous to me.
I wanted to take a picture, I really did. But my starving non-medicated self couldn't hold out on eating. I indulged in the sandwich on the ride home. Each bite left me wanting more, more and more. The bread was ridiculously soft and good. Have I mentioned to you about their bread yet? All homemade baby! They have a variety and I do mean a variety of different kinds. Their bakers work all throughout the night to be able to provide us with the remarkable taste of their bread and it shows each and every time I get a slice to eat! mmm mmm mmm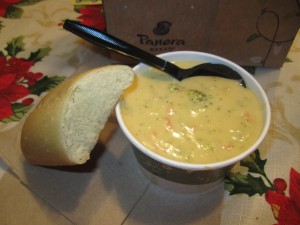 I gathered my soup and "dipping" bread and relaxed and enjoyed every minute of soup there was. And then I realized, it was gone

One more thing I must tell you about my favorite place, Panera Bread. They have this amazing place on their site called "Explored Soup" (click here) and there's so much to learn. From how their chef creates the soups, to their daily soups to cooking techniques and more. BE SURE to check it out and then run to your nearest Panera Bread. Believe me, you'll thank me.
As part of the DailyBuzz Food Tastemaker program, I received a gift card and stipend to try Panera Bread soups. All thoughts and opinions are my own.
xoxo,
Mama Poole
Are you here for the party? So am I! This week, Conni from The Foodie Army Wife, is our host for this weeks #SundaySupper. We bring to you – Holiday Drinks and Appetizers! Since this is the best time of the year, I really like to follow that up with a fantastic feast! If you know my blog by n0w or are friends with me on my FB page, you may have noticed that I am converting over to whole foods.  I've been working on a whole foods menu for our Christmas dinner and this dip is one of my favorites on the list, so simple and yet so delicious.
You see, I love to eat and I am not exaggerating one bit. I LOVE to eat, constantly and all day long…especially in the winter months. I feel like it's almost the perfect excuse, winter = FEAST! The only thing I don't enjoy is adding on extra weight. When that happens, I feel negative towards myself. So this year, I made a promise to myself not to add-on extra's but enjoy and be healthy. Is this possible? All the parties? All the gatherings? Of course there's bound to be some food, right? Of course!
If you invite me to your party, (which I would love to attend, wink, wink), I am bringing my healthy dip and some celery, perhaps even carrots. If you want me to go all out – I volunteer to take over a vegetable side dish too!
Ingredients:
4 organic sweet potatoes (or two conventional. I find organic sweet potatoes to be smaller in size)
2 Tbs olive oil
1/8 teaspoon ground cinnamon
sea salt
raisins (optional)
pecans (toasted or not, delicious add…optional)
Step 1: prehead oven to 400 degrees. Poke holes using a fork through potato skins to let heat escape. Place on baking sheet and bake for 45-55 minutes until soft
Step 2: After potatoes cool down, peel off the skin. Put flesh, cinnamon and salt into blender. Blend and slowly add olive oil until desired consistency
Step 3: Place in serving bowl and add raisins and pecans on top.
I make this often in our house for snack time as well. Served with celery, peppers, carrots or crackers – I know it's going to be devoured. I always feel good serving it to my children knowing the ingredients from which its made and how good sweet potatoes are for you!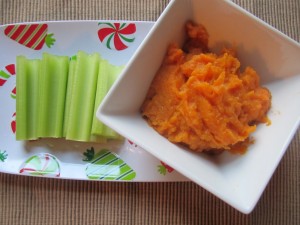 Now, because Christmas is a very special time of year – I'm stepping it up a notch by adding sweet raisins and some large chunks of pecans. Pan-fry the pecans in a small skillet over low heat, shaking every few seconds being careful not to burn.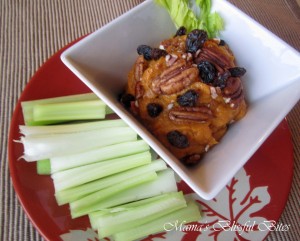 Be sure to also check out more fantastic recipes by our #SundaySupper group! Enjoy your holidays!
Party Beverages
Appetizers or Hors d'oeuvres
Can you believe all those goodies? I can't wait for this party to start!
Do you have a favorite dish or beverage to take to a party?  Please join on us on Twitter throughout the day during #SundaySupper on December 16th.  In the evening we will meet at 3 pm AKST/7 pm EST for our #SundaySupper Party live chat.
All you have to do is follow the #SundaySupper hashtag or you can follow us through TweetChat.
We'd also love to feature your recipe for holiday parties on our #SundaySupper Pinterest board to share them with all of our followers, too.
I wanted to have a place where you can click and go with easy to find juicing challenge recipes! So here we go in order:
If you may have noticed, there are only 20 recipes on the list even though I did 21-days. That's because I didn't realize I did the same recipe twice! It's in the blog…hidden with my friend Mary.
Here's the top three that I LOVE to juice daily:
Spinach and Grapes – I know. Strange combo, but somehow fixes my sweet craving for soda!
Apple, Ginger and Cinnamon – Best drink ever before bed! It's like your own apple cider…it's fabulous
Carrot, Orange and Pineapple - If pineapples were in season, I would have made more juice with them!
What are your favorites?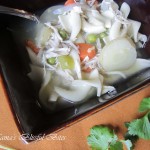 This soup is not your ordinary chicken noodle soup. Nope. It has one special ingredient missing in your traditional soup, an added healing property. As I am preparing myself to become a Health Coach next year and am welcoming this journey with whole foods and healing foods, I made this soup to heal myself. Usually, chicken noodle soup is recommended when a person is sick and not in prevention but I believe you should eat this soup all the time. It's wholesome, delicious and good for you!!!!
Added to the broth is a well-known healing food, ginger. Fresh ginger is an essential in my house at all times. It helps the following:
nauseous
airsick
gas – yes I said it
menstruation
sore throat
anti-inflammatory for joints
I really enjoy using it in my tea mixed with lemon. YUMMS! Great way to end the winter evening.
By placing ginger in the broth, it adds a little zip to the soup. An extra depth that is fabulously great. Please make the broth. Once you do, you'll find boxed broth oh so boring!!!! It's worth the extra time. It's worth making your food whole foods to help your body!
For the broth:
two organic bone-in split chicken breasts
10 cups of water (or more if necessary)
1 onion: chopped
3 stalks of celery: chopped
2 carrots: chopped
1 parsnip: chopped
3-inch fresh ginger: chopped
1 tbs dried rosemary
1 tbs dried thyme
5 cloves of garlic
2 bay leaves
black peppercorn
For the broth:
Step 1: Chop and prepare all ingredients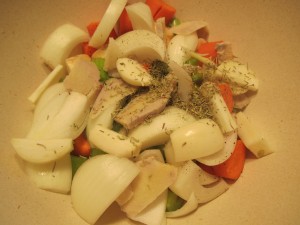 Step 2: Place in a large stock pot and add chicken on top. Sprinkle with peppercorn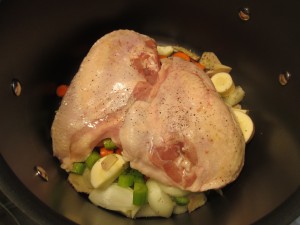 Step 3:  Add water and bring to boil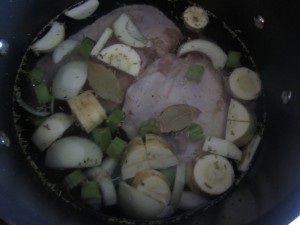 Step 4: Cover and simmer for 2 hours
Step 5: Take out chicken let cool. When cooled to the touch, shred and remove bones.
Step 6: Strain vegetables from broth and discard.
Step 7: Return broth to stock pot.
Ingredients for the Soup:
parsnip: chopped
onion: quartered
carrot: chopped
2 stalks of celery: chopped
3/4 cup frozen organic peas
1 cup medium egg noodles
Step 8: Return shredded chicken and add vegetables to stock pot over medium-high heat. Cook for 10 minutes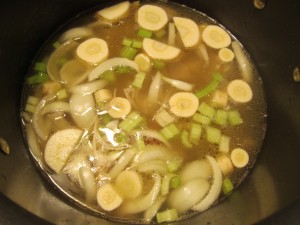 Step 9: Add peas and noodles and cook for 10 more minutes until vegetables are tender and noodles are done to your taste.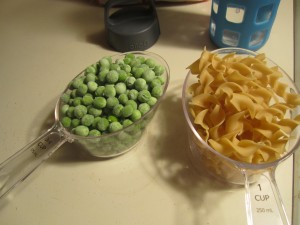 Ladle and enjoy the benefits of wholesome, hearty, healthy chicken noodle soup with ginger!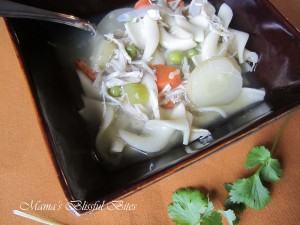 If you want to freeze it, divide into an extra pot and cook with noodles. The noodles become soggy so you may want to add them and simmer when you are ready to eat!
Happy Holidays and Happy Health!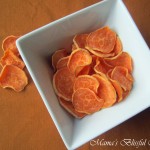 Snack time for me is quite necessary. Do you feel the same? My tummy starts to grumble in those minutes between meals and I find it quite easy to grab something from a box. Oh the box…I have been trying to eat whole foods for a while now. I love how they make me feel: energized and great! But I find it easy to still grab for a box of something 100 calorie or some cookies.
As mentioned a bunch of times, I have a soda problem. The sweetness of the soda really fills my cravings. I have made some improvements and when I feel a craving come on, I juice spinach and grapes. Click for recipe here. It is really quite delicious and then I don't mind skipping the soda.
Another way to eliminate cravings is by replacing the "bad" drink with something sweet but healthy. Sweet potatoes seem to hit the spot as well. Sweet potatoes contain B6 (helps prevent heart attacks), good source of vitamin C, contain vitamin D (good for moods and energy), contain iron and good source of magnesium (an anti-stress mineral).
The apple chips I made last time (click here for recipe) were a great hit in my house. So much that I started making them regularly. Apples are a wonderful source of fiber and we all need fiber! This week, I have also added sweet potato chips. I have found the trick for not grabbing the boxed items are to make PLENTY of chips and have them on hand! Make sure to make lots!
Ingredients:
Directions:
Step 1: Peel sweet potatoes. Use a mandolin (I have the Simple Slicer from Pampered Chef since I am a consultant and LOVE it!) and slice them all to equal width. This helps to prevent burning. If the slices are uneven in size, some will burn and some won't cook all the way through.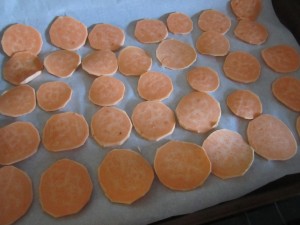 Step 2: Preheat oven to 350 degrees and place parchment paper on a baking sheet. Fill with slices but don't overlap.
Step 3: Cook until desired texture is reached. I like mine a little crisper like a chip so I almost burn mine. Bake for 20-25 minutes, flip half way. (This gives a nice curve to look like a chip!)
Did you ever notice the difference between an organic and conventional sweet potato? I found this quite interesting. My local grocery store does have organic sweet potatoes however they are a seasonal item and when they are in, I purchase a lot.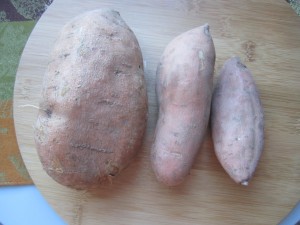 The potato on the left is conventional and the two on the right are organic. What a big difference right? I find organic sweet potatoes to have a fresher taste as well.
After the chips bake, place in a container to cool or eat warm. They are delicious either way! Give yourself a healthy treat today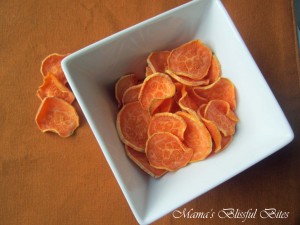 You can even add some seasonings – cinnamon, salt, nutmeg, etc. prior to baking. Test out different options and see what you enjoy best!