You should all know by now, I always try to go the "healthy" route in feeding myself and my children and that I also rarely make desserts. Personally, I'm just not a sweet, dessert kind of fan. I have always skipped over the sweets, pies, cakes, chocolates…everything. Just not my thing but one of the foods that I love are avocados.
My son, who is three, it completely turned off by the color. He takes one look and scrunches up his nose and narrows his eyes in. "No Mama." Not one touch, not one lick. It saddens me. If only he knew how delicious avocados are. Not to mention, completely healthy.
I've been in search for more avocado recipes when I came across a whole slew of avocado puddings on pinterest. Some with milk, some with just honey and cocoa, some with sweetners etc. There are lots that can be to form your own pudding. So I wanted to add it to list of things to do. I've pushed this recipe off for months and I have no idea why. It's texture is creamy just like a pudding and the chocolate it rich and delicious. My warning is that it doesn't taste exactly like chocolate pudding, however; my whole family enjoyed it. I made a big batch but of course you can always half the size. This served four comfortably.
Ingredients:
2 avocados (Haas is the best!)
1/2 cup vanilla almond milk (I'm sure you can substitute any milk)
1/2 cup cocoa powder
1/2 cup agave
2 teaspoons vanilla extract
Recipe:
Step 1: Place all ingredients in a blender and mix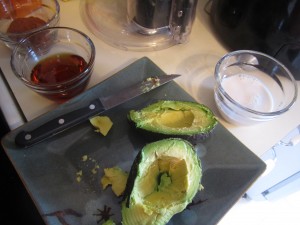 Step 2: Scoop and serve or refrigerate. I would use it later that day…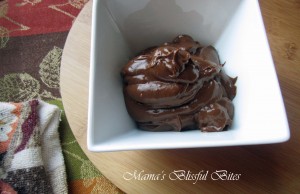 It still has that "nutty" flavor that avocados have. You won't be entirely fooled however it is still quite delicious. My son asked for dessert the second night too. I used it as a my "bait." I told him, "You eat all your dinner and I'll give you chocolate pudding." It was a win-win situation to say the least. He ate every last drop. After he licked the bowl and spoon, he asked for more.