As the colder weather approaches, you will notice more and more soups on my site. They are warm and inviting to the soul, which is why I make them so often during the winter season. (Plus the nutrients is unbelievable.) Nothing is more warming that a nice bowl of soup right? So this season I started off with a Moroccan soup. It's robust in flavor and delicious. One of my "signature" soups that I make season long and I wanted to make sure you had it on your list too!
Ingredients:
3 organic sweet potatoes: peeled and cubed to bite size pieces
1-2 tbs olive oil
1 organic onion: chopped
dash of cinnamon
2 cloves garlic: minced
1/4 teaspoon turmeric
1/4 teaspoon cumin
1 can organic black beans: drained
1/2 cup dried lentils
1 can organic garbanzo beans: drained
4 cups organic vegetable broth
dash of minced garlic (optional)
handful of cilantro (optional)
salt and pepper
Step 1: Heat oil over medium heat in a large saucepan.
Step 2: Add sweet potatoes and cinnamon and cook for 3-5 minutes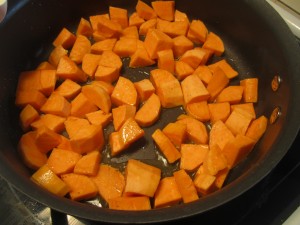 Step 3: Add onion, garlic, salt, pepper, cumin and turmeric and saute another 3 minutes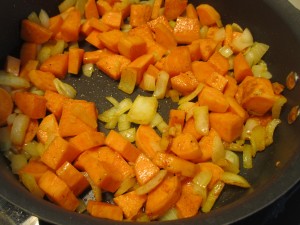 Step 4: Add beans (ps, I forgot the garbanzo…ahhh! lol) and stir for 1 minute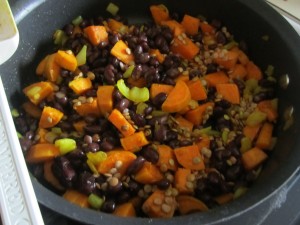 Step 5: Add broth and bring to a boil. Lower heat and simmer for 40 minutes until lentils are soft and cooked through.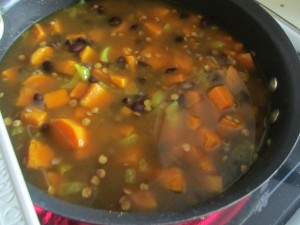 Step 6: Add ginger at the end and stir for a few minutes.
Step 7: Plate and garnish with cilantro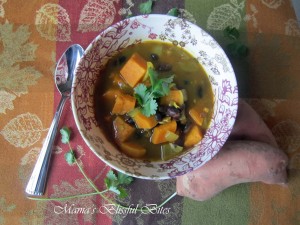 Do you have a favorite soup of the season? I'm ready to rock and roll! More to come so stay tuned!
xoxo,
Mama