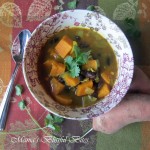 As the colder weather approaches, you will notice more and more soups on my site. They are warm and inviting to the soul, which is why I make them so often during the winter season. (Plus the nutrients is unbelievable.) Nothing is more warming that a nice bowl of soup right? So this season I started off with a Moroccan soup. It's robust in flavor and delicious. One of my "signature" soups that I make season long and I wanted to make sure you had it on your list too!
Ingredients:
3 organic sweet potatoes: peeled and cubed to bite size pieces
1-2 tbs olive oil
1 organic onion: chopped
dash of cinnamon
2 cloves garlic: minced
1/4 teaspoon turmeric
1/4 teaspoon cumin
1 can organic black beans: drained
1/2 cup dried lentils
1 can organic garbanzo beans: drained
4 cups organic vegetable broth
dash of minced garlic (optional)
handful of cilantro (optional)
salt and pepper
Step 1: Heat oil over medium heat in a large saucepan.
Step 2: Add sweet potatoes and cinnamon and cook for 3-5 minutes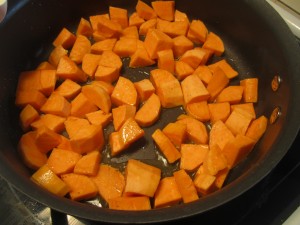 Step 3: Add onion, garlic, salt, pepper, cumin and turmeric and saute another 3 minutes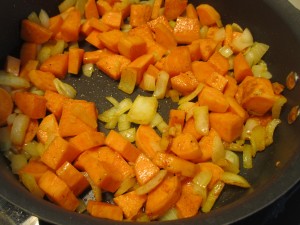 Step 4: Add beans (ps, I forgot the garbanzo…ahhh! lol) and stir for 1 minute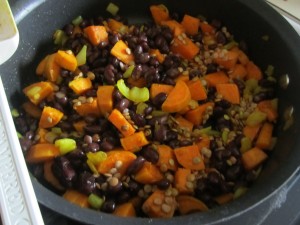 Step 5: Add broth and bring to a boil. Lower heat and simmer for 40 minutes until lentils are soft and cooked through.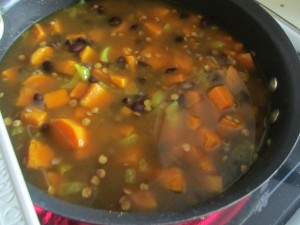 Step 6: Add ginger at the end and stir for a few minutes.
Step 7: Plate and garnish with cilantro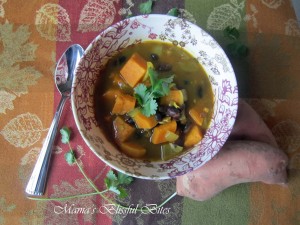 Do you have a favorite soup of the season? I'm ready to rock and roll! More to come so stay tuned!
xoxo,
Mama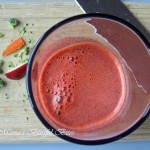 I was sitting at the doctors the other day and was surrounded by a room of pregnant women. As I struck up conversation with one of the ladies next to me, she talked about how the doctor said she was anemic. "Ahhh," I said. "I remember those days well. After all, it wasn't too long ago." Now in the past, when the doctors have checked me, sometimes they would say I was anemic and sometimes I wasn't. When I found out I was, I would take an iron pill or a B12 pill and call it a day. But what does that really mean? It really meant that for me, I wasn't getting enough iron and I knew that.
Taking these magical "pills" isn't always the answer. Can you imagine if we could take pills for breakfast, lunch and dinner that would provide us with all our daily nutrition? Well, even if we did live during that time period, I wouldn't want to do that. The body needs food to help energize and provide us with optimum health. Its how the body functions properly. It's how we were born. We were born for good food, right?
.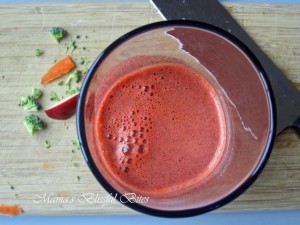 As I realized myself, that I felt a little more tired than normal, I decided to take into my own hands and charge up my iron levels. If I would have known then what I know now…isn't that always the case?
Recipe:
1/2 beet
2 kale leaves
1/2 cup broccoli with stems
3 carrots
1 apple
Alternate putting through juicer.
Did you know?
Broccoli is a good source of vitamin C and vitamin K.
It also is good for strengthening the immune system and also prevents cancer as well as boosts liver function.
One cup of broccoli also has as much protein as a one cup of rice.
Strong bones
At first I was a little skeptical on eating all these veggies, I have to be honest. But I actually really liked this drink. It made me feel adventurous in trying new things. Score one point for Mama today!
So, what is to this 21-Day Juice Challenge? It's simple. If you want to participate, you can do so by either juicing every day or when you want! There's no set time or what should be in your juice! It's entirely up to you. I simply want to empower you to do something good for yourself. Some people don't have enough time to eat 5-10 servings of fruit and vegetables a day – some people don't eat any – this is a fast way to be sure that you are receiving great benefits of juicing! As I have mentioned, you will receive lots of nutrients, vitamins and more.
You may ask why 21 days. Studies have shows that it takes 21 days to create a habit, which means something you do daily. I want this to be a healthier part of our lives together. If you feel compelled, please join me in this journey and we can juice together! What is your favorite juice? Facebook me at https://www.facebook.com/mamapoolecooks and let's talk or feel free to leave a comment below.
PS I'm not a doctor. Any and all information is from endless hours of research on the internet and through books. You can do that too. See a doctor if you need medical assistance and not my blog.