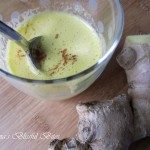 De-li-cious! This is my kind of juice. Perfect in the morning or for bed time! It reminded me of apple cider. I liked it so much, I made a second glass!
Recipe:
4 apples
1/4 inch ginger
cinnamon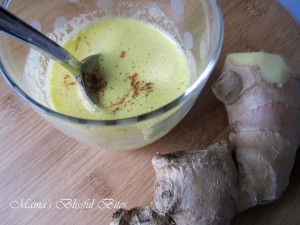 Juice the ginger and apple slices, rotating pieces. Finish off with a dash of cinnamon.
The benefits of ginger are phenomenal! When I was pregnant, I drank tea made up of water, ginger and lemon. It really helped my motion sickness in the first trimester and my stomachaches, naturally. Here are some more benefits:
migraine relief
cramps
natural treatments for colds
inflammation reliever
helps work against ovarian and colon cancer
So, what is to this 21-Day Juice Challenge? It's simple. If you want to participate, you can do so by either juicing every day or when you want! There's no set time or what should be in your juice! It's entirely up to you. I simply want to empower you to do something good for yourself. Some people don't have enough time to eat 5-10 servings of fruit and vegetables a day – some people don't eat any – this is a fast way to be sure that you are receiving great benefits of juicing! As I have mentioned, you will receive lots of nutrients, vitamins and more.
You may ask why 21 days. Studies have shows that it takes 21 days to create a habit, which means something you do daily. I want this to be a healthier part of our lives together. If you feel compelled, please join me in this journey and we can juice together! What is your favorite juice? Facebook me at https://www.facebook.com/mamapoolecooks and let's talk or feel free to leave a comment below.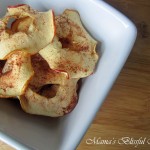 Apples are here year around. It's one of the luxuries we have. Apples come from far places and greet me at the grocery store. And believe me, I greet them back as I pile bags in the cart. During the fall season, I travel to the farm and grab bags of local apples. They are so perfect, crisp and sweet to taste. This is still the best time for apples.
As I was browsing through recipes, I came across apple chips and thought about how heavenly they would be. The recipe had a mixture of sugar and cinnamon but plain cinnamon was just as good. They are easy to make and delicious that you may want to grab a big glass jar and have lots on hand. I tried my little experiment with two apples and they went mighty fast.
Ingredients:
2 apples: cored and sliced
cinnamon
Recipe:
Step 1: Preheat oven to 200 degrees.
Step 2: Prepare an 11×17 baking pan with parchment paper.
Step 3: Core and slice apples thin. Try to make sure they are the same width so they cook evenly. I used a mandolin.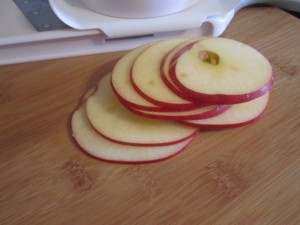 Step 4: Sprinkle with cinnamon. (I used my finger and rubbed it into the apples for a nice coating.)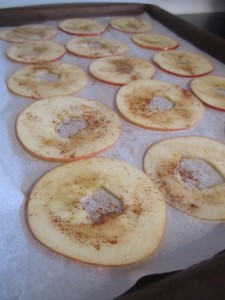 Step 5: Bake for 2-3 hours, flipping them over halfway.  If you have a dehydrator, use that, but if not, oven works just as well.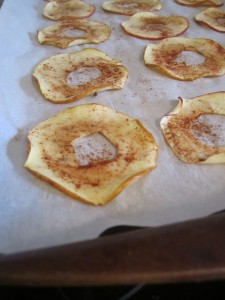 You'll notice when to flip them because the ends start to curl up and it feels "dry."
Step 6: Share…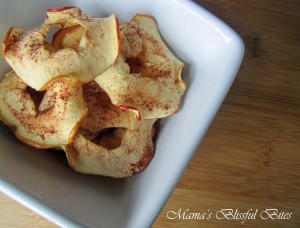 … but make sure to have a little extra hiding for yourself! They go quickly.