This #SundaySupper is lots of fun! Susan from The Whimpy Vegetarian, has brought this weeks theme, Gifts from the Kitchen! What an amazing idea getting us all pumped up for the holidays! I just love it!
One of my favorite Christmas gifts was in a jar. My stepmom gave me a jar layered with ingredients to make chocolate chip cookies. It was the first time my eyes saw a jarred-gift. I thought it was ridiculously cute. It came with two little scoopers around a tied ribbon with directions. I was just in aww at this wonderful idea. People are so creative, it's amazing.
With this weeks theme, I wanted to re-create my first gift. But this time, I choose to work with my husbands favorite, peanut butter cookies. I always try to work out something healthy but this was a push and shove. It's just not, however; it taste fabulous. The sea salt gives it that salty flavor with the creamy peanut butter sweetness. My son kept snatching them from the "cooling" station and my husband would chase him down. He had way too many.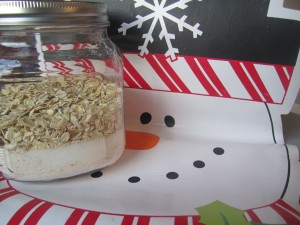 PS. I know some of you may notice, but I forgot to add my brown sugar in the jar – it's actually more in there and higher if filled properly (smack on face ;))
Ingredients:
1 1/4 cup whole wheat pastry flour
1 cup rolled oats
3/4 teaspoon baking soda
1/2 teaspoon baking powder
1/4 teaspoon salt
3/4 cup sugar
1/2 cup brown sugar
1/2 cup butter at room temperature
1 cup creamy peanut butter
1 teaspoon vanilla extract
1 egg
Recipe:
Step 1: Mix in a bowl first seven ingredients. If giving as a gift. Stop here and place direction on jar.
Step 2: Cream peanut butter and butter together until smooth, five minutes.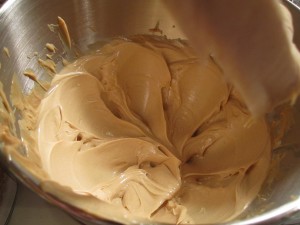 Step 3: Add vanilla and egg and beat thirty seconds more.
Step 4: Add the dry ingredients from the jar into the mixing bowl and mix until combined.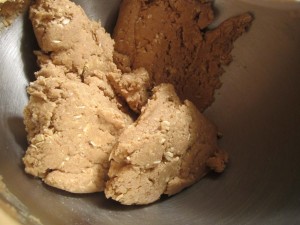 Step 5: Preheat oven to 350 degrees. Prepare a baking sheet with parchment paper.
Step 6: Form dough into small balls for cookies. Take a fork and make a criss-cross pattern for the signature peanut butter cookie look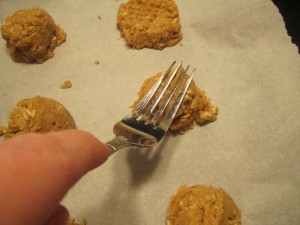 Step 7: Bake 15-17 minutes. I have to be honest, watch your timing because I used stoneware so my cookies wouldn't brown and be softer. If using a metal pan, consider less time.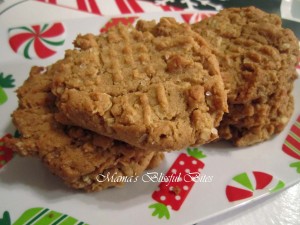 Be sure to check out more Gifts from the Kitchen!
Breads / Breakfast
Condiments / Ingredients
Soup and Snacks
Sweets
Drinks
Please join on us on Twitter throughout the day during #SundaySupper on November 11.  In the evening we will meet at 7pm EST for our weekly #SundaySupper live chat.
All you have to do is follow the #SundaySupper hashtag or you can follow us through TweetChat.
We'd also love to feature your own posts for Gifts From the Kitchen on our #SundaySupper Pinterest board to share them with all of our followers, too.