My husband bought a box of cereal the other day and he said, "I love this cereal, it's great." To me, I heard, please you think that cereal is great? I know I can make one better. Funny how we understand each other. So it was challenge on. Making cereal is like making granola bars only not as much "goop" to hold them together. It's the same process, the same goodness coated all over each piece, but the glue that holds it together is lighter. It shouldn't come out of he oven in hard pieces but crumbly and cereal form. The aroma of all spice and cinnamon fills your oven and it gives a winter ring in the atmosphere. My family made me feel like I won the lottery. They ate it before it cooled down and then ate it after dinner. My selective eaters, ages 3 and 2, even had it in the morning while my husband took half the bag to work. My mom, who stopped by unannounced even asked for a bowl! The next day, it is all gone. But it sure did make me smile inside to know they enjoyed it that much.
Recipe:
3 1/2 cups rolled oats
1 cup dried cherries
1/2 cup sliced almonds
1 cup cashews: chopped to bite size
2 tbs flax seeds
2 teaspoons ground cinnamon
1  1/2 teaspoons ground ginger
1 teaspoon all spice
6 tbs unsalted butter
1/2 cup honey
2 teaspoons vanilla extract
Recipe:
Step 1: Line parchment paper on a 11×17 baking sheet. (I used stoneware). Preheat oven to 250 degrees
Step 2: In a bowl, mix oats, cherries, almonds, cashews, flax seed, cinnamon, ginger and allspice. Stir to combine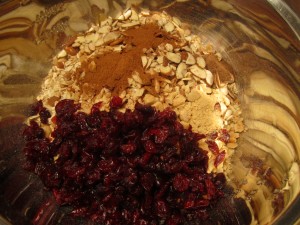 Step 3: In a small sauce pan, combine butter and honey over low. When the butter is melted, take off heat and stir in vanilla.
Step 4: Add butter mixture to oat mixture and stir to combine.
Step : Pour on baking sheet and pat down to evenly distribute.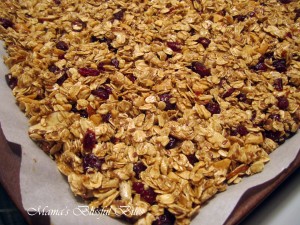 Step : Bake for 75-80 minutes until a little crisp. (You may need less time 60-70 minutes if using a metal baking sheet)
Step 7: Wait for it to cool down (if you can resist) and place cereal in an air-tight container. The cereal should come off in little pieces and not big chunks.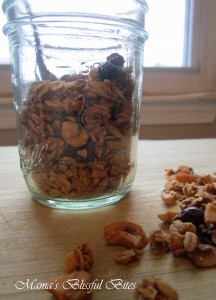 I made this yesterday and sadly our container is gone! It has been requested to make cereal once a week and believe me, I don't mind doing so since I know what's in it! You can also add in raisins in replace of dried cherries, coconut, different seeds, different nuts. The possibilities are endless. Once you have homemade cereal, I bet you won't be going back 😉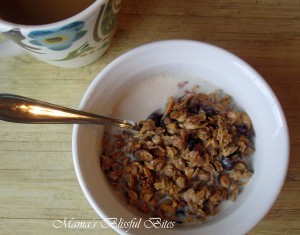 So please know, you have been fully warned. It is addicting. We opened up the container and snacked on it without any almond milk! I felt good about this, knowing my kids were eating healthy. It's filled with lots of nutritional value and it tastes oh so yummy. Good bye boxed cereals!