We did it! (Or maybe I just did it, but hey…) we're here! Week one is complete! I'm so happy to end the first week with a shabang. Today's juice is my favorite. I mean absolute favorite. I truly had no clue that juicing could be this good. Well, I mean besides the nutritional aspects! When I started this project, I did it to help me on my path to optimum health or what this should feel like and be to me.
I remember sitting in the hospital last year, sick as could be, and thinking about food of all things. If you have ever had salmonella poisoning, it is not fun by any means, but, it is what started my journey. The more I stared at a saltine cracker in my hand, the more I wondered what was actually in it and how our bodies process it. Funny how hours looking at lights and waiting on doctors can make you have your own reflection time as well. I wasn't happy and I couldn't understand fully how these processed foods have such a negative affect on our bodies, yet we still eat them. I started to really think, what is food? What is in that so called food and who put it together? It just didn't settle with me. I think everyone has an internal feeling that they know what does feel good and doesn't and I started to struggle.
As I have also mentioned, I was vegetarian for years. I choose to become vegetarian because it just felt right to me. I don't really have a long-winded explanation except that again, internally, I just knew it was right. Everyone in my family is a meat-eater and I was okay with passing it along. When I became pregnant, funny enough, all I wanted was a burger. So I ate burgers and Rita's Italian ice, daily. I truly believe if you listen, you will recognize what your body is craving. Afterwards, I continued to eat meat. Even throughout my second pregnancy the following year, until I got sick of good old salmonella poisoning. Coincidence? No, I don't believe in them. I think it was a message to get me started on my new journey. For the past year I have struggled with food. Not in the sense of a disorder but in the sense of finding what is comfortable for me. I have read lots of research on vegetarian diets vs vegan vs raw. My conclusion is that I like a little from all three  and I even don't like some stuff in each. Everyone should do what feels best to them and the conclusions that they have reached.
One thing that I do love for my health, is to juice. I never knew what a profound impact it would have on my life. It's quite amazing. My energy, my love for myself, the goodness I feel. I don't know if everyone will have these results, but I know I do. If you have been skeptical about juicing, you may want to try this one out first. It was that good. I really do love it.
Recipe:
2 stalks of celery
2 apples: chopped
1 inch of ginger: grated
1 handful of parsley
1/2 lemon: without peel
Make according to juicers instructions.
Now this only makes 4oz. Double it for 8oz. Yes, it's worth it. Yes, double it. You'll thank me later.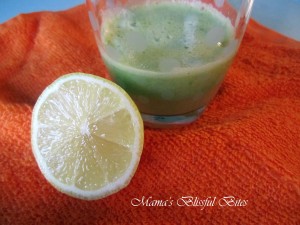 Now you may ask – why it's called the Earth Goodness. If you have noticed, it has a lot of goodness from the Earth (wink, wink). Guess it's just my sense of humor. Of course I'm going to cover some benefits of this delicious juice as well! Let's give a big old, thank you Mother Nature!
Benefits of Parsley: Rich in antioxidants, great as an anti-inflammatory agent to help fight things such as arthritis, has vitamin K (helps prevent calcium build-up), also helps fight against colon and prostate cancers.
Benefits of Ginger: (my favorite) Here's just some of the run down….I love this, there's sooo many: use for morning sickness, motion sickness, anti-inflammatory, heartburn relief, stress relief, cold and flu prevention, migraine relief, menstrual cramp relief and more….seriously, check out ginger. It's amazing.
So, what is to this 21-Day Juice Challenge? It's simple. If you want to participate, you can do so by either juicing every day or when you want! There's no set time or what should be in your juice! It's entirely up to you. I simply want to empower you to do something good for yourself. Some people don't have enough time to eat 5-10 servings of fruit and vegetables a day – some people don't eat any – this is a fast way to be sure that you are receiving great benefits of juicing! As I have mentioned, you will receive lots of nutrients, vitamins and more.
You may ask why 21 days. Studies have shows that it takes 21 days to create a habit, which means something you do daily. I want this to be a healthier part of our lives together. If you feel compelled, please join me in this journey and we can juice together! What is your favorite juice? Facebook me at https://www.facebook.com/mamapoolecooks and let's talk or feel free to leave a comment below.