Wowza! I wanted to start this morning off with my specialty drink instead of late at night when I feel so ho-humish. The impacts from just juicing alone have boosted my energy level way up so I couldn't wait to start my morning off right.
Now, many of my friends know this, I am a Mountain Dew-a-holic. This means I have had a sugary drink, (two – four, 20 oz a day!), since I was in 8th grade. Let's just say that was a few decades ago. When I was in middle school and soda machines just came about, it was super cool to have a soda in your hand. My choice was a nice Mountain Dew. Interestingly enough, if a restaurant doesn't have Pepsi products then I go for water. Strange but true. When something is a habit and for a long time, it's hard to break that cycle, but I know it can be done. I have a few small bad habits. I'll share later one-day, maybe 😉 As I juice it up in style and as my water intake has increased, I have thought and wanted less of the Mountain Dew. I bought one today, like my normal routine, coffee followed by Mountain Dew – don't judge, I'm hard-core addicted to caffeine. But by the time lunch came around, I realized, I didn't drink it all. I was floored. What was the difference? What was the change?  I had to recall my normal morning routine – coffee, Mountain Dew, water…. oh that's right, I had juice!
I truly believe that by being more conscious of my selections, it's really starting to make a more positive impact on my life overall. My juice of choice this morning was so sweet and tasty, I even thought twice about purchasing a Dew, but as I said, habits are hard to break. And let's follow that up with, "but they can be done." The drink was so delicious, I'm going to make a second one real soon. It has made me feel so good about my selections and getting nutrients in my body that I'm starting to look forward to tomorrows juice! I can see this becoming a very healthy habit. Don't ya think?
Ingredients:
2 carrots: skinned, cleaned
4 oz fresh pineapple
1 orange: rind removed and de-seeded
Place in according to juicing instructions.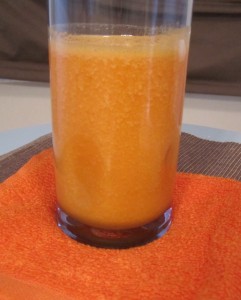 PS. Sorry I haven't been taking great shots – the morning isn't quite ideal for the kids to give me some time to shoot! I'll open the blinds tomorrow morning.
So, what is to this 21-Day Juice Challenge? It's simple. If you want to participate, you can do so by either juicing every day or when you want! There's no set time or what should be in your juice! It's entirely up to you. I simply want to empower you to do something good for yourself. Some people don't have enough time to eat 5-10 servings of fruit and vegetables a day – some people don't eat any – this is a fast way to be sure that you are receiving great benefits of juicing! As I have mentioned, you will receive lots of nutrients, vitamins and more.
You may ask why 21 days. Studies have shows that it takes 21 days to create a habit, which means something you do daily. I want this to be a healthier part of our lives together. If you feel compelled, please join me in this journey and we can juice together! What is your favorite juice? Facebook me at https://www.facebook.com/mamapoolecooks and let's talk or feel free to leave a comment below.