Day 3 all ready! Wahoo! I could not wait to juice today but I had a very ho-hum kind of day. My patience seemed to run low and becoming frustrated and angry seemed to flow more easily. I hate that. Yesterday was such a great day, things just went wonderful and it wasn't out of the ordinary, I noticed it was how I responded to it. My everyday struggles were still the same but I had a positive outlook and it showed all over.
Today, I was sluggish. So I looked to what I did, my habits, how did I eat, what were my thoughts. When I recognize my conscious thoughts, sometimes I am able to figure out what's going on and redirect them but not today. Sluggish and moody all around until, get this, I had my juice! I actually juiced very late tonight because I couldn't find time to do it with the kids and getting groceries for the big storm or dropping off money for a field trip or the nap they were supposed to take then the dinner I had to make or the bank run that NEEDED to happen. Tonight, late tonight, I was able to make it. I was surprised at how good it made me feel and lifted me into a better place almost immediately.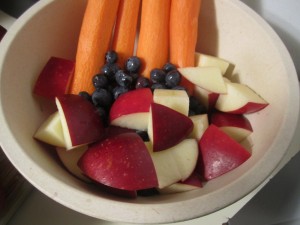 It's also my favorite fruits and veggies. I can recall eating blueberries out of the container for a snack when I was little. My stepmom always had them on hand and I would "sneak" in and eat the whole container, which didn't go over too well. As an adult, they are still my favorite!
Blueberries have the highest antioxidants of any fruit and they also do wonders for your belly by reducing belly fat. Did you know they help the urinary tract and preserve vision? Amazing!
Carrots can help lower the risk of cancer such as breast and lung cancers, improve vision and prevent health disease. They are fantastic for nourishing the skin too. Have you ever tried a natural lotion made of carrots? It's fabulous!
We all know the saying, if you eat an apple a day, it keeps the doctor away! And they could be on to something. Not only do apples help whiten your teeth (thank you!), helps prevent against lots of cancers, decreases risk of diabetes, a healthy heart, prevent gallstones, beat diarrhea and constipation, avert hemorrhoids, boost your immune system and SO MUCH MORE! Please eat an apple everyday.
Recipe:
4 carrots: peeled and ends cut off
3 apples: quartered
4 oz of blueberries
Serves 2
Follow juicing manual instructions and please enjoy!