I feel so good that I am back up and running. Sometimes I get into these fogs where I'm distracted and redirected to a different place than where I really want to be. Does that make sense? I am re-focusing myself back to the healthy person I want to be. A person with optimum health. Can that even ever be reached? I don't know, but I'm going to make changes to put me on the path for it as it doesn't happen over night but day-by-day.
I used the word "healthy" in the recipe title because everyone has a different definition. It's a universal word that seems to be over-used daily. What may be healthy to one person, isn't healthy to another. For example: bowl of cereal for breakfast vs eggs and bacon vs a bowl of oatmeal. Which one is healthy to you? Healthy to me is a food, that is a food. It doesn't have a long list of ingredients and I know what it is in it. I can read the ingredients and know that beans are beans and tomatoes are tomatoes! These are the kind of meals I am most interested in. These are the kinds of food that make me feel good to eat knowing that I'm taking care and loving myself.
For this recipe, I choose ingredients that give the body nutrients in a healthy way.
Ingredients:
1 tbs olive oil
1 onion: chopped
2 cloves garlic: minced
1 1.2 cooked brown rice
1 (28 oz) can of organic whole tomatoes
1 (14.5 oz) can of black beans: rinsed and drained
1 (14.5 oz) can of Northern beans: rinsed and drained
3/4 cup water
1 tbs chili powder
1 teaspoon cumin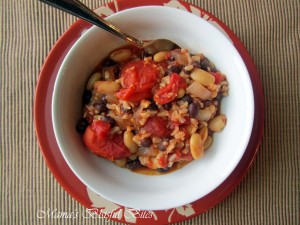 Let's run through!
Garlic: promotes well being of the heart and immune system while also helping maintain blood circulation
Onion:  good source of vitamin C, B6, biotin, chromium, calcium and dietary fibre. They contain good amounts of folic acid and vitamin B1 and K.
Beans: helps bowl movements (so important!), regulates functions in colon, lowers blood pressure and hello, protein baby!
Tomatoes: antioxidants, reduce risk of heart disease
Brown Rice: high in fiber, (with beans makes a complete protein), can help lower cholesterol, prevent weight gain, good source of
These are just some fabulous properties that your body needs. So why not make a delicious recipe and feel healthy in doing so.
Recipe:
Step 1: In a large saucepan, add oil over medium low heat.
Step 2: Saute onion and garlic for 3-5 minutes
Step 3: Add the rest of the ingredients.
Step 4: Turn heat to medium-high and bring to a boil. Cover and reduce heat to low. Simmer for 15 minutes or consistency you want to reach.
NOTE: Make sure there is also liquid or else it will burn. If you need to add more water, do so to the consistency you desire.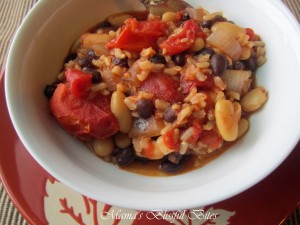 Love yourself. Feed yourself well.