This #SundaySupper is very special to me. Chantal has given 20 lucky bloggers in our group a beautiful Easy As Pie dish for a #Bakeforacure event. I was very excited to be one of those twenty bloggers and was given a very gorgeous apple red pie dish!!! But I'm giving it away, to my beautiful niece. We are to bake something delicious and give it to a medical cancer treatment professional or someone we know who has/had cancer. I was delighted to call my niece, who has been diagnosed with leukemia, and ask her what she wanted! Mama told me her favorite is a pumpkin pie. Perfect for Fall so in honor of baby girl, I bring you and her a delicious Pumpkin Maple Pie!
Ingredients:
1 store-bought pie crust (or make your own!)
2 large eggs
1 can of pumpkin puree
1 cup heavy cream
1/2 cup pure maple syrup
1 teaspoon or more to taste of pumpkin seasoning (recipe as follows)
Pumpkin Seasoning (or use pumpkin spice):
1 teaspoon cinnamon
1 teaspoon ginger
1 teaspoon all spice
1 teaspoon nutmeg
Mix to combine all ingredients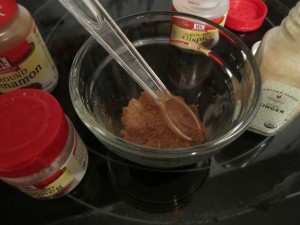 NOTE: This taste fabulous when you're making a pumpkin late as well, I keep it on hand in a container, just in case…
Maple Whip Cream: (I know, delicious!) Recipe below.
Recipe for pie:
Step 1: Bake pie crust according to instructions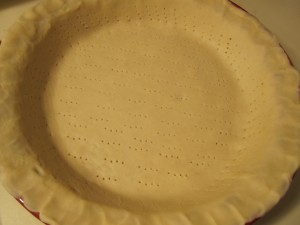 Step 2: Preheat oven to 350 degrees
Step 3: Place all ingredients in a bowl and mix well.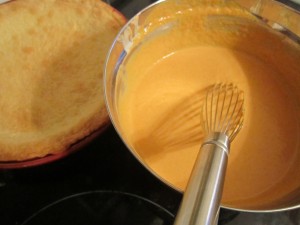 Step 4: Pour in baked pie crust and bake for 65-70 minutes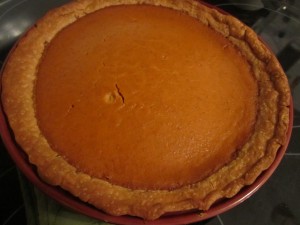 See those fingerprints – yup, that's my son. If it wasn't so warm, I'm sure he would have dove right in. When mama says, "Don't touch that" it really means do….the lessons learnt!
Step 5: Let cool prior to cutting first delicious slice!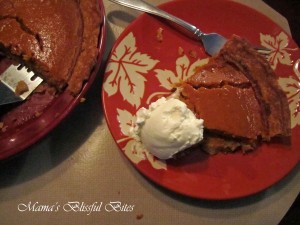 That beautiful Maple Whip Cream, sure I'll tell ya.
Ingredients:
1 cup heavy whipping cream
1/2 tbs 100% maple syrup
1 tbs confectioners sugar
1. In a mixer, whip cream until peaks form. 2. Add remaining ingredients. 3. Fluff and put on your pie!
These #SundaySupper Contributors, were provided with a beautiful Easy As Pie Dish by Chantal Cookware.  They will be sharing their recipes with you this Sunday and also their thoughts on this Beautiful Pie Dish.   Many are giving away their dish along with their pie to brighten someone's day.
The Sunday Supper Team and Chantal Cookware, would be honored to have you join us for this special #BakeForACure event Around the Family Table this week.
Join us on Twitter throughout the day during #SundaySupper.  We'll be meeting up at 7:00 pm(Eastern) for our weekly #SundaySupper  live chat where we'll talk about our favorite Comfort Food Recipes.
Check out these gorgeous Sunday Supper Recipes:
As you may have noticed, when the #SundaySupper Team does something, we come together and do it with a bang.   Check out these additional recipes, perfect to take to someone who you want to make feel special this month.
All you have to do is follow the #SundaySupper hashtag or you can follow us through TweetChat.
We'd also love to feature your easy go to recipes on our #SundaySupper Pinterest board and share them with all of our followers, too.
Keep up with the latest from Chantal on their website, twitter, facebook, and Pinterest !