Every cold weather needs a warm chili, am I right? I think so! It's kind of humorous in our house because I never make chili the same way twice, except for this one. I usually change things up and add different spices, vegetables etc. but this one I make a few times throughout the winter season. It's just good and you can't go wrong with something that's already good! It's hearty and filled with veggies that are not only healthy for you but taste great. It's thick and chunky and I love to feel like I'm eating a meal instead of a puree soup at times!
As I mentioned before, I make different chili's but as my husband takes one bite, then another, he looks at me and grins. He knows I made his favorite. So I pass it to you and hope it turns into a favorite at your dinner table as well. Bundle up, it's getting cold out there!
Ingredients:
1 -2 tbs vegetable oil
3 small carrots: peeled, and sliced
2 stalks of celery: sliced
1 onion: chopped
2 cloves of garlic: minced
1 yellow pepper: chopped
1 green pepper: chopped
1 (28 oz) can of diced tomatoes (I used with oregano, basil and Italian seasonings)
1 (14.5 oz) can cannellini beans: rinsed and drained
1 (14.5 oz) can black beans: rinsed and drained
1 Tbs cumin
1 Tbs chili powder
salt and pepper
green onions (optional for garnish)
cheddar cheese (optional)
Recipe:
Step 1: Add oil to a big pan over medium-low heat.
Step 2: Add onions and garlic with a touch of salt. Cook, stirring occasionally 5 minutes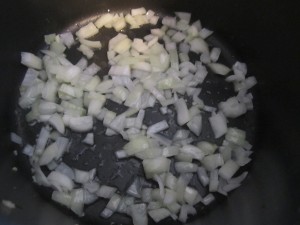 Step 3: Add carrots, peppers and celery and cook over low heat – get this – ten to fifteen minutes. Add pepper and salt.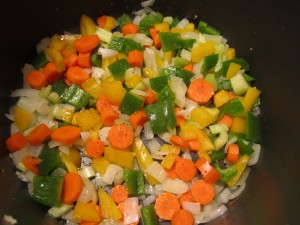 I do this over low heat and stirring often being careful not to burn any bits. I really like my vegetables to have a slight bite but never a crunch when I'm eating chili. If you like the crunch of a carrot or celery, cook for less time. I always test a carrot too. I like for them to be soft.
Step 4: Add beans, diced tomatoes and seasonings. Cook for 45 minutes until flavors come together.
Step 5: Ladle and serve with green onions and cheese!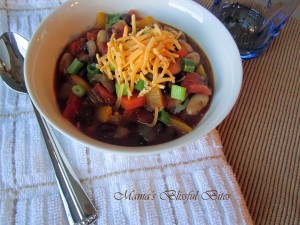 And just in case you were wondering where this recipe got its name…you know, Black and White…. look again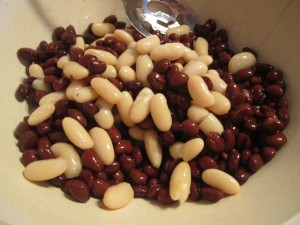 I thought about calling it "Skunk" chili, but it didn't sound as quite appealing 🙂