I'm so excited to say, "FALL IS HERE!" And believe me, I love it! Jumping in the leaves, pumpkin picking, colors of the trees, making comfort food and finally being outside to play! This weeks #SundaySupper theme is "All Things Orange," don't you just love that sound? I hear orange I think Fall! Fall! Fall! I have to give a big THANK YOU shout out to The Meltaways for hosting such a great event!
So far this year we picked apples,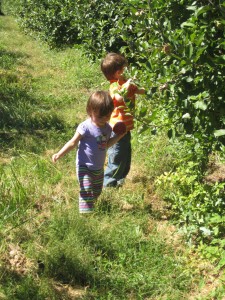 went on a hayride,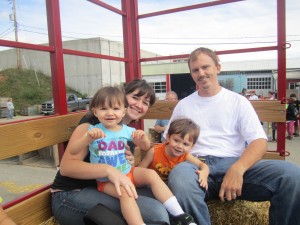 ,
and picked pumpkins!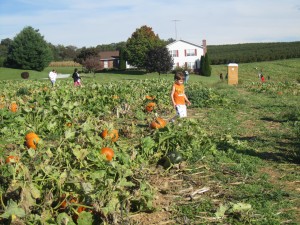 Also in celebration of Fall, I have made a lot of  comforting dishes already! Wahoo! This week I present to you Rice and Fig in Mini Pumpkins. So…you don't have to be too observant to notice that I didn't use a mini pumpkin. You can use small pumpkins too! It's a bowl of deliciousness or you can eat the fig mixture by itself. I promise, it still taste good!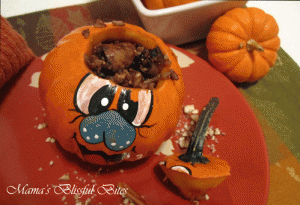 Ingredients:
 1 cup cooked brown rice
6 oz figs
1/4 cup balsamic vinegar
1/4 cup apple juice
2 teaspoons agave (more to taste)
1 teaspoon vanilla extract
2 teaspoons toasted chopped pecans
1 pumpkin (under 1/2 pounds) or 2  mini pumpkins
Recipe:
Step 1: Combine figs, vinegar, juice, agave and vanilla extract in a sauce pan over high heat. Bring to boil then simmer over low heat for 12-15 minutes until sauce becomes thick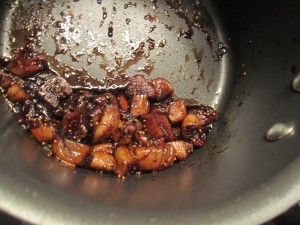 Step 2: Add rice and pecans and stir to combine.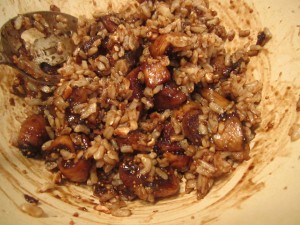 This mixture alone is perfect for a side dish or it can also stand alone! The flavors give it a sweet yet balanced flavor. Or you can always jazzy her up and give her a spooky treat! You know, put the mixture in a pumpkin!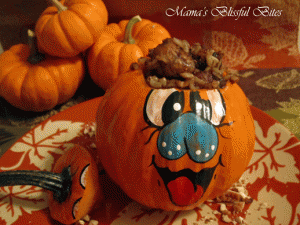 Here's the following steps:
Step 1: Cut the top off and clean out the inside of the pumpkin leaving nothing behind.
Step 2: In a steamer, place a piece of parchment paper and cut some holes. You need the steam to run through. Place the pumpkin in the steamer and cover. Steam for 40 minutes until the pumpkin is soft.
Step 3: Fill it with rice mixture and serve!
Enjoy the rest of your Orange filled days with some more fabulous #SundaySupper recipes! Oh YES!
Sunrise  (Breakfast and Brunch)
Paula from Vintage Kitchen Notes is bringing her Orange Ricotta Pancakes
Kris from In The Kitchen with Audrey and Maureen  is making her Sweet Potato Pancakes
Erin from Dinners Dishes and Desserts is baking up some Pumpkin Chocolate Chip Muffins
Heather from Girlichef is bringing Pumpkin Doughnuts with Spiced Buttermilk Glaze
Nicole from Daily Dish Recipes is making Pumpkin Donut Puffs
Patti from Comfy Cuisine is bringing Classic Orange Marmalade
Claire from The Realistic Nutritionist is baking up some Spiced Low-Fat Pumpkin Biscuits
Sunithi from Sue's Nutrition Buzz is making Spice Pumpkin Ricotta Muffins with Craisins and Walnuts
Wendy from The Weekend Gourmet is cooking up some Pumpkin Maple Oatmeal
Jamie from Mama Mommy Mom is bringing Butternut Squash Butter
Chelsea from Chelsea's Culinary Indulgence is bringing Pumpkin Spiced Donuts with Chai Icing
High Noon (Soups, Salads and Sandwiches)
Renee from Magnolia Days is serving up some Butternut Squash Soup
Beate from Galactopdx is bringing her Carrot Ginger Soup
Jen from Juanita's Cocina is making some Sweet Potato Salad
Megan from I Run For Wine is making Roasted Butternut Squash and Italian Sausage Soup With Adult Grilled Cheese
Sarah from What Smells So Good is filling our bowls with some Spicy Sweet Potato and Coconut Soup
Alice from Hip Foodie Mom is coming with her Roasted Carrot and Quinoa Salad
Susan from The Wimpy Vegetarian is making Spiced Sweet Potato Cider Soup
Tora from Tora's Real Food is bringing Butternut Squash and Tomato Soup
Melanie from From Fast Food to Fresh Food is making Monty's Pumpkin Soup
Lyn from The Lovely Pantry is bringing Pumpkin Coconut Soup
Kim from Cravings of a Lunatic is whipping up some Mandarin Chicken Salad
Sunset (Dinner and Main Dishes)
Amber from Mama's Blissful Bites  is bringing Rice and Fig Stuffed Mini Pumpkins
Sarah from Crispy Bits & Burnt Ends is offering up some Pumpkin Ravioli in Sage Butter Sauce
Pam from The Meltaways is making some Spooky Stuffed Peppers
Shelia from Pippis In The Kitchen Again is serving her Roasted Squash and Ricotta with Honey
Patsy from Famfriendsfood is bringing her Carrot Souffle
Elizabeth from The Hand That Rocks The Ladle is making Baked Sweet Potatoes with Maple Pecan Shallot Butter
Laura from Small Wallet Big Appetite is bringing Chicken and Sweet Potato Fritters
Mehereen from Chattering Kitchen is making Sichuan Orange Glazed Chicken with Toasted Sesame Seeds
Tammi from Momma's Meals is making Hearty Pork Stew
Kristin from Kwistin's Favorites is making Orange Chicken
Soni from Soni's Food For Thought is cooking up some Rigatoni with Pumpkin Ricotta Sauce
Shelby from Diabetic Foodie is cooking up some Moroccan Vegetable Stew
Dara from Generation Y Foodie is bringing Butternut Squash Mac and Cheese
Brandie from Home Cooking Memories is sharing a DIY Baked Sweet Potato Bar
By The Bonfire (Sweets, Snacks and Sips)
Carla from Chocolate Moosey is making Pumpkin Tiramisu with Pumpkin Butter Caramel Sauce
Heather from Hezzi D's Books and Cooks is offering up some Pumpkin Cake Truffles
Shelia from Cooking Underwriter is bringing Sweet Potato Bacon Beet Salsa
Anne from Webicurean  is making some Drunken Pumpkin Bread
Karen from In The Kitchen With KP is making Oven Baked Sweet Potato Chips
Leslie La Cocina De Leslie is making Sweet Potato Atole
Seet Fei from My Trials in The Kitchen is bringing Sweet Potatoes Mini Balls
Bree from Bree's Bites is bringing Peanut Butter Pumpkin Bites
Tara from Noshing With The Nolands is bringing Oranges En Suprise
Susan from The Girl in The Red Kitchen is making Pumpkin Chocolate Chip Scone with Pumpkin Glaze
Conni from Mrs. Mama Hen is making Orange Glazed Poundcake
Isabel from Family Foodie is baking up Moist Pumpkin Bread Reisipe
Cindy from Cindy's Recipes and Writings is baking up a Vegan Pumpkin Orange Cake
Brenda from Meal Planning Magic is whipping up some Pumpkin Cream Cheese Fruit Dip
Laura from Family Spice is making some Gluten Free and Unprocessed Pumpkin Bread
Kathya from Basic and Delicious is baking up Butternut Squash and Carrot Bread
Liz from That Skinny Chick Can Bake is serving up Pumpkin Roll with Cream Cheese Filling
Stephanie from The Cookie A Day Challenge is whipping up some Pumpkin Ice Cream Sandwiches
Katie from She Like Ruffles, He Likes Truffles is bringing Pumpkin Harvest Cookies
Nancy from Gotta Get Baked is baking up some Orange Macadamia Dark Chocolate Cookies
Angie from Big Bear's Wife is bringing Orange Soda Pumpkin Patch Cupcakes
Katy from Happy Baking Days is bringing Carrot Cake with Orange Glaze
Sandra from Midlife Road Trip is bringing Orange ya glad it's fall! Hungarian Apricot/Walnut pastries
We'll be meeting up at 7:00 pm(Eastern) for our weekly #SundaySupper  live chat where we'll talk about our favorite recipes featuring our favorite fall color.
All you have to do is follow the #SundaySupper hashtag, or you can follow us through TweetChat.
We'd also love to feature your easy go to recipes on our #SundaySupper Pinterest board and share them with all of our followers, too.
Come hungry!