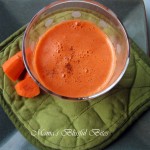 I wanted to take on a juicing challenge for many reasons. 1. I'm trying to reach an (my) optimum health 2. I honestly eat very few vegetables and 3. I want to treat and love myself physically, mentally and spiritually and I feel this is a good start. As I have mentioned, I'm not a veggie eater. Yes, I consider myself vegetarian however I don't eat vegetables regularly. Oxymoron right? It means, I don't eat meat, correct? I'm ready to make a change and stand on the better side of me. One way to do that is to give back to my body the nutrients it needs to help my body in thanks for it helping my spirit. I feel so blessed to be here on Earth. So thankful to have my health. But as I become more educated by the products surrounding my daily life, I'm in awe of how I really treat myself. To get on the path of wellness, I'm starting off by juicing. By the way, I will discuss this "optimum health" further along my 21-day journey.
Some people juice as a detox for the body. A way to clean out the system if you will. A lot of people even fast as a connection to their higher being. I have read that you will feel more energized, that your body is in tuned with the mind at a higher level and by also it helps alleviates symptoms of depression. Since the foods are no longer in their solid form but a liquid, it absorbs in the bloodstream at a quicker rate as well. Thus, still giving your body the nutrients and phytochemicals your body needs.
I have never done a juice detox but it doesn't mean that I never will. For now, I want to present 21-days of juicing ideas and combinations. My first combination for day 1 is carrots and apples with a touch of cinnamon. I was very skeptical and my husband wouldn't take a sip but you know what? I really liked it. As the beautiful orange juice ran out of the container, I actually got happy. It was beautiful. My drinks of soda don't compare to quality or color and there's no added sugar. Which one do you prefer?
Ingredients:
5 carrots: peeled and ends removed
2 apples: quartered
pinch of cinnamon at the end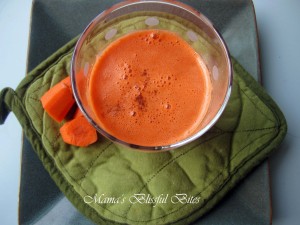 Stir and enjoy!
So what is to this 21-Day Juice Challenge? It's simple. If you want to participate, you can do so by either juicing every day or when you want! There's no set time or what should be in your juice! It's entirely up to you. I simply want to empower you to do something good for yourself. Some people don't have enough time to eat 5-10 servings of fruit and vegetables a day – some people don't eat any – this is a fast way to be sure that you are receiving great benefits of juicing! As I have mentioned, you will receive lots of nutrients, vitamins and more.
You may ask why 21 days. Studies have shows that it takes 21 days to create a habit, which means something you do daily. I want this to be a healthier part of our lives together. If you feel compelled, please join me in this journey and we can juice together! What is your favorite juice? Facebook me at https://www.facebook.com/mamapoolecooks and let's talk or feel free to leave a comment below.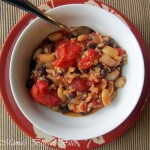 I feel so good that I am back up and running. Sometimes I get into these fogs where I'm distracted and redirected to a different place than where I really want to be. Does that make sense? I am re-focusing myself back to the healthy person I want to be. A person with optimum health. Can that even ever be reached? I don't know, but I'm going to make changes to put me on the path for it as it doesn't happen over night but day-by-day.
I used the word "healthy" in the recipe title because everyone has a different definition. It's a universal word that seems to be over-used daily. What may be healthy to one person, isn't healthy to another. For example: bowl of cereal for breakfast vs eggs and bacon vs a bowl of oatmeal. Which one is healthy to you? Healthy to me is a food, that is a food. It doesn't have a long list of ingredients and I know what it is in it. I can read the ingredients and know that beans are beans and tomatoes are tomatoes! These are the kind of meals I am most interested in. These are the kinds of food that make me feel good to eat knowing that I'm taking care and loving myself.
For this recipe, I choose ingredients that give the body nutrients in a healthy way.
Ingredients:
1 tbs olive oil
1 onion: chopped
2 cloves garlic: minced
1 1.2 cooked brown rice
1 (28 oz) can of organic whole tomatoes
1 (14.5 oz) can of black beans: rinsed and drained
1 (14.5 oz) can of Northern beans: rinsed and drained
3/4 cup water
1 tbs chili powder
1 teaspoon cumin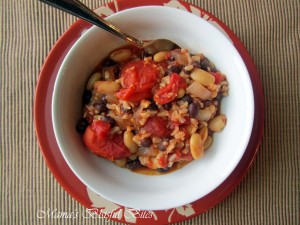 Let's run through!
Garlic: promotes well being of the heart and immune system while also helping maintain blood circulation
Onion:  good source of vitamin C, B6, biotin, chromium, calcium and dietary fibre. They contain good amounts of folic acid and vitamin B1 and K.
Beans: helps bowl movements (so important!), regulates functions in colon, lowers blood pressure and hello, protein baby!
Tomatoes: antioxidants, reduce risk of heart disease
Brown Rice: high in fiber, (with beans makes a complete protein), can help lower cholesterol, prevent weight gain, good source of
These are just some fabulous properties that your body needs. So why not make a delicious recipe and feel healthy in doing so.
Recipe:
Step 1: In a large saucepan, add oil over medium low heat.
Step 2: Saute onion and garlic for 3-5 minutes
Step 3: Add the rest of the ingredients.
Step 4: Turn heat to medium-high and bring to a boil. Cover and reduce heat to low. Simmer for 15 minutes or consistency you want to reach.
NOTE: Make sure there is also liquid or else it will burn. If you need to add more water, do so to the consistency you desire.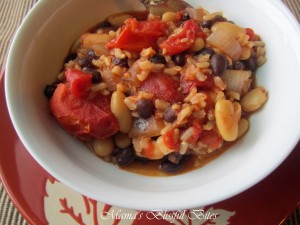 Love yourself. Feed yourself well.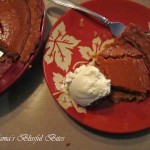 This #SundaySupper is very special to me. Chantal has given 20 lucky bloggers in our group a beautiful Easy As Pie dish for a #Bakeforacure event. I was very excited to be one of those twenty bloggers and was given a very gorgeous apple red pie dish!!! But I'm giving it away, to my beautiful niece. We are to bake something delicious and give it to a medical cancer treatment professional or someone we know who has/had cancer. I was delighted to call my niece, who has been diagnosed with leukemia, and ask her what she wanted! Mama told me her favorite is a pumpkin pie. Perfect for Fall so in honor of baby girl, I bring you and her a delicious Pumpkin Maple Pie!
Ingredients:
1 store-bought pie crust (or make your own!)
2 large eggs
1 can of pumpkin puree
1 cup heavy cream
1/2 cup pure maple syrup
1 teaspoon or more to taste of pumpkin seasoning (recipe as follows)
Pumpkin Seasoning (or use pumpkin spice):
1 teaspoon cinnamon
1 teaspoon ginger
1 teaspoon all spice
1 teaspoon nutmeg
Mix to combine all ingredients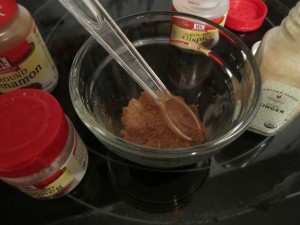 NOTE: This taste fabulous when you're making a pumpkin late as well, I keep it on hand in a container, just in case…
Maple Whip Cream: (I know, delicious!) Recipe below.
Recipe for pie:
Step 1: Bake pie crust according to instructions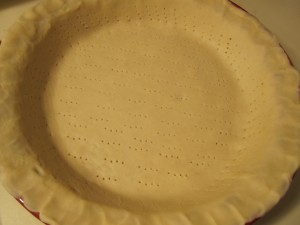 Step 2: Preheat oven to 350 degrees
Step 3: Place all ingredients in a bowl and mix well.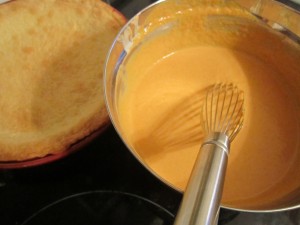 Step 4: Pour in baked pie crust and bake for 65-70 minutes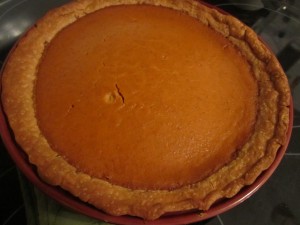 See those fingerprints - yup, that's my son. If it wasn't so warm, I'm sure he would have dove right in. When mama says, "Don't touch that" it really means do….the lessons learnt!
Step 5: Let cool prior to cutting first delicious slice!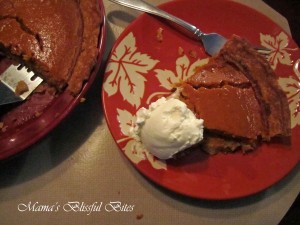 That beautiful Maple Whip Cream, sure I'll tell ya.
Ingredients:
1 cup heavy whipping cream
1/2 tbs 100% maple syrup
1 tbs confectioners sugar
1. In a mixer, whip cream until peaks form. 2. Add remaining ingredients. 3. Fluff and put on your pie!
These #SundaySupper Contributors, were provided with a beautiful Easy As Pie Dish by Chantal Cookware.  They will be sharing their recipes with you this Sunday and also their thoughts on this Beautiful Pie Dish.   Many are giving away their dish along with their pie to brighten someone's day.
The Sunday Supper Team and Chantal Cookware, would be honored to have you join us for this special #BakeForACure event Around the Family Table this week.
Join us on Twitter throughout the day during #SundaySupper.  We'll be meeting up at 7:00 pm(Eastern) for our weekly #SundaySupper  live chat where we'll talk about our favorite Comfort Food Recipes.
Check out these gorgeous Sunday Supper Recipes:
As you may have noticed, when the #SundaySupper Team does something, we come together and do it with a bang.   Check out these additional recipes, perfect to take to someone who you want to make feel special this month.
All you have to do is follow the #SundaySupper hashtag or you can follow us through TweetChat.
We'd also love to feature your easy go to recipes on our #SundaySupper Pinterest board and share them with all of our followers, too.
Keep up with the latest from Chantal on their website, twitter, facebook, and Pinterest !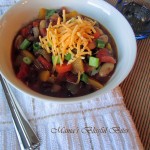 Every cold weather needs a warm chili, am I right? I think so! It's kind of humorous in our house because I never make chili the same way twice, except for this one. I usually change things up and add different spices, vegetables etc. but this one I make a few times throughout the winter season. It's just good and you can't go wrong with something that's already good! It's hearty and filled with veggies that are not only healthy for you but taste great. It's thick and chunky and I love to feel like I'm eating a meal instead of a puree soup at times!
As I mentioned before, I make different chili's but as my husband takes one bite, then another, he looks at me and grins. He knows I made his favorite. So I pass it to you and hope it turns into a favorite at your dinner table as well. Bundle up, it's getting cold out there!
Ingredients:
1 -2 tbs vegetable oil
3 small carrots: peeled, and sliced
2 stalks of celery: sliced
1 onion: chopped
2 cloves of garlic: minced
1 yellow pepper: chopped
1 green pepper: chopped
1 (28 oz) can of diced tomatoes (I used with oregano, basil and Italian seasonings)
1 (14.5 oz) can cannellini beans: rinsed and drained
1 (14.5 oz) can black beans: rinsed and drained
1 Tbs cumin
1 Tbs chili powder
salt and pepper
green onions (optional for garnish)
cheddar cheese (optional)
Recipe:
Step 1: Add oil to a big pan over medium-low heat.
Step 2: Add onions and garlic with a touch of salt. Cook, stirring occasionally 5 minutes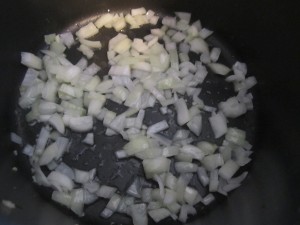 Step 3: Add carrots, peppers and celery and cook over low heat – get this – ten to fifteen minutes. Add pepper and salt.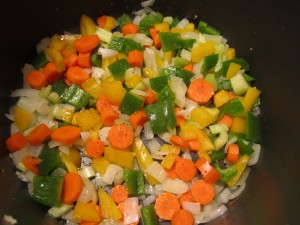 I do this over low heat and stirring often being careful not to burn any bits. I really like my vegetables to have a slight bite but never a crunch when I'm eating chili. If you like the crunch of a carrot or celery, cook for less time. I always test a carrot too. I like for them to be soft.
Step 4: Add beans, diced tomatoes and seasonings. Cook for 45 minutes until flavors come together.
Step 5: Ladle and serve with green onions and cheese!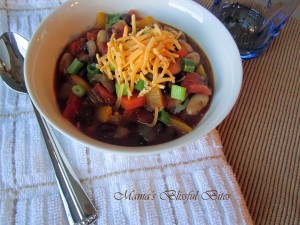 And just in case you were wondering where this recipe got its name…you know, Black and White…. look again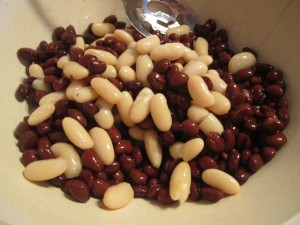 I thought about calling it "Skunk" chili, but it didn't sound as quite appealing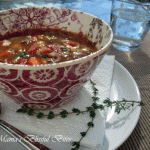 Some of my favorite comfort foods are usually carb packed – you know, mac n cheese, pizza, vegetable pot pies! Oh yes. But as the cold weather sets in, my comfort turns to soup and lots of soup. Broccoli and cheese (one of my favorites), chicken noodle soup, any kind of stew, yes,…soup and I become best friends. I like them hearty and I like them creamy. I like them spicy hot or cucumber cool, I like everything in between. Did I mention potato yet? I do like a creamy potato soup. Soup should have been my middle name but that would just be weird.
This #SundaySupper, Isabel at Family Foodie, is our host around the table! Wahoo and she's bringing a very special guest. You want to know who? Okay, since you all are family at my table, I'll tell ya… Lee Woodruff! What?! What! Please join  Lee and our Sunday Supper Team during our chat on Sunday at 7pm Eastern Time.  Be sure to use hashtag #SundaySupper
I'm happy to bring you the first soup of the cold season – or aka Fall. And by the way, we did have our first frost this morning, so believe me, it is getting cold out there. (Fingers crossed ya'll, I want to shovel some snow this year!)
Let me warm your toes and ears with some Spicy Black Bean Soup!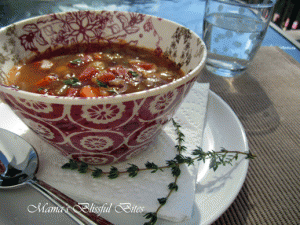 Ingredients:
1 red onion: chopped
2 cloves of garlic: minced
2 (15 oz) cans black beans, drained
1/2 tsp red pepper flakes
1 tsp ground cumin
2 carrots: sliced
1 celery: sliced
29 oz vegetable broth
1 can (14.5 oz) canned tomatoes
1 can (4 oz) green chillies
1 cup frozen corn
1/4 tsp celery seed
salt and pepper
Recipe as follows:
Step 1: Coat bottom of large saucepan with cooking spray. Add onion and garlic and cook for 3-5 minutes over medium-low. Stir often not to burn.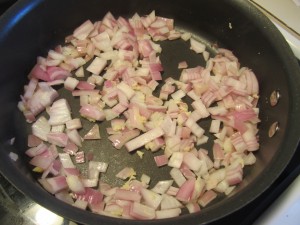 Step 2: Meanwhile, in a blender, combine 1 can beans with red pepper and cumin. Blend or use your fork to mash and combine together.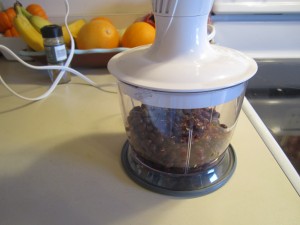 Note: You can absolutely use your fork, it does the same thing but I like to blend to make sure its well combined. The mixture should look like this: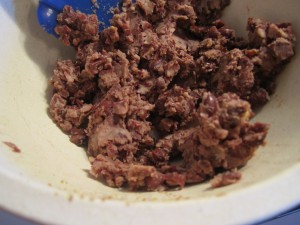 Step 3: Add carrots and celery to onion mixture and cook over low heat, 5-7 minutes. I like my vegetables to be nice and soft. If you like a "bite" to yours, cook for less time.
Step 4: Add bean mixture and stir
Step 5: Add second can of beans, broth, tomatoes, green chillies, corn and celery seeds. Bring to a boil.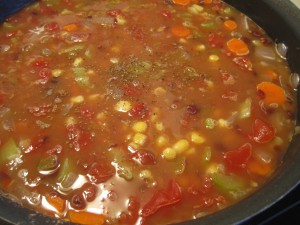 Step 6: Lower heat to medium – low and simmer for 25 minutes. Add pepper (and if using salt).
Step 7: Ladle and serve!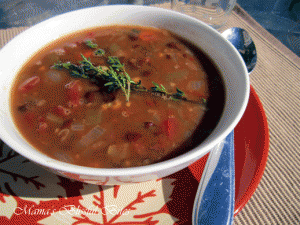 Let's keeping feasting and comforting, shall we? Okay, I'm gamed! Here are some more comforting recipes from an amazing group, our #SundaySupper team!
This Week's Sunday Supper Recipes:
#SundaySupper Comfort Food |Soups
#SundaySupper Comfort Food  | Main Dish
#SundaySupper Comfort Food | Desserts
Pairing Wine with Sunday Supper Comfort Food Favorites! by ENOFYLZ Wine Blog
We would be honored to have you join us on Twitter throughout the day during #SundaySupper and have you share your favorite Comfort Food Recipes.  We'll be meeting up at 7:00 pm(Eastern) for our weekly #SundaySupper  live chat where we'll talk about our favorite Comfort Food Recipes. All you have to do is follow the #SundaySupper hashtag or you can follow us through TweetChat. We'd also love to feature your easy go to recipes on our #SundaySupper Pinterest board and share them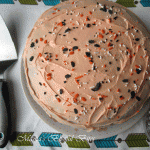 I will admit, as much as I love a homemade cake, I also love to semi-homemade bake when I don't have the time or the ingredients! Although I try to avoid telling people that it's "semi-homemade" so if you would, just keep it between us, that would be great.

wink. wink. This cake is super moist, soft and filled with chocolate goodness. The hint of mint just adds extra "BOOYA" flavor. As if you don't know what that means already, I'll tell you, it's out of this world. It's fluffy and dense, kind of like a thick sponge cake if you will.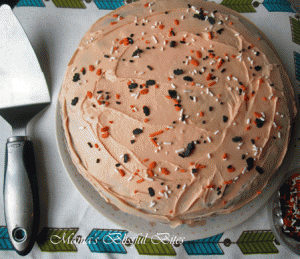 My son could not keep his 3 year old little paws off the sides of icing.  I kept saying, "Wait until I take a picture," and he would laugh and take a swipe of icing. Oh to be a child. I really made this cake for me, not the kids, but they reminded me that I had to share.
Ingredients:
1 (15.25 oz) box of chocolate cake mix (I used Betty Crocker, Super Moist Cake Mix: Dark Chocolate)
1 (5.9 oz) box chocolate instant pudding and pie filling
4 eggs
1/2 cup vegetable oil (or whatever you have on hand)
1 teaspoon peppermint extract (if you like a strong mint flavor, if you like it as a touch of mint, use 1/2 teaspoon)
Icing of choice (I used Funfetti® Creamy Supreme® Halloween Frosting by Pillsbury)
Recipe:
Step 1: Preheat oven to 350 degrees
Step 2: In a bowl combine all ingredients.
Step 3: Mix for three – five minutes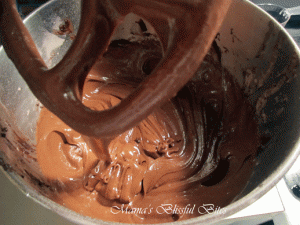 Step 4: Grease cake pan or round pan with baking spray or butter. Pour batter in pan.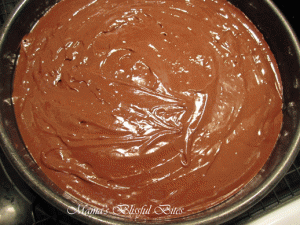 Step 5: Bake for 45 minutes to an hour. Check with toothpick for doneness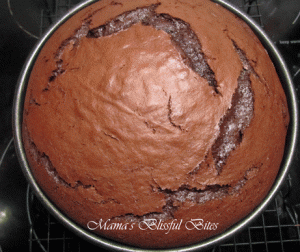 Step 6: The fun part – decorating!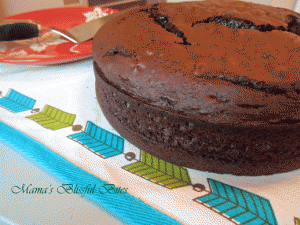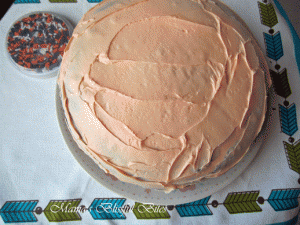 Sprinkle those sprinkles. Cut a slice and enjoy!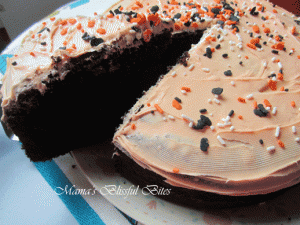 My son won. He talked me into a slice for snack and a slice after dinner – sheesh. I'm such a sucker for him and cake.
Don't forget, you DO NOT need to link up a recipe in order to win!
Just join the Fan Giveaway at the end of this post!
It's here. The cold weather is settling in and the hot cocoa and marshmallows are coming out. Please also add gloves, a hat and scarf too! As the weather changes and becomes colder, my skin changes as well. My hands crack and bleed, my scalp is dry and my lips feel hard and blistery. I have excessive "dried-out" issues ever since I had my first child. However, I believe in treating not only the inside of the body, but the outside also. You can put as much chapstick to solve cracking lips but by adding the correct vitamins (through food) it can also start the healing process from the inside.
To protect and treat the outside of the body from the cold-ships it encounters, I use jojoba oil during the winter. This natural remedy can be found at natural food stores and health stores. When I first started using it, I bought a small container to see if it really worked. Then, I bought a bigger bottle. I'm not in love with it.
The jojoba plant can be found in the Sonoran Dessert in Mexico, which surrounds parts of southern California and Arizona and lives between 100-200 years old.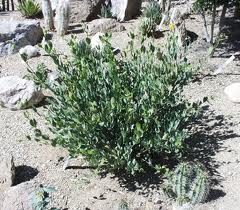 Native Americans used the seeds and the oils for years and I know why, it's 100% natural and works great! Jojoba oil can be used as a natural remedy for the following:
Skin care
Hair care
Acne
Perfumes
The only downfall to the oil that I have found is the price is a little high. Almost $7.00 for 2 fl oz. but like I said, worth it. I use very little on each application and it has lasted me a long time. I nearly only need two bottles the whole long winter.
Here are some ways to use the oil:
Hair: If your scalp is dry, massage 5-6 drops through it either with your conditioner and then rinse or what I do is at night time, when nobody can see me…lol, I rub it in my hair. By morning, it makes my hair look like the start of the "color-dying hair process." You know when your roots are darker and "oily" looking? That's how this looks in my roots, just oily but in a good way. A scary way that may just turn off any intruders, ever. In the morning, I take a shower and wash and condition my hair as normal. It is naturally ph-balanced so great for dry hair!
Skin Care: Rub 100% jojoba oil (a few drops) on your hands, legs, feet, arms. Or you can also add it to your night cream and/or day cream.
Acne: Although not proven, it is said that jojoba oil has properties to "fake" out your skin in thinking it has already produced oil. In return, it stops producing oil and can help improve acne. Wash your face as normal then apply a few drops and massage. You can also add it to your day and/or night cream.
Lips: You can apply a few drops directly to your lips. If you can't see yourself spending that much money on your lip product, then purchase a lip balm that has the oil as an ingredient! It'll save a few bucks to your wallet. Kiss those chapped lips goodbye!
Makeup remover: Place a few drops in a cotton ball and wipe your face. It will take off your makeup naturally and clean your face!
It is important to make sure you are purchasing 100% pure jojoba oil. You can find the oil already in much of your everyday products such as:
shampoos/conditioners
lotions
creams
moisturizer
hand products
makeup products

So, you see, I'm a jojoba lover for all of its many, natural remedies. It's truly fantastic. But don't take my word, try it out yourself! I bet you'll agree.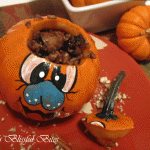 I'm so excited to say, "FALL IS HERE!" And believe me, I love it! Jumping in the leaves, pumpkin picking, colors of the trees, making comfort food and finally being outside to play! This weeks #SundaySupper theme is "All Things Orange," don't you just love that sound? I hear orange I think Fall! Fall! Fall! I have to give a big THANK YOU shout out to The Meltaways for hosting such a great event!
So far this year we picked apples,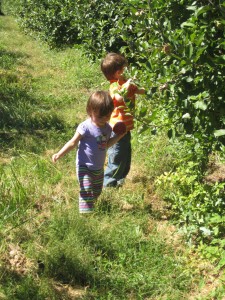 went on a hayride,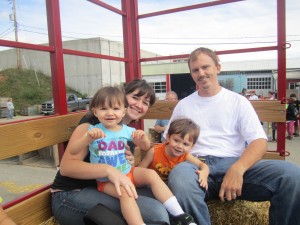 ,
and picked pumpkins!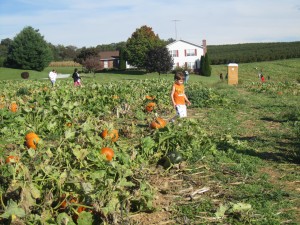 Also in celebration of Fall, I have made a lot of  comforting dishes already! Wahoo! This week I present to you Rice and Fig in Mini Pumpkins. So…you don't have to be too observant to notice that I didn't use a mini pumpkin. You can use small pumpkins too! It's a bowl of deliciousness or you can eat the fig mixture by itself. I promise, it still taste good!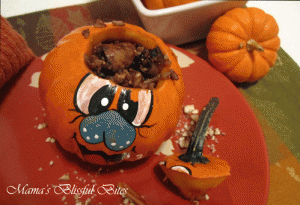 Ingredients:
 1 cup cooked brown rice
6 oz figs
1/4 cup balsamic vinegar
1/4 cup apple juice
2 teaspoons agave (more to taste)
1 teaspoon vanilla extract
2 teaspoons toasted chopped pecans
1 pumpkin (under 1/2 pounds) or 2  mini pumpkins
Recipe:
Step 1: Combine figs, vinegar, juice, agave and vanilla extract in a sauce pan over high heat. Bring to boil then simmer over low heat for 12-15 minutes until sauce becomes thick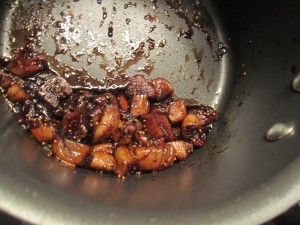 Step 2: Add rice and pecans and stir to combine.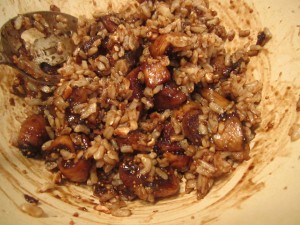 This mixture alone is perfect for a side dish or it can also stand alone! The flavors give it a sweet yet balanced flavor. Or you can always jazzy her up and give her a spooky treat! You know, put the mixture in a pumpkin!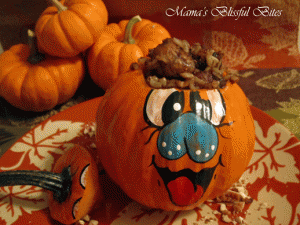 Here's the following steps:
Step 1: Cut the top off and clean out the inside of the pumpkin leaving nothing behind.
Step 2: In a steamer, place a piece of parchment paper and cut some holes. You need the steam to run through. Place the pumpkin in the steamer and cover. Steam for 40 minutes until the pumpkin is soft.
Step 3: Fill it with rice mixture and serve!
Enjoy the rest of your Orange filled days with some more fabulous #SundaySupper recipes! Oh YES!
Sunrise  (Breakfast and Brunch)
Paula from Vintage Kitchen Notes is bringing her Orange Ricotta Pancakes
Kris from In The Kitchen with Audrey and Maureen  is making her Sweet Potato Pancakes
Erin from Dinners Dishes and Desserts is baking up some Pumpkin Chocolate Chip Muffins
Heather from Girlichef is bringing Pumpkin Doughnuts with Spiced Buttermilk Glaze
Nicole from Daily Dish Recipes is making Pumpkin Donut Puffs
Patti from Comfy Cuisine is bringing Classic Orange Marmalade
Claire from The Realistic Nutritionist is baking up some Spiced Low-Fat Pumpkin Biscuits
Sunithi from Sue's Nutrition Buzz is making Spice Pumpkin Ricotta Muffins with Craisins and Walnuts
Wendy from The Weekend Gourmet is cooking up some Pumpkin Maple Oatmeal
Jamie from Mama Mommy Mom is bringing Butternut Squash Butter
Chelsea from Chelsea's Culinary Indulgence is bringing Pumpkin Spiced Donuts with Chai Icing
High Noon (Soups, Salads and Sandwiches)
Renee from Magnolia Days is serving up some Butternut Squash Soup
Beate from Galactopdx is bringing her Carrot Ginger Soup
Jen from Juanita's Cocina is making some Sweet Potato Salad
Megan from I Run For Wine is making Roasted Butternut Squash and Italian Sausage Soup With Adult Grilled Cheese
Sarah from What Smells So Good is filling our bowls with some Spicy Sweet Potato and Coconut Soup
Alice from Hip Foodie Mom is coming with her Roasted Carrot and Quinoa Salad
Susan from The Wimpy Vegetarian is making Spiced Sweet Potato Cider Soup
Tora from Tora's Real Food is bringing Butternut Squash and Tomato Soup
Melanie from From Fast Food to Fresh Food is making Monty's Pumpkin Soup
Lyn from The Lovely Pantry is bringing Pumpkin Coconut Soup
Kim from Cravings of a Lunatic is whipping up some Mandarin Chicken Salad
Sunset (Dinner and Main Dishes)
Amber from Mama's Blissful Bites  is bringing Rice and Fig Stuffed Mini Pumpkins
Sarah from Crispy Bits & Burnt Ends is offering up some Pumpkin Ravioli in Sage Butter Sauce
Pam from The Meltaways is making some Spooky Stuffed Peppers
Shelia from Pippis In The Kitchen Again is serving her Roasted Squash and Ricotta with Honey
Patsy from Famfriendsfood is bringing her Carrot Souffle
Elizabeth from The Hand That Rocks The Ladle is making Baked Sweet Potatoes with Maple Pecan Shallot Butter
Laura from Small Wallet Big Appetite is bringing Chicken and Sweet Potato Fritters
Mehereen from Chattering Kitchen is making Sichuan Orange Glazed Chicken with Toasted Sesame Seeds
Tammi from Momma's Meals is making Hearty Pork Stew
Kristin from Kwistin's Favorites is making Orange Chicken
Soni from Soni's Food For Thought is cooking up some Rigatoni with Pumpkin Ricotta Sauce
Shelby from Diabetic Foodie is cooking up some Moroccan Vegetable Stew
Dara from Generation Y Foodie is bringing Butternut Squash Mac and Cheese
Brandie from Home Cooking Memories is sharing a DIY Baked Sweet Potato Bar
By The Bonfire (Sweets, Snacks and Sips)
Carla from Chocolate Moosey is making Pumpkin Tiramisu with Pumpkin Butter Caramel Sauce
Heather from Hezzi D's Books and Cooks is offering up some Pumpkin Cake Truffles
Shelia from Cooking Underwriter is bringing Sweet Potato Bacon Beet Salsa
Anne from Webicurean  is making some Drunken Pumpkin Bread
Karen from In The Kitchen With KP is making Oven Baked Sweet Potato Chips
Leslie La Cocina De Leslie is making Sweet Potato Atole
Seet Fei from My Trials in The Kitchen is bringing Sweet Potatoes Mini Balls
Bree from Bree's Bites is bringing Peanut Butter Pumpkin Bites
Tara from Noshing With The Nolands is bringing Oranges En Suprise
Susan from The Girl in The Red Kitchen is making Pumpkin Chocolate Chip Scone with Pumpkin Glaze
Conni from Mrs. Mama Hen is making Orange Glazed Poundcake
Isabel from Family Foodie is baking up Moist Pumpkin Bread Reisipe
Cindy from Cindy's Recipes and Writings is baking up a Vegan Pumpkin Orange Cake
Brenda from Meal Planning Magic is whipping up some Pumpkin Cream Cheese Fruit Dip
Laura from Family Spice is making some Gluten Free and Unprocessed Pumpkin Bread
Kathya from Basic and Delicious is baking up Butternut Squash and Carrot Bread
Liz from That Skinny Chick Can Bake is serving up Pumpkin Roll with Cream Cheese Filling
Stephanie from The Cookie A Day Challenge is whipping up some Pumpkin Ice Cream Sandwiches
Katie from She Like Ruffles, He Likes Truffles is bringing Pumpkin Harvest Cookies
Nancy from Gotta Get Baked is baking up some Orange Macadamia Dark Chocolate Cookies
Angie from Big Bear's Wife is bringing Orange Soda Pumpkin Patch Cupcakes
Katy from Happy Baking Days is bringing Carrot Cake with Orange Glaze
Sandra from Midlife Road Trip is bringing Orange ya glad it's fall! Hungarian Apricot/Walnut pastries
We'll be meeting up at 7:00 pm(Eastern) for our weekly #SundaySupper  live chat where we'll talk about our favorite recipes featuring our favorite fall color.
All you have to do is follow the #SundaySupper hashtag, or you can follow us through TweetChat.
We'd also love to feature your easy go to recipes on our #SundaySupper Pinterest board and share them with all of our followers, too.
Come hungry!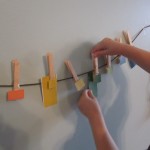 I was glancing through a random search and came across this project. I wish I could link it to a site, however; it didn't give me any links! I found this craft to be educational and fun and could not wait to jump right in. Although we had to travel to two stores with both kids, it was worth the whining. I could take it, they had no idea what was in store for them!
Colors are beautiful. I always take my son outside when there is a rainbow, we glance at all natures glory. I mean honestly, how could we not, it's God's extraordinary work. Anyways, off we went to the first store, the Dollar Tree. A place filled with goodies of arts and crafts, toys, household items and any basic need. Ours even has food and a freezer section. I was a little amazed at what a wonderful place it is and for cheap! I grabbed some clothes pins, pink and blue hangers for their rooms, sandpaper (next project!) and they each got a little gift. Then we drove to Home Depot. Bringing two children into the store, one in a stroller and the other on my hand, I was greeted by many people who were employees and some not, assisting me in what I was looking for. I have to admit, some men asked too. I felt as if I all of a sudden was a little out of place, but was gracious for their assistance. But hey, I could hand it, color swatches here we come! By the way, those are free. This little project gave a whopping $2.00 to the arts and crafts budget. I couldn't be happier.
During their lunch, I started cutting the swatches in half. I cut a little piece out and glued it to each clothes pin. Then hung them on a string on a wall.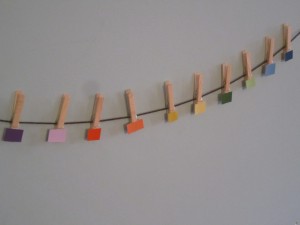 After their quiet time, I brought my three year old down to see the hung clothes pins. He loved the colors and smiled. "What is that?" I explained that we were going to match each color with the color clothes pin and he was beaming from ear to ear. Now I have to admit, I didn't think he was going to be that into this but he was all that and more.
He picked up each color swatch on the ground and started to show me where purple, yellow, orange etc were located but he didn't understand the function of a clothes pin. Why not? Well, because I don't hang my clothes outside! This was something that I overlooked. I realized it was a small challenge to open them and slide a swatch up inside. But by the second one, he turned pro.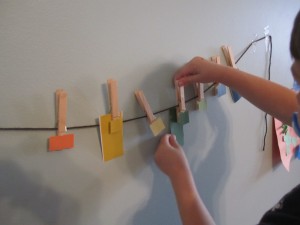 We started to discuss objects of those colors, like frogs are green and the sun is yellow and before I knew it, he was telling me all about colors! We high fived each other when he was finished and couldn't wait to show daddy what he did today. He just started school a few weeks ago and it's not the kind of school that you may think. I'm there for the whole time which is two hours, twice a week. Because of his younger sister, I have had a hard time finding a place that would accept both kids at the same time in the same class. He couldn't do an activity if it was co-op because I would need to be there but couldn't find a sitter etc. I am more than thankful to come across this great class let me just say!
As I observe my children, it's nice to take notes at their new interests and activities that are both educational and challenging. I realized my three year old really likes to match things together and my two year old daughter is testing me and copying her brother every step of the way. From here, I'll find activities to help push them further and activities that are fun! Isn't that what being a child is all about? Fun?!
It was one of those moments that my son smiled at me and I knew he was proud of himself. He was pleased that he did it by himself and it absolutely gave him a fantastic confidence boost. I needed to see that. He needed to feel that. As I mentioned, this activity cost me $2 bucks. It was minimum and worth every smile and bonding moment we shared together. This has been the most rewarding craft I have ever done and simple to say the least.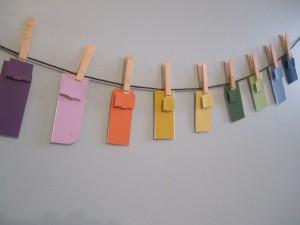 Tomorrow I plan on adding new colors. Colors of different shades and seeing how he does. When my two year old and I had time together, we went through the colors. Hey, they need to start somewhere! This was a fantastic Mommy and Me craft that warmed my soul.