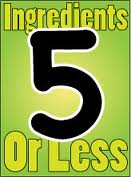 Starving, you open your cupboard in search of a meal. You realize you only have five ingredients: pineapples, peanuts, bananas, applesauce and yogurt. You need to come up with a dish, you're hungry right? What can you make? Ask the girl raising her hand in the back, yes, you… "How about a fruit salad with a side of applesauce?" Hey, sure why not?!
This week, our amazing #SundaySupper group is contributing recipes featuring Dishes in 5 Ingredients or Less! For those days when you don't feel like making a complex recipe or maybe you're on a budget or maybe you really only have five ingredients left!
Join us, September 30th, 2012 as we share our delicious, mouth-watering recipes! Here's a sneak peak at what everyone is bringing to our #SundaySupper table. Be sure to stay after dinner at 7pm EST as we share our recipes during our #SundaySupper live chat!
Breakfast, Starters, Butters and Jams:
Main Dishes:
Desserts:
Beverages:
Please be sure you join us on Twitter throughout the day during #SundaySupper. We'll be meeting up at 7:00 pm (Eastern) for our weekly #SundaySupper  live chat where we'll talk about our favorite 5 Ingredient Recipes! All you have to do is follow the #SundaySupper hashtag, or you can follow us through TweetChat!  We'd also love to feature your apple recipes on our #SundaySupper Pinterest board and share them with all of our followers!