My friend Tracy over at Foodie Friends Friday presented us with a Vegetarian Challenge so of course, I definitely wanted in on it! I was excited to hear that the company Daiya was in on this event too! They sent us two coupons to try out their products! For those of you who may not know, Daiya products are entirely plant-based, have no cholesterol, trans fat or preservatives! I purchased the shredded cheddar cheese and it felt creamy and looked pretty darn close to 'real' cheese.
It's my first time trying a vegan cheese so I wanted to put it in a dish that I'm familiar with, Rice and Broccoli. I was going to add black beans to the dish, which you still can, but my cupboard only had everything but black beans. Beans and rice I love. So, I had to make a quick adjustment.
As I said, Daiya gave me two coupons and for being my faithful readers, I'm going to give one to you! A FREE coupon for one package of Daiya wedge! They have lots of varieties such as: cheddar, jack and havarti style wedges! All you have to do is leave a comment for a chance to win!
Ingredients:
1 tablespoon olive oil
1 onion: chopped
1 cup brown rice
2 1/4 cup vegetable broth (check your rice directions to see how much you should use. Ex: 1 cup rice = 2 1/4 cup broth for me)
1 large head of broccoli: chopped
1 tablespoon ground cumin
2 garlic cloves: minced
salt and pepper
1 cup Daiya cheddar shredded cheese
Recipe:
Step 1: In a large saucepan, heat olive oil over medium heat.
Step 2: Add onion and garlic, cumin and salt and pepper. Saute for 5-7 minutes until soft
Step 3: Add rice and dry-roast for two minutes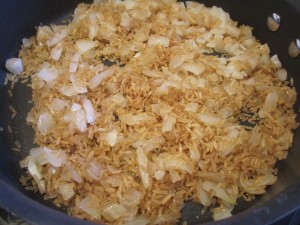 Step 4: Add broth and bring to a boil. Cover and simmer for twenty minutes.
Step 5: Add broccoli and recover for another ten minutes until broth is absorbed.
Step 6: Take off heat and add cheese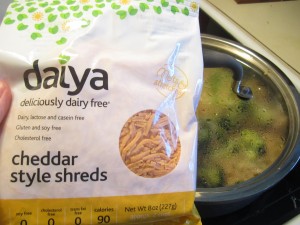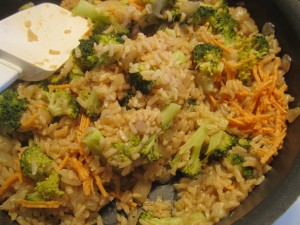 Step 7: Stir together until cheese combines and becomes really cheesy! Serve!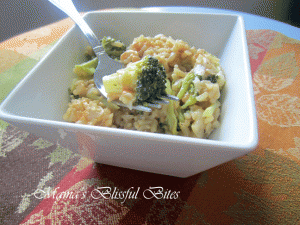 NOTE: If you want to add beans, substitute them for the broccoli and add in the last ten minutes or add them with the broccoli!
Please be sure to leave a comment below for a chance to have your own free package of Daiya cheese. One winner will be selected. Let me know your experience with vegan cheese or Daiya or why you may want to try it!
In addition…dent dent dent….
Be sure to come back Friday for Foodie Friends Friday Linky Party Vegetarian Challenge and link up your creations, get new recipes and ideas! Six lucky entries will win a coupon redeemable for free Daiya Cheese!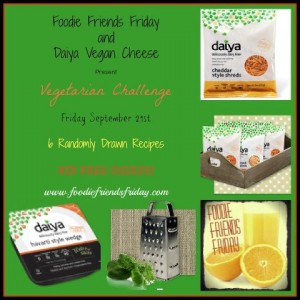 This recipe was adapted for the Foodie Friends Friday Vegan and Vegetarian Challenge sponsored by Daiya Cheese. Contestants received coupons redeemable for free Daiya Cheese Products.