I have been blessed with another cookbook! Thanks to HCI The Life Issues Publisher, they sent me the cookbook of my dreams…. The Karma Chow Ultimate Cookbook: 125+ Plant-Based Vegan Recipes for a Fit, Happy, Healthy You by Melissa Costello Forward by Tony Horton.
Melissa Costello, founder of Karma Chow and the creator of The Vital Life Clense, is a personal chef to celebrity fitness guru Tony Horton, creator of the bestselling P90X® fitness system. She has a "keep it simple" and "make it tasty" approach and offers a variety of dairy and animal-free appetizers, breakfasts, dinners, desserts and even holiday and company worthy menus. This cookbook is AMAZING! Please be sure to visit her website by clicking here.
As soon as I received my cookbook (yesterday), I started flipping through the pages tagging each one that I would like to make. By the time I was finished, I realized that I marked the whole book and there was no point in my efforts 🙂 I went to the store that day and made my first dish tonight, Blissed-Out Herb-Roasted Taters. Let me tell you, these potatoes were so yummy and satisfying that I will add them to my menu weekly. The book does not include any tofu or soy recipes and is still filled with 100% deliciousness.
Please be sure to purchase this fantastic cookbook. It's not one that will sit on your shelf for sure!
Ingredients:
2 pounds baby red potatoes, cut in halves (I used five whole red potatoes since there was no baby's at the store)
3 tablespoons extra virgin olive oil
2 tablespoons freshly chopped rosemary
2 tablespoons freshly chopped thyme
Sea salt, to taste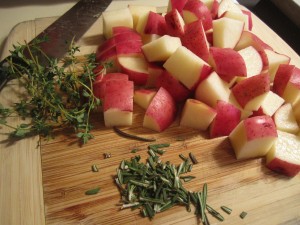 Recipe:
Preheat the oven to 400 degreed F.
Toss the potatoes in the olive oil with the fresh herbs and the salt to taste.
Spread evenly on a baking sheet lined with parchment paper and bake for 30 to 40 minutes or until soft and the edges start to turn brown.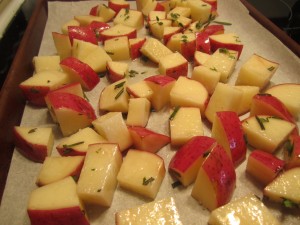 Turn the potatoes once or twice while baking.
NOTE: I actually times them for 15 minutes then turned them. Timed them for 10 more minutes, then turned them again. Finally another 10 minutes and turned one more time. They were perfect.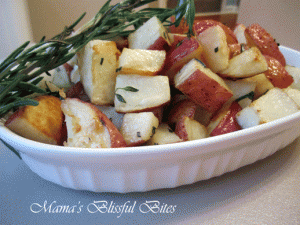 I'm on to making her Minty Hot Chocolate next! This book has me all sorts of excited! I've had it for 24 hours and it looks like I've had it for years. I highly recommend it!
Recipes from The Karma Chow Ultimate Cookbook by Melissa Costello. (HCI: October 2012; $18.95/Paperback: ISBN – 13: 978-0757316333). http://www.hcibooks.com/