#FoodieFriendsFriday – Orange Sugar Cookies with Scented Rosemary
Thank you everyone for joining and sharing such delicious recipes.
for sponsoring last week's party!
One randomly drawn recipe will receive a handmade spoon ring…
Our hosts this week are…
I think Santa must have knocked me out of his sled this year when he found out I already had a batch of Christmas cookies made! Actually, I know he did! When he walked into his North Pole gates, he saw a line up of gingerbread men and Christmas trees. Did I mention the stockings were already hung? Okay, listen, I'm not that crazy!
Fall is absolutely one of my favorite times of the year and I thought, bring on the rosemary! There's something about rosemary and autumn that go well simultaneously together. I asked my son if he wanted to make cookies today and his response was none other than, "I like cookies!" So we got in the kitchen and started to whip up a batch of Orange Sugar Cookies with Scented Rosemary that he loves so much. We were almost at the finish line when he turned the mixer on full blast as I was pouring in the flour. Hey, you live and learn.
Now as I mentioned, I love Fall. These cookies were supposed to be good old sugar cookies with rosemary until the little elf brought out the green sugar. I agreed then he handed me the Christmas cookie cutters. Look, you don't argue with Santa's helper, so you agree! After all, Santa is checking my list twice too! So here is to our first batch of Christmas cookies, in September.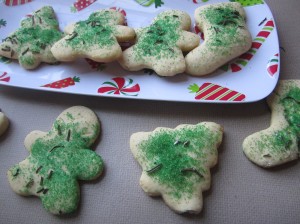 Ingredients:
1/2 cup butter, softened
3/4 cup granulated sugar
2 eggs
1 Tbs freshly squeezed orange juice
zest from 1 orange
2 teaspoons baking powder
1/4 cup fresh rosemary, chopped
colored sugar for decoration
Recipe as follows:
1. Cream the butter in a mixing bowl.
2. Add the sugar slowly with the butter until mixture is light and fluffy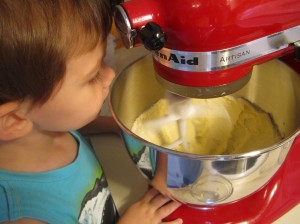 3. Add eggs one at a time. Make sure first egg is mixed in well before incorporating next one.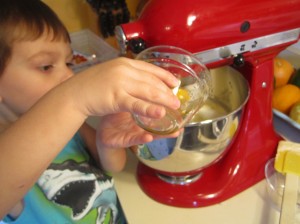 4. Mix in orange zest and juice.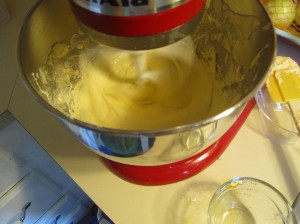 5. Sift in baking powder and flour and mix well.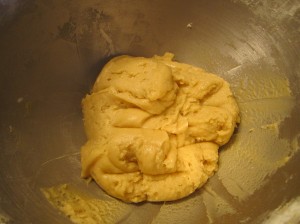 6. Cover and refrigerate for 1 hour
7. Preheat oven to 350 degrees
8. Grease two cookie sheets with butter or shortening or even baking pam. (I used an organic baking spray)
9. Roll out the dough with a floured rolling pin.
10. Cut dough with cookie cutters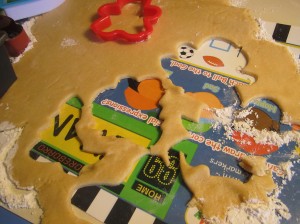 11. Sprinkle with decorating sugar and add rosemary pieces. A little bit goes a long way.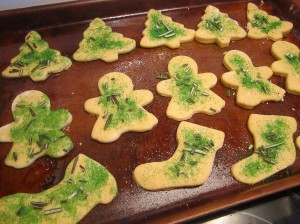 12. Bake for 10-12 minutes until lightly browned on the edges.
13. Transfer to a wire rack to cool. Serve and enjoy!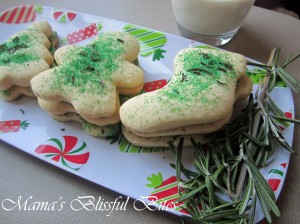 Now please remember, this is a linky party so link up!
Step 1:  Make sure that anything you link up is:
A recipe that is made and photographed by you
Not part of a sponsorship/sales/giveaway or other promotions/linky parties
Linked to a specific page of your recipe, not your homepage
Please limit your link-ups to 3 per party
Step 2:
* for example:  This recipe is featured on "Host Blog Link" and  http://www.foodiefriendsfriday.com  Linky Party)
If you want to be the very best Foodie Friend Ever…
Step 3: Come back on Sunday and vote for your favorite recipes by clicking on the star under the recipe.  You only get 3 Votes so use them wisely!
***Please note that by linking up your recipe you are agreeing to allow Foodie Friends Friday and any of it's affiliated websites or publications to use photos/links/recipes for any reprint, republishing and distribution without monetary compensation to you.  If photos/recipes are used, proper credit and link backs will be included.



One Response to #FoodieFriendsFriday – Orange Sugar Cookies with Scented Rosemary