I am a patty fanatic. I love them. Bean patties, rice and cashew, couscous and mint, salmon cakes and my favorite pecan and sweet potato. There is something pleasant about a simple patty that is designed just for you. It's not a casserole, you don't have to dividend it up into servings, it serves perfectly the person its intending to, you. To make the patty even more special, you can add it on top of a bed of greens, on a sandwich roll or even add it to a mixture of rice or vegetables and place that baby right in the center as if it's the king of the plate! And by the way, it should be. It's your own kingdom. Sound ridiculous? Of course it does. I give my food top-notch royal status!
I did feel kind of bad when my husband came in the door and I proudly took off a bite and shoved it in his mouth. "Look at it! It's amazing!" He didn't even walk but two feet in the door. "Is it a crab cake?" His eyes lit up. Yeah…not quite, but still good! One day, this Maryland girl will make a crab cake again, next summer. Right now I'm ready for some good comfort food. I want to get all plump again so I have to worry about working it off for next year. Isn't that one of the great things about Fall and Winter? Clothes actually cover more! That's a great big YES in my book 🙂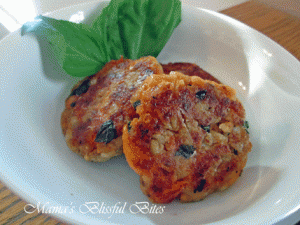 Ingredients:
2 sweet potatoes
3 Tbs pecans: finely chopped
1/2 cup fresh basil: chopped
3/4 cup plain bread crumbs
1 Tbs Italian Seasoning
2 Tbs Olive oil
Flour for dusting
It doesn't take much for this fantastic patty! The flavors combine nicely and it's delicious!
Recipe:
1. Preheat oven to 350 and bake potatoes until nice and soft, 45 minutes to 60 minutes.
2. Dig out the flesh of the potatoes in a bowl.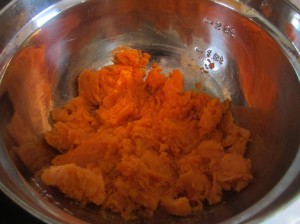 3. Add basil, Italian seasoning, pecans, breadcrumbs. Stir to combine.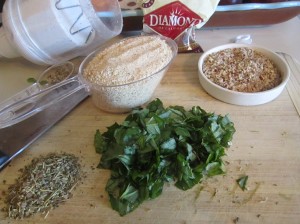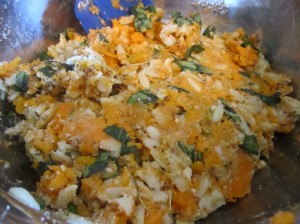 Notice, there are no eggs added to hold together the patties. The warm potatoes do a great job of keeping things together!
4. Shape into patties.
5. Meanwhile in a shallow pan, add oil over medium-medium high heat.
6. Lightly flour the patties.
7. Drop the patties in the pan, being sure not to overcrowd, and cook on each side 4-5 minutes until nicely golden brown.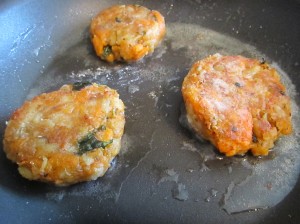 8. Serve plain or over a bed of green leaves.
If you've never had a sweet potato patty, let me see if I can help you out. They are a bit crunchy on the outside and soft on the inside. They are sweet yet the basil gives a fresh taste boost. Think of a regular baked sweet potato with pecans on top – now shape that thought into patties. Yup, it's just like that.