If you're looking to add some va-voom! bang! kazzam! kind of dish to your Labor Day weekend, please look no further! No lie, we ate this dish for three days. I can't even believe I went over the two-day throw out rule! It's FANTASTIC and delicious. Not only am I serving it at our Labor Day Cookout, I'm serving it monthly at our table!
A flavorful blend of the summer is right here in this dish! What is a better way to close out the season than adding summertime tomatoes, fresh basil and fresh mozzarella cheese to a shrimp and pasta  with a mozzarella cheese sauce? NOTHING! I even hid a portion in a container in the fridge so hubby wouldn't find! Shhh….(that was day three!)
Please, let me not wait to share this with you. It's super good!
Ingredients:
1 box (16 oz) medium pasta shells
1 bag frozen shrimp: deveined, cleaned and thawed according to directions
3 Tbs butter
3 Tbs flour
1 1/2 cups milk
1 cup shredded mozzarella cheese
Salt and Pepper
3 tomatoes: sliced
16 oz fresh mozzarella ball
3 Tbs fresh basil: Chopped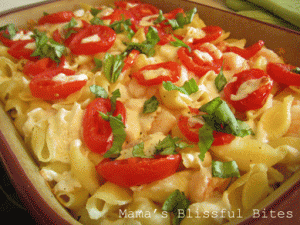 Recipe as follows:
1. Preheat oven to 375 degrees. Grease a 13×9 casserole dish.
2. Cook pasta according to directions. Drain and set aside.
3. Defrost frozen shrimp according to instructions on package.
To make cheese sauce:
4. Melt butter over medium heat being careful not to burn the butter.
5. Take off heat and add flour. Mix until smooth.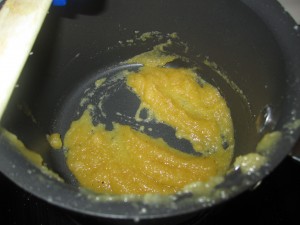 6. Slowly add milk and return to medium heat. Stir constantly until mixture thickens.
7. Add cheese. Season with salt and pepper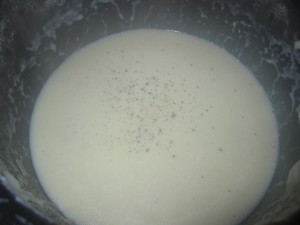 8. In a large bowl, combine pasta, shrimp and cheese sauce.
9. Pour mixture into 13×9 pan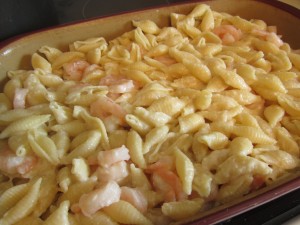 10. Top with tomato slices, basil and chunks of fresh mozzarella cheese. (OH MY!) Add a little bit more pepper if you like. I did, I love pepper!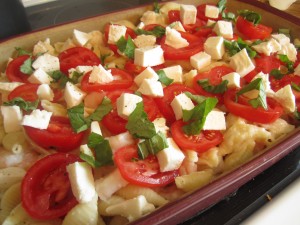 11. Bake for 30-40 minutes until all the cheese is ewie gewie and melty yumminess!
Enjoy and serve!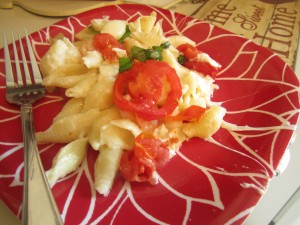 This is a MUST MAKE DISH! The flavors combine wonderfully. A great way to end our summer and look forward to a beautiful Fall. Happy Labor Day!
Be sure to check out more dishes as our Labor Day Cookout with #SundaySupper continues!
Labor Day Cookout Recipes:
Starters & Snacks
Salads & Sides
Drinks
Desserts
Wine Pairings
Labor Day Cookout Food And Wine Pairings byENOFYLZ
Please be sure you join us on Twitter throughout the day during #SundaySupper. We'll be meeting up at 7:00 p.m. EST for our weekly #SundaySupper  live chat where we'll talk about our favorite cookout recipes!
All you have to do is follow the #SundaySupper hashtag, or you can follow us throughTweetChat!
We'd also love to feature your Cookout recipes on our #SundaySupper Pinterest board and share them with all of our followers!