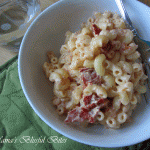 If you haven't read it on my blog posts or on my facebook but a million times, I look forward to spending my Sunday with the #SundaySupper group. I truly do. It's an amazing group of bloggers who support, connect, share and chat with each other. We are like cyber-family. A new version of The Jetsons if you will.
I am honored to have been asked by Isabel Foodie, Founder of #SundaySupper, to host this weeks #SundaySupper. She can be found at www.familyfoodie.com I have to say, when your family asks you to do something you do it!
This week our theme is Dishes in 5 Ingredients or less. As a busy mother of two children (ages 3 and 2), finding dinner in a snap can be difficult. There are many nights I do not have the time to prepare a complex meal or I only have few ingredients on hand. Since I am a stay-at-home mom, our family works under one income which also means a weekly meal budget. This theme is intended to give ideas and recipes to anyone looking for a simple yet delicious meal. Not only can you prepare a dinner in few ingredients you can also prepare breakfast and even desserts! Our group is amazing as I have said yet again. I was blown away by the desserts that were made. Be sure to also check out Martin's post on "Five Most Food Friendly Wines." Yes, I'll have a drink to that!
Please put on your spacesuit, as I have mine on every Sunday. (Personally, I like to be Judy Jetson but we'll keep that under wraps

) I hope you're blown away with this weeks recipe, Lumachine with Fresh Parmesan and Sun-Dried Tomato Sauce.
Ingredients:
1 pound lumachine or any kind of small noodles works well such as elbow
8 oz. sun-dried tomatoes, chopped
1 onion: chopped
1 1/2 cups of light cream
1 cup freshly grated Parmesan cheese
Recipe:
Step 1: Cook pasta according to instructions
Step 2: Cook the onion and sun-dried tomatoes in a frying pan over low heat for 5-7 minutes. (The oil in the sun-dried tomatoes gives you a "fat" to work with)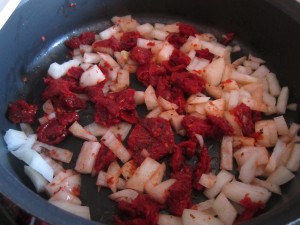 Step 3: Add freshly grated Parmesan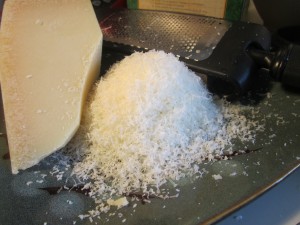 Step 4: Drain the pasta and add it to the tomato mixture. Stir to combine.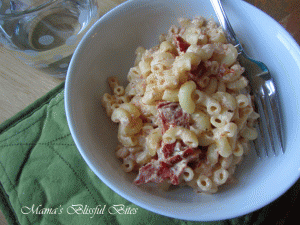 By having few ingredients, you can really enjoy the simplicity and flavors that shine through. Dishes can be made with very little and still have a big flavor. Please enjoy more Dishes in 5 Ingredients or Less by our AMAZING (again…I know) #SundaySupper group. Thank you for allowing me to be your host!
If you would like to CHAT with us personally….Please be sure you join us on Twitter throughout the day during #SundaySupper. We'll be meeting up at 7:00 pm(Eastern) for our weekly #SundaySupper  live chat where we'll talk about our favorite 5 Ingredient Recipes! All you have to do is follow the #SundaySupper hashtag, or you can follow us through TweetChat!  We'd also love to feature your easy go to recipes on our #SundaySupper Pinterest board and share them with all of our followers!
Breakfast, Starters, Butters and Jams:
Main Dishes:
Desserts:
Beverages: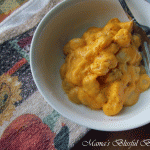 Fall time is here and I say, bring on the butternut squash! While I was growing up, I never even heard of butternut squash. To be honest, my first attempt in trying it was last year. Going to the grocery store, I would pass the odd-looking objects that grew from the ground. You know, things like pumpkin, acorn squash and definitely butternut squash. They just looked to strange for me to handle!  I finally got enough guts to try one of the recipes I saw from the Foodnetwork Channel that included, whole butternut squash. Let's just say, I almost burnt down the house placing it in the oven, skin side up. Yup. But once I cooked it properly, I fell in love. I would really like to make butternut squash noodles so that will be coming soon.
I will admit this, I now purchase pre-cut squash from the grocery store. For two reasons. 1. It costs nearly the same 2. The hard part is completed for me. But there is a catch. If you purchase it pre-cut, make sure you use it quickly and it's not staying in your fridge. If it starts to look slimy, please chuck it.
A lot of nights, I don't have a lot of time to stay in the kitchen and watch my food cook. I wish I did, I would really love that but with two little kids, I sometimes have to keep one eye on them and one eye on the dish! I like this recipe because it doesn't take a lot of effort and it's healthy. The taste is creamy and brings the fall season straight home to my heart.
Ingredients:
1 1/2 pound butternut squash: cut into cubes
2 tbs vegetable oil
2 cloves garlic: minced
sea salt and pepper
1 cup: heavy cream
32 oz gnocchi
pinch of cinnamon
You may be saying, "What? 32 oz gnocchi?" Yeah, I don't blame you. It's a lot. But in my house, we can eat a lot. Gnocchi is deceiving because although small in character it is filling in the tummy! The sauce makes enough for 32 oz gnocchi so please wrap up your leftovers and enjoy for the next evening. It's that good, I swear. If you find gnocchi too heavy, substitute it for your favorite pasta.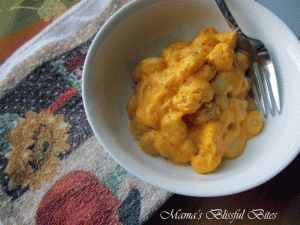 Recipe:
1. Preheat oven to 450 degrees F.
2. Place parchment paper on a baking sheet.
3. In a small bowl, stir to combine squash, oil, salt and pepper and garlic.
4. Place on parchment paper and bake for 25 minutes, flipping half way.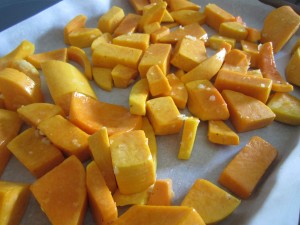 This is my "step away" from the stove time. I like things that just "cook" while I'm away and then come back it's done. It gives me a little break to change the kid activities and give them new games to play with. It's all about occupying the kids!
5. Place squash mixture into food processor or blender. Slowly add cream to consistency you like. Then I add more pepper. I love pepper.
6. Meanwhile, during the last few minutes of the squash baking, start boiling your water for the pasta and cook according to directions.
7. Spoon out gnocchi and place in saucepan. Add sauce, stir to combine. If you want to heat it up again, here's your chance. Heat over low for a few minutes or plate.
8. Finish by adding a touch of cinnamon.
That's the best ending ever. Cinnamon is really good for you and it boosts the taste factor to a whole new level. This dish scream HELLO FALL all over it!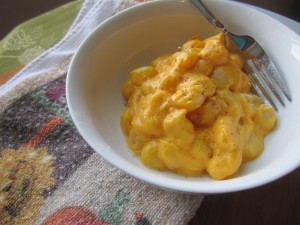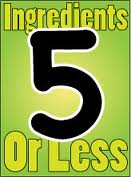 Starving, you open your cupboard in search of a meal. You realize you only have five ingredients: pineapples, peanuts, bananas, applesauce and yogurt. You need to come up with a dish, you're hungry right? What can you make? Ask the girl raising her hand in the back, yes, you… "How about a fruit salad with a side of applesauce?" Hey, sure why not?!
This week, our amazing #SundaySupper group is contributing recipes featuring Dishes in 5 Ingredients or Less! For those days when you don't feel like making a complex recipe or maybe you're on a budget or maybe you really only have five ingredients left!
Join us, September 30th, 2012 as we share our delicious, mouth-watering recipes! Here's a sneak peak at what everyone is bringing to our #SundaySupper table. Be sure to stay after dinner at 7pm EST as we share our recipes during our #SundaySupper live chat!
Breakfast, Starters, Butters and Jams:
Main Dishes:
Desserts:
Beverages:
Please be sure you join us on Twitter throughout the day during #SundaySupper. We'll be meeting up at 7:00 pm (Eastern) for our weekly #SundaySupper  live chat where we'll talk about our favorite 5 Ingredient Recipes! All you have to do is follow the #SundaySupper hashtag, or you can follow us through TweetChat!  We'd also love to feature your apple recipes on our #SundaySupper Pinterest board and share them with all of our followers!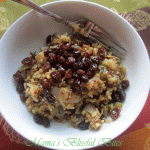 I made this dish on one of my healthy kicks, which I seem to have every day now. I have avoided the scale knowing that I have gained some weight. Since it never shows me what I'd really like to see, I have avoided jumping on as if it was the plague. My pants seem to tell me that they are becoming snug again, so I just avoid the "number" game. But at last, I finally got myself together and jumped on. It wasn't as bad as I tought it would be but it wasn't what I wanted it to say. It appears everything found a new home, my belly.
To make things a little more complicated, when I lost weight from my kids, I threw all of my "up" size clothes away. This was a big debate and struggle for me. I kept thinking, "what if I need a bigger size one day?" No use in throwing them away if I "may" need them again. I actually haven't been this smaller size in years and was wondering if it was a fluke. But after six months, I thew them away. All of them. Jeans, shirts, dresses, you name it. In a bag and donated, that's where they went. I had a difficult time departing from the old me but still love the new me, so I moved on.
Exercise is another challenge. When I finally get into the grove, I'm a moving machine, but it's finding the grove that challenges me. What is it about taking the first steps? I know I need to lose a few pounds, just go, I scream to myself. Have you ever seen those commercials where it says, "one good choice makes you want to pick another healthy choice and so on?" Well, it's true, but taking care of two kids, being up around the clock, preparing meals, cleaning up, teaching skills and rules doesn't make me want to jump up and run. Well, sometimes it does but not in a healthy way

Today was a beautiful day. It was low 80′s and a beautiful breeze was coming through. I decided to take a family trip to the NCR trail. The NCR trails are about twenty miles long and ten feet wide. Guess I did some research along the way. My two little kiddos made it, 1 mile up and 1 mile back. As we started to walk, they started to run. We ended up jogging quite a bit. We looked at the trees and picked up leaves and rocks along the way. I didn't realize how much fun we actually would have! What an easy, great excercise on such a beautiful day. We ended up going to a restaurant afterwards and I ordered the Raspberry and Walnut Salad. What? One healthy choice lead to another. After putting some effort in, I felt so good, I wanted to continue by making a second healthy choice!
For dinner, I threw together the Heritage Rice dish and it was filling and quite enjoyable. The sweetness was a nice combination with the melody of rice. I just hope that I stay on this kick. I hate diets, I don't like to count calories and I really hate limited my intake. I love to eat! When I need to lose the weight, it tells me that I'm out of balance with myself. Something is off set and needs to be fixed. I prefer to eat foods that are good for myself all around and knock off the weight that way. This is a good starting meal!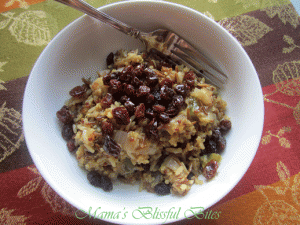 Ingredients:
1 green pepper: seeded and chopped
1 onion: chopped
1 tbs olive oil
1 cup heritage rice blend
2.5 cups vegetable stock
1 tbs cumin
salt and pepper
2 tbs raisins
honey to taste
Recipe:
Step 1: Heat olive oil in a skillet over medium heat. Add onion and cook for 2-3 minutes. Add pepper and cook for 5-7 minutes until soft.
Step 2: Add cumin, salt and pepper and stir for another minute or two.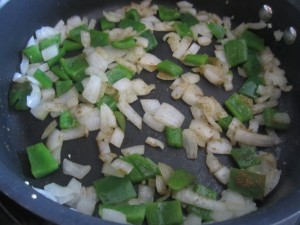 Step 3: Add rice and pan fry for two minutes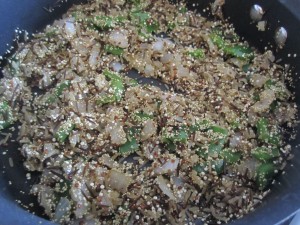 Step 4: Add stock (according to rice instructions) and bring to a boil. Cover and simmer until rice is done 15-20 minutes.
Step 5: Put in a bowl and add raisins and honey to taste!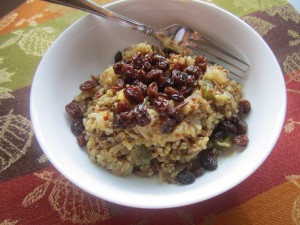 Fingers crossed I have another inspirational day, even though I wasn't planning it. Sometimes the kids hold me back, being so small….Perhaps looking for activities that I can join them with will work better. Fall is here. (YAY!) And this means outdoor activities! Here's to becoming healthy again!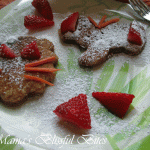 You may have heard me say this before and I'll say it again, trying to get my son to eat anything healthy is nearly impossible. If it doesn't say CARB across the board, he's not interested. If it has a color, he doesn't want it. If it's cold, forget it. I have quite the challenge on my hands, but we work through it, one day at a time.
I noticed that not only does food have to be appealing but fun as well. So, I bumped up the "hiding veggies" factor and have even included cool plates! If you take a look at my photos, you'll notice the "jungle" theme. These plates and bowls are provided from Zak! Designs and give the extra push I need. This is one of my favorite recipes. It's really delicious and has a cup of veggies. After I complete the jungle animal pancakes, I put them on "jungle" plates! It's like we're eating in the jungle all together! My son loves this and so do I. Make any meal fun by adding a plate? Fantastic! Be sure to check them out at http://www.zak.com/. Not only do they offer character items but also beautiful rose colander, (click here) and my personal favorite, Flower Table Serving Set (click here). I'm absolutely going to get their Halloween Dinnerware too! (click here)
By providing a wholesome and fun meal, I have "upped" the mommy factor on serving fantastic meals at my table! Please be sure to check out their site as well. I can't stress that enough! They have everything!
Carrot pancakes have quickly became our weekend breakfast meal and it has even been requested for dinner. They are sweet and delicious and did I mention fun?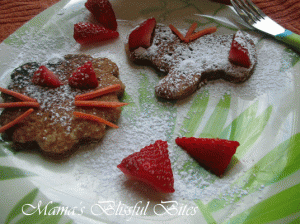 I'll give you the recipe, but be careful, it's a jungle out there!
Ingredients:
1 1/4 all-purpose flour
1 1/2 teaspoon baking powder
1 teaspoon cinnamon
1/4 salt
1/4 all spice
1 egg: slightly beaten
1/2 cup brown sugar
1 cup almond milk
1 cup shredded carrots
1 teaspoon vanilla extract
Recipe:
Step 1: Combine flour, baking powder, cinnamon, all spice, salt in a bowl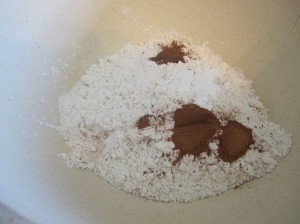 Step 2: In another small bowl, combine egg, sugar, milk, carrots and vanilla. Mix.
Step 3: Pour carrot mixture into flour mixture. Stir to combine.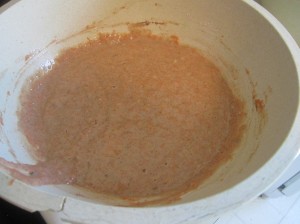 Step 4: Over medium-high heat or an electric skillet, scoop out enough mixture (about 1/4 cup) to make a pancake.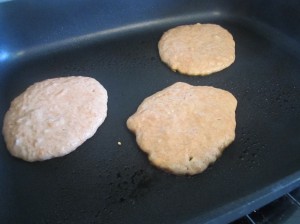 Step 5: When the mixture starts to bubble and a nice brown color is on the bottom, flip.
Step 6: Cut out using any kind of cookie-cutters. I go for the jungle animals myself.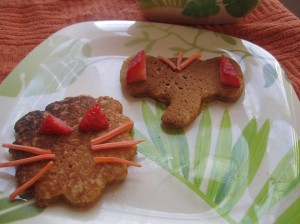 Decorate! I use powder sugar because according to my son, it "snows" in the jungle!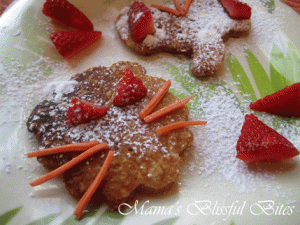 Change up your dinnerware, add some zip and style to your food. Be sure to add vegetables too! You may be surprised at what a little shabang can do

This weeks linky party is really cool. Our sponser is Daiya at www.daiyafoods.com In case you missed it, I made Cha Cha Cheesy Vegan Rice and Broccoli with Diay's shredded cheddar cheese!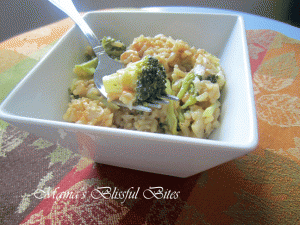 Be sure to get the recipe, by clicking here.
This week, 4 random blog post picks will get a coupon for Free Product AND 2 randomly picked Fans will win too through our Fan Drawing link! Pretty nifty, huh?
Here's last weeks TOP 3! Congratulations!!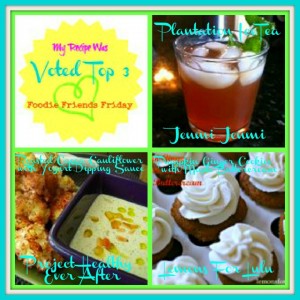 and…the 3 most clicked!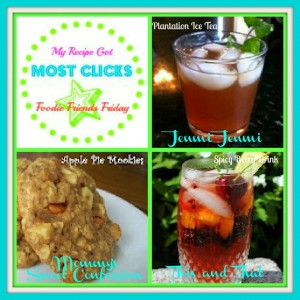 Check out our host's blogs for more great recipe ideas!
Now on to the Party!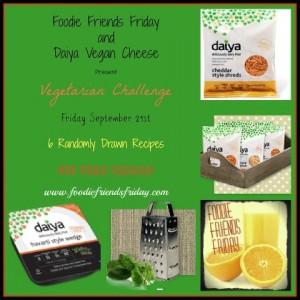 Step 1:  Make sure that anything you link up is:
A recipe that is made and photographed by you
Not part of a sponsorship/sales/giveaway or other promotions/linky parties
Linked to a specific page of your recipe, not your homepage
Please limit your link-ups to 3 per party
Step 2:
* for example:  This recipe is featured on "Host Blog Link" and  http://www.foodiefriendsfriday.com  Linky Party)
If you want to be the very best Foodie Friend Ever…
Step 3: Come back on Sunday and vote for your favorite recipes by clicking on the star under the recipe.  You only get 3 Votes so use them wisely!
***Please note that by linking up your recipe you are agreeing to allow Foodie Friends Friday and any of it's affiliated websites or publications to use photos/links/recipes for any reprint, republishing and distribution without monetary compensation to you.  If photos/recipes are used, proper credit and link backs will be included.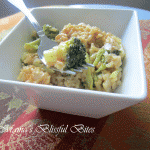 My friend Tracy over at Foodie Friends Friday presented us with a Vegetarian Challenge so of course, I definitely wanted in on it! I was excited to hear that the company Daiya was in on this event too! They sent us two coupons to try out their products! For those of you who may not know, Daiya products are entirely plant-based, have no cholesterol, trans fat or preservatives! I purchased the shredded cheddar cheese and it felt creamy and looked pretty darn close to 'real' cheese.
It's my first time trying a vegan cheese so I wanted to put it in a dish that I'm familiar with, Rice and Broccoli. I was going to add black beans to the dish, which you still can, but my cupboard only had everything but black beans. Beans and rice I love. So, I had to make a quick adjustment.
As I said, Daiya gave me two coupons and for being my faithful readers, I'm going to give one to you! A FREE coupon for one package of Daiya wedge! They have lots of varieties such as: cheddar, jack and havarti style wedges! All you have to do is leave a comment for a chance to win!
Ingredients:
1 tablespoon olive oil
1 onion: chopped
1 cup brown rice
2 1/4 cup vegetable broth (check your rice directions to see how much you should use. Ex: 1 cup rice = 2 1/4 cup broth for me)
1 large head of broccoli: chopped
1 tablespoon ground cumin
2 garlic cloves: minced
salt and pepper
1 cup Daiya cheddar shredded cheese
Recipe:
Step 1: In a large saucepan, heat olive oil over medium heat.
Step 2: Add onion and garlic, cumin and salt and pepper. Saute for 5-7 minutes until soft
Step 3: Add rice and dry-roast for two minutes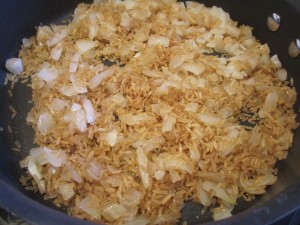 Step 4: Add broth and bring to a boil. Cover and simmer for twenty minutes.
Step 5: Add broccoli and recover for another ten minutes until broth is absorbed.
Step 6: Take off heat and add cheese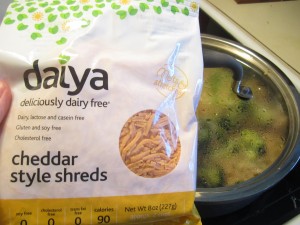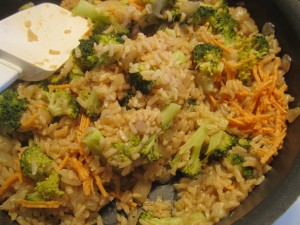 Step 7: Stir together until cheese combines and becomes really cheesy! Serve!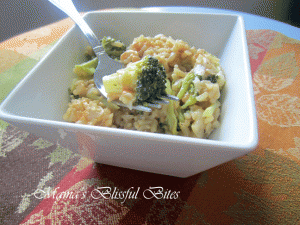 NOTE: If you want to add beans, substitute them for the broccoli and add in the last ten minutes or add them with the broccoli!
Please be sure to leave a comment below for a chance to have your own free package of Daiya cheese. One winner will be selected. Let me know your experience with vegan cheese or Daiya or why you may want to try it!
In addition…dent dent dent….
Be sure to come back Friday for Foodie Friends Friday Linky Party Vegetarian Challenge and link up your creations, get new recipes and ideas! Six lucky entries will win a coupon redeemable for free Daiya Cheese!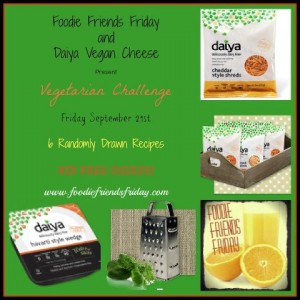 This recipe was adapted for the Foodie Friends Friday Vegan and Vegetarian Challenge sponsored by Daiya Cheese. Contestants received coupons redeemable for free Daiya Cheese Products.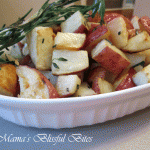 I have been blessed with another cookbook! Thanks to HCI The Life Issues Publisher, they sent me the cookbook of my dreams…. The Karma Chow Ultimate Cookbook: 125+ Plant-Based Vegan Recipes for a Fit, Happy, Healthy You by Melissa Costello Forward by Tony Horton.
Melissa Costello, founder of Karma Chow and the creator of The Vital Life Clense, is a personal chef to celebrity fitness guru Tony Horton, creator of the bestselling P90X® fitness system. She has a "keep it simple" and "make it tasty" approach and offers a variety of dairy and animal-free appetizers, breakfasts, dinners, desserts and even holiday and company worthy menus. This cookbook is AMAZING! Please be sure to visit her website by clicking here.
As soon as I received my cookbook (yesterday), I started flipping through the pages tagging each one that I would like to make. By the time I was finished, I realized that I marked the whole book and there was no point in my efforts

I went to the store that day and made my first dish tonight, Blissed-Out Herb-Roasted Taters. Let me tell you, these potatoes were so yummy and satisfying that I will add them to my menu weekly. The book does not include any tofu or soy recipes and is still filled with 100% deliciousness.
Please be sure to purchase this fantastic cookbook. It's not one that will sit on your shelf for sure!
Ingredients:
2 pounds baby red potatoes, cut in halves (I used five whole red potatoes since there was no baby's at the store)
3 tablespoons extra virgin olive oil
2 tablespoons freshly chopped rosemary
2 tablespoons freshly chopped thyme
Sea salt, to taste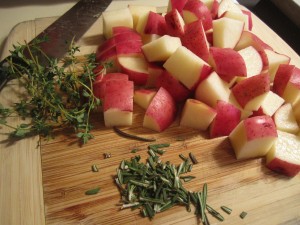 Recipe:
Preheat the oven to 400 degreed F.
Toss the potatoes in the olive oil with the fresh herbs and the salt to taste.
Spread evenly on a baking sheet lined with parchment paper and bake for 30 to 40 minutes or until soft and the edges start to turn brown.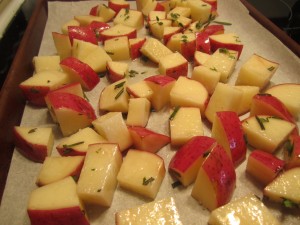 Turn the potatoes once or twice while baking.
NOTE: I actually times them for 15 minutes then turned them. Timed them for 10 more minutes, then turned them again. Finally another 10 minutes and turned one more time. They were perfect.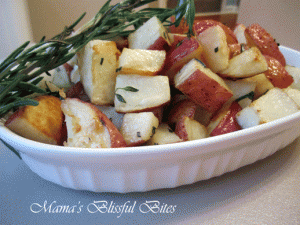 I'm on to making her Minty Hot Chocolate next! This book has me all sorts of excited! I've had it for 24 hours and it looks like I've had it for years. I highly recommend it!
Recipes from The Karma Chow Ultimate Cookbook by Melissa Costello. (HCI: October 2012; $18.95/Paperback: ISBN – 13: 978-0757316333). http://www.hcibooks.com/