One way to get children involved in a craft or activity is by elaborating on something they just learned. I read the book, "The Very Hungry Caterpillar" by Eric Carle to my kids and I found out they love butterflies. Can you blame them? Butterflies are so pretty with their many different colors! On a complete side and spiritual note: I read somewhere that if you see a butterfly it means transformation is coming. Now, I have to admit, I look for them from time to time 🙂
Back to the kiddies, I thought it would be fun to create a butterfly and flutter it around the room. So, we did. I used my sons hands as butterfly wings so I can look back and think, "wow, look how tiny my sons hands were…" One of those mom things I guess.
Materials:
Construction paper
Crayons/Pencils
Eyes
Instructions:
1. Trace both your childs hands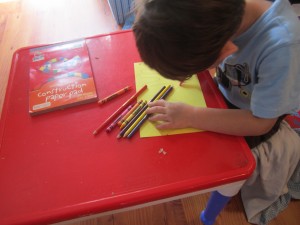 Don't mind the cookie crumbs, we were snacking as we played 🙂
2. Have your child color in the wings…or uhm, hands.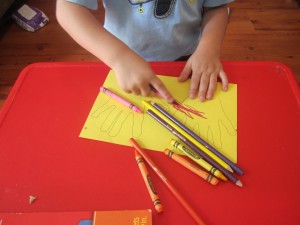 He's into playing doctor now and would color red then say, "uh oh, look like the butterfly has a boo boo." Then asked for a band-aid. Looks like we might have a doctor in the family! Or a firefighter…perhaps a police man, who knows, he could be an artist….oh, there goes those motherly thoughts again!
3. Cut out a middle piece for the butterfly and antennas. Add eyes and glue pieces together.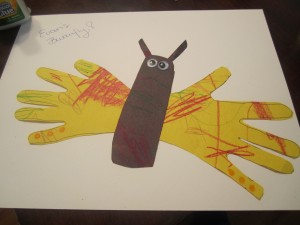 Flutter your butterfly everywhere!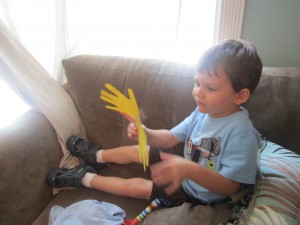 Now you may have noticed this is Part 1 of "The Very Hungry Caterpillar." What does that mean? That means there's a Part 2, you know like a caterpillar! This one my daughter and son both did together. It turned out fantastic. They learned shapes and had fun with glue! Stay tuned for Part 2!