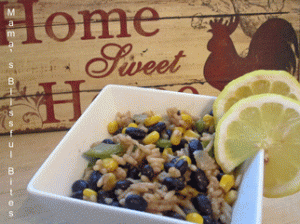 School is back in session! For everyone, this could mean a lot of different things. Hustle and bustling around the house, endless errands running between football and cheerleading, late night homework and of course, who has time to eat, right?! Never fear! Our AMAZING (as if I haven't said that enough!) #SundaySupper group is here to help! We have created meals for you to make for your family in 30 minutes or less!
Mama's Fried Rice and Black Beans are no exception. I timed this recipe. To the T. 18 minutes and some odd seconds. Okay, so I guess that's not exact but pretty darn close. Few ingredients and a delicious robust flavor. I loved it. My family loved it. It is goooooood!
Ingredients:
1 Tbs coconut oil
1 green bell pepper: chopped
8.8 oz Uncle Ben's Ready Rice (Which says ready in 90 seconds…yes baby, that's quick!)
1 (15 oz) can corn: drained
1 (15 oz) can black beans: drained and rinsed
1 tsp chilli powder
1/2 cup water
1 tsp sweet miso (soybean paste)
Recipe as follows:
Heat coconut oil in a wok over medium to medium high heat.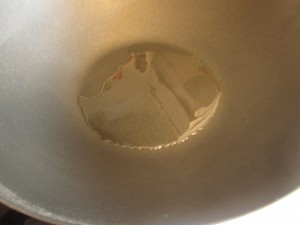 2. Add onior and stir-fry for 3 minutes just until soft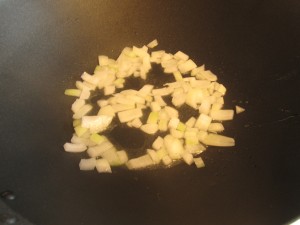 Watch out! This baby is smokin! Smokin good that is!
3. Reduce heat and add: pepper, rice and chilli powder. Stir for 2 more minutes.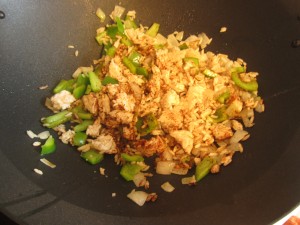 4. Add water and miso. Return to boil. Reduce and simmer for 10 minutes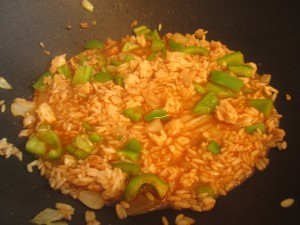 5. Stir in beans and corn for five more minutes until heated through.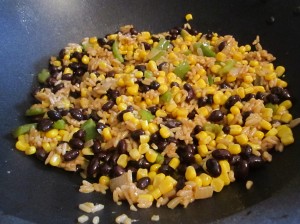 What? What's that you say? I think I heard you say that you don't have any miso or coconut oil in your cupboard…..
NO MISO OR COCONUT OIL???? WHAT?
No problem! Use what you got! Skip on the miso and use olive oil. No biggy, next problem….no rice? What? No rice?! Yeah, that would be a problem 🙂
Let's solve some more problems. Run down our fabulous #SundaySupper groups menu and find even MORE yummy recipes for those days you are in a 30 minute and under time crunch! Hey, we got you covered. Wink. Wink. You better believe it!
Can you believe that line up of recipes? What a fabulous list of meals we have and like I said, I can meal plan for weeks!
Please be sure you join us on Twitter throughout the day today. We'll also be meeting up at 7:00 p.m. EST tonight for our weekly #SundaySupper live chat where we'll talk more in depth about Back to School Meals and ways to make meal time easier with tips & tricks to help you out! If you're a busy parent, you don't want to miss this!
All you have to do is follow the #SundaySupper hashtag, or you can follow us through TweetChat! We'll be sharing great recipes and tips all afternoon, and we'll be talking all things Back to School Meals during our live chat!