Sniff.
Sniff.
Dribble.
Dribble.
SOB!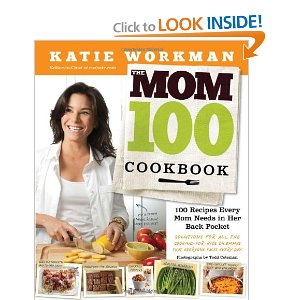 I have to share with you my sadness for this is my last post in sharing Katie Workman's AWESOME cookbook, The Mom 100. Our fantastic #SundaySupper group has been honored to work with Katie and in sharing her recipes and Mom Solutions! I have come to love her cookbook and have spotted it up with clumps of food as I cooked. Katie's cookbook represents the life of a real mom with real life solutions. It is a must have in your kitchen.
This week, the #SundaySupper group is sharing recipes for the Back to School Mom. I can recall my mom making me a peanut butter and jelly sandwich every day all throughout elementary school. Let me just say, that is a long five years of PB&J and to be honest, I would always throw them away. What a waste! Please, grab Katie's cookbook. Sometimes us mom's have a hard time being creative and coming up with ideas for new lunches. Hey, good news – you don't have to think anymore! Katie has done it for you! One of her lunch stuck solutions is to make a lunchbox wrap. A wrap you say? YES! You can stuff with almost anything your little one desires!
Katie gives a list of different delicious ideas for wraps. Again mom, no worries, she's got you covered! One of my favorite wraps that I make quite often is a hummus, cucumber, roasted red pepper and carrot wrap. It's super super sooo good!
My children again, don't like the texture of meat and they are of the ages 3 and 2. I have learned through this stage, they are quite selective with their choice of food, but these wraps are a wonderful addition to the lunch week!
You can purchase hummus at the grocery store  already pre-made. Saves an extra step if you are pressed on time. I love making different styles of hummus and I always have a can of chickpeas on hand, so I whipped up a quick bowl.  I was going to make a regular, plain hummus and throw roasted red peppers on my wrap, but I changed my mind last-minute. I now present to you, Roasted Red Pepper Hummus with Carrots and Cucumber Wrap.
Hummus:
1 (15oz) can chickpeas: drained and rinsed
lemon juice: From 1/2 lemon, freshly squeezed
2-3 Tbs Olive oil
Pepper
3 Tbs roasted red roasted pepper (I used jarred)
1 clove garlic: minced
Recipe:
1. Add beans, lemon juice, olive oil and pepper in a food processor or blender. Blend until desired consistency
2 Add red pepper and garlic and blend again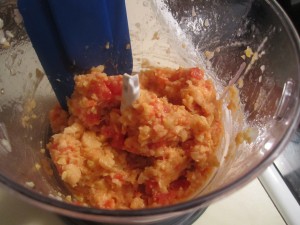 Traditional hummus has tahini however my children can tell a difference and prefer not to have it. Include it if your child likes it!
Wrap:
Carrots: shredded with a vegetable peeler
Cucumber: Cut into pieces according to your childs age. (Mine are toddlers, so I cut them up pretty small)
Wrap of choice (They have a fantastic variety at the grocery stores now. I always find mine near the deli section. Regular white wraps to whole-wheat. Try a variety to see what your child loves!)
Instructions:
1. Place hummus on a wrap
2. Build toppings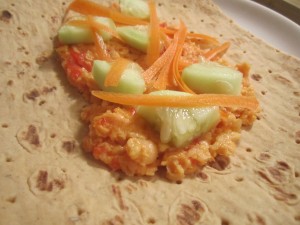 3. Wrap and put on a plate to serve Or in a lunchbox to go!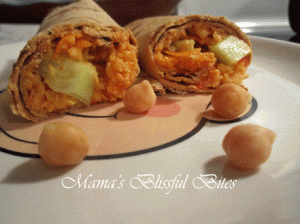 I sometimes make these wraps for a snack too – don't worry, I share…sometimes!
And, did you see that goofy plate? We use them to create fun on their plates. They like to play with their food and I am fine with that as long as they eat it. Why not make meal times fun for everyone 🙂
Want to connect with Katie? Yes, I don't blame you! Here's how!
Connect with Katie Workman, Author of The Mom 100 Cookbook:
http://www.themom100.com/the-mom-100-blog/lists/gearing-up-for-back-to-school-weeknight-dinners/
Link to Amazon for this MUST HAVE COOKBOOK!
http://www.amazon.com/gp/product/0761166033/ref=ox_sc_act_title_1?ie=UTF8&smid=ATVPDKIKX0DER
Don't worry moms! We don't want to leave you with only ONE idea for the school year – Please remember to check out more fantastic recipes from our again…clearing throat…AMAZING #SundaySupper group!
Easy Breakfast ideas:
Lunchbox Wraps:
Easy Weekday Suppers:
After School Snacks:
We will be sharing great family recipes all day and want you to share yours with us! Join us at 7pm ET for our #SundaySupper Chat with Katie Workman.   Follow us on twitter by using hashtag #Sundaysupper or using Tweetchat.  We love to feature your recipes on our #sundaysupper pinterest board and share them with all our followers.