Welcome to
FOODIE FRIENDS FRIDAY #7
! We are so happy you are joining us for another great party! This week's FFF is sponsored by
Tami from Around the Table
with Tami! Tami was gracious enough to give each of our co-host a copy of her E-Cookbook: Seasonings and Entrees! How great is that! I had a chance to look through her book and I can't wait to give some of her recipes a try! Now, the best part about this, is that
Tami is giving her E-Cookbook away to the three recipe's with the MOST VOTES!
Whose recipe will that be?! Will it be yours? I don't know about you, but I can't wait to see!!
Would you like to sponsor a FFF party? Click on my email icon, on the top right hand side of my sidebar and let's talk!
Here are the Three with the MOST VOTES from  last week!
Here are the Three with the MOST CLICKS from last week!
Here are you Co-Host for this week's party!
Robyn at Robyn's View
When you link up to one blog it will show on ALL of the above blogs!! That's a ton of exposure!
Don't forget to come back on Sunday to Vote!
Now onto Asian Lettuce Wraps!
My first time having an Asian Wrap was at P.F. Chang's Bistro Restaurant. We were having a family gathering (four different families all together) and put in front of me was a piece of lettuce with lots of beans and veggies. As the waitress placed the plates on the table, family members were gasping, "OOOhh, this is my favorite!" There I stared at my lettuce and mixture. Really? What am I supposed to do with this?! I was so hungry, I just wanted an appetizer, not lettuce. I was far from thrilled at the thought of eating it. I started to watch the family chain effect, "ooh, this IS good…" "wow! delicious" "hey, can I have some more lettuce?" What? Really? Lettuce people?! So I dove in. Hey, I'm not one to not get in and see what the big huff and puff is all about. After I took a bite, I took another and another and joined the crew in asking for more lettuce. Was it really the lettuce that was that good? Of course not. It was P.F Chang's delicious recipe IN the veggies and yes, I so wanted more.
Although I haven't been back to P.F Chang's, I wanted to try to recreate something of what I had tasted years prior. I have truly never seen my husbands face light up so much when I put down his lettuce and bean mixture. Yes, it's just that good. Here is my version of a tasty Asian lettuce wrap.
Ingredients:
1 tsp olive oil
1 cup corn (I used two corn on the cobs)
1 tomato: diced
1 1 /2 cups cooked brown rice
1 onion: diced
2 cloves of garlic: minced
1 (15 oz) can black beans: rinsed and drained
1/3 cup soy sauce
1/3 cup water
1/2 lemon: freshly squeezed and strained
2 tsp fresh ginger: grated
1 tbs sugar
2 green onions: white and green parts chopped
Pinch of salt
Head of lettuce: leaves rinsed
Recipe:
1. Prep all your ingredients.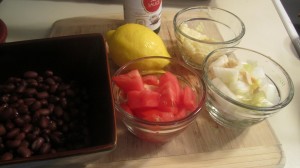 I used to not prep and go with the flow and believe me, I was running around acting all sorts of crazy. Over boiling water trying to open a can, slipping on something I spilled on the floor instead of into a bowl, etc. It may take a few extra minutes but it really is worth it. Try it if you don't!
2. Add olive oil to saute pan over medium heat. Add onions (scallions and yellow), ginger and garlic. Stir occasionally for 3-5 minutes until slightly softened.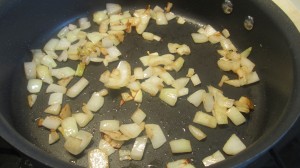 Be careful not to burn….(clearing throat….I had the heat too high, wah, wah!)
3. Add the beans, tomato, corn and rice and stir occasionally for 2-3 minutes.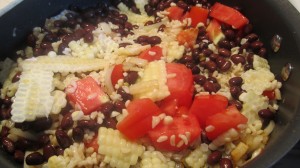 4. Add the soy sauce, water, lemon juice, sugar bring to a boil. Reduce heat, cover and simmer for 10 minutes or until thickness you desire.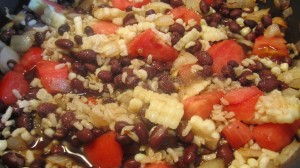 5. Serve in lettuce and roll that baby up and enjoy! It's mmm mmm good!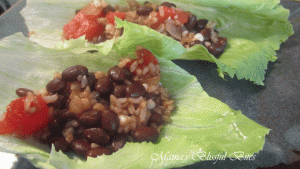 I like to cook my mixture for a while to soak up the extra sauce but I know my husband likes it dripping from the lettuce. I won. He won the taste test.