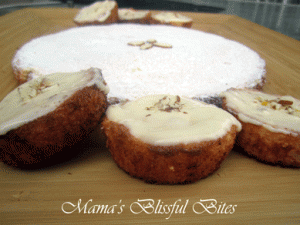 I can recall growing up, turning on the tube and watching cheerful, Julia Child. There was always something magical about her presentation that lured me into the TV, saying "You can do it! You can do it!" Her passion, wisdom and positive outlook on food, made me want to cook just like her. Little did I know, it was the French way!
Years later, we are now here celebrating Julia's 100th birthday – and what a celebration that is! I went to grab one of Julia's cookbooks, Mastering the Art of French Cooking, to find out, it was "checked out" of every library near me. I was floored! (But really should I be, after all this is Julia Child we are talking about!) After driving across the beltway (which wasn't a little drive) I finally had her book in my hands. As soon as I walked in the door, I opened up the pages and started to gather and learn. It is the best "school-book" I have ever read. Beautifully detailed in every degree imaginable, illustrations to help guide the mind and delicious recipes made me want to jump in the kitchen right away! I wanted to learn how to cook the French way. I also ask myself, why haven't I read this book earlier?! HELLO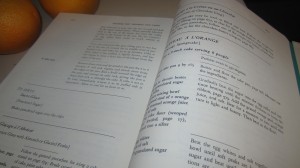 My first recipe to make is called Gateau A L'Orange or Orange Spongecake. I was so thrilled to make this recipe, it felt as if I was baking with her. I added in my spin on Julia's recipe and made Spongecake Cupcakes, as if I could ever impress her 🙂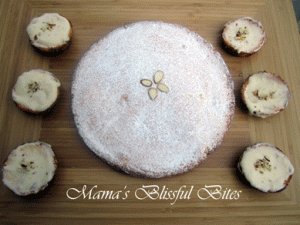 Ingredients:
A round cake pan 9 by 1 1/2 inches
A whip or electric beater
2/3 cup granulated sugar
4 egg yolks
A 3-quart mixing bowl
The grated rind of 1 orange
1/3 cup strained orange juice
Pinch of Salt
3/4 cup cake flour (scooped and leveled) turned into a sifter
4 egg whites
Pinch of Salt
1 Tb granulated sugar
Recipe:
1. Preheat oven to 350 degrees
2. Butter and flour the cake pan. Measure out the ingredients.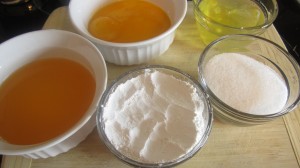 3. Gradually beat the sugar into the egg yolks and continue beating until the mixture thickens to form the ribbon. Add the grated orange peel, orange juice, and salt. Beat for a moment or two until mixture is light and foamy, then beat in the flour.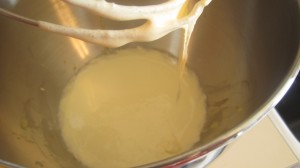 4. Beat the egg whites and salt together in a separate bowl until soft peaks are formed. Sprinkle on the sugar and beat until stiff peaks are formed. Stir one forth of the egg whites into the batter, delicately fold in the rest.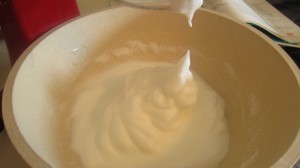 FOR CAKE THE JULIA CHILD WAY:
5. Immediately turn into prepared cake pan and run the batter up to the rim all around. Bake in the middle position of preheated oven for 30 to 35 minutes. Cake is done when it has puffed and browned, and shows a faint line of shrinkage from the edge of the mold.
6. Let cool for 6 to 8 minutes. Run a knife around the edge of the pan and reverse cake on a rack. If not to be iced, immediately reverse again, puffed side up. Allow to cool for an hour or two. When cake is cold, sprinkle it with powdered sugar, or fill and ice the cake according to one of the following recipes:….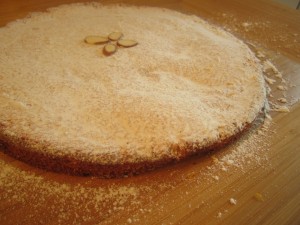 One of her recipes suggests placing crushed almonds around the outside after icing. Sounds yummy! Another suggested going the powdered sugar way and that's the way I went, with an addition of almonds.
Mama's Blissful Bites Cupcake Way!
Now, I also did a cupcake version because my kids don't like cake. I don't like cake very much myself but I think it's because of the size. To tackle this problem, I just created cupcakes which were neat because spongecake is spongy! RIGHT?! It bounces right back and it's not dense. With a nice sweet icing on top, it was yum yum good!
5. Pour batter into prepared cupcake pan. (cooking spray)
6. Bake for 20-25 minutes until the rim of the cupcakes turn brown and they start to shrink in size.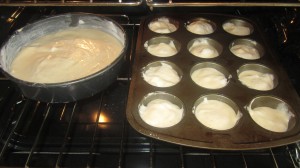 7. Pull out and cool down for 10 minutes. Take a knife around the edge and lift them out.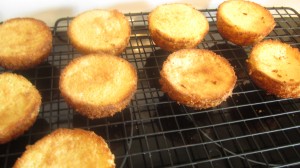 Orange-Almond Icing:
4 oz cream cheese, softened
1/4 cup freshly squeezed orange juice
1 teaspoon grated orange rind
2 Tbs unsalted butter
1/2 teaspoon vanilla extract
1 teaspoon almond: finely chopped
1 cup powdered sugar
Recipe:
1. Mix cheese, juice, rind, butter, extract in a bowl until well incorporated.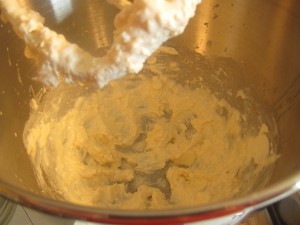 2. Slowly add in powdered sugar until combined.
3. Fold in almonds
4. Spread on cupcakes and enjoy!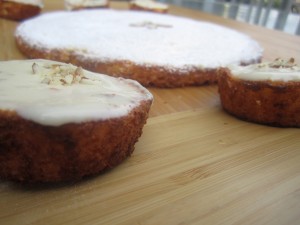 As always, our amazing #SundaySupper group has won my heart again with a great theme, Julia Child recipes! We are all celebrating Julia's 100th birthday together! So be sure to read all the recipes you can, then get yourself in that kitchen and bake your heart out. It is worth it.
Happy Birthday Julia! Thank you for all you have taught the world.
#CookForJulia Breakfast
Râpée Morvandelle by Cindy's Recipes and Writings
Croissants by Cookistry
Cheese and Bacon Quiche by Tora's Real Food
#CookForJulia Lunch
Tuna Salad Nicoise by Magnolia Days
Blood Orange, Walnut, and Rocket Salad by Granny's Down Home Southern Cooking
Croque Monsieur by Webicurean
Spinach and Cream Cheese Pancakes by Happy Baking Days
Julia's Chicken Salad by My Trials in the Kitchen
Pissaladière Niçoise (Onion Tart with Anchovies and Black Olives) by The Wimpy Vegetarian
Provencal Tomato Quiche by Are you hungry?
Quiche Lorraine Spoon and Saucer
#CookForJulia Dinner
Bouillabaisse by The Girl in the Little Red Kitchen
Boeuf Bourguignon by Chelsea's Culinary Indulgence
Orecchiette Con Broccoli Di Rape and Sausages by Doggie at the Dinner Table
Boeuf Bourguignon by Hezzi D's Books and Cooks
Veal Stew with Onions and Mushrooms with Baked Cucumbers and Boiled Potatoes (Blanquette de veau a l'ancienne with concombres au buerre) by Kimchi Mom
Salmon en Papillote by Girlichef
Poached salmon with cucumber sauce by Katherine Martinelli

Lobster Souffle and Deviled Chicken- Crispy Bits & Burnt Ends
Roasted Chicken with Julia's Mustard Marinade by The Meltaways
Wild Mushroom and Herb Stuffed Chicken- Mama Mommy Mom
Puree of White Beans with Garlic and Herbs (Brandade á la Soissonaise) Avocado Pesto
Poulet au Porto by Family Foodie
#CookForJulia Sides
Hollondaise over Blanched Asparagus by The Little Ferraro Kitchen
Scalloped Potatoes with Milk, Cheese, and Garlic (Gratin Dauphinois) by Home Cooking Memories
Ratatouille by Basic N Delicious
French-style country pate by There and Back Again
White Bean Dip with Homemade Tortilla Chips Momma's Meals
Oeufs à la Diable by What Smells So Good?
Soubise by The Weekend Gourmet
Ratatouille by Cupcakes and Kale Chips
#CookForJulia Desserts
Cream Cheese and Lemon Flan by Juanita's Cocina
Strawberry Sherbert in Cooky Cups by Cravings of a Lunatic
Creme Brulee by Wine Everyday
Mousseline Au Chocolat by Small Wallet Big Appetite
Peach Tarte Tatin by That Skinny Chick Can Bake
Cinnamon Toast Flan by Vintage Kitchen Notes
Dark Chocolate Crepes by Family Spice
Crepes Fines Sucrees by Mangoes and Chutney
Pommes Rosemarie:Apples Rosie The Daily Dish Recipes
Espresso Soufflé by Chocolate Moosey
Best Ever Brownies by In the Kitchen with Audrey
Orange-Almond Jelly Roll Cake by Mrs. Mama Hen
Orange Spongecake Cupcakes by Mama's Blissful Bites
Orange Mousse with Greek Yogurt by Sue's Nutrition Buzz
Wine Pairings: Relishing Food and Wine; Thanks to Julia Child! by ENOFYLZ
The fun starts every week at 3:00pm ET by showcasing fabulous recipes. At 7:00 pm ET, we will start our live chat. Join us on twitter by using hashtag #Sundaysupper or using Tweetchat. We love to feature your recipes on our #sundaysupper pinterest board and share them with all of our followers. See you there!