Another great week at Foodie Friends Friday!
They make some amazing Granola that is Vegan, Gluten and Soy Free and Sweetened with Organic Raw Blue Agave in many flavors, including a Nut Free one as well!
Suzi at
Gypsy Girl Granola
 was nice enough to give us 3 bags to award to our Foodie Friends Friday Top 3 Voted Recipes this week! Thank You so much!!
So… you guys better get cookin' and get ready to link up your VERY BEST 3
recipes this Foodie Friends Friday!
*Awards only available to US and Canada Residents
But first…here are last weeks winners…
Top Voted for July 27th!
Most Clicks for July 27th:
Here are your hosts for the week!
Step 1: Make sure that anything you link up is:
A Recipe…and is made and photographed by you
Not part of a sponsorship/sales/giveaway or other promotions/linky parties
Linked to a specific page of your recipe, not your homepage
Please limit your link-ups to 3 per party
Step 2:
* for example: This recipe is featured on "Host Blog Link" and http://www.foodiefriendsfriday.com Linky Party)
If you want to be the very best Foodie Friend Ever…
Grab our button at http://foodiefriendsfriday.comand put it on your page and share Foodie Friends Friday!
Take some time and check out other submitted links and the blogs of all of our gracious hosts
Come on over and "like" us on Facebook or Follow us on Twitter and Pinterest
Step 3: Come back on Sunday and vote for your favorite recipes by clicking on the star under the recipe. You only get 3 Votes so use them wisely!
 ***Please note that by linking up your recipe you are agreeing to allow Foodie Friends Friday and any of it's affiliated websites or publications to use photos/links/recipes for any reprint, republishing and distribution without monetary compensation to you. If photos/recipes are used, proper credit/ linkbacks will be published with them. We just want to share your amazing recipes and spread some foodie <3 !
 On to another KID-FRIENDLY VEGGIE HIDING MEAL – BEAN BURRITOS!
Mexican food in my house is a pretty good sell. I love it because the spices can run from mild to smoking hot! It's entirely up to you. I find it best that children don't have too many spices because they seem to steer away from bold flavors. Again, you know your family the best! I do know one thing, it is hard to get veggies into my little ones mouths! What is it? The color? The texture? That it's actually good for you! I feel I have to fight this battle a lot, so this time I have added it to our burritos and disguised it with lots of love from cheese….yet again.
Ingredients:
1 teaspoon Olive Oil
1 cup organic vegetarian refried beans
1 cup cooked brown rice
1 onion: diced
1 cup cauliflower: chopped
1 carrot: peeled and chopped
1 cup vegetable broth
1/2 teaspoon salt
pepper
1/4 cinnamon
1/2 cup vegan cheese or shredded sharp cheese
8 tortillas
Recipe:
1. Preheat oven to 375 degrees.
2. Spray a 13×9 inch pan with cooking spray
3. Place cauliflower and carrot into blender and blend until forms crumbly pieces but not puree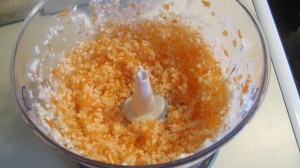 4. In a large saucepan, add olive oil, onion and carrot mixture. Saute for a few minutes.
5. Add remaining ingredients and simmer.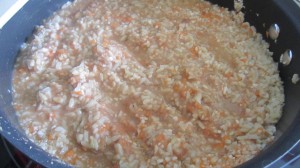 6. Meanwhile, over medium heat place tortilla in a saute pan. Pan fry both sides 1-2 minutes.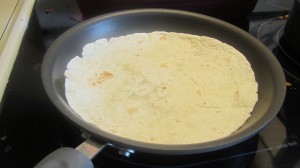 7. Place bean mixture in middle of tortilla and fold sides in and wrap over, seams down. Place in prepared baking dish.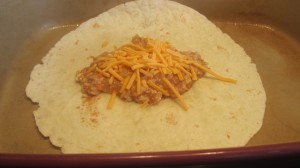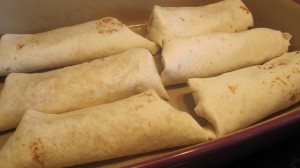 8. Bake for 25-30 minutes until tortilla is crispy. Serve with avocado or salsa.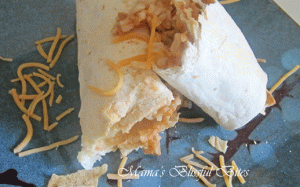 Let's just say they were all gone by the time I got back to the house. The kids thought it was a regular bean burrito, but they don't know their mom very well yet! Ha!
Check out other fantastic recipes as well!