While I have been obsessed with sensory tubs lately (please check out my post on them here). I was doing some research and came across something called Cloud Dough. (Which a lot of people have been blogging about).  I have read that people have play-doh parties, water parties and even noodle parties (which by the way, I totally tend to have!) When I read that you can make something called Cloud Dough, all I could think was fun, fun, fun!
Please let me share with you my experience and maybe you will re-think the fun affect that you are going for. I know I did

Cloud dough, as I read, feels like sand. Let me say that again, sand. (It doesn't. It feels like moist flour). Except this will soften your skin, which no doubt it did and does. Not that I am a "neat" person; however, I try very hard to keep my house in some sort of order, this activity will over take anything you have. That's why, I did it outside. Thinking ahead, that's a good start, but nothing nearly prepared me for what I was about to experience.
The ingredients are as follows: (Ready? Are you really ready for this adventure?)
8 cups of all-purpose flour
1 cup baby oil
Oh my. I said it. Baby oil. If you know me, I'm not a "fluff" person. I will not tell you how wonderful something is if I didn't have a good experience with it and I don't beat around the bush. Ask anyone of my guests who attended one of my Pampered Chef shows. I am as real as I can be all the time.
Step 1: Put flour into a bowl of some sort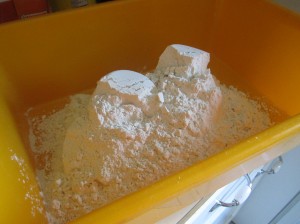 Step 2: Add oil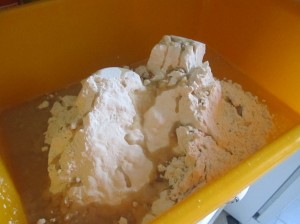 Step 3: Mix and combine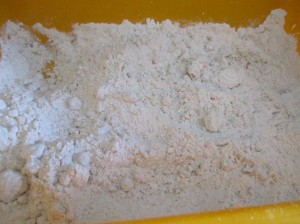 Now, I have read to use a masher or a whisk to work through the clumps. I used a fork. After five minutes of working it, there were still baby oil clumps but I thought it would be okay…..thought. Can I say that again?!
Here are some pictures of our TEN minutes of fun. TEN minutes. Let's just say the Cloud Dough was not a big hit as I was anticipating it to be: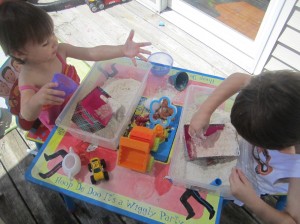 Curious. Curious is always good. What is that on my hand she thinks…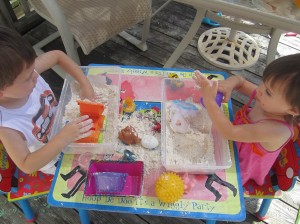 Son jumps right in. He has his dump truck, he's having fun. Daughter…still curious.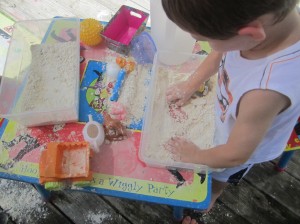 "Wow Mom! This IS great!"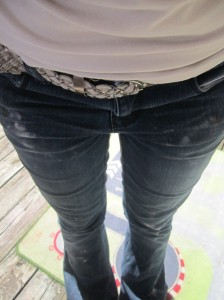 Mom not soo happy. It's starting to get messy up in here. It may not look bad from this picture, but TRUST me. It's messy. M-E-S-S-Y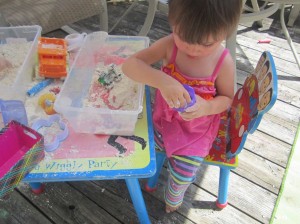 Maybe she does like it after all….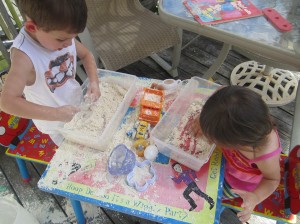 Or maybe they just like to dump it out!
This is where my pictures ended. There are no more. Although this is a sensory activity and they liked to feel the Cloud Dough, their ten minutes of fun were up. Next, they went into the house. Covered in flour. Sliding across the wooden floors. Do you know why? There are clumps of baby oil! That's right, BABY OIL! Try getting baby oil up from wooden floors…..
The sofa, floor, stairs everything covered. Need I say more? This mama likes to have fun and loves for her kiddos to try new and adventurous tasks. With 8 cups of flour smeared into the deck that I needed a vacuum (clearing throat, yes a vacuum!) to remove all the flour PLUS a hose for all stuck in the cracks, plus new clothes, plus another vacuum of the stairs plus a scrub on the floors. It's just not worth it to me.
Would I do this again? Nope. However if you do, just prepare yourself. Put a plastic sheet below to catch the mess, wear old clothes, put a mat in front of the door. Two hours of cleaning is not worth the ten minutes of fun to me. And to top it off, they didn't LOVE it like I wanted them to. Good news, we all had very smooth skin like a baby's buttom. (Sigh….moving on.)  I'm going to make another version of play-doh next. No mama's, it's true. I just don't learn.
As promised, here is our second activity for the book, The Very Hungry Caterpillar. This book is a great childhood classic. If you are unfamiliar with it, please go to your library and check it out. They also have cds and videos portraying the book as well.
In Part 1 of The Very Hungry Caterpillar Activities, we made a beautiful hand-print butterfly (click here). One that I will always keep to see my sons tiny little fingers. Ahh, a mother's love!
What's that? We made a butterfly? We need to make a caterpillar first? Oh yes, that's right! (I have no idea why I hear things when I type!)
The creation of the caterpillar was so much fun for both kids. My 3 year and 21 month old. BOTH. Educational + Fun = Win! Win! (Even my husband got in on the crawling fun!)
Materials:
Construction paper
Glue
Pipe cleaners
Crayons
Ahead of time: Cut out three circles, different sizes for the body.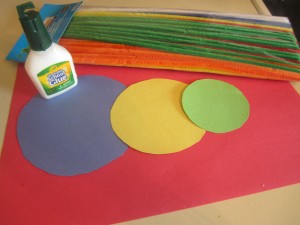 Craft:
1. As you're teaching your child how to put together a caterpillar, discuss the circles and how they are different sizes. Which one is the biggest? Which one is the smallest? Have them glue down the caterpillar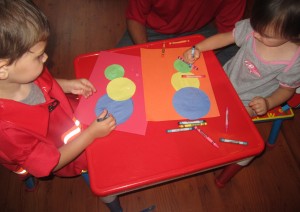 2. Color in a face: Add an eye and a beautiful smile! Use the pipe cleaners for antennas and legs!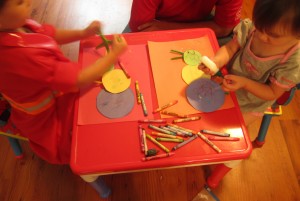 For extra fun, we cut other pieces and pasted them on the picture as well. When we're finished, we tape them to the wall for our "Weekly Museum." This way we can see everything we accomplished for that week. I'll take pictures of the artwork and then scrapbook the pictures for years to come. By doing this, we all aren't stuck with lots of crafts that "clutter" up the house for years to come. The kids can look back and see what they did. If it's a special piece, like the butterfly, click here for part 1, then I'm going to keep it.  I love the size of their hands!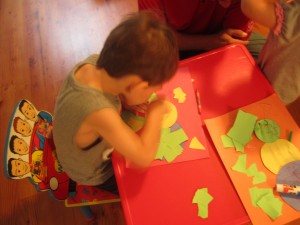 Enjoy your wall of activities as well!
I'm excited to share with you that I have a fantastic meal on a very fantastic family food blogger's site. Isabel who created #SundaySupper and has inspired lots of bloggers (including myself) has allowed me to guest post for her!
When you click on her site, here, you will be transferred to an amazing world. A world where family meals are important, meals are delicious, and everyone is welcomed around Isabel's #SundaySupper table. She amazes me so I had to give her an amazing dinner. Be sure to check out my Brown Rice and Veggie Bake!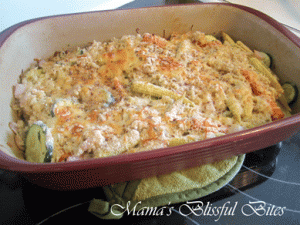 One way to get children involved in a craft or activity is by elaborating on something they just learned. I read the book, "The Very Hungry Caterpillar" by Eric Carle to my kids and I found out they love butterflies. Can you blame them? Butterflies are so pretty with their many different colors! On a complete side and spiritual note: I read somewhere that if you see a butterfly it means transformation is coming. Now, I have to admit, I look for them from time to time

Back to the kiddies, I thought it would be fun to create a butterfly and flutter it around the room. So, we did. I used my sons hands as butterfly wings so I can look back and think, "wow, look how tiny my sons hands were…" One of those mom things I guess.
Materials:
Construction paper
Crayons/Pencils
Eyes
Instructions:
1. Trace both your childs hands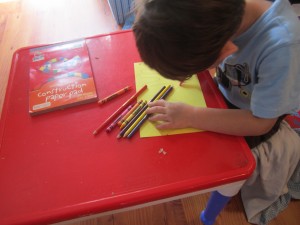 Don't mind the cookie crumbs, we were snacking as we played

2. Have your child color in the wings…or uhm, hands.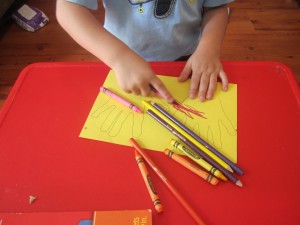 He's into playing doctor now and would color red then say, "uh oh, look like the butterfly has a boo boo." Then asked for a band-aid. Looks like we might have a doctor in the family! Or a firefighter…perhaps a police man, who knows, he could be an artist….oh, there goes those motherly thoughts again!
3. Cut out a middle piece for the butterfly and antennas. Add eyes and glue pieces together.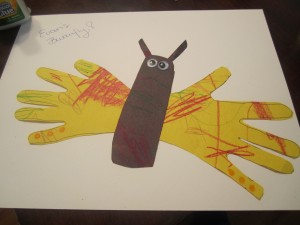 Flutter your butterfly everywhere!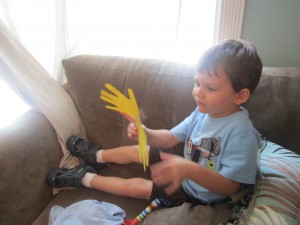 Now you may have noticed this is Part 1 of "The Very Hungry Caterpillar." What does that mean? That means there's a Part 2, you know like a caterpillar! This one my daughter and son both did together. It turned out fantastic. They learned shapes and had fun with glue! Stay tuned for Part 2!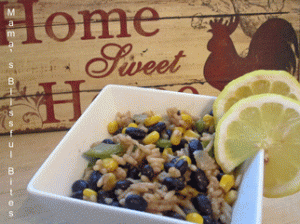 School is back in session! For everyone, this could mean a lot of different things. Hustle and bustling around the house, endless errands running between football and cheerleading, late night homework and of course, who has time to eat, right?! Never fear! Our AMAZING (as if I haven't said that enough!) #SundaySupper group is here to help! We have created meals for you to make for your family in 30 minutes or less!
Mama's Fried Rice and Black Beans are no exception. I timed this recipe. To the T. 18 minutes and some odd seconds. Okay, so I guess that's not exact but pretty darn close. Few ingredients and a delicious robust flavor. I loved it. My family loved it. It is goooooood!
Ingredients:
1 Tbs coconut oil
1 green bell pepper: chopped
8.8 oz Uncle Ben's Ready Rice (Which says ready in 90 seconds…yes baby, that's quick!)
1 (15 oz) can corn: drained
1 (15 oz) can black beans: drained and rinsed
1 tsp chilli powder
1/2 cup water
1 tsp sweet miso (soybean paste)
Recipe as follows:
Heat coconut oil in a wok over medium to medium high heat.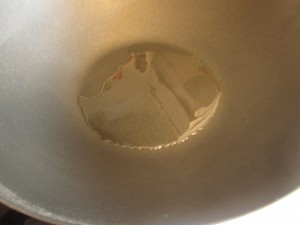 2. Add onior and stir-fry for 3 minutes just until soft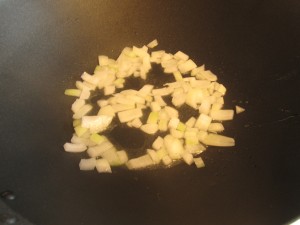 Watch out! This baby is smokin! Smokin good that is!
3. Reduce heat and add: pepper, rice and chilli powder. Stir for 2 more minutes.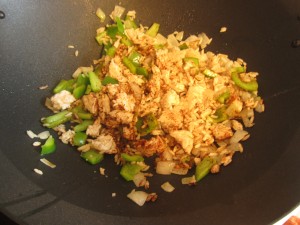 4. Add water and miso. Return to boil. Reduce and simmer for 10 minutes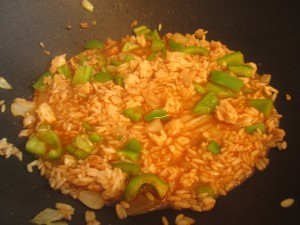 5. Stir in beans and corn for five more minutes until heated through.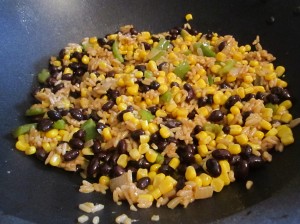 What? What's that you say? I think I heard you say that you don't have any miso or coconut oil in your cupboard…..
NO MISO OR COCONUT OIL???? WHAT?
No problem! Use what you got! Skip on the miso and use olive oil. No biggy, next problem….no rice? What? No rice?! Yeah, that would be a problem

Let's solve some more problems. Run down our fabulous #SundaySupper groups menu and find even MORE yummy recipes for those days you are in a 30 minute and under time crunch! Hey, we got you covered. Wink. Wink. You better believe it!
Can you believe that line up of recipes? What a fabulous list of meals we have and like I said, I can meal plan for weeks!
Please be sure you join us on Twitter throughout the day today. We'll also be meeting up at 7:00 p.m. EST tonight for our weekly #SundaySupper live chat where we'll talk more in depth about Back to School Meals and ways to make meal time easier with tips & tricks to help you out! If you're a busy parent, you don't want to miss this!
All you have to do is follow the #SundaySupper hashtag, or you can follow us through TweetChat! We'll be sharing great recipes and tips all afternoon, and we'll be talking all things Back to School Meals during our live chat!
I don't know about you, but my children always seem to be on the go! Run, Run, Run! All throughout the house, over and over and over. I yell, "Stop running!" but they don't seem to listen or care. The fun ends when someone falls down or runs into something and I shake my head, didn't they learn from last time? But of course not, they are children who have the wonderful life of being just that, children.
I know how interesting traffic lights and driving in general is for the kids, so I put together the Stop, Go game to see if it would help in my home. Thankfully, it slowed them down…for a little bit. We still all ended up having a blast of fun! Maybe I should work on those listening skills instead

Materials:
Two large pieces of constructions paper (to make lights on)
Bowl to draw lights
Red, yellow and green construction paper
Five paper plates
Two popsicle sticks
Red, yellow and green crayons
1. Draw a traffic light by tracing the outline of a bowl on both pieces of construction paper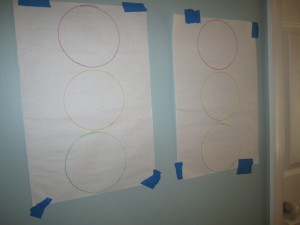 I hung these pictures on the wall the night prior to get them excited for our traffic light craft day when they woke up. It was their push to get dressed and ready to play!
2.  Color three papers plates: one red, one yellow and one green. Set red, yellow and green construction paper next to them.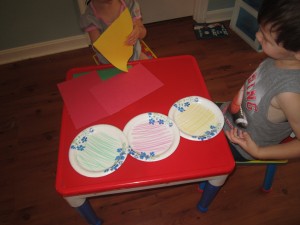 3. Explain that they are going to tear each paper and put on the designated plate for its color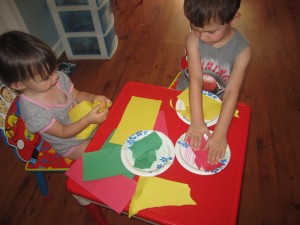 4. Ask them to tape (or glue, whatever works for your child. Double sided tape is nice) each color onto the correct light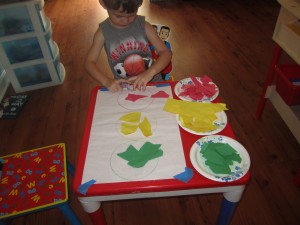 Here I explained how each color has a purpose. Ex: Red = Stop Yellow = Slow Green = Go. We talked about lights and driving.
GAME TIME!
5. With the second traffic light, we played a game. I brought out the crayons and asked for them to color in each light.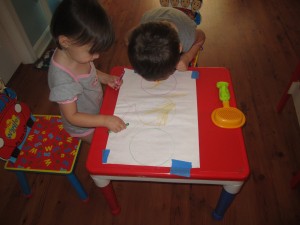 My daughter is almost two (22 months) and just wanted to color but my three-year old son got the point.
6. Cut out each light or have your child do it if they can handle scissors properly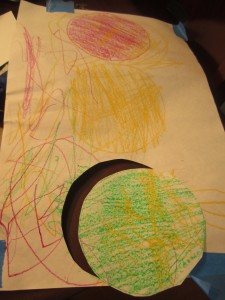 7. Tape or glue each light onto a paper plate
8. Tape a popsicle stick and you have a traffic sign.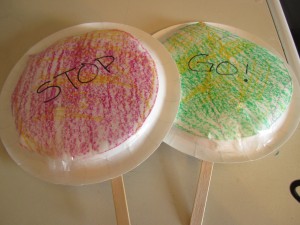 I wrote STOP and GO so they could see the words and start to make a correlation between the word and action
They had a blast!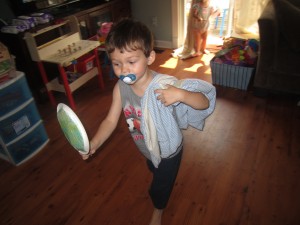 Even my daughter loved to yell STOP! and would fall down!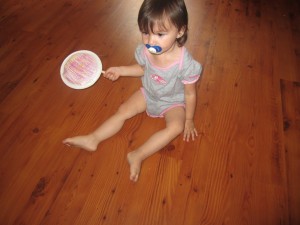 I started off by saying, "Go!" and then followed by "Stop!" but they seemed to take over and kept themselves having fun for almost an hour! Then throughout the day, I would grab a sign and shout out directions. They almost always (ha ha) seemed to listen

Please join me in welcoming Kristen from Crazy Kwistin as Mama's Blissful Bites FIRST GUEST!!! Thank you Kristen for sharing your recipe!
My First Guest Post!
I am so excited to be working with Amber from Mama's Blissful Bites and other Tidbits about Life! I love her site. Check out her Lavender Pillow Mist, I'll be making that one ASAP. I love lavender!
"For those that don't know me, I'm Crazy Kwistin. I love taking pictures and blogging about my adventures with travel, food, photography and kids. I love things that are unique and different and most of all FUN! Check out my blogs's at www.crazykwistin.wordpress.com and www.kwistinsfavorites.wordpress.com And Thank you Amber for being so awesome!"
I love this recipe!! From the Deceptively Delicious cookbook written by Jessica Seinfeld. The recipe calls for pureed cauliflower or squash but I really like it with carrot AND cauliflower. Plus is makes me feel extra good that my little ones are getting two different veggies…and carrots are orange, so… The first time I tried it my oldest, who for some reason does not eat carrots, devoured it. I was sold on the technique of hiding the veggies.
Start off by boiling the noodles. I like the extra large elbow noodles (for the kids), seems fun for them and holds the puree nicely.
I get the frozen veggies, microwave them, and then toss them into the food processor. About half a bag of each of these.
Coat a large sauce pan with cooking spray, add 1 tablespoon of oil and one tablespoon flour and mix constantly until you get a paste, then add a 1/2 cup milk and mix. Then add in the pureed veggies.
And then the CHEESE!!! My favorite of course! You will only see me cooking with Tillamook. Red wrapper for tonight. Add about 1 1/2 cups of shredded cheddar and 1/4 cup cream cheese. I love Philadelphia cream cheese and the recipe calls for reduced fat but I love the real thing! You'll see me buy generic for lots of things but cheese I am a little bit of a snob about.
The cheese blends perfectly with the veggies, can't even tell it's there.
And then you add in the noodles. I add in as much as I feel like…recipe calls for a 1 1/2 cups but I probably add more like 2.
And for the finished product. I made my puree a little chunky hoping to get the kiddos used to eating the real thing in addition to the puree. Maybe they can get around the chunks but they won't know they are still eating VEGETABLES, muah!!!! I love a little something green and still serve a veggie on the side. This really is a tasty mac n cheese. And I love this cookbook. It makes you think differently about cooking that's for sure. My Kids WILL eat their veggies, they just might not know they are doing it. Add in a little something for the parents, a bottle of bubbly or a glass of Pinot Grigio always goes nicely with cheese. I love me some Ecco Domani, very clean and crisp taste. Super refreshing for these summer nights.
Baby T macking on her mac n cheese
I can't believe I over looked the activity of a sensory tub! (slapping my forehead believe me!) I even took an Early Childhood Development class in college last year. (Slap! Slap! Slap!) Sensory tubs are amazingly fun. Children learn so much and they are entertained for a very long time and believe me, I like that! I was able to sit down and check my facebook mail like 30 times in a row! That's fantastic!
I could tell you how important sensory tubs are and what skills they enhance our children with, but I rather you read it yourself :) One of my favorite learning sites is called, Earlychildhood News, The Professional Resource for Teachers and Parents. In school, we used this site for all sorts of projects. Click here to see their take on sensory tubs and how they can help children's developmental skills.
I was completely excited to make a sensory tub that we did TWO today. One in the morning and one for night-time project time. (I just made that up starting today!) I realized that I'm happier when my children are busy instead of bored. Sometimes they look around for something to do and it could end up into a tug-a-war, which causes me to become nasty. By giving them an activity, we are all merry and that's how I like it to be.
On to Sensoryville we go!
Here's the basics: A sensory tub can be filled with anything and everything. It's basically where children learn to improve those sensory….haha, skills. Our first tub was a "dry" one filled with beans and toys.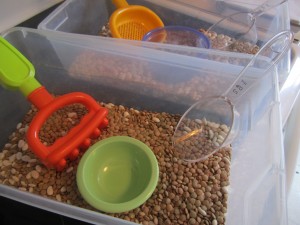 Included are measuring cups to scoop the beans into, a rake and bowl. They love to fill up items and watch what happens when they fall! I also made sure to have two tubs. I didn't want them to share but to have different experiences on their own.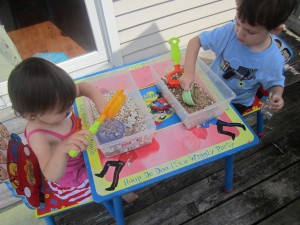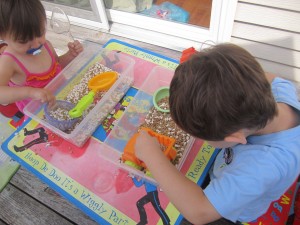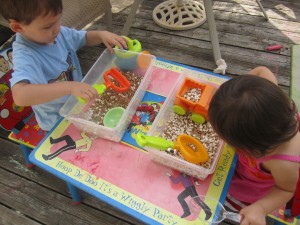 As you can see, they switched toys and filled up the truck and watched how it dumped them back in. Even though they are different ages, it was a perfect fundamental activity for them both!
Since this was such a big hit (and again, I was getting bored checking facebook because nobody wrote anything in that hour…boo!) I decided to make a "wet" tub for the second part of the day. Usually by the time dad gets home, its unwind time. I thought we should make a switch and let the festivities still roll! The water one was a lot of fun but then the mosquitoes broke up the party.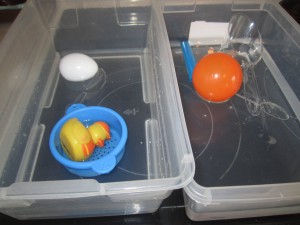 Add whatever objects you want. We play the "Will it float or sink" game. Even put food coloring in to change the water and make new colors!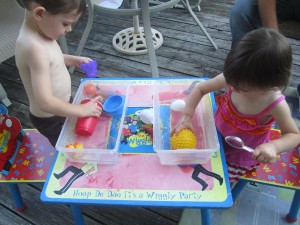 One more thing about these tubs…it's a frugal idea. Meaning, you don't have to run out to the store to have fun on this activity! Just use what you have. Add more toys and exchange them for endless hours of fun!
Here's the thing, you planned your vacation, you really want to go but the task of packing and even un-packing can be quite daunting! Especially now. You're not just packing for you, you are packing for your little ones and maybe even spouse too! It can take just as long to pack as it does to drive the trip, believe me, I know!
My husband and I used to travel for the first 8 years of knowing each other. I mean, get up and go kind of weekends or sometimes, we would do a spur of the moment week off. It's one of the things I love about him. I would get the traveling bug funk and we would just pack and go. Trips to North Carolina, Virginia, Delaware, Ocean City, Atlantic City, New York City, Las Vegas…you get the point. Ahh, the days prior to kids….But anyways, this is the new me, the mom me. Now when we travel, it's usually planned out well in advance. I can't skip that step anymore. I started to notice that when I planned our vacations, I had a much easier and productive response. I was able to:
Book early, get a better deal
Use the "Vacation Packing List" so I already knew what was expected of me, saving on time
Remember every item I wanted to take, is that not huge?!
Be the prepared mom when events arose! Isn't that amazing?
Over this past weekend, we took a trip to Ocean City, Maryland. Ocean City is a wonderful beach with lots of businesses, boardwalk, attractions and family fun for all ages. This means, it's a packed place and although I have been there every year of my life, I should still follow through with the Packing List – it never lets me down and I never take it for granted!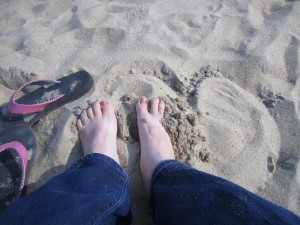 Some information that I gather isn't actually from newspapers or books on the location I'm traveling to. For example, I listen to facebook. I hear what other people are telling me. Through general friend statuses, I found out 1. School is not back in which means its going to be crowded 2. Lots of people said, "Going to the beach." 3. I found out the "DEW TOUR" was there 4. I subscribed to OC's facebook page, here, so that I don't miss anything. 5. I checked the weather, easy one. More knowledge, means better prepared.
Through these media outlets I have learned the following: I am now prepared for the crowds, I know the events going on in case I wanted to attend and I made plans to meet up with some friends. Done.
Next the fun and dreaded part, packing! Here are some tips to help you along with your vacation:
Write out a list. When you prepare a list and cross off the items, you will know what you already have.
Pack for every event. For example: in the car, at a restaurant, driving in traffic, horrible bathroom experience, your ultimate destination. So you think I'm crazy yet? Yeah, me too. Sometimes I can't believe I process all this stuff!
Bring lots of bags. Bags of all sizes. Here's what happens, you pack and think you are prepared but then you realize you need to organize more items on the return home (example dirty laundry would have its own bag, or the "poopy" diaper you don't want to leave around, or snack bags for extra snacks or pacifiers etc.) You all ready have your items packed but when you need to take them out to a place or need a spot to put something, you have an extra "carrier." Remember the cups, forks, knives, spoons, plates too!
Here are some more specific tips.
CAR RIDE:
Ain't it the truth? Going for a car ride can be hair pulling or at least it is for me when I hit the 2 hour mark for me! I get antsy just as my kids do. But when you make a ride fun, it seems to go by faster. Here are some ideas to help with the long rides:
Bring CD's of kids music – we use toddler songs and my son always says, "Again?!" Oh, but here's the thing. You can't just play the song…..no, no. You have to actually play with the song. These kids like when mommy is the entertainment a lot more! An example would be: On Top of Spaghetti song, (my favorite), ….when somebody sneezed…. during this part, we all sneeze. I don't go on until all participating singers get a sneeze out of their mouths, then we continue. …..and then my poor meatball was nothing but mush!….during this part, we clap our hands. Kind of like the song If You're Happy And You Know It… you get the point right?
Bring snacks. Sometimes you're not always going to be ready for a meal but please always have snacks on hand. Snacking is enjoyable and can be entertaining to them! Let's keep them busy on this trip. I pack a bag by itself and put it in the car up front so I have easy access to the goodies inside.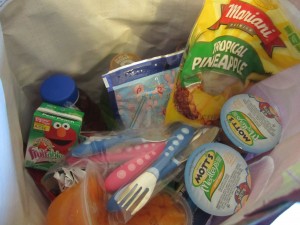 Bring books. Do your children love to read? Mine do. I stop at the library prior to the trip and pick up lots of books that the children have never read before. The newness makes it more exciting!
Point out objects. We take for granted that our kids know everything because they show us that they think they do. I get this. My three year old can act like he's going on old man…point clearly made. But I always say, "Hey, do you guys know what that is…" And point at something. We make the sounds of the object and tell each other the function, purpose, who works on it, etc.
Toys! Of course bring toys! If your child has something that will keep them occupied in their seats for some waiting time, then bring it! We use push trains and they switch back and forth.
Also be prepared for their nap time as well. Being in a car can be a tiring experience, bring whatever their sleep object is. We use blankets, pacifiers, Minnie Mouse etc.
AT THE BEACH:
I truly believe that I should be called officially/unofficially the Bag Lady. I carry them everywhere. I have a bag for everything. I like to just get it and go. It seems to make my life more organized and manageable. Besides a snack bag, I also have a beach bag ready to go as well. This actually came in handy because we didn't go to our settling location and unpacked. Nope, we went right in the city and started to play. I was prepared, they were fed and ready to go. What's in your beach bag?
Towels for each member of family
Sunblock
Sunglasses
Bathing suits
Toys
Swim Diapers
Camera
Bug Spray
You really don't need much for a short visit unless you are going for the whole day. We just got out of the truck and wanted to play after a long trip. It was really easy to grab a bag and go play!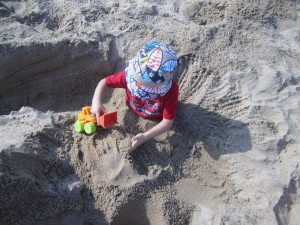 Oh and not to mention,  our snack bag was ready to go incase we needed a drink or got a little hungry. Bada-bing-bada-boom!
SUITCASE PACKING
I personally like to have two suitcases. One for my husband and I, one for my children. As they get bigger, I'm sure they will have their own suitcase but for now, I like to save room. This has our every day belongings such as:
Clothes – for any type of weather. You never know what you're going to get. If you get a bad sunburn, you might just want a long sleeve shirt and pants. Sometimes there are horrible bugs. So come prepared! Pack long sleeve and short, pants and shorts. Two different kinds of shoes in case one gets wet or you lose one. Maybe sandals and tennis shoes. Remember those socks!
Any bathroom item for the traveling case. toothbrushes, toothpaste, Q-tips, Shampoo, Conditioner, Soap etc.
Extra bags for dirty clothes.
Extra blankets for the kids.
Diapers, wipes
THE ACTIVITY BAG/RESTAURANT BAG
When you get stuck in the moment when the kids are "bored" you may want to bring out the activity bag. I pack this bag pretty lightly because on our vacation, I plan on keeping them busy until their energy runs out and they want to go to sleep! That's in a perfect world, right? Sometimes the sun just doesn't understand and the rain come out and so does that activity bag! Think of your childs favorite toys and even toys you know they love but don't get to play with. I usually bring out the Activity Bag when we go out to eat and are waiting for some food. Inside are:
Coloring books with crayons
Reading books
Little cars, matchbox etc. (We build roads using paper and crayons for the vehicles to drive on. Stop signs, red lights etc.)
Playing cards
It doesn't have to be a lot, just to get their attention and pass the time until the next activity can begin! We also look for fun places to eat, such as this outside beach restaurant. Playing in the sand occupied them until their food arrived!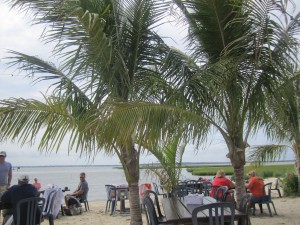 THE EMERGENCY BAG
This bag is the back-up plan and believe me I have used it so many times. Actually just this past weekend. After a nice beach break and lunch break, we went to our house destination. There, I was chatting it up with some family and eating and when I moved my daughter from my lap, I realized she peed through her diaper. Hey, it happens. Thankfully, I didn't have to break out all the luggage to find what I needed.
Extra clothes – not just for kids but adults too!
Extra diapers
Extra wipes
Medical Kit (You never know if you would need to use one!)
Bottled water (Where we stayed had well water so we were happy to have bottled on hand)
I quickly got dressed and went on my way without a big hustle and bustle.
Every time we go on a trip I try to figure out how I can make it less stressful, how the packing process can be easier, how I can get all of us out of the door faster. The more I have a routine down, the faster I become. I even packed up everyone while my husband was at work. Yes, sometimes the process can be a long one but if you create plan of action, you can see the progress faster. Cross off the list if it helps! Bring the list to remember what you packed in the first place when you're re-packing to go home. Have the dirty clothes ready to throw in when you walk through the door, put away the clean clothes and be interactive with your children during the long car ride!
Another big rule I have is to always leave the house clean. That may sound absurd because I know how much of a mess can be created by packing, but when you walk back into a clean house, it feels even better to be home. I make sure to run any dirty dishes, clean up odds and ends of laundry so I can throw the load in, have the trash out for Sunday pick-up, put the toys back etc. It may take a little extra effort but its worth it. Be prepared and most importantly, HAVE FUN!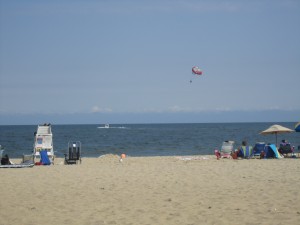 PS. You wouldn't believe this, but we packed all of this for one night. I know! At least we got everyone covered!
Quick! Trim the lawn! Take out the trash! Put the dishes away! And get out those toothbrushes for some toilet cleaning because Momma's Meals is stopping over for a visit!
If you've never been over to see Momma's Meals blog site, what are you waiting for? There are fabulous meals like Caprese Grilled Meatloaf, Fruity Creamy Crapes,  Pasta with Butter, Sage and Parmesan and more! Momma also talks about the joys of motherhood. Did you hear me?! I have a Mother blogger friend! Wahoo! We can now share our stories with you together.
Now here's the big news – are you ready for this? Are you sitting on edge of your chair?! Please be because Momma has chosen one of my meals to be featured! Did ya hear me?! (Some how I just heard clapping around me…strange.) I get to see her review and recipe just like you are today! So please stop over to see her!
Here is the recipe she featured on her site! She made it, she ate it and then reviewed it! http://mommasmeals.wordpress.com/2012/08/17/featured-co-host-mamas-blissful-bites/