When was the last time you took care of yourself, I mean really took some time for you? I have noticed that mom's get into this rut, where they do everything for everyone else but forget to take care of themselves. Does this sound like you? It sure did sounded like me! A friend would call and invite me to dinner and I wouldn't accept. "My family had to be taken care" I would think about how they couldn't possibly survive without me and slowly I started to decline all invitations. As my days became more stressed and I soon became swallowed to their every need, the care I needed for myself slowly deteriorated away. I started to think that I was the only person who could take care of the kids properly and believe me, that was an absurd thought!
As the months turned into a year, I was diagnosed with anxiety and depression. I had to do something else to stop this from happening. Every ounce of my being was being squeezed out of me! My "cure" instead of medications was to start looking after me again. For whatever reason, I threw my needs out the door and I didn't realize that my body, mind and soul were begging to be taken care of! I now take time for me and I am a much happier and healthier person, mom and wife. I also realized that when I am happy (the mama) the rest of my family is too. When my days are calm, so are my children. When I'm in chaos, so are my children. Then, when my husband walks through the door, he gets that as well. Simple solution, start looking after me.
If you don't have a sitter or can't get time out by yourself (I know about this all too well too!) then I have created the alternative, a Spa Day. This is where amazing ingredients, regular household food items, turn into a day of relaxation and fun. Last time I went to the Spa, my sister-in-law treated me to a facial. A food facial! Everything smelled so good, I wish I could have eaten my face! This is the same concept. You take time for yourself and treat yourself to something healthy and wonderful for you. It's cost-effective, fun and your skin and your soul get all the benefits!
If you are concerned about not having time to yourself, then you might have to make time. How do you do that you may ask? Have ten minutes that you can hide in the bathroom? How about nap time? Night time? Look for that window of 10-15 minutes, if you have more, soak it up!
Here is a picture of the spa treatment I actually made my husband. Sometimes, hubby's need a little pampered too!
Included is: Pumpkin Food scrub (click here to get the recipe), Lavender Pillow Mist (click here for the recipe) and Coconut Sugar Scrub (click here for recipe). All healthy for your skin! I also included tea and lavender mint water. But don't stop there, include a soft music cd, a candle, insence, anything that makes you relax!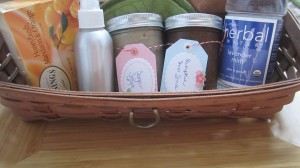 Enjoy you!
Before laying your head down to sleep, why not spray some lavender mist to send you off into a relaxing dreamland? Lavender is said to help ailments from anxiety, depression, fatigue and even insomnia! It has been used in soaps and sprays for years, perhaps because it's also supposed to leave a calming, soothing effect! It is quite a lovely scent may I also add.
This is a very simple "recipe" to follow. Be sure to spray it on your linens before ironing, spray on your pillow or just right up in the air! It's quite lovely.
Ingredients:
1 cup distilled water
8-10 drops lavender essential oils (depending upon how strong you like the scent)
spray bottle.
Instructions:
1. Add the drops to the water and mix. Please note: Because it's an oil/water base, it will not mix well. Shake before each use.
2. Add into a small spray bottle and use wherever you need a good smell and some relaxation!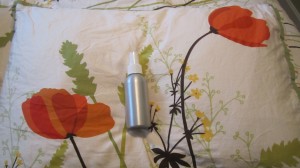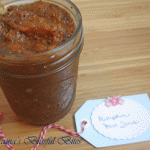 One of my favorite homemade spa recipes, I found on TLC's Parentables, website. To view their article on "10 Quick and Easy Natural Beauty Treatments You Can DIY During Naptime" click here. (By the way, you will want to, they are fabulous!)
If you are trying to cure your dry, scaly feet, you will want to try this one! It's fabulous and I do mean fabulous! This was another one of my anniversary presents. Place into a glass container and give as a gift. Or Mom's, please give to yourself, you deserve it!
Ingredients:
1/4 cup cooked or canned pumpkin (puree)
1/4 cup of brown sugar 1 tablespoon of almond oil (olive oil or jojoba oil works too)
 1 tablespoon ground coffee beans
Juice squeezed from 1/2 of a lemon
Recipe:
Mix all the ingredients into a bowl. Place into a jar and put into fridge until use. Place back in fridge, until next reuse.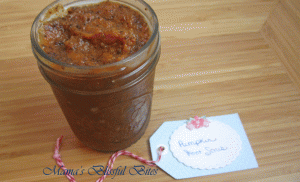 ENJOY! This baby is amazing!