Come on, it couldn't get any easier, but sometimes in life, we forgot IDEAS for dinner! And healthy ones, may I add. Sweet potatoes are filled with lots of nutrients and are inexpensive. Have them on hand and use them yearly! Some benefits of this powerhouse are:
Rich in Iron
High in vitamin B6
Also contains vitamins C, D and E! (C&E play in part of disease prevention)
High in fiber (because our bodies need to pooh! There I said it!)
Contains magnesium which helps with relaxation and anti-stress mineral
Contains potassium
AND beauty moms, these nutrients contribute to a glowing complexion and shiny hair!
Make this side for the kids, pssshhh, give yourself this wonderful gift!
Super easy and in charge, let's begin!
Ingredients:
4 sweet potatoes: scrubbed
1 Tbs. Earth Balance Butter Spread
1 teaspoon cinnamon (add as much or as little as you like.)
Directions:
1. Preheat oven to 375 degrees
2. Prick potatoes with a fork and place onto oven rack.
3. Bake for 45 minutes to 1 hour until they are soft
4. Let cool until you can touch them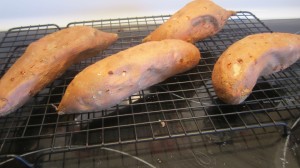 5. Remove skin and discard.
6. Place potato flesh into a bowl and add butter and cinnamon. Mix.
7. Serve warm.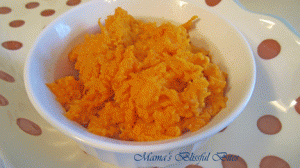 Go a step further and add raisins or nuts! (Pecans are my favorite!)
I started my children on a plain hummus recipe when switching them over to the "healthier" world. Because this is such a simple hummus recipe with little ingredients, there's not an abundance of strong flavors to displease your child's palate. In addition, there are lots of ways to introduce hummus as well. It can be used as a dip with vegetables, dressing to a salad, served with pita chips or even spread on a sandwich. My children and I love finger fingers, for the convenience and fun, so we started with plain hummus on vegetables. My "happy" eater (who eats everything) loved it and my picky eater took two bites, well, let's just say that is more than I thought he would! Next, I spread it on some whole wheat toast, an extra snack to his breakfast. I never force them to eat, but offer it a lot in a lot of different ways and flavors. The more they eat it, the more they start to like it and eventually, I hope they love it as much as I do.
After you child is introduced to the taste, you can incorporate lots of different flavors to your hummus. Sometimes I make it with roasted red peppers other times with spinach and so forth. You can customize it to whatever your body is craving!
I shouldn't have to tell you, but I like to brag for my bowl of hummus….there are a ridiculous amount of reasons to eat hummus.  So on behalf of hummus, here are some reserached (internet!) benefits:
Chickpeas: Are rich in protein, high in fiber, prevent build up of cholesterol in blood vessels
Tahini: Also high in protein and a great source of calcium (Mom's, we need calcium!)
Lemon Juice: Improve the immune functions and fight bacteria and viruses and also reduced oxidative stress in the body (I should be gulping lemons on some days!)
As a whole: Hummus contains Omega 3 fatty acids which improves intelligence (for some..ok, just kidding) and helps maintain a healthy heart
Without further wait, let's start this five minute recipe. That's right, it's about that easy and darn good delicious!
Ingredients:
1 (15oz.) can chickpeas: drained and rinsed (also known as garbanzo beans in the International Aisle of supermarkets)
1/2 lemon: juiced
1 Tbs. tahini
1/4 teaspoon of salt
Water
NOTE: Tahini can be found in the international aisle of supermarkets. It's a paste made from ground, hulled sesame seeds. It has a distinct flavor, so your children may not like it, if that's the case, try a hummus without it. (I'll be posting it soon!)
Recipe:
1. Gather all ingredients.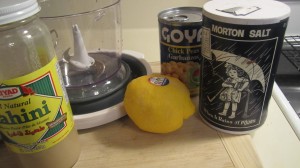 2. Put into a blender and blend.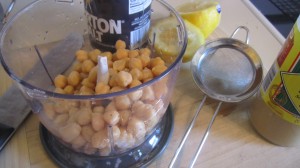 3. Add water as needed to thin it out. (I like it chunky for vegetables so I used 3 Tbs.)