Over the week, I went to my favorite bookstore and had a tall white chocolate raspberry mocha…mmm, what a treat! Anyways, I saw this amazing book (and it was even on the "deal" section for under $10!) so I had to take it home right away and start making some recipes. Smoothie Heaven, by Wendy Sweetser, has "Hundreds of divine recipes to take you to smoothie paradise." I guess its one creative way to write a book on smoothies! The inside is amazing with pictures of every smoothie AND written in categories such as: Breakfast Smoothies, Dessert Smoothies, Workout Smoothies, Healing Smoothies, Summer Smoothies, Rejoicing Smoothing (nice alcoholic beverage in that one!) and even Global Smoothies. It's like you are in….Heaven.
I wanted to share with you some of my favorites for this week – Starting in the Eternal Smoothies section with the Apple Shake.  I made a minor adjustment and I do mean minor.
Ingredients:
1 cup of apple juice
1/2 tsp. powdered cinnamon
2 tsp. grated fresh ginger (ready for my adjustment? I only used 1 tsp. Yup, that's it!)
2 Bananas, peeled and chopped
cucumber, julienned, to decorate (I skipped out, the kiddies and I were making it so we rather drink than decorate!)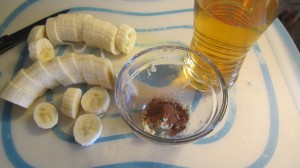 Recipe:
Put the apple juice, cinnamon, and fresh gingerroot in a blender and process gently until combined.
Next add the sliced bananas and process again until smooth. Pour the smoothie mixture into two glasses and decorate with the cucumber slices.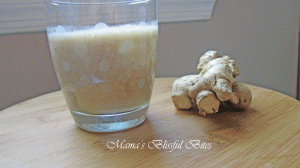 It's spicy and sweet all at the same time. One delicious treat!