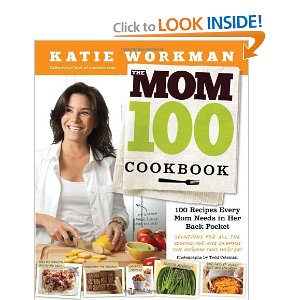 Katie Workman is at it again, making fantastically deliciously, crowd-pleasing, can't wait to put it in your mouth, kind of dishes! As you may have remembered from last month, I featured Katie's Chocolate Peanut Butter Squares which may I add was not only sweet and satisfying but also sweetly made the Top 9 on Foodbuzz! That recipe was out of this world!
So, I bring you today another satisfying plate from Katie Workman, author of  The Mom 100 Cookbook: Sautéed Corn, Spinach, Bacon and Scallions. I must admit, I skipped over this one a few times (I think I almost made all of her recipes by now!) and I don't know why, it's darn right delicious and versatile! You can basically put out any and/or all vegetables in your fridge and throw them in the pan and it goes with almost any main course! It says it serves 4 as a side dish but let me tell you, I had lots of left overs. So I took another one of Katy's recipes and used my left overs for that. (I'll share with you later.) Below is the original ingredients Katie used, I adapted them to my kitchen but followed her every instruction.
Ingredients for Katie's Recipe:
4 Slices bacon, cut into 1-inch strips (optional)
1 Tbs, unsalted butter
1 shallot, minced
3 cups fresh or frozen corn kernels (from about 4 ears corn)
1/2 cup chopped red bell pepper (optional)
Pinch of red pepper flakes (optional)
Kosher or coarse salt and freshly ground black pepper
2 to 3 scallions, both white and light green parts, sliced
4 cups baby spinach leaves
Ingredients at my house:
5 Slices of Smart Bacon strips (I went vegetarian for my dish, you can leave it out)
1 Tbs, unsalted butter
1 onion: diced
3 cups frozen corn (I was actually disappointed we ate all our fresh corn the night before!)
1 red bell pepper: diced
2 carrots: peeled and diced
1 yellow squash: diced
Sea salt and Organic Pepper
2 scallions: both white and light green parts, sliced
2 cups spinach leaves
Recipe as follows:
 1. Cook the bacon, if using, in a large skillet over medium-high heat, turning occasionally, until browned, 4 to 6 minutes. Using a slotted spoon, transfer the bacon to paper towels to drain. Pour off all but 1 teaspoon of the fat from the skillet.
NOTE: In my version, I cooked the Smart Bacon which is soy protein. I was expecting not to like it but surprisingly I did. It taste between a "burnt" bacon where you have the leather bite and scraple-ish. I cooked it in vegetable oil and it left behind a nice 'bacon' flavor in the drippings.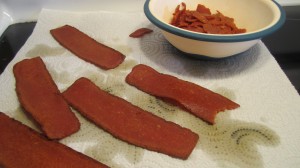 2. Add the butter to the skillet and melt over medium heat. Add the shallot and cook, stirring occasionally, until tender, about 2 minutes. Add the corn and the red bell pepper and the red pepper flakes, if using. Season with salt and black pepper to taste. Cook, stirring often, until the corn is tender, about 5 minutes. Crumble the bacon and add it along with the scallions and the spinach, 2 cups at a time. Stir until the spinach leaves have wilted and combined with the corn, about 1 minute.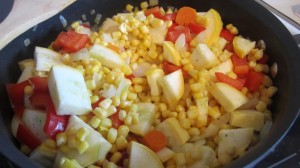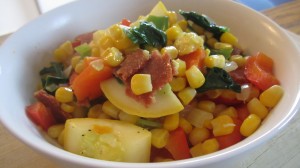 NOTE: After I melted the butter, I added my onion and carrots stirring occasionally until softened. Then followed with the corn, red bell pepper, squash. Seasoned with pepper and sea salt. Cook for about 7 minutes until all food was tender. Crumbled in the "bacon," scallions and spinach.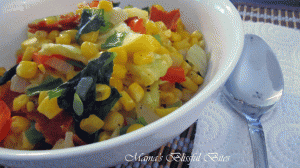 As I have mentioned earlier, I made this into a second Katie Workman recipe! Being that there are soo many left overs (It really does create a big dish or maybe it was because there was one less person sitting at the table?…) I decided to add it to the second nights main course, that's right main course. Check out Katie's "The Basic Quesadilla and It's Infinite Variations."  Another fantastic idea and recipe may I add!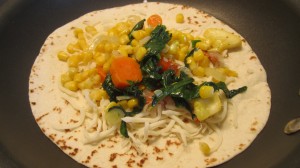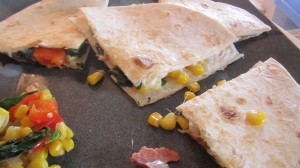 And it was just as fantastically delicious as the first side dish! This recipe is healthy, delicious and you can put whatever veggies you have on hand. I love it!
Last minute add — tonight, I made it with quinoa! Just make the quinoa according to directions, then heat up the mixture, toss to combine!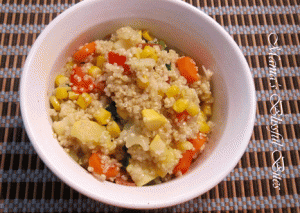 Connect with Katie Workman, Author of The Mom 100 Cookbook:
The Sunday Supper group is honored to have Katie as our guest during our #SundaySupper  (twitter: #SundaySupper to see the feed) live chat at 7:00 pm est. Join us and chat with Katie about being a mom, kids and Spending time Around the Family Table.
We will be giving away 3 copies of the Mom 100 Cookbooks. This is an event you don't want to miss!!
Listed below are some of our #SundaySupper groups favorite recipes by Katie Workman!
Salads:
Main Dish:
Desserts:
Wine pairing Wine Everyday @wineeveryday