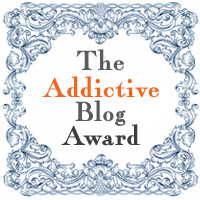 This morning I had a wonderful surprise in my inbox….I was nominated for The Addictive Blog Award! (Which by the way, I totally shouted and jumped up and down with excitement!) My first award!
I would like to thank Cindy, from Cindy's Recipes and Writings, for nominating me. Cindy is by far talented and amazing! Not only is she a contributing writer for various newspapers, but she also writes poetry and mysteries and she even does her own illustrations on her blog! She is an incredibly talented lady! Please check her blog out, you will be glad you did! www.cindysrecipesandwritings.com
The rules of this award are
Thank the person awarding you
Share a little about why you blog and how the journey started
Paste the blog award on your page
Nominate 10 other bloggers you feel deserve the award
So Cindy – thank you, thank you, thank you! (Again and again!)
The reason why I blog is easy, because I love it! I used to take photos of my food for fun and didn't even realize there is a blog world out there! I know, living in a hole! When a friend pointed out to me that I should try it, I did. There was no turning back! A few facts that you may not know about me: 1. I enjoy reading. Lots of reading. If I get time to myself, I'm usually sipping a coffee with my head buried in a book at Barnes and Noble 2. I like to write and have a million journals that I never complete anything in 3. I like to bake bread at 5am in the morning. Just the smell alone is worth it. 4. I believe in Angels 5. I want to be on TV – not only on TV but to have my own show and it would have to be sharing/helping other people. I want to make a difference in the world, a positive difference.
Okay enough is enough! Let's get to the fun part….drum roll….the nominees are….
1. Jennie at The Messy Baker Blog, http://themessybakerblog.com. She is truly amazing and inspirational! She will knock your socks off with fabulous treats and drinks! You don't want to miss what she has in store!
2. Robyn at Robyn's View: http://robynsviewathome.blogspot.com Robyn shares her view on everything from recipes, DIY projects and more!
3. Karlynn at The Kitchen Magpie (her nickname) brings you http://www.thekitchenmagpie.com/ Another fabulous mom site about her nest!
4. Sunithi knocks my socks off at Sue's Nutritional Buzz: http://www.suesnutritionbuzz.com/ She is always putting together something tasty and nutritional in her kitchen!
5. Kris is always in the kitchen with her little one cooking up something terrific! Check out: In the Kitchen with Audrey at http://www.inthekitchenwithaudrey.com
6. Chung-Ah makes and takes fabulous photos! Enjoy a homemade dish at Damn Delicious! http://damndelicious.tumblr.com/
7. Isabelle at The Little Red Kitchen blogs about gluten-free foods! Be sure to check out her site! http://thelittleredkitchen.blogspot.com/
8.  The Pink Apron has some great mommy inspiration at http://www.thepinkapronblog.com/about
9. One of my favs too – The Spoon of Joy with Chandni. Blogs about international, Indian and vegetarian dishes! http://thespoonofjoy.blogspot.com/
10. Robin at Knead to Cook always has something great to chat about! http://kneadtocook.com/
Be sure to visit these inspiring bloggers!