Our words are more than just words, they throw energy into the world around us. First, we have to have a thought prior to the words coming out of our mouths. When we think, we validate the information we thought. For example, on some days I noticed I had a negative attitude where "nothing is going right," "why is this happening to me?" or the dreadful one…. "what else can go wrong?" When we throw these thoughts and ideas out of our heads into the world, the world gives back what we ask. Think about it, "what else can go wrong?" Well, a lot of things. Therefore, we pick out the negative events that are happening to us. There could be a million small good things that have happened or made our situation easier but we only notice the negative events. Why is that? Could it be because we all of a sudden are looking for the negative situation to occur? A golden rule is to project a vision, thought, idea of something you want to happen and give it positive energy behind it.
If you always look for the positive outcome then you will receive a positive response. A mathematical equation would be: positive + positive =

Okay, don't follow that, I didn't do too well in math! But if you always fill your mind with positive thoughts then you will be surrounded by more positive energy thus making you have a better day.
Not in all situations can we keep a positive attitude, it takes practice, discipline and time. The more you notice your thoughts, the easier it will become. When we let go of the anger, depression, and sadness we can make room for more kindness in our heart. The best part of positive energy is that its contagious! I don't know about you, but its the one thing that I want to catch!
HOMEWORK: Observe your thoughts for 24 hours noticing what kind of energy you're giving off. How many positive thoughts do you have a day? Notice the situation. You are now an observer. Pull yourself from a situation that may have your anger level rising and look at it objectively. I am feeling this because….What can I do to make this a positive situation for me? For the others involved?  Take note if anything made you feel better by changing the circumstances. If you always react a certain way and this time you react a different way, what was the outcome? Was it good? How did you feel? I hope you feel my positive energy coming to you through my words!
Special NOTE: I am in no way, shape or form have a high education in the mind and what it does. I do know from my personal experience, spiritual beliefs  and meditation some tips that help me with my day and this is just extra info. Do what you want with it

I just hope its positive!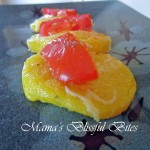 I opened my fridge looking for the typical question – what to make for dinner tonight? I've been holding onto the polenta tube in my fridge for quite some time so I thought I should make something of it! Ever look at something and wonder, what am I going to do with that? With cheese and tomato in hand, I called it a day.
Let's look at the pricing here:
polenta: $2.99
tomato: $.40
Cheese: $2.00
Total: $5.39
Served: 12   Total per serving: $.45!!!!!
If you are on a budget, this is perfect! Add some side(s) and call it a day! To make this recipe even better, its easy. I don't know about you but I like easy when my brain is fried by the end of the day!
Ingredients:
1 Tube of Polenta
1 tomato: sliced
Shredded Cheese (I used sharp cheddar)
Pepper
Recipe as follows:
1. Preheat oven to 375 degrees
2. Slice 12 or more rounds – 1/2″ thick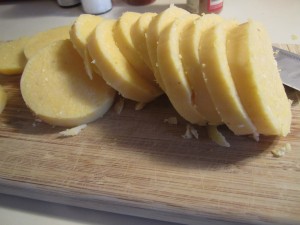 3. Add oil to skillet over medium heat.
4. Place polenta into skillet being sure not to crowd them. Cook on both sides, flipping after 5 minutes.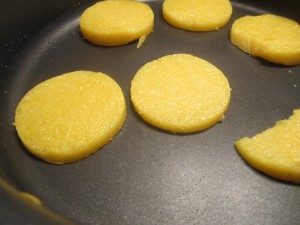 5. Place into greased (I used pam spray) pan and add toppings of choice.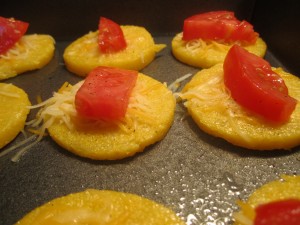 Note: I added cheese, followed by a tomato slice on top and then freshly cracked pepper.
6. Bake 15-20 minutes.
Serve over a bed of greens, serve with a side. Sit back and enjoy!