You need to visit, Micaela at Mindful Momma. I love to read her green blog and gather lots of fun tips!

This is fantastic! My son, who is considered a "selective" eater, LOVED his pasta! It's FILLED WITH LOTS OF VEGETABLES! I repeat, LOTS OF VEGGIES! He licked the whole bowl clean! It was so nice to know he was eating a healthy plate and he loved it! Sounds kind of funny but it was a great table moment. I have to share with you this yummy recipe.
My husband, who hates kale, loved it as well. He said he had no idea his bowl was filled with so much goodness! If your child is not used to whole-grain pasta, then use regular pasta and just change the sauce. Making small changes rather than switching hard-core into a healthy lifestyle is better for everyone. If you do something gradually, it will help make shifting to a healthier lifestyle easier. After you've had the sauce a few times, then try whole-grain pasta. Yes, there is a taste difference between whole-grain and white, but it's still just as good.
Ingredients: (Ready for this GREAT list?!)
1 cup cauliflower: chopped
1 carrot: peeled and chopped
1 zucchini: peeled and chopped
1 onion: chopped
1/2 cup kale
2 garlic cloves: minced
1/4 tsp. cinnamon
sea salt and pepper
28 oz. crushed tomatoes
1 cup broth (vegetable or chicken)
1/2 Tbs oregano
1/2 Tbs thyme
1 Tbs. olive oil
Fresh basil leaves
1/2 lb whole grain pasta
Recipe:
 1. Add oil to a saute pan over medium heat.
2. Place cauliflower, onion, kale, zucchini, carrot, garlic, sea salt and cinnamon into saute pan. Saute for 15 minutes until softened. Stirring occasionally.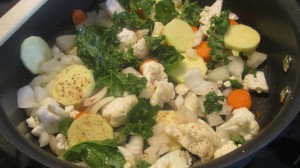 This is how it looks after fifteen minutes…and your kitchen should be smelling fantastic now!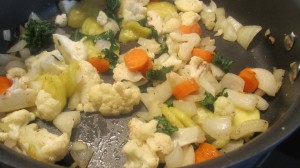 3. Add sauce, broth, oregano and thyme. Bring to boil.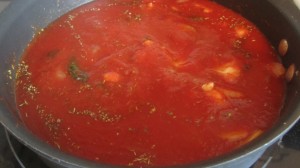 4. Cover and simmer on low for 45 minutes, stirring occasionally.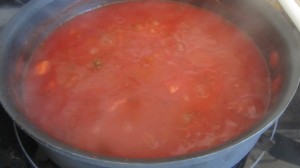 5. Add basil leaves and stir. Cover on low for another 15 minutes.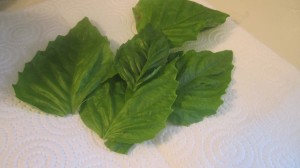 6. Meanwhile, make the pasta.
7. Place sauce into a bowl and using an immersion blender mix until all chunks are gone. (Or use a blender).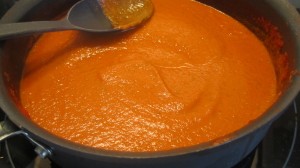 8. Drain the pasta but save 1 scoop of the pasta water.
9. Mix scoop of pasta water, sauce and pasta together. Ladle and serve.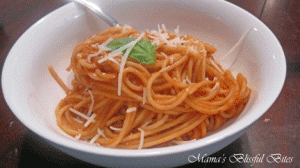 It looks like regular pasta right? How would they know, including your partner, that its FILLED with goodness of the Earth! If your child won't eat vegetables, what's a better way then to hide those babies?! And please, don't just stop at the select vegetables that I picked! Fill your sauce with whatever vegetables you have on hand! Spinach, peppers, any leafs you have! Fill it up! You will fall in love with this sauce and so will your kids

Be prepared for everyone to love this delicious pasta dish! Best part, it's healthy and nobody needs to know! Enjoy!
When was the last time you took care of yourself, I mean really took some time for you? I have noticed that mom's get into this rut, where they do everything for everyone else but forget to take care of themselves. Does this sound like you? It sure did sounded like me! A friend would call and invite me to dinner and I wouldn't accept. "My family had to be taken care" I would think about how they couldn't possibly survive without me and slowly I started to decline all invitations. As my days became more stressed and I soon became swallowed to their every need, the care I needed for myself slowly deteriorated away. I started to think that I was the only person who could take care of the kids properly and believe me, that was an absurd thought!
As the months turned into a year, I was diagnosed with anxiety and depression. I had to do something else to stop this from happening. Every ounce of my being was being squeezed out of me! My "cure" instead of medications was to start looking after me again. For whatever reason, I threw my needs out the door and I didn't realize that my body, mind and soul were begging to be taken care of! I now take time for me and I am a much happier and healthier person, mom and wife. I also realized that when I am happy (the mama) the rest of my family is too. When my days are calm, so are my children. When I'm in chaos, so are my children. Then, when my husband walks through the door, he gets that as well. Simple solution, start looking after me.
If you don't have a sitter or can't get time out by yourself (I know about this all too well too!) then I have created the alternative, a Spa Day. This is where amazing ingredients, regular household food items, turn into a day of relaxation and fun. Last time I went to the Spa, my sister-in-law treated me to a facial. A food facial! Everything smelled so good, I wish I could have eaten my face! This is the same concept. You take time for yourself and treat yourself to something healthy and wonderful for you. It's cost-effective, fun and your skin and your soul get all the benefits!
If you are concerned about not having time to yourself, then you might have to make time. How do you do that you may ask? Have ten minutes that you can hide in the bathroom? How about nap time? Night time? Look for that window of 10-15 minutes, if you have more, soak it up!
Here is a picture of the spa treatment I actually made my husband. Sometimes, hubby's need a little pampered too!
Included is: Pumpkin Food scrub (click here to get the recipe), Lavender Pillow Mist (click here for the recipe) and Coconut Sugar Scrub (click here for recipe). All healthy for your skin! I also included tea and lavender mint water. But don't stop there, include a soft music cd, a candle, insence, anything that makes you relax!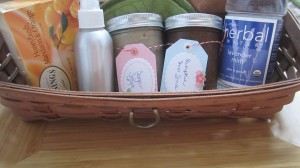 Enjoy you!
Before laying your head down to sleep, why not spray some lavender mist to send you off into a relaxing dreamland? Lavender is said to help ailments from anxiety, depression, fatigue and even insomnia! It has been used in soaps and sprays for years, perhaps because it's also supposed to leave a calming, soothing effect! It is quite a lovely scent may I also add.
This is a very simple "recipe" to follow. Be sure to spray it on your linens before ironing, spray on your pillow or just right up in the air! It's quite lovely.
Ingredients:
1 cup distilled water
8-10 drops lavender essential oils (depending upon how strong you like the scent)
spray bottle.
Instructions:
1. Add the drops to the water and mix. Please note: Because it's an oil/water base, it will not mix well. Shake before each use.
2. Add into a small spray bottle and use wherever you need a good smell and some relaxation!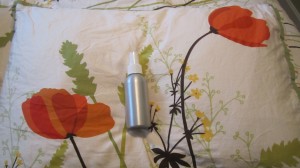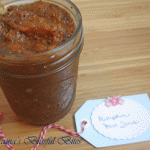 One of my favorite homemade spa recipes, I found on TLC's Parentables, website. To view their article on "10 Quick and Easy Natural Beauty Treatments You Can DIY During Naptime" click here. (By the way, you will want to, they are fabulous!)
If you are trying to cure your dry, scaly feet, you will want to try this one! It's fabulous and I do mean fabulous! This was another one of my anniversary presents. Place into a glass container and give as a gift. Or Mom's, please give to yourself, you deserve it!
Ingredients:
1/4 cup cooked or canned pumpkin (puree)
1/4 cup of brown sugar 1 tablespoon of almond oil (olive oil or jojoba oil works too)
 1 tablespoon ground coffee beans
Juice squeezed from 1/2 of a lemon
Recipe:
Mix all the ingredients into a bowl. Place into a jar and put into fridge until use. Place back in fridge, until next reuse.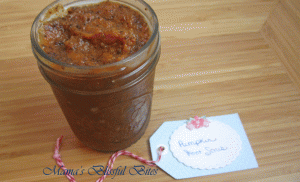 ENJOY! This baby is amazing!
Okay, let's just admit it Mom's, sometimes SPA isn't in our budget, or at least mine. I don't always get a few hours to run out and be pampered from head to toe in masks and oils and lovely smelly things, although a few hours on my hand does sound nice… Nope! I'm a mom on a family budget. But I do need love too and so does my skin.
I am a firm believer in our food not just feeding our hunger pains (or munchies!) but also healing us from the inside and out! I love, love, love to use what our Earth has provided us with. Can you imagine? Everything is at your finger tips!
If you are looking for soft skin a sugar scrub is the way to go. Of course, you can run out to the store and purchase a bottle of scrub but then again, why not just add a few ingredients and cook up your own scrub? There are many different kinds of sugar scrubs you can make, so here is the first go!
(By the way, this was actually my husbands anniversary gift …. lucky him!)
Ingredients:
1 cup brown sugar
1/2 cup coconut oil
1 teaspoon vanilla extract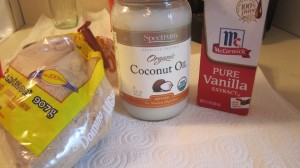 Recipe:
1. Place coconut oil in a bowl and add brown sugar. Mix well.
2. Stir in extract.
3. Put scrub into glass container and label it! (You don't want anyone eating your scrub!) Place in refrigerator until ready to use.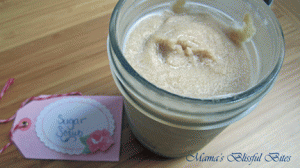 4. Return to fridge after use.
Say hello to soft skin!
Come on, it couldn't get any easier, but sometimes in life, we forgot IDEAS for dinner! And healthy ones, may I add. Sweet potatoes are filled with lots of nutrients and are inexpensive. Have them on hand and use them yearly! Some benefits of this powerhouse are:
Rich in Iron
High in vitamin B6
Also contains vitamins C, D and E! (C&E play in part of disease prevention)
High in fiber (because our bodies need to pooh! There I said it!)
Contains magnesium which helps with relaxation and anti-stress mineral
Contains potassium
AND beauty moms, these nutrients contribute to a glowing complexion and shiny hair!
Make this side for the kids, pssshhh, give yourself this wonderful gift!
Super easy and in charge, let's begin!
Ingredients:
4 sweet potatoes: scrubbed
1 Tbs. Earth Balance Butter Spread
1 teaspoon cinnamon (add as much or as little as you like.)
Directions:
1. Preheat oven to 375 degrees
2. Prick potatoes with a fork and place onto oven rack.
3. Bake for 45 minutes to 1 hour until they are soft
4. Let cool until you can touch them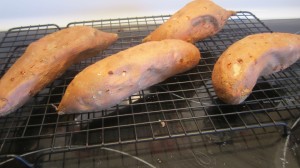 5. Remove skin and discard.
6. Place potato flesh into a bowl and add butter and cinnamon. Mix.
7. Serve warm.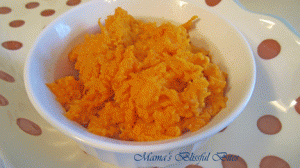 Go a step further and add raisins or nuts! (Pecans are my favorite!)
I started my children on a plain hummus recipe when switching them over to the "healthier" world. Because this is such a simple hummus recipe with little ingredients, there's not an abundance of strong flavors to displease your child's palate. In addition, there are lots of ways to introduce hummus as well. It can be used as a dip with vegetables, dressing to a salad, served with pita chips or even spread on a sandwich. My children and I love finger fingers, for the convenience and fun, so we started with plain hummus on vegetables. My "happy" eater (who eats everything) loved it and my picky eater took two bites, well, let's just say that is more than I thought he would! Next, I spread it on some whole wheat toast, an extra snack to his breakfast. I never force them to eat, but offer it a lot in a lot of different ways and flavors. The more they eat it, the more they start to like it and eventually, I hope they love it as much as I do.
After you child is introduced to the taste, you can incorporate lots of different flavors to your hummus. Sometimes I make it with roasted red peppers other times with spinach and so forth. You can customize it to whatever your body is craving!
I shouldn't have to tell you, but I like to brag for my bowl of hummus….there are a ridiculous amount of reasons to eat hummus.  So on behalf of hummus, here are some reserached (internet!) benefits:
Chickpeas: Are rich in protein, high in fiber, prevent build up of cholesterol in blood vessels
Tahini: Also high in protein and a great source of calcium (Mom's, we need calcium!)
Lemon Juice: Improve the immune functions and fight bacteria and viruses and also reduced oxidative stress in the body (I should be gulping lemons on some days!)
As a whole: Hummus contains Omega 3 fatty acids which improves intelligence (for some..ok, just kidding) and helps maintain a healthy heart
Without further wait, let's start this five minute recipe. That's right, it's about that easy and darn good delicious!
Ingredients:
1 (15oz.) can chickpeas: drained and rinsed (also known as garbanzo beans in the International Aisle of supermarkets)
1/2 lemon: juiced
1 Tbs. tahini
1/4 teaspoon of salt
Water
NOTE: Tahini can be found in the international aisle of supermarkets. It's a paste made from ground, hulled sesame seeds. It has a distinct flavor, so your children may not like it, if that's the case, try a hummus without it. (I'll be posting it soon!)
Recipe:
1. Gather all ingredients.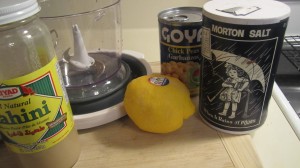 2. Put into a blender and blend.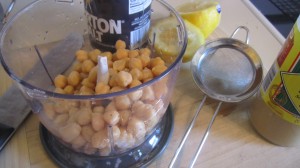 3. Add water as needed to thin it out. (I like it chunky for vegetables so I used 3 Tbs.)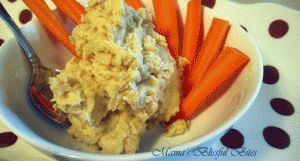 Over the week, I went to my favorite bookstore and had a tall white chocolate raspberry mocha…mmm, what a treat! Anyways, I saw this amazing book (and it was even on the "deal" section for under $10!) so I had to take it home right away and start making some recipes. Smoothie Heaven, by Wendy Sweetser, has "Hundreds of divine recipes to take you to smoothie paradise." I guess its one creative way to write a book on smoothies! The inside is amazing with pictures of every smoothie AND written in categories such as: Breakfast Smoothies, Dessert Smoothies, Workout Smoothies, Healing Smoothies, Summer Smoothies, Rejoicing Smoothing (nice alcoholic beverage in that one!) and even Global Smoothies. It's like you are in….Heaven.
I wanted to share with you some of my favorites for this week – Starting in the Eternal Smoothies section with the Apple Shake.  I made a minor adjustment and I do mean minor.
Ingredients:
1 cup of apple juice
1/2 tsp. powdered cinnamon
2 tsp. grated fresh ginger (ready for my adjustment? I only used 1 tsp. Yup, that's it!)
2 Bananas, peeled and chopped
cucumber, julienned, to decorate (I skipped out, the kiddies and I were making it so we rather drink than decorate!)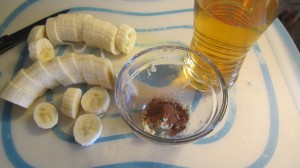 Recipe:
Put the apple juice, cinnamon, and fresh gingerroot in a blender and process gently until combined.
Next add the sliced bananas and process again until smooth. Pour the smoothie mixture into two glasses and decorate with the cucumber slices.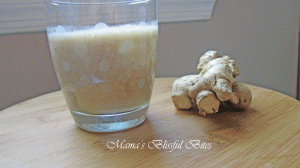 It's spicy and sweet all at the same time. One delicious treat!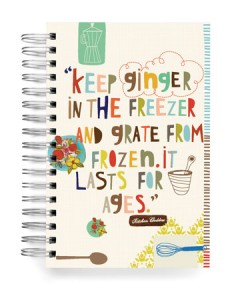 As far as I can remember, I have always had a "diary" or now that I'm an adult, a journal. It's the place that will keep all your secrets and is your very own privacy get-a-way. I have millions of journals, okay probably at least a hundred though. I love to write and I am a journal snob as you will soon see.
Sometimes I just get an idea that I don't want to forget or I write a list or I come across something I want to clip out and put in my book, etc. and I need to write it right then. I keep one next to my dresser at night, in case I have a dream I need to write. I keep one in my kitchen, for that grocery list or "oh yeah, I forgot I need that item!" I keep one on my kitchen table in case I have a thought while I'm playing with the kids. I have one at my computer desk in case I get a moment to myself to write. I have one for seasons and recipes, things to do, my never-ended long winded bucket list, one for the kids and more. One of my previous co-workers and friend, gave me an Irish journal for my 21st birthday. And what's really strange is that I always start writing in the back first!  You see, I may be a little obsessed with these journals or perhaps I'm a journal snob. To be perfectly honest, I just don't like flipping through the pages to remember which journal I wrote what in, so I have many to solve that problem. Each one is for a specific use. There, problem solved.
I am very perticular about my journals as well. If it doesn't have a spiral, I don't want it, I can't write all over the pages. If it doesn't have a lot of paper, well, what good is it? If the size isn't big enough and makes me feel as if I'm going to squint to write, well, I don't want it. Even if the lines aren't wide enough so my bubbly handwriting can fit, well then, I don't want it.
I am a jounral snob.
Yup, over the years, I have become very picky in my journals but there is one company that has won my heart. Not only does it have a spiral bound so I can flip my pages over, not only can I write as big as I want with the big amount of space provided in between the lines, not only does it have a hard cover, (I'm in love with hard covers! Then I don't need to find something to write on)  BUT it's Earth-friendly AND gives back to the community! Ecojot has won my heart over and over and over.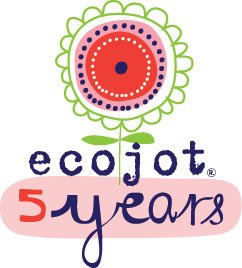 Let me tell you about this fabulous company because this is a MUST HAVE! Ecojot is a Candian company based in Ontario. The paper content is 100% post-consumer recycled!!! (I love this because it doesn't matter what country you live in, helping the Earth is just what it means. She's our Earth – we are all in this together!) Not only is this company fabulous for all the above reasons but there's more! I know, just when you thought a journal couldn't get better it does! They have an amazing program called the GIVE program. With the purchase of a jumbo journal, ecojot will give a notebook to a child in need! HOLLAAA! They have partnered with The Schoolbag and have provided 22,000 ecojot workbooks to the children of Haiti.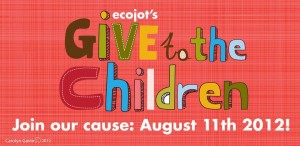 Conveniently for me, they can be found at Barnes and Noble. What more could a girl ask for besides a latte with that? Nothing really! Try them out. Oh, but wait…did I mention the designs on the covers? They are beautiful and inspiring. Some have birds and trees others have encouraging words some even have shoes! Each one is very beautiful and reasonably priced.
Oh, one more thing….Ecojot is kind enough to give one lucky reader a $25.00 ecojot gift certificate!
Not only do they have journals but also calendars, greating cards and invitations, sketchpads, scrapbooks and more! Now I know you can see why I love them so much! Each time you sign up to something below counts as a chance to win. A total of 7 chances:
For more chances:
After you follow a link, leave a  comment FOR EACH ONE below. I will email the winner on Thursday! Good Luck!
If you already follow me, leave me a comment that you do!