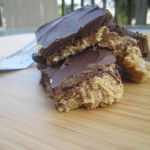 Child: Mom! Guess what I forgot to tell you?! Jake's having a birthday party tomorrow and his mom asked you to bring dessert!
Mom:  TOMORROW? (Did he just say tomorrow??)
Child: Yeah, sorry….I forgot! It's at their house! 2pm!
Normally, at this point mom would rush to the pantry in a panic opening doors, scrambling through shelves, but not THIS mom. Nope, she's calm. Irritated that she didn't have advance notice but hey, she has something that will keep her from having heart palpitations, her secret weapon: The Mom 100 Cookbook by Katie Workman!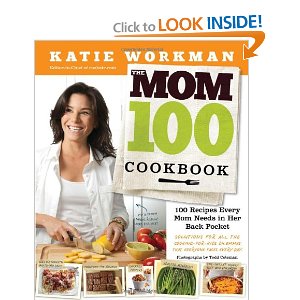 Mom: (sighs with relief that she has a plan and shakes her head at the million of things her child forgets to mention….) She thinks of how much fun it is to be with friends and creating good times together. The only problem mom has is narrowing down the recipe! Mom already has a kid-approved cookbook, so the choice is up to mom. Which recipe does she want to eat?
Now I'm sure I have told you that our #SundaySupper group is amazing and if you didn't hear me correctly I did say out-of-this-world amazing and I soooo mean it. This week, our group is featuring Katie Workman's new book, The Mom 100 Cookbook. It's every mom's MUST HAVE cookbook! I'm not saying that because I absolutely love it, have it, made six recipes out of it and its only been less than a week, NOPE! I'm saying it because I truly think EVERY MOM SHOULD HAVE THIS BOOK! (Yes, I did say six!) Lucky me, I have been selected to giveaway some cookbooks! That's why, I'm giving one to you – my lucky friend. Just keep reading….
Besides the fact that Katie has "solutions for all the cooking-for-kids dilemmas that everyone faces every day" – they are EASY to make, EASY to read, photos everywhere, AND kids will WANT TO EAT! Need I say more about Katie Workman's book? NO!
Mom chooses a deliciously rich recipe. A sure winner in everyone's book! It's simple to make in no time and quickly makes 36 servings. A big party smarty – she has this one in her back pocket!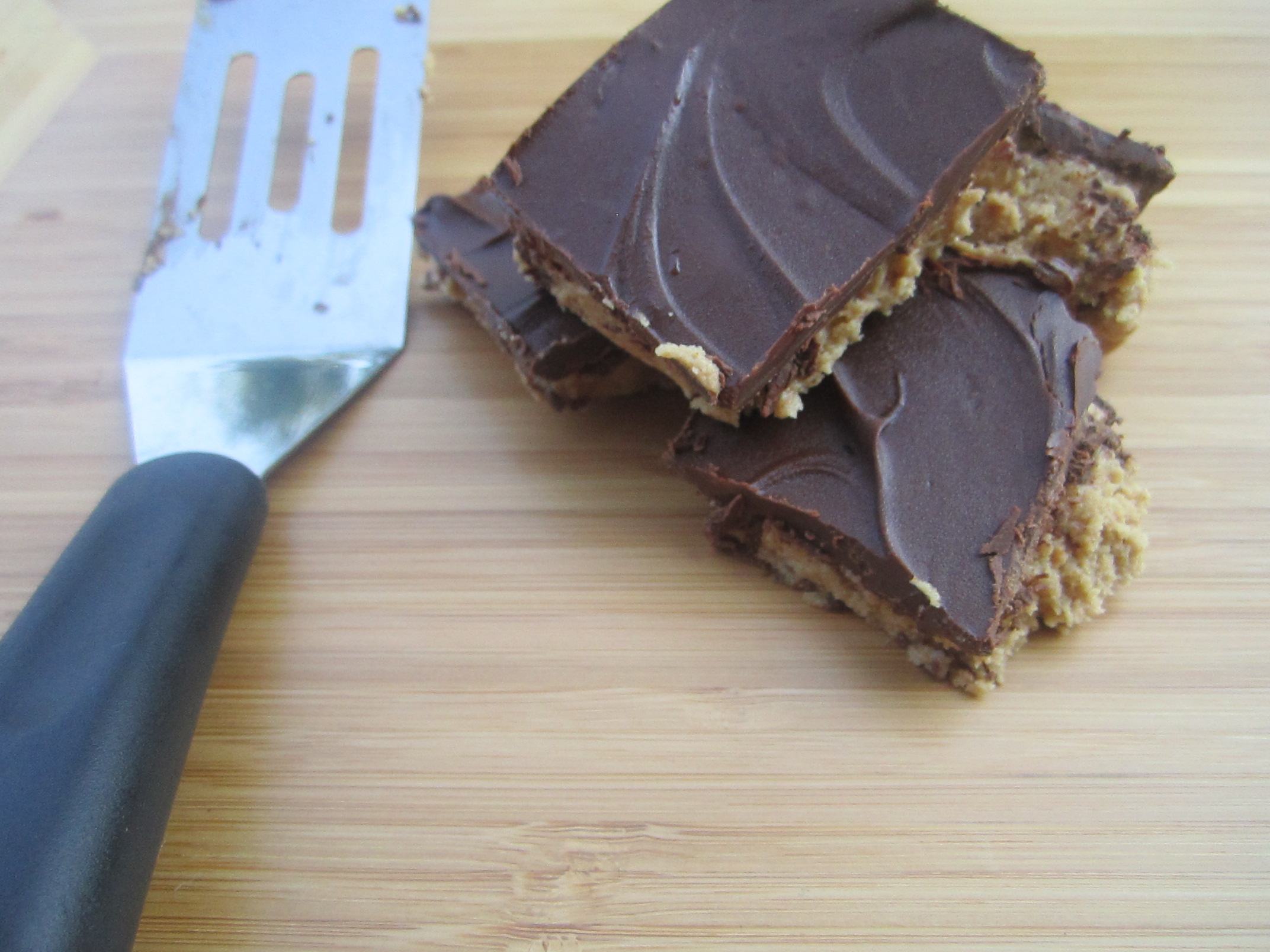 Ingredients:
6 tablespoons (3/4 stick) unsalted butter, at room temperature, plus butter for greasing the baking pan (optional)
Nonstick cooking spray (optional)
1/4 cup firmly packed dark brown sugar
1 1/4 cups confectioners' sugar
3/4 cup creamy peanut butter
1/4 cup graham cracker crumbs (see note)
2 cups (12 ounces) semisweet or milk chocolate chips, or a combination of the two
Recipe to deliciousness:
1. Lightly butter a 9-inch-square baking pan or spray it with nonstick cooking spray (or a nonstick pan).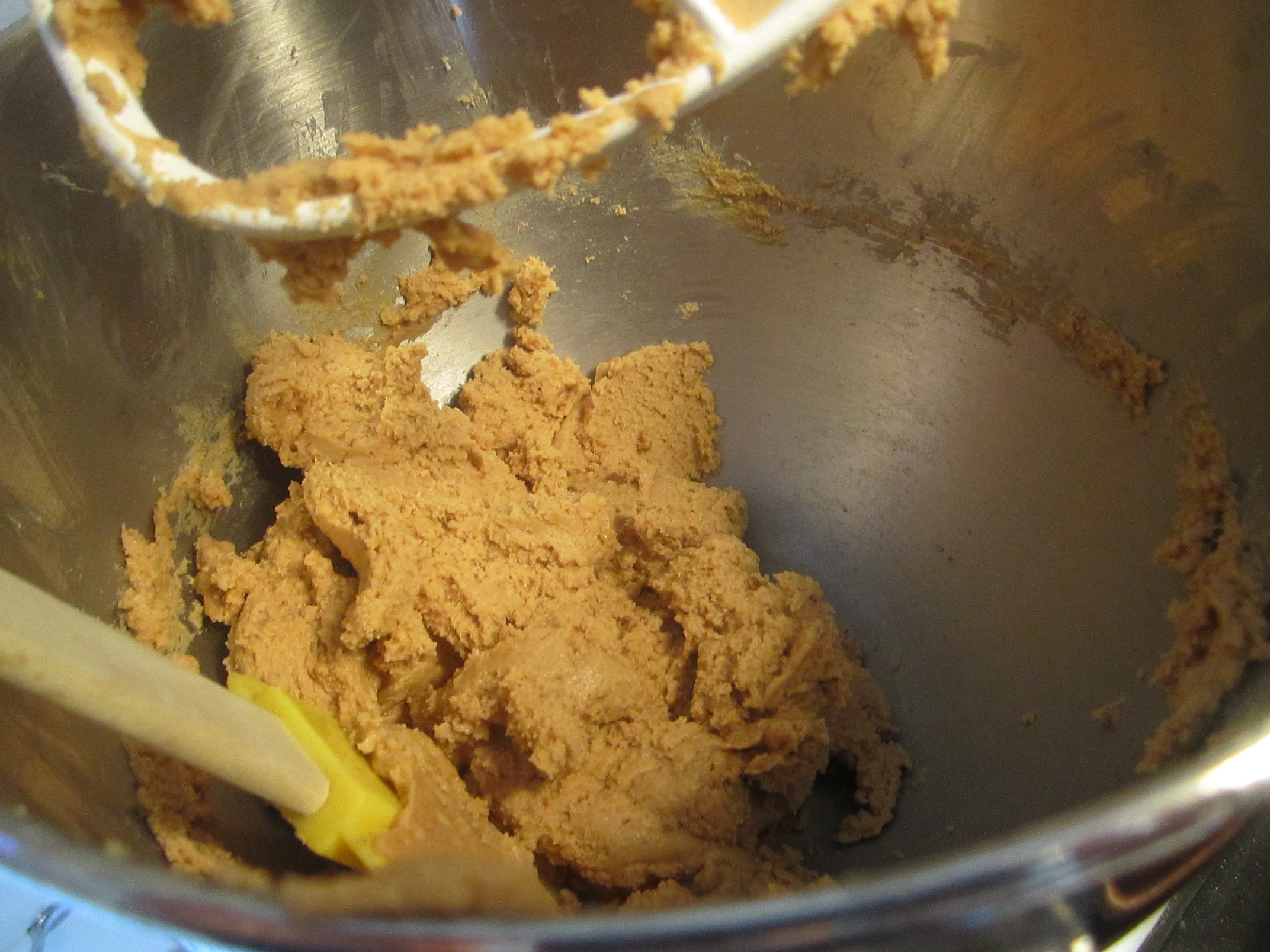 2. Place the brown sugar, confectioners' sugar, peanut butter, graham cracker crumbs, and 5 tablespoons of the butter in a medium-sized bowl and beat with an electric mixer until well combined but still a bit crumbly, about 1 minute (it won't get totally smooth; that's okay). Press the peanut butter mixture evenly into the prepared baking pan in a thin layer, about 1/4 inch thick.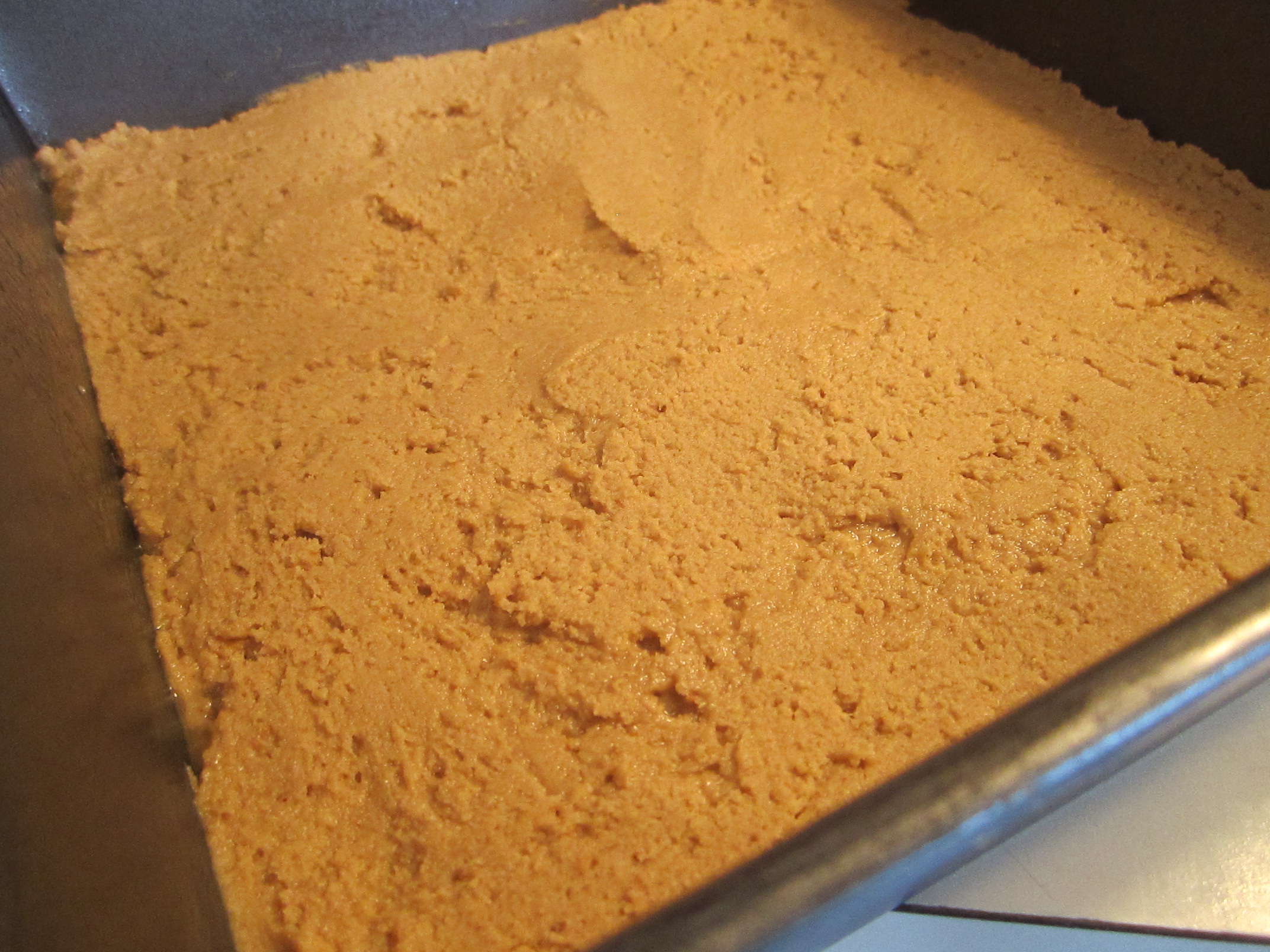 3. Place the chocolate and the remaining 1 tablespoon of butter in a small saucepan over very low heat and melt, stirring frequently until smooth, about 7 minutes. You can also do this in the microwave, stirring every 20 seconds or so, until smooth, 2 to 3 minutes in all. Let the chocolate mixture cook briefly, then while still hot, using a rubber spatula, gently spread it over the peanut butter layer. Refrigerate, covered with plastic wrap, until the chocolate has firmed up, about 1 hour. Cut into 36 small (roughly 1 1/2 inch) squares.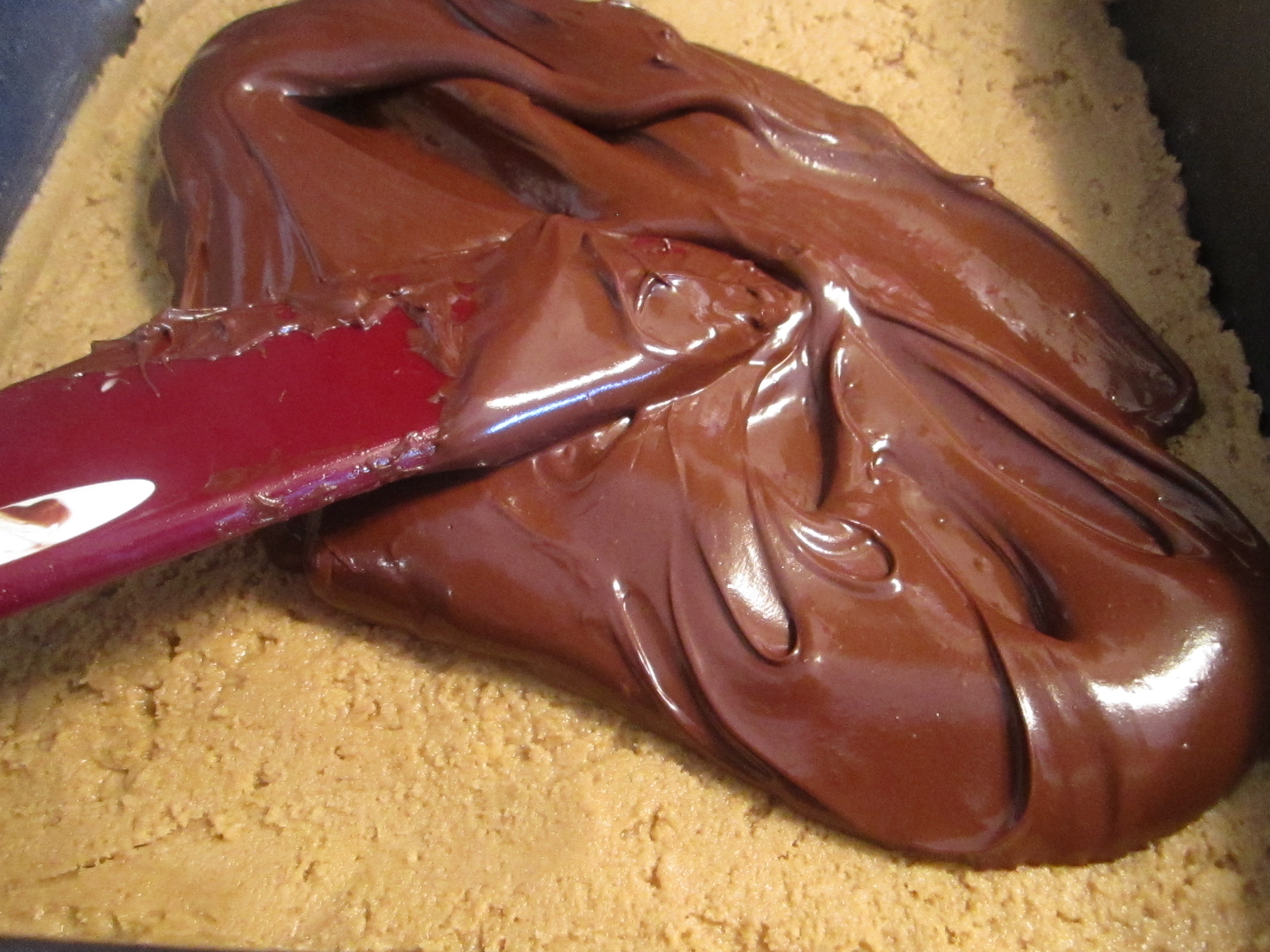 NOTE: You can either buy graham cracker crumbs or make your own by putting graham crackers into a zipper-top bag and pounding it gently with a rolling pin or the bottom of a pan or a can of beans or anything sturdy with some weight to it. Four graham cracker squares make about 1/4 cup of crumbs.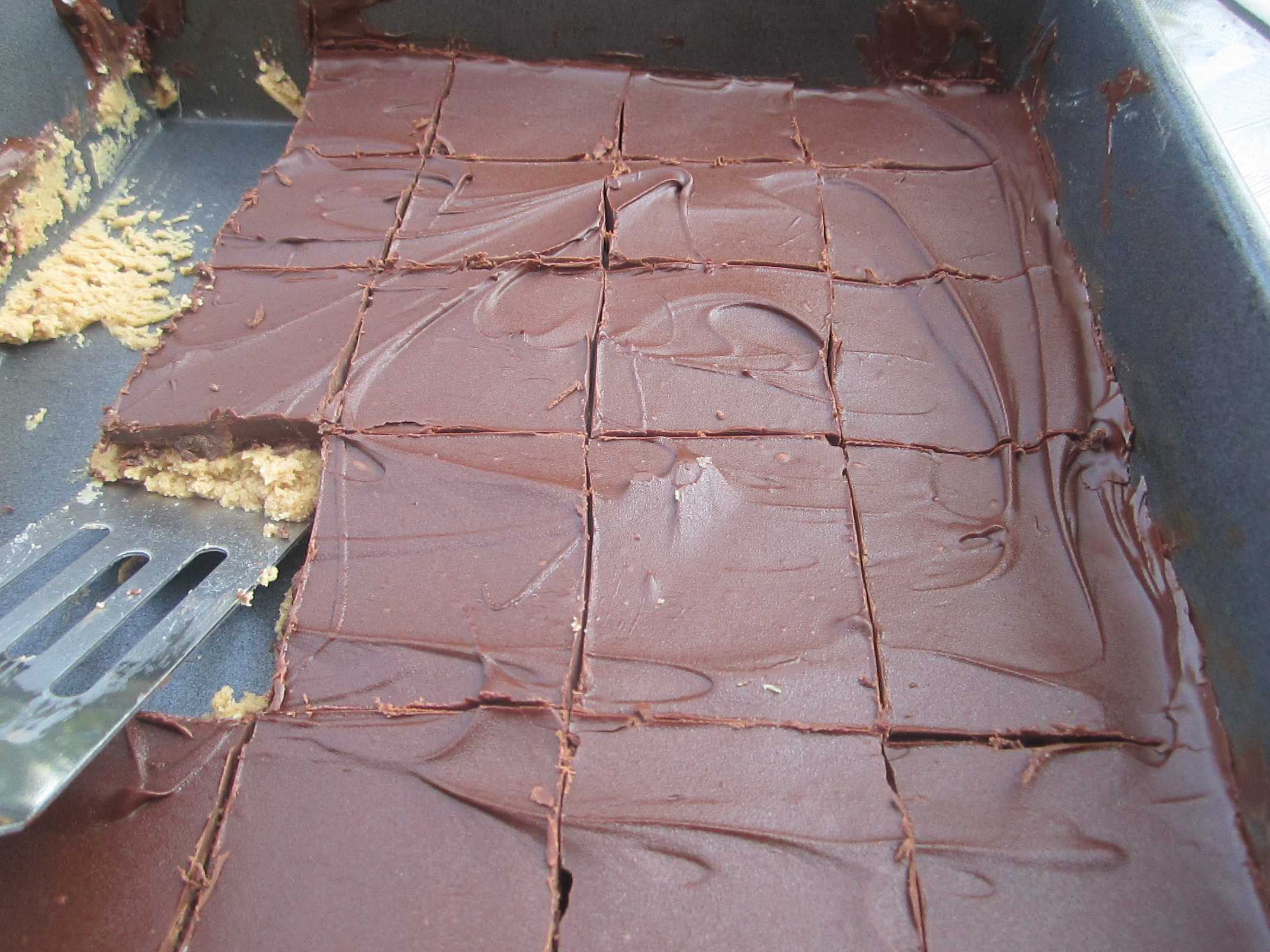 Mom: Cool as she can be knowing she's serving enough to feed a crowd! This rich, delectable dessert is a sure winner in my book!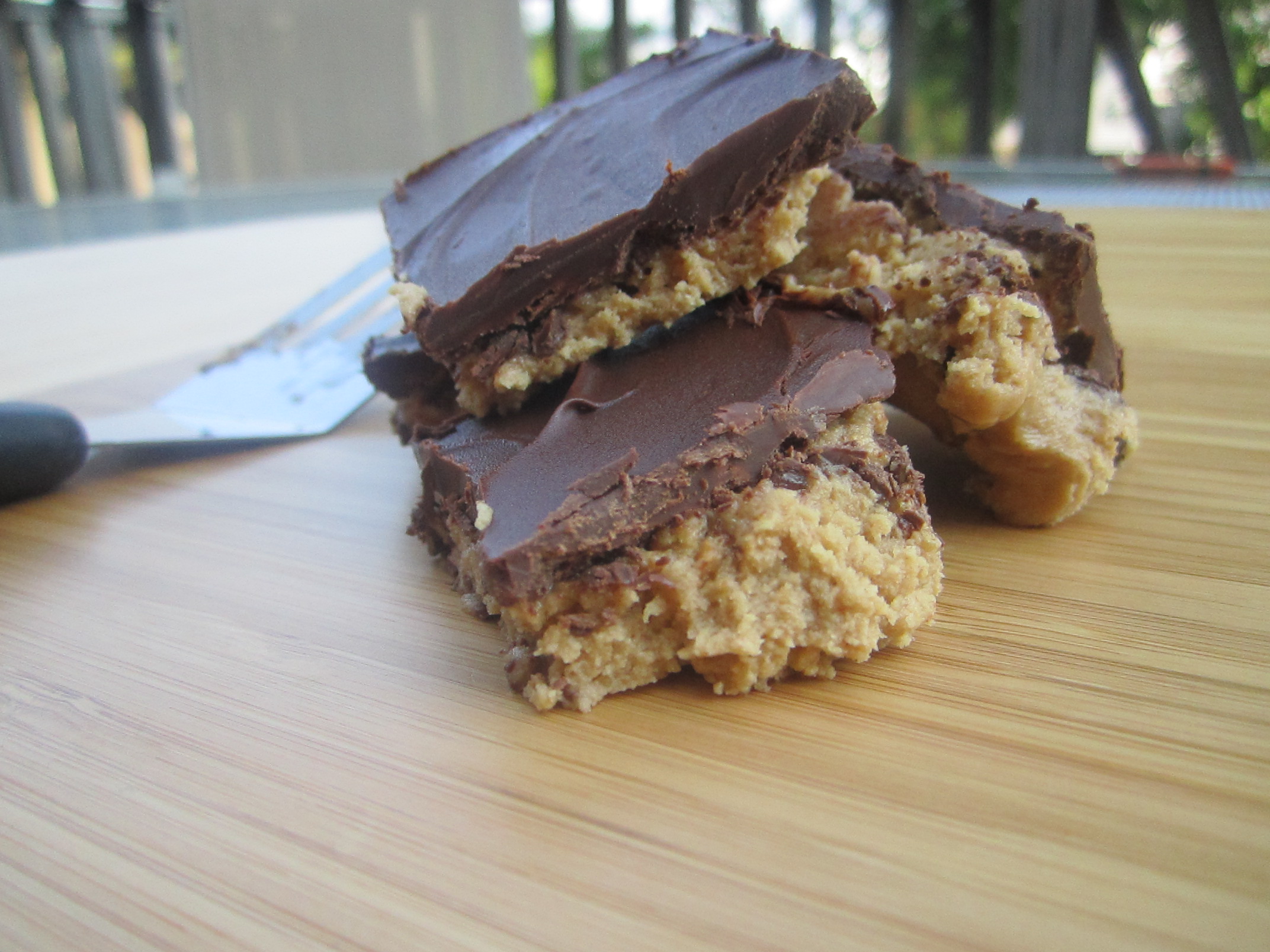 Leave a comment below about what your favorite no fuss Mom recipe is to enter for The Mom 100 Cookbook by Katie Workman! One winner will be notified by email to receive this fantastically informative mom cookbook! Want more chances?
Additional Entries:
If you already follow Mama's Blissful Bites on Facebook, Twitter, Pinterest please note that in your comments.
Please leave a comment for each entry!
US residents only – no P.O boxes
****That's four ways to enter for The Mom 100 cookbook by Katie Workman! Have more chances by following #SundaySupper on TWITTER! See below!****
Katie Workman will be joining us to answer questions, give tips and inspire at 5:30 pm EST on Twitter!!!!!  You don't want to miss this week's #SundaySupper and these fabulous recipes! All you have to do is follow our hashtag #SundaySupper and you're in! We will be giving MORE cookbooks so be sure to be there for this hour of fun!
Wine Pairing to complement our recipes ~ ENOFYLZ
Connect with Katie Workman, Author of The Mom 100 Cookbook: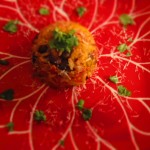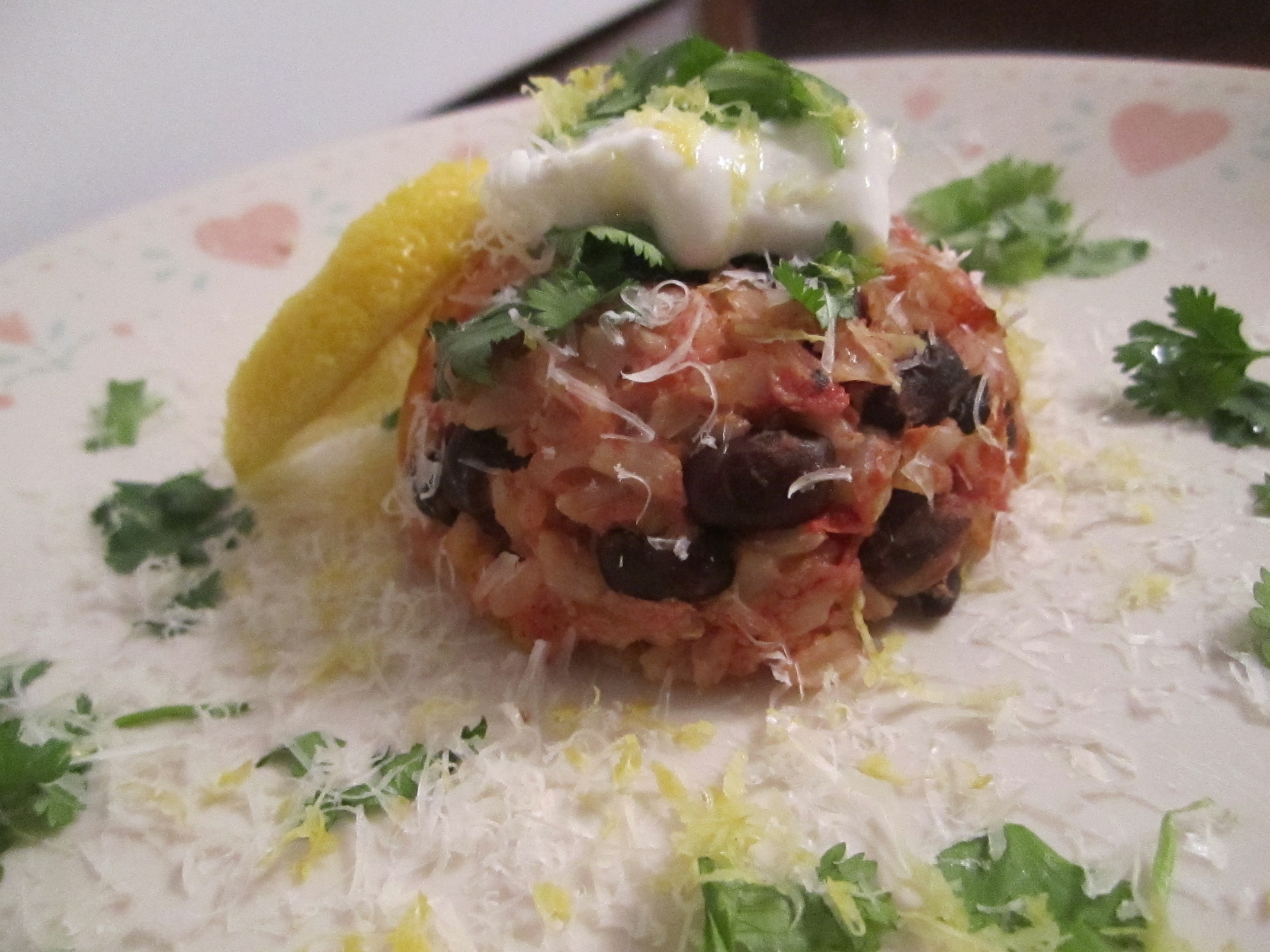 I have to admit, I'm a little bummed out this Father's Day. I'm usually on my game. Presents from the kids for my husband, a card from me thanking him for being such a great father, cards to my stepfather and my father (sometimes even a present to follow), a card and present for my husbands father, a luncheon or brunch for the three dads together. When we celebrate, we celebrate to the fullest as we should thanking them for such big shoes they fill each and every day. I am so blessed to be surrounded by such wonderful fathers.
This year, I wanted to have a cook-off. You see, each time I visit my father, we usually laugh and say we are going to be like Bobby Flay and have a cook off against each other. Yes, his food is delicious but he has never tasted mine.
  When I called to tell him I wanted to post him for #SundaySupper, he was happy to present a recipe on the grill. The grill is one of his strongest areas and I knew I was up for a challenge, so I told him I would bring the side dish!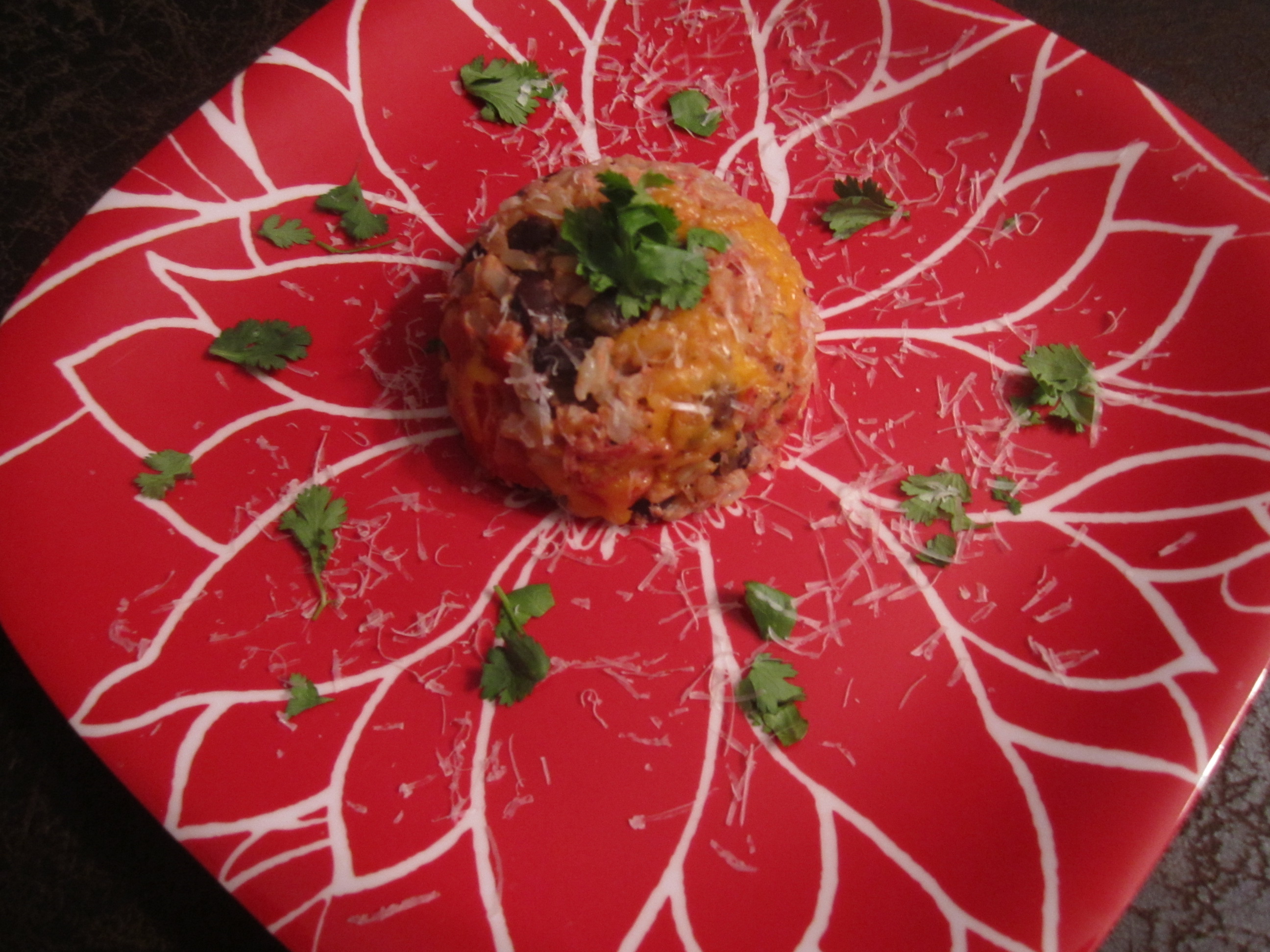 My visits are usually the full day since I don't cross the bridge to visit often (no he's not a troll!). Dinner is usually made and we discuss how he wants to own a deli shop and how I want to own a bakery. Funny, I don't bake, however; there is nothing more exhilarating to me then smelling fresh bread in the air, warm coffee brewing and delectable sweets around each corner….oooh, the dreams we have! We have even talked about how we would work shifts! Hey, this lifetime isn't over, just maybe, one day, we will.
I thought about seeing him all this week because my Gram and Pop are visiting from North Carolina as well. I was looking forward to a wonderful day with my grandparents, father, brothers and stepmother. Oh, that's right…work. Yup, forgot about work. My husband is working all day tomorrow – I hope he doesn't actually get called in but there went my visit with my dad. Fingers are crossed for the following week! Tomorrow is a celebration for my children and their dad.
Ingredients:
1 cup cooked brown rice (I cooked mine with 2 cups vegetable broth instead of water)
1 can (15 oz.) of black beans: rinsed and drained
1 can (15 oz.) of diced, fire roasted tomatoes: drained
1 roasted red pepper: diced
1/2 cup plain greek yogurt (Chaboni)
1 Tbs fresh lemon juice
1/2 tbs coriander
1/2 teaspoon cinnamon
1/2 cup to 1 cup sharp cheddar cheese: shredded
Parmesan cheese (for garnish)
cilantro (for garnish)
Recipe:
1. Make brown rice according to package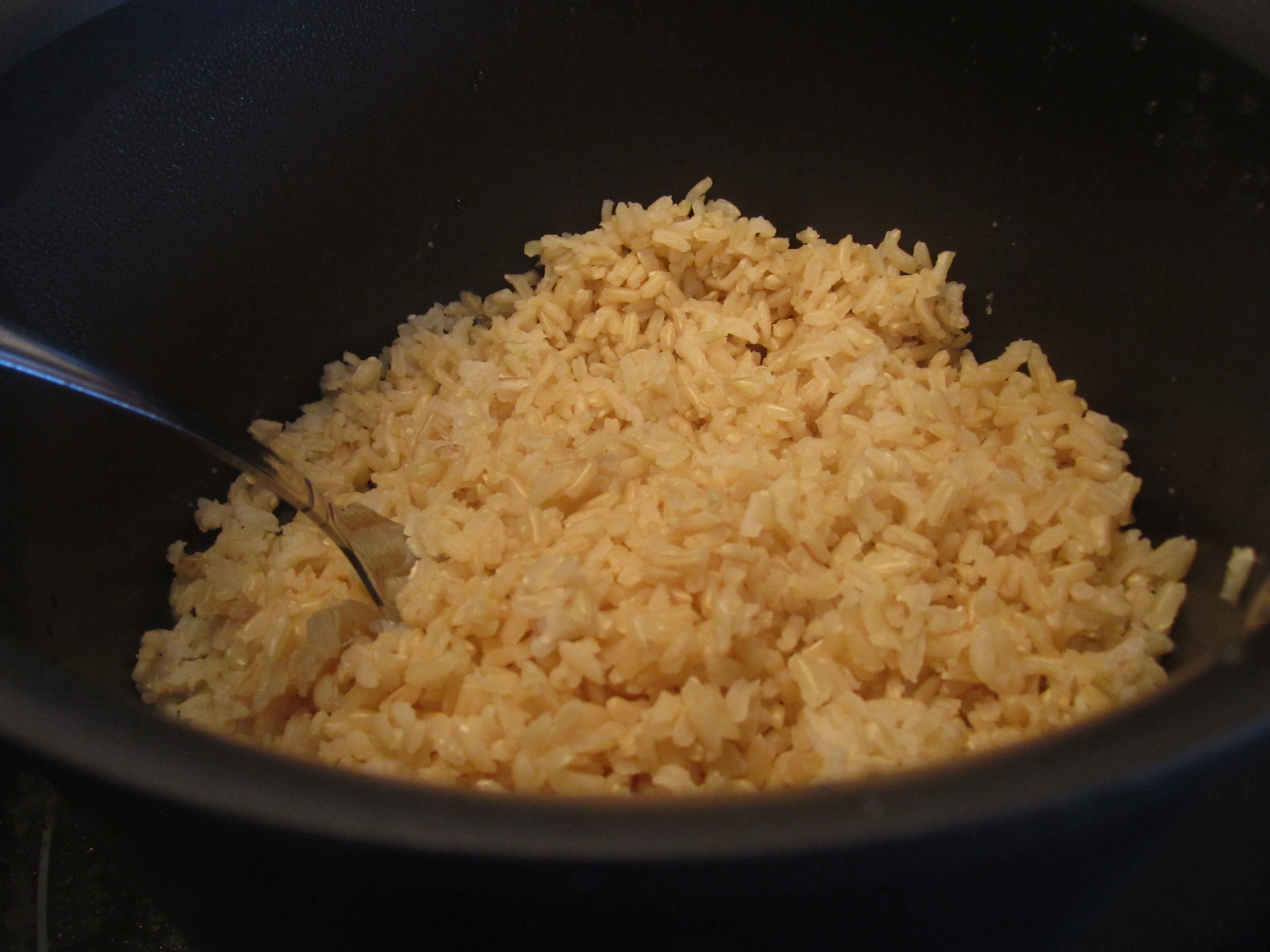 2. Preheat oven to 375 degrees.
3. In a bowl, mix beans, tomatoes, red pepper, cinnamon, coriander, salt and pepper.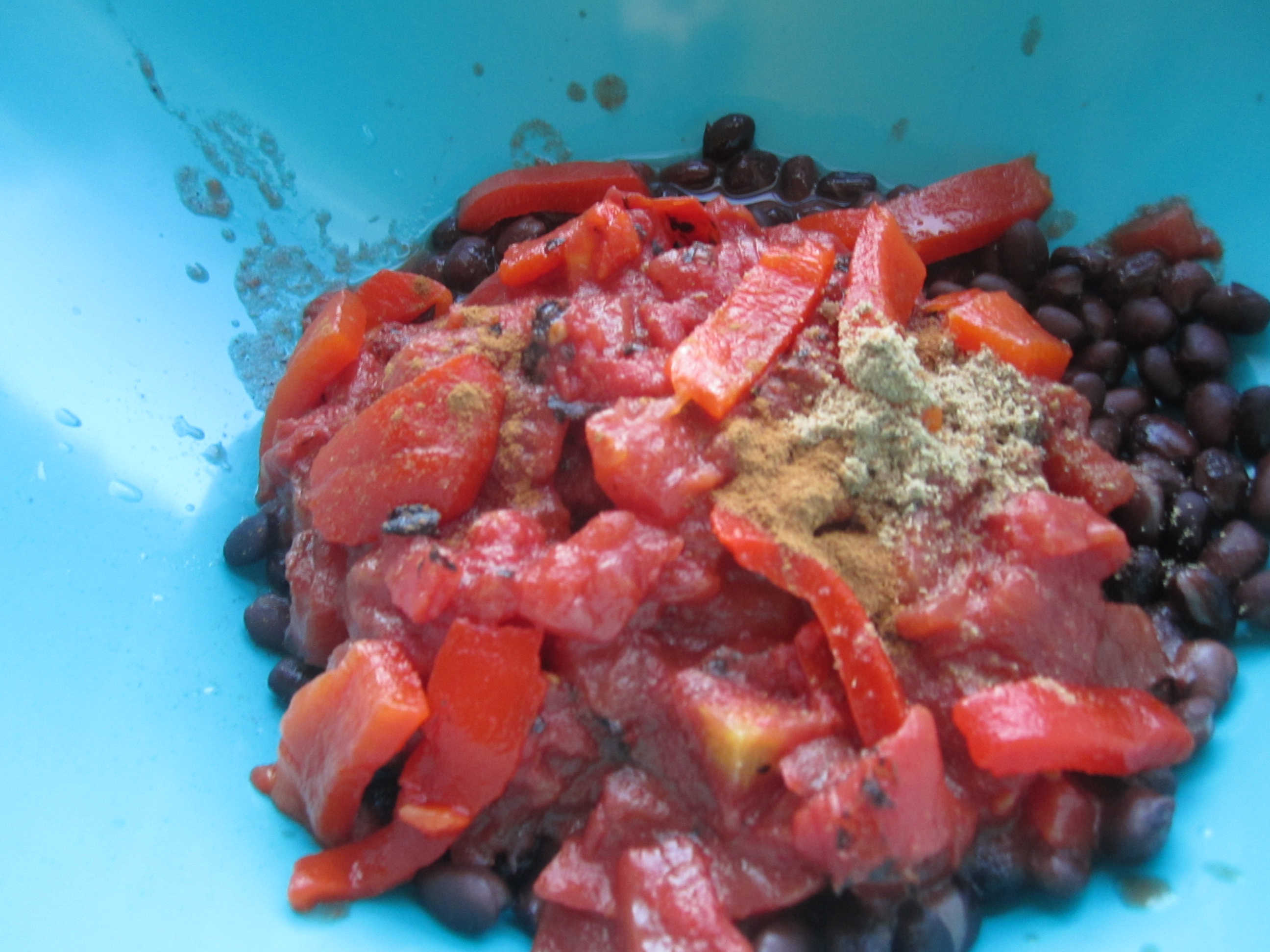 4. In a separate bowl, mix lemon juice and yogurt.
5. Add to bean mixture and mix together.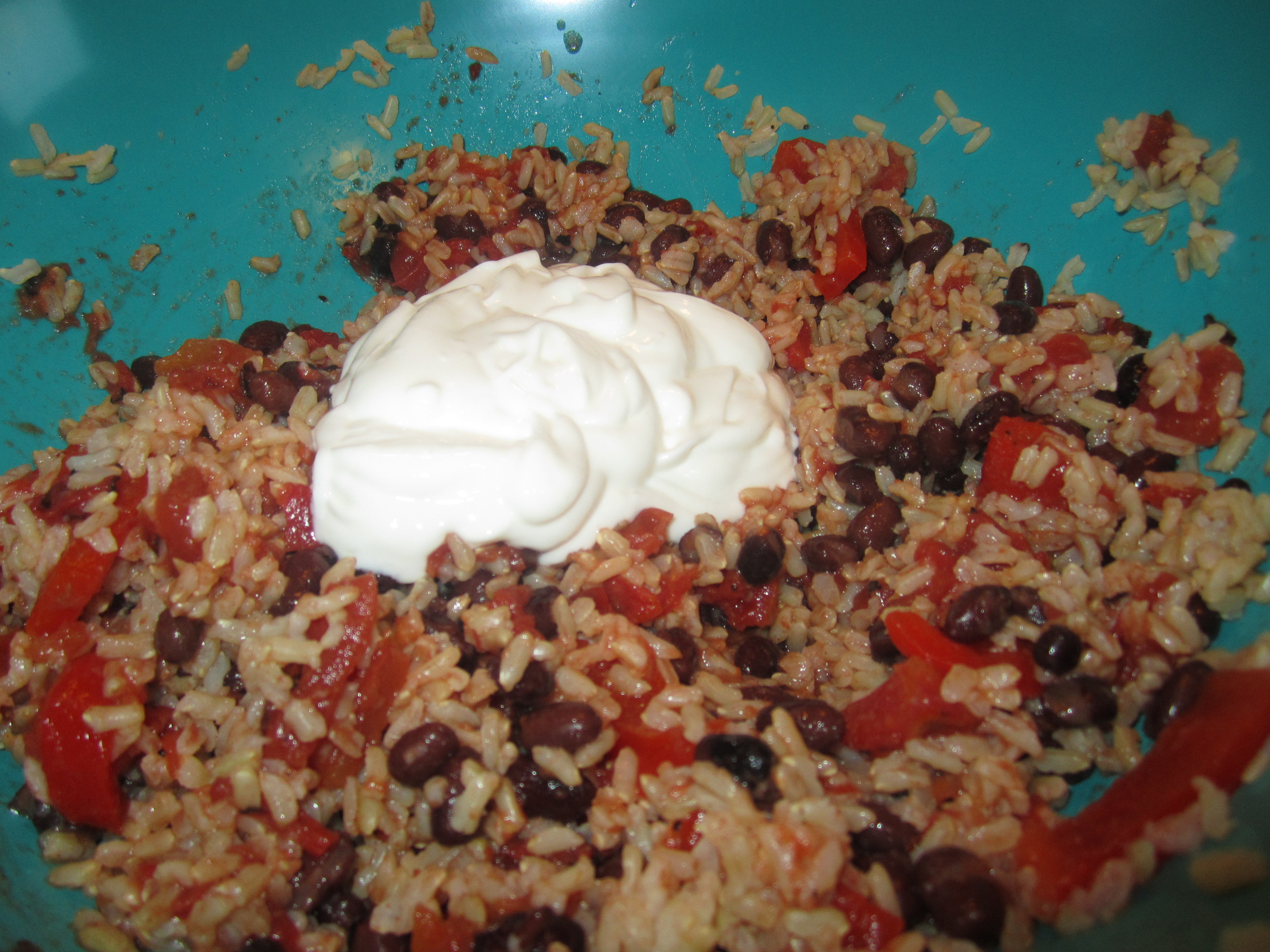 6. Grease a 9×13 pan and add mixture to pan.
7. Top with as much or as little cheese that you would like!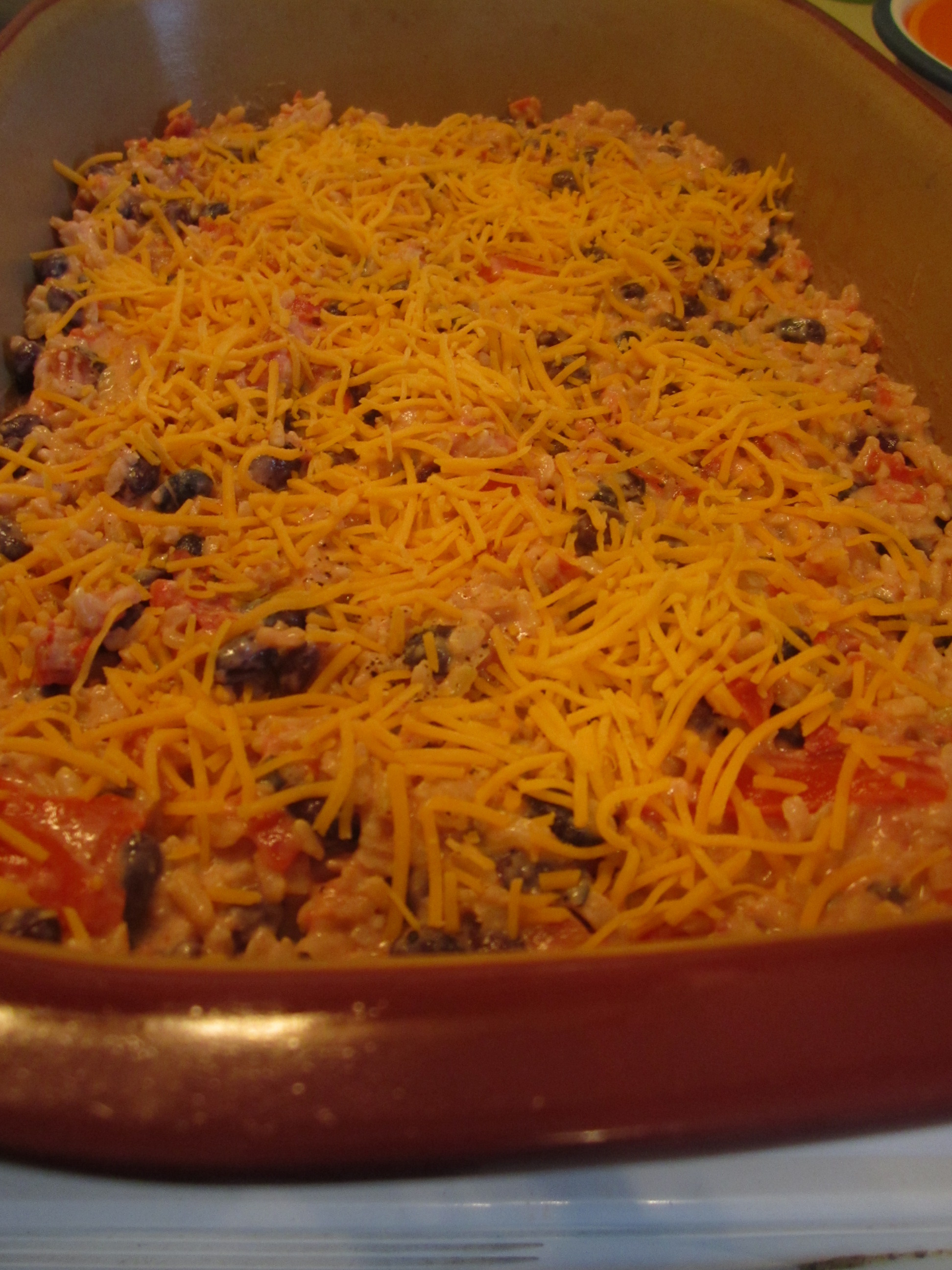 8. Bake for 20-25 minutes until warmed through.
9. Plate and serve with lemon, Parmesan and cilantro for garnish!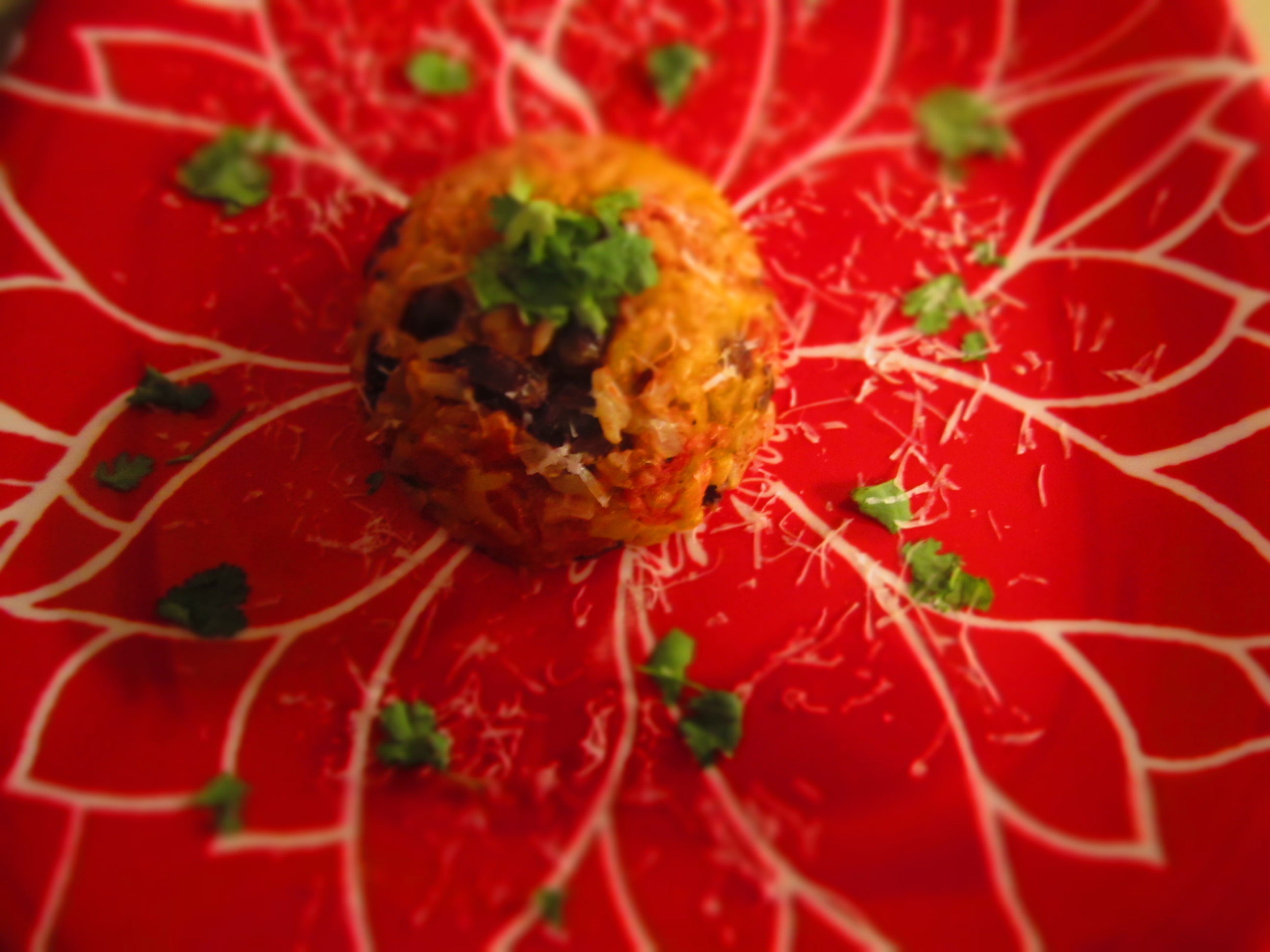 I love this dish because it is made from brown rice (good for you), has a protein of black beans (good for you) and is mixed in with greek yogurt (good for you). May I mention, "Who uses greek yogurt?" I took out the sour cream and changed it with yogurt because it still has the sweet taste. Added in lemon for a "fresh" take on the dish. When using canned items, this really makes the taste lighter and fresh. Perfect for a side dish or even a main dish!
NOTE OF THANKS:
To all of the many hard-working father out there, I am raising my glass to you. Hope your day is as blessed as your little ones are to have you. Happy Father's Day!
Be sure to check out other fantastic Father's Day recipes as well!
Father's Day Brunch:
Dad's Favorite Soup, Salads and Bread:
Father's Day Favorite Main Dishes:
Dad's Sweet Tooth:
Wine Pairings for Father's Day ENOFYLZ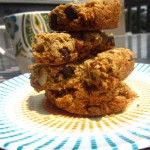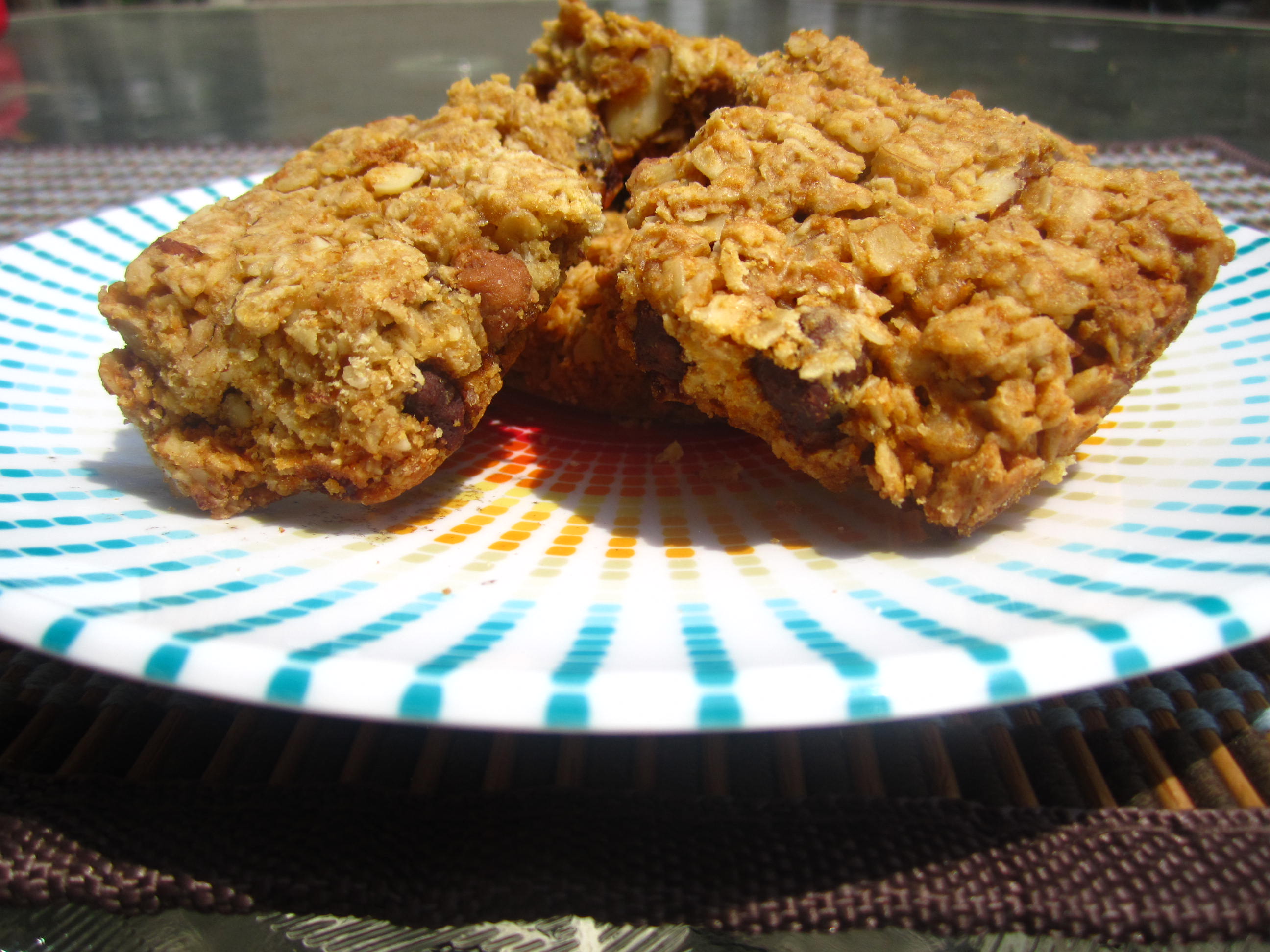 One of my biggest life cheerleaders is my BFF, Stefanie, who  has been my BFF since I was in fourth grade. When you have a great friend like that for so long – you kind of share everything such as secrets, thoughts, laughs, ideas, and even recipes! She has tried all my recipes that I have posted and I am forever in debt to our friendship for the kindness she has always given me throughout the years.
I can recall, that at the end of each day in middle school, we used to walk FAR to Taco Bell and order the same thing, a double-decker taco and a soda. Sometimes we used to sit and talk over a bowl of ice cream or watch TV to chips and cheese whiz, (may I add, we used to squirt the whole can of cheese whiz in our mouths until it was gone!) We used to talk endlessly about nothing (or should I say a long list of boys, haha) while lying on her bed and munching on a can of Pringles, and we would walk to "Triangles," a local neighborhood store, to purchase a milky way bar, Mountain Dew and some candy smokes all while enjoying each others companionship. We even snuck in a few swigs of Triple Sec from her parent's basement a few times… Yes, food and our friendship (including drinking!) have always went well together! 
But at last, and most unfortunately, my metabolism doesn't like me as much as it used to and instead we now swap recipes – healthier recipes! She made a great granola bar recipe that I recreated and fell in love with. To make a healthier version, add pumpkin seeds, walnuts, any kind of nuts, applesauce or even dried fruit! Here's from my best friend to you, my new friend. May our bellys be full and our friendships grow deep!
Stef's Recips:
INGREDIENTS
· 4 1/2 cups rolled oats
· 1 cup all-purpose flour
· 1 teaspoon baking soda
· 1 teaspoon vanilla extract
· 2/3 cup butter, softened OR APPLESAUCE **note when subbing applesauce also add ½ tsp salt**
· 1/2 cup honey
· 1/3 cup packed brown sugar
· 2 cups miniature semisweet chocolate chips
DIRECTIONS
1. Preheat oven to 325 degrees F (165 degrees C). Lightly grease one 9×13 inch pan.
2. In a large mixing bowl combine the oats, flour, baking soda, vanilla, butter or margarine, honey and brown sugar. Stir in the 2 cups assorted chocolate chips, raisins, nuts etc.
3. Lightly press mixture into the prepared pan. Bake at 325 degrees F (165 degrees C) for 18 to 22 minutes or until golden brown. Let cool for 10 minutes then cut into bars. Let bars cool completely in pan before removing or serving.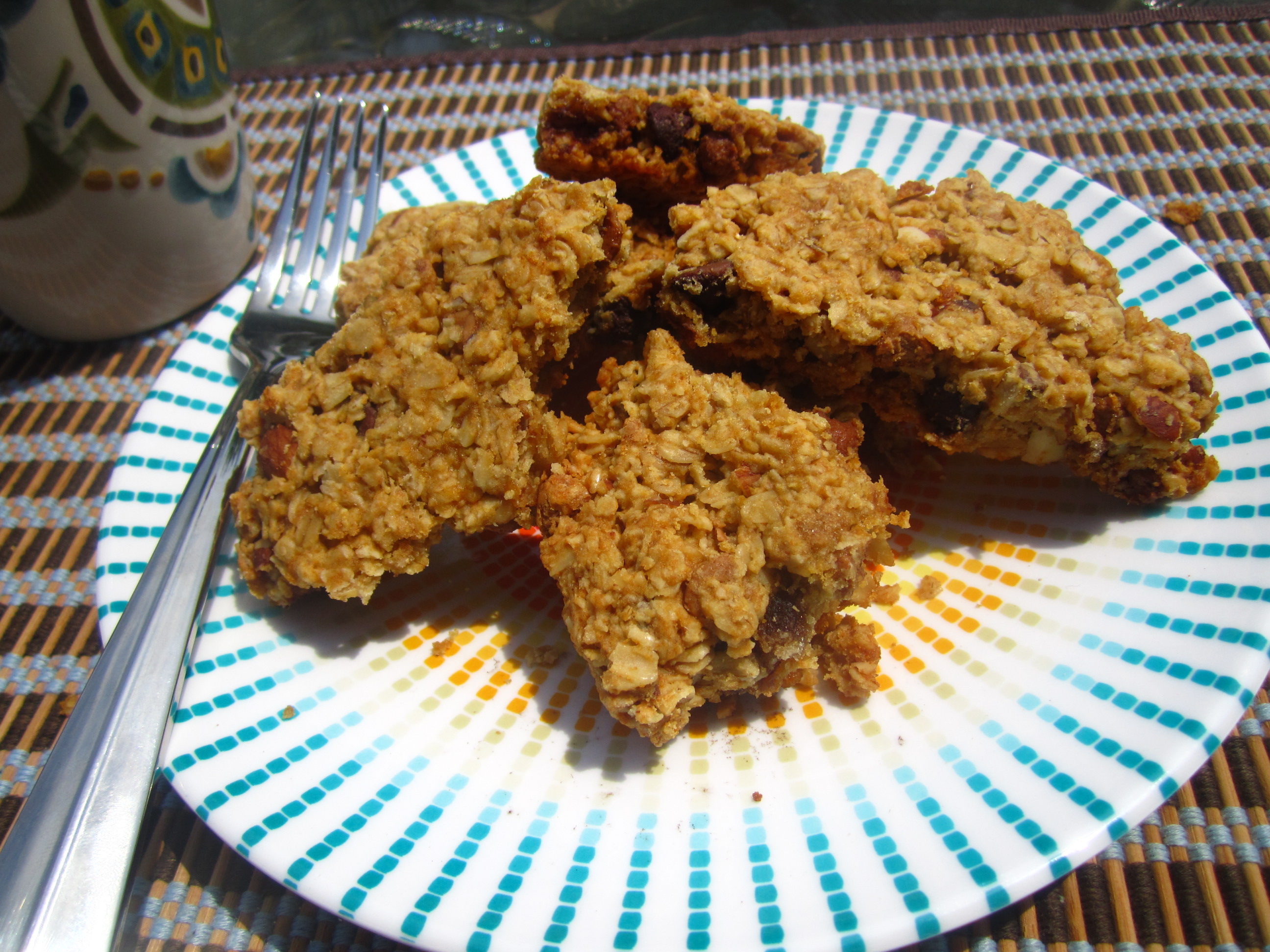 Very slight changes in mine:
INGREDIENTS
4 1/2 cups Old Fashion Style Oats
1 cup all-purpose flour
· 1 teaspoon baking soda
· 1 teaspoon almond extract
· 2/3 cup butter, softened
· 1/2 cup honey
· 1/3 cup packed brown sugar
· 1 cup Peanut butter and milk chocolate morsels
1/2 cup vanilla granola
1/2 cup almonds
DIRECTIONS
1. Preheat oven to 325 degrees
2. I very lightly greased my stoneware – seriously I'm so funny about things sticking! If I take all this time to make something, I don't want it to stick! Okay, or you can grease a 9×13 pan.
3. In an electric mixer, combine the oats, flour, baking soda, almond,  honey and brown sugar. Stir in remaining ingredients.
4. Place mixture into prepared pan. If your pan is long and skinny, you will have smaller uniformed granola bars. I used my stoneware so it was thick and chewy.
5. Place in oven for 23-25 minutes (stoneware longer by 2-3 minutes, keep checking for the top to be firm). Pull out and WAIT until it cools. I waited 15 minutes and flipped, well, it all fell apart. I have to admit, I didn't mind, it was great in all different pieces on its own.
6. When cooled, serve and enjoy
NOTE: Next time, I'm going to melt some chocolate and pour it on top!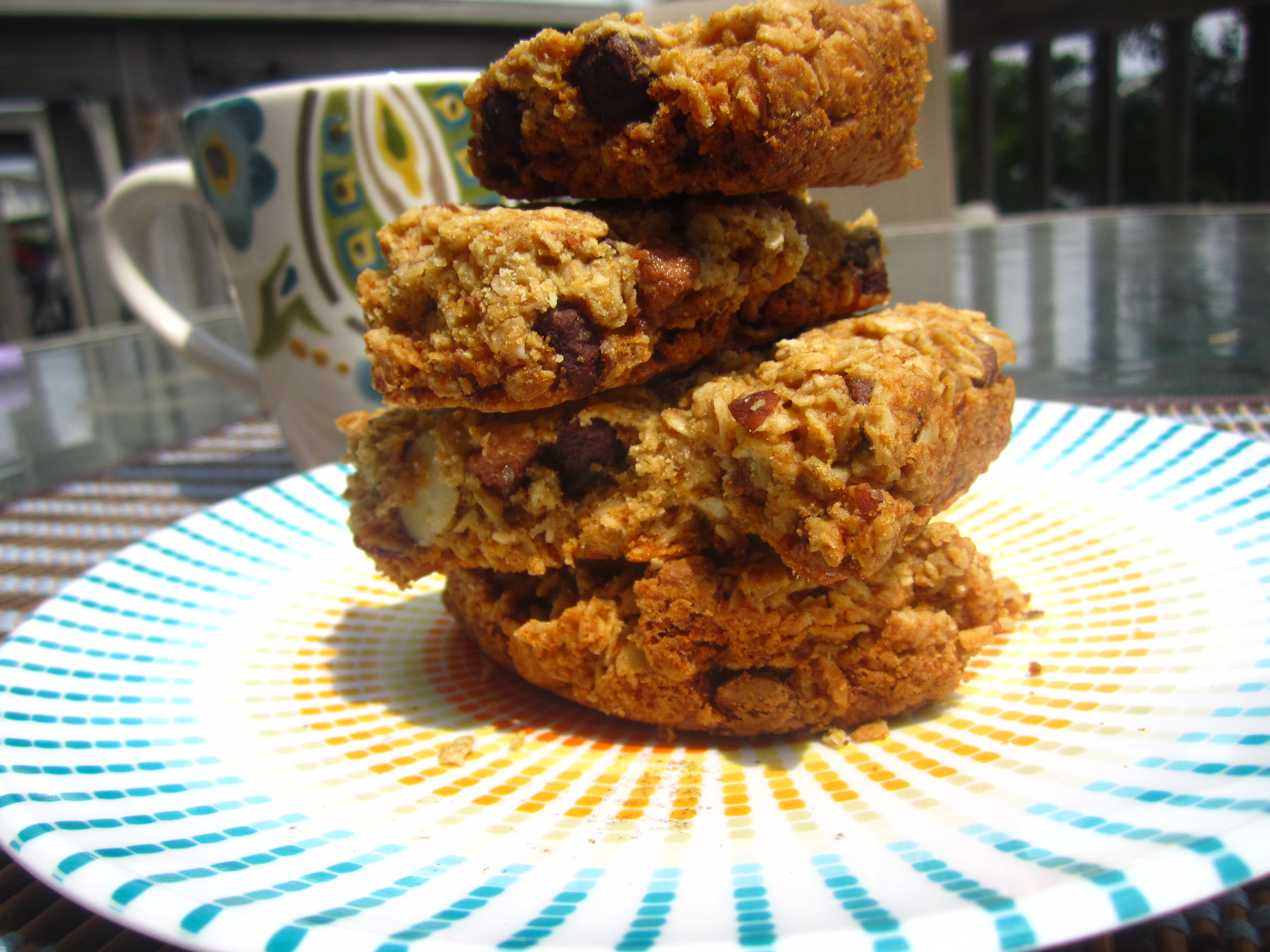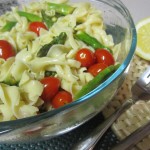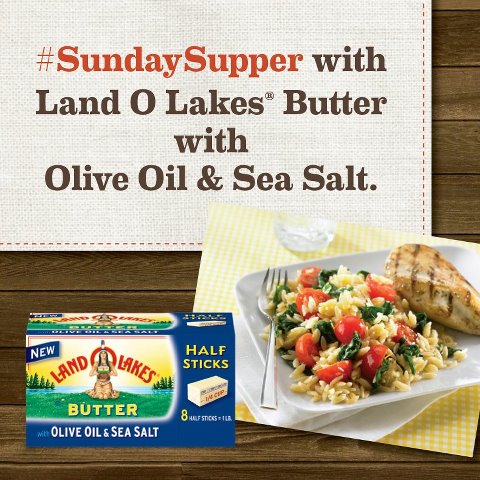 Thinking back on my childhood days, I can recall one of my most favorite, easy, staple dishes which was noodles and butter. The simplicity of these two ingredients go perfectly together. Once in a while, I would even add a touch of salt. There is nothing better than butter sliding into the increases of my mouth as I slurped in a pasta noodle.
One of my favorite memories is of my stepmom pulling spaghetti from the fridge, noodles stuck together on a plate, she would place a dab of butter and it turned into a fabulous comfort food. Matter-a-fact, she still eats them this way to this day and because of her, I serve this to my very own little eaters.
Ingredients:
1 bunch of asparagus: stems removed, rinsed
1 pint of cherry tomatoes: rinsed
1-2 Tbs Olive oil
1/2 lemon: freshly squeezed
Package of egg noodles
Ingredients for Sauce:
6 Tbs of LAND O LAKES® Butter with Olive Oil & Sea Salt
1 clove of garlic: minced
Salt and Pepper
1/2 lemon: freshly squeezed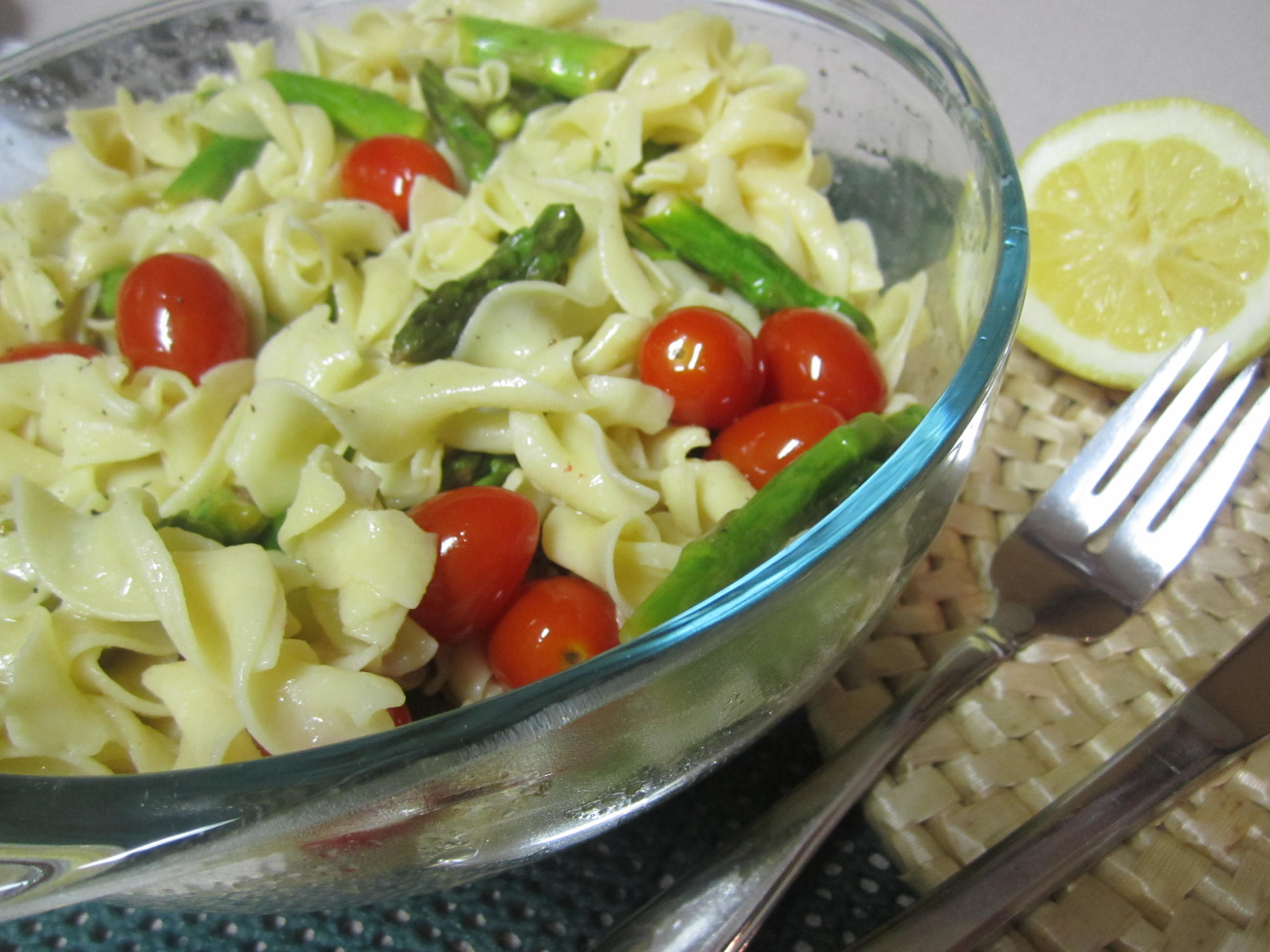 Although I will admit that I take a bite here and there of my children's pasta with butter, I have made a more "adult" version and included wonderful roasted vegetables. This recipe is perfect for LAND O LAKES® Butter with Olive Oil & Sea Salt. If you haven't tried it yet, you definitely should! The olive oil and sea salt give this old fashion dish of "noodles with butter" a brand new make over. Just when I thought my childhood days of noodles and butter were over, heh, they have just begun! Try variations such as different vegetables, cheese, and even some herbs such as thyme! The possibilities are endless and delicious! Make it as a main dish or even a side dish. Add some crunchy bread and oh yea, butter! Mmm, what a meal! Bring on the pasta!
Recipe:
1. Preheat oven to 425 degrees
2. Place tomatoes and asparagus into a baking sheet or a glass 13×9 dish.
3. Squeeze fresh lemon juice and olive oil and mix. (I used my hands, way more fun than a spoon!)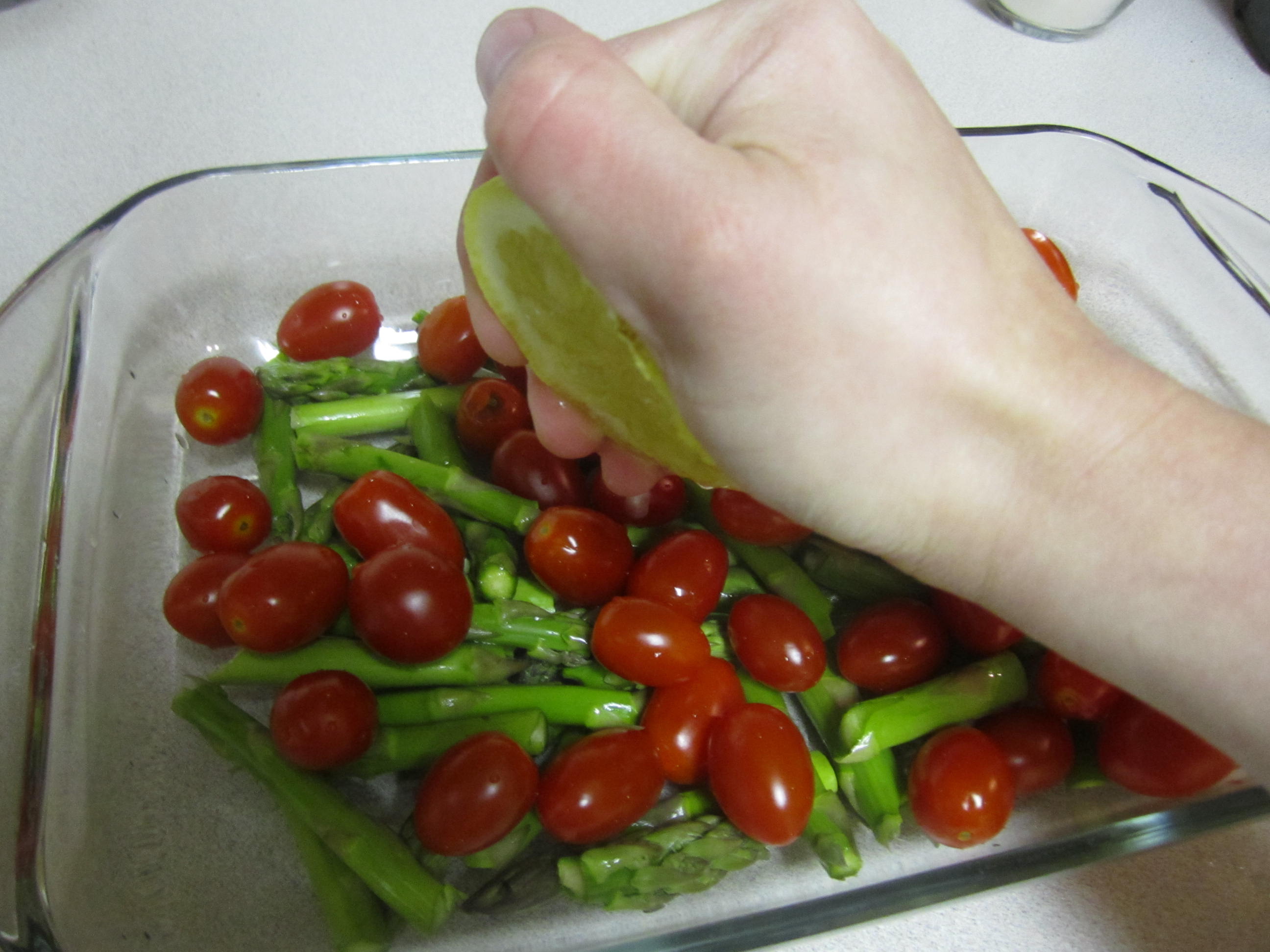 4. Add salt and pepper and you have now given your vegetables a quick  rub-a-dub soak
5. Put in oven for 10 minutes. They should be nice and crisp when they are finished.
Confession time: I ate a lot of the tomatoes and asparagus when they were finished prior to my dish. I just couldn't help it! One turned into two and then into three… please try to refrain and save some veggies for your delicious dish. I promise, it's worth it!
6. Make pasta according to directions.
7. Meanwhile, place LAND O LAKES® Butter with Olive Oil & Sea Salt in a pan and melt on low to medium low heat.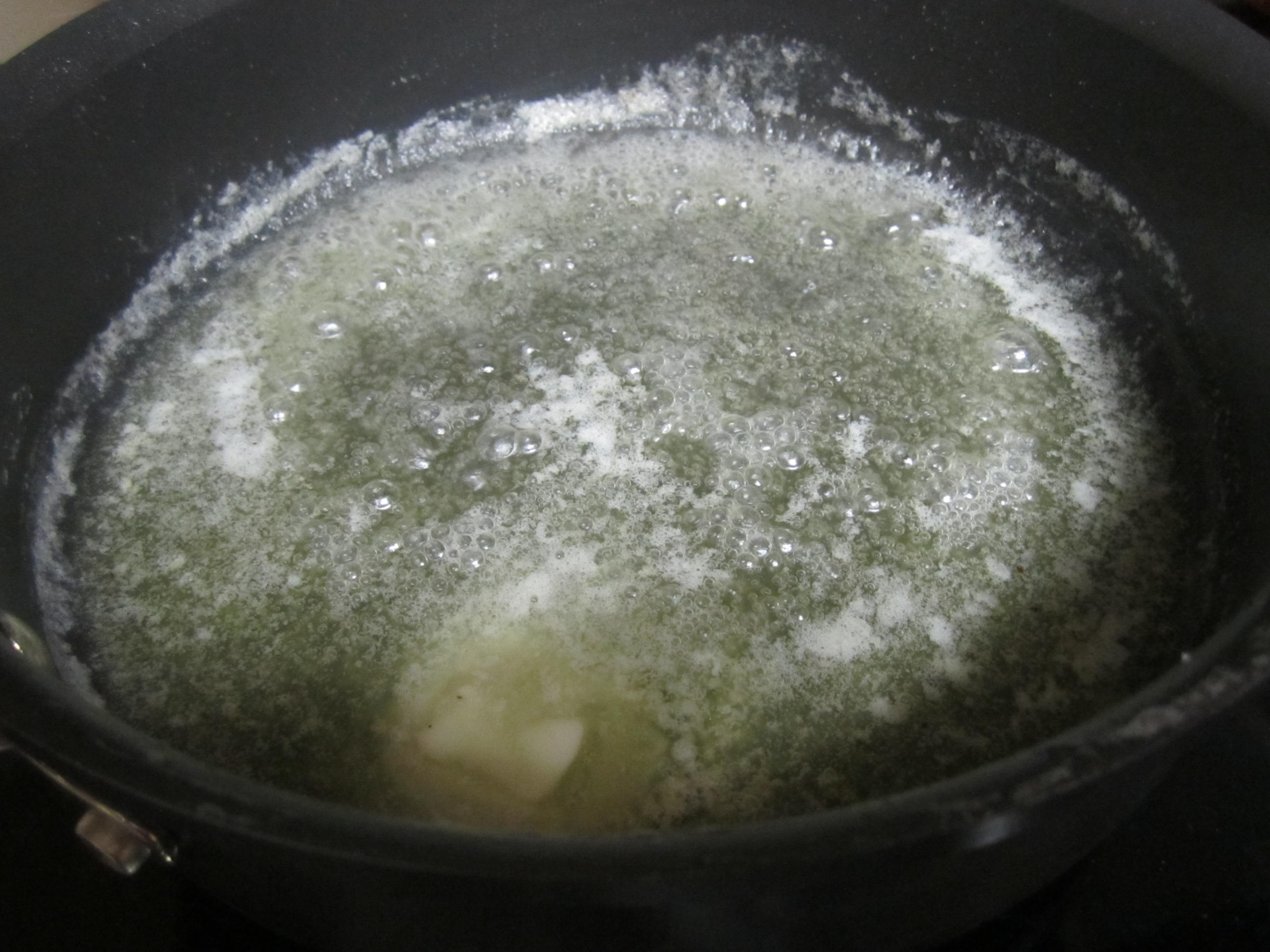 8. Add lemon and garlic to butter and stir occasionally for a few minutes until butter has all the way melted.
9. Add cooked pasta and vegetables to pan and stir.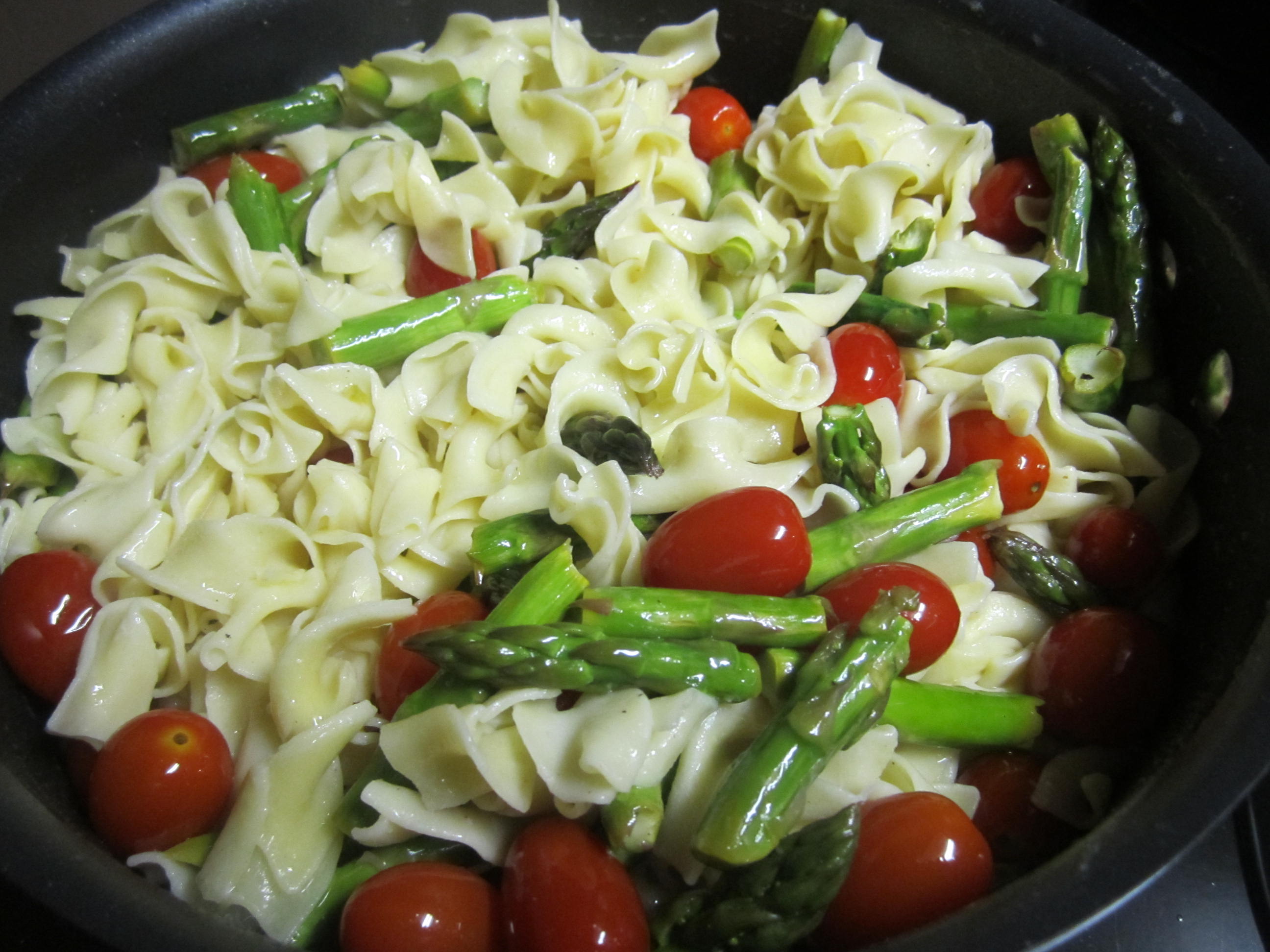 10. Turn off heat and serve! Season with salt and pepper if you like.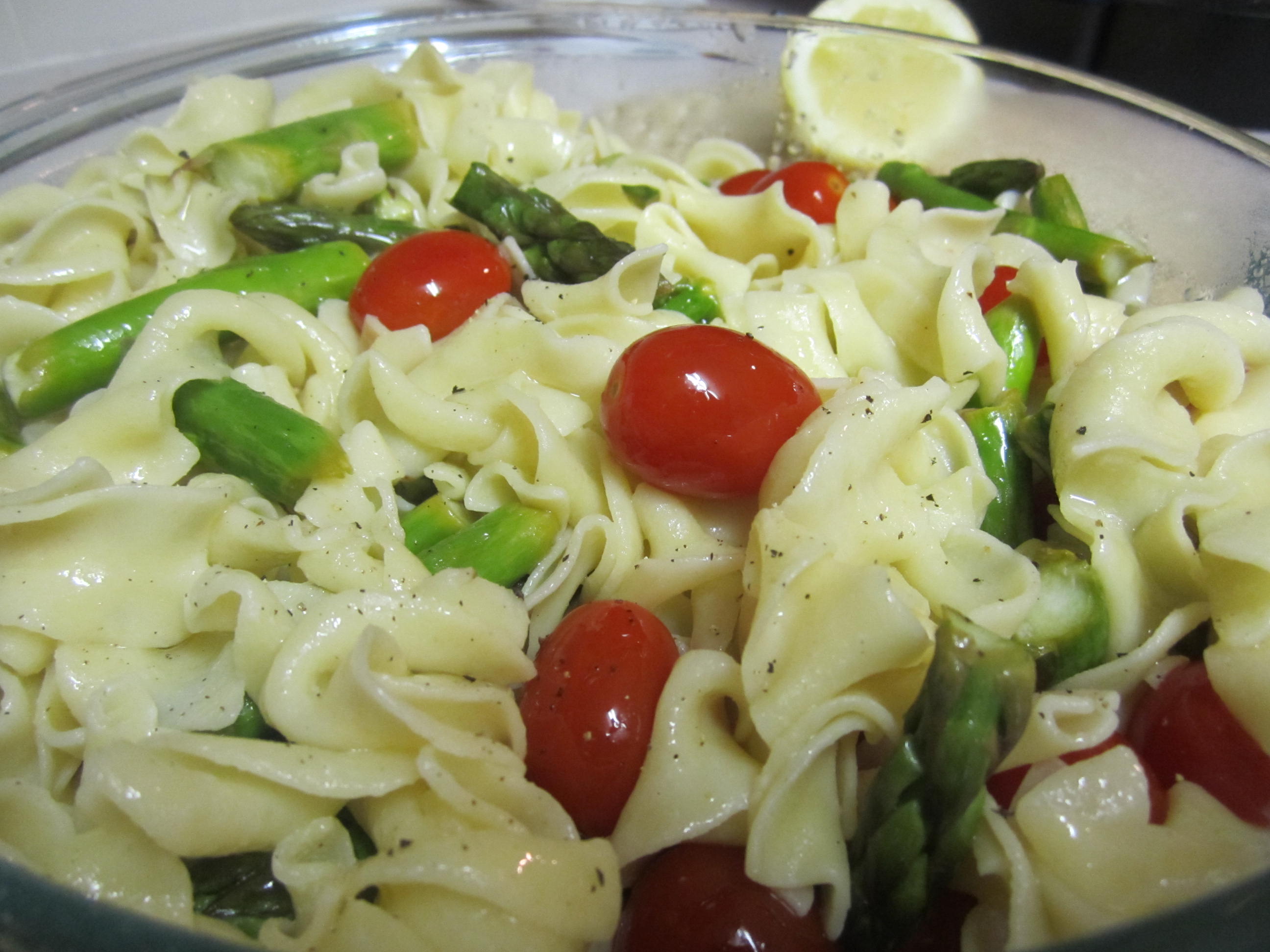 This dish is perfect for the summer!  Go ahead and enjoy yourself!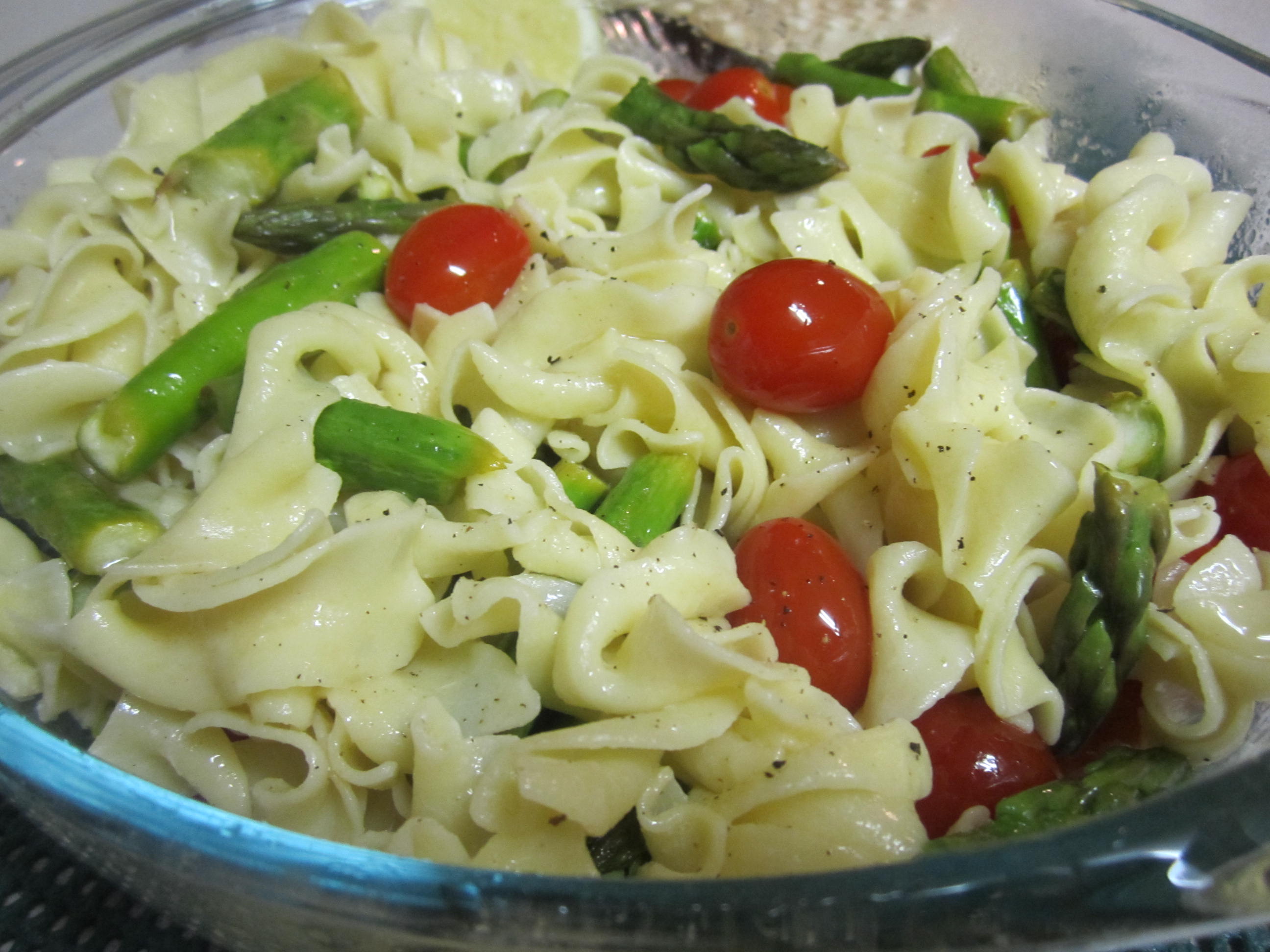 Be sure to check out LAND O LAKES® Butter with Olive Oil & Sea Salt pages! I assure you, LAND O LAKES® Butter with Olive Oil & Sea Salt is what makes this dish!
htttp://www.landolakes.com/ButterWithOliveOilandSeaSalt/
Want more information? Check out their twitter and facebook pages as well!
Twitter: @LandOLakesKtchn
Facebook: http://www.facebook.com/LandOLakes
Oh yeah! I almost forgot…kind of ….I have something for YOU as well!
Answer the following question by leaving a comment and I will give one lucky winner FREE LAND O LAKES® Butter with Olive Oil & Sea Salt!
Ready: "What is YOUR favorite recipe made with butter?"
About LAND O LAKES® Butter with Olive Oil & Sea Salt Land O'Lakes is expanding its popular line of half-stick butter with the introduction of LAND O LAKES® Butter with Olive Oil & Sea Salt. This new product contains wholesome ingredients: sweet cream, olive oil and sea salt. LAND O LAKES® Butter with Olive Oil & Sea Salt is an easy and convenient way to simply enhance the flavor of your favorite foods. Available in a premeasured half-stick size, this new product can be used for topping and cooking a variety of foods, combining the two ingredients consumers often combine separately when frying or sautéing foods. The delicious taste of butter and olive oil will add delicious flavor to any dish.
Disclosure: The author received a full-value coupon redeemable for LAND O LAKES® Butter with Olive Oil & Sea Salt, for recipe development and review purposes. All opinions are my own.
We're just getting started with some great simple and fresh meals for the summer! Grab a drink, relax and read thru the rest of our bloggers dishes!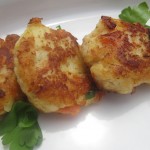 Let's be honest, Sunday is now the BEST day ever! I mean honestly, you get all these great recipes from lots of bloggers! I simply can't wait for #SundaySupper every week! This week is Heritage week. I thought long and hard because I'm a mixture of many different cultures so I feel blessed to have many options to choose from.
Being Irish, one of my favorites holidays is St Patrick's Day and I go all out every year. I love to celebrate the leprechaun and fairys and have fun looking for the pot of gold. Matter-a-fact, we did a "gold" hunt for my son this year which was a number game (teaching him numbers) to find the pot of gold, which was really a green clover box filled with coins and three-leaf clover gems but hey, it works! I usually make an Irish dinner as well. Sometimes its beef stew and Irish bread, sometimes corned beef and cabbage. Whatever it may be, never forget the Guinness! Maybe I like this holiday because of the magic that could possibly occur or the mystery of the unknown or the potential luck I really want to have, I don't know. I do know this – talk to your fairy's. They will make your garden grow. Be kind to the Earth and she will reward you back as well.
Back to my good ole' Irish recipe search. I decided on parsnip cakes because I love the taste of parsnips. Plus, how many people really cook with parsnips? Do you? You should! As I peeled the layers away, I could smell the sharpness of the parsnip with its nutty sweetness and I loved it. It's one of those good scents when you think you already cooked something but nothing is really there! I combined this beauty with its close friend, the carrot, for color and contrast. Added a few spices and herbs and my cakes were gone faster than the leprechaun could run!
Ingredients:
2 parsnips: peeled, diced
1 cup carrots: peeled, diced
1 teaspoon honey
1 Tbs parsley
1 egg
1 Tbs Parmesan cheese: shredded
1/3 cup breadcrumbs
salt and pepper
Did you know that root vegetables, such as the parsnips, were popular before the popular in Ireland? Potatoes didn't originate to Ireland until the 1700′s where parsnips were popular in the 1600s!
Recipe: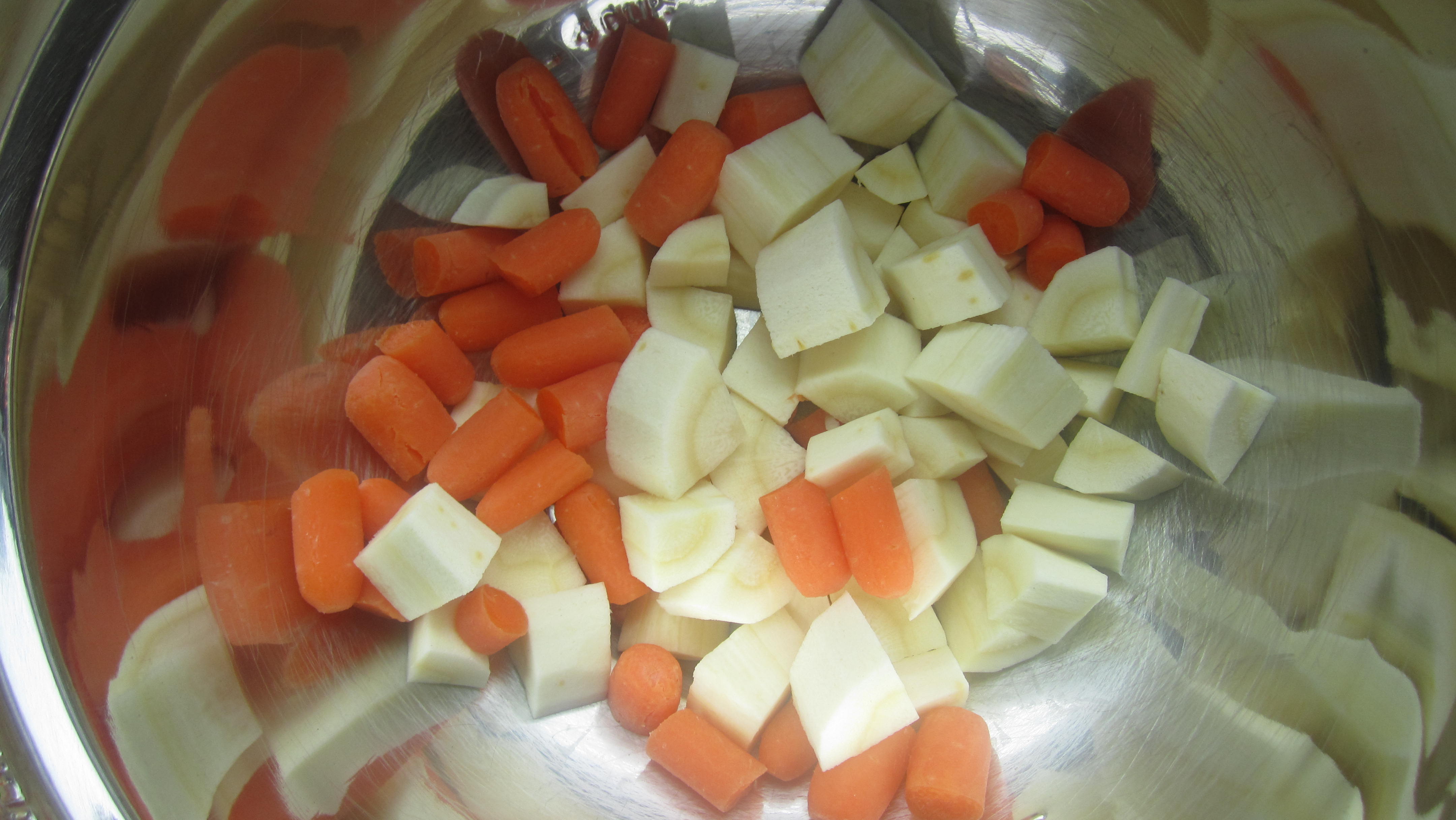 1. Combine parsnip and carrots into a saucepan and boil for 8 minutes until tender.
2. Drain and mash in a bowl.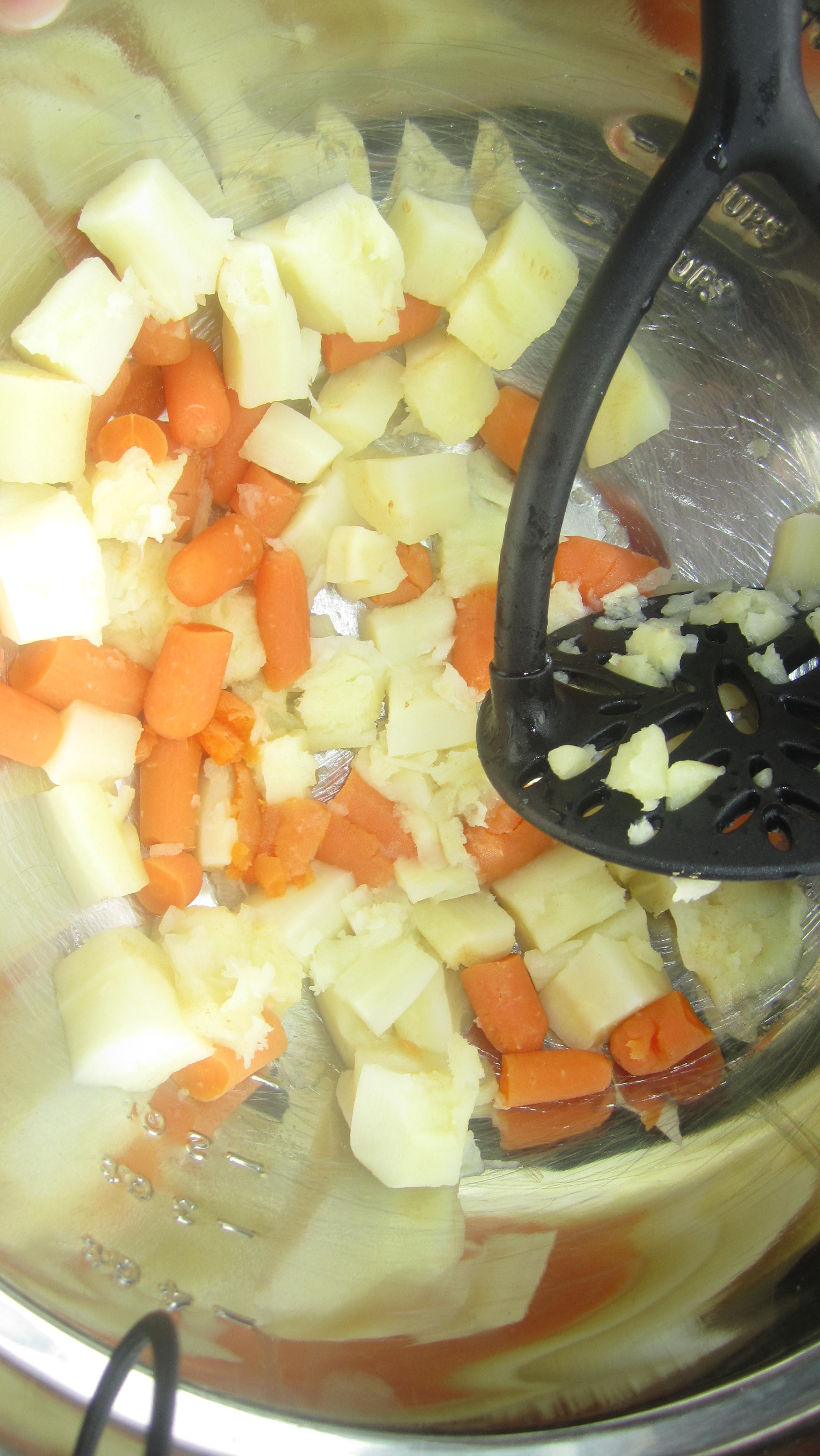 3. Add parsley, Parmesan cheese, breadcrumbs, honey salt and pepper.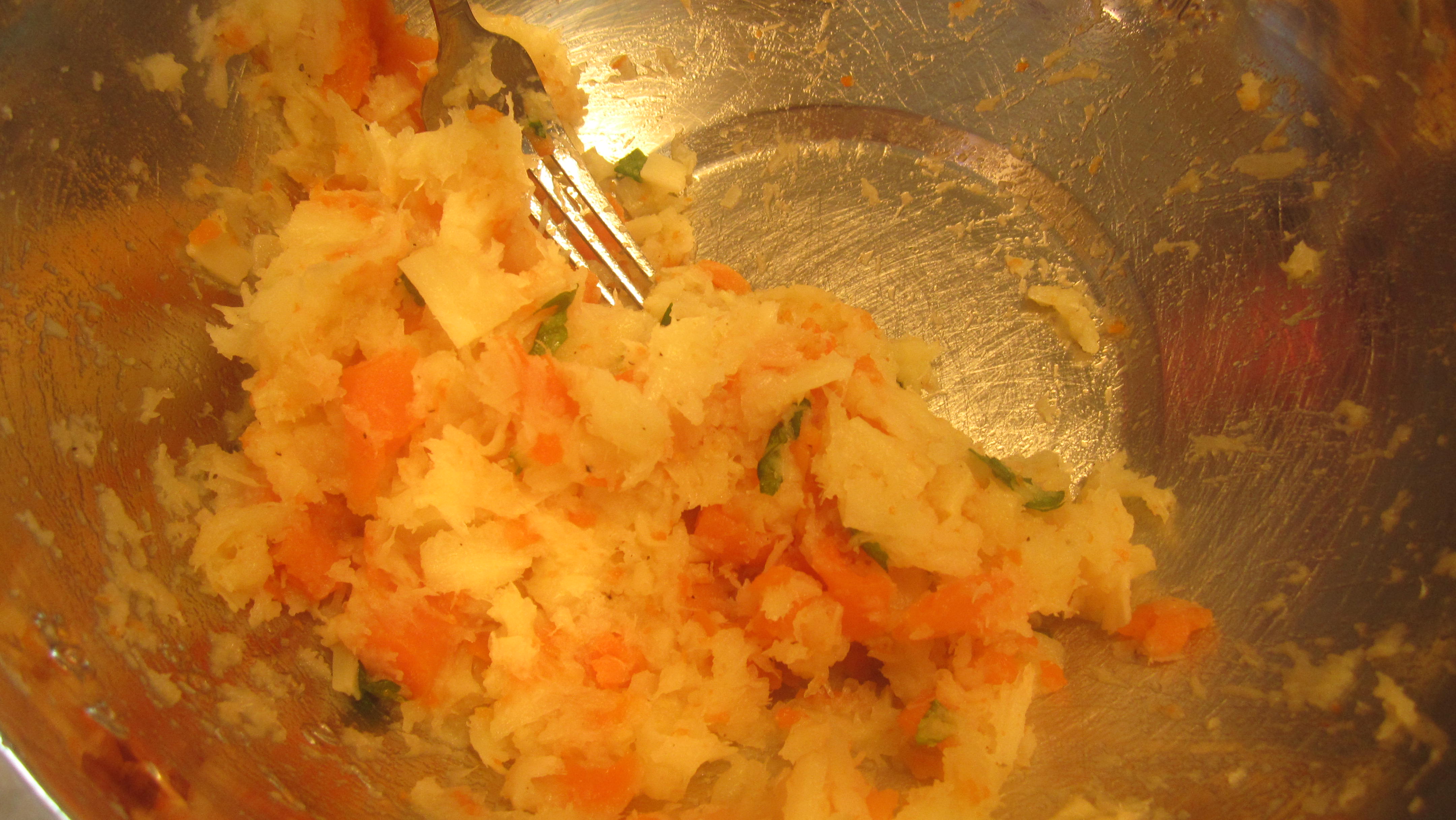 4. Whisk an egg in a separate bowl then combine it with parsnip and carrot mixture. Stir to combine.
5. Heat oil in pan until oil is hot and starts to shimmer. (This indicates you are ready to fry!)
6. Use two spoons or an ice cream scooper to shape out sizes of cakes and drop into pan.
7. Fry for 1-2 minutes on each side.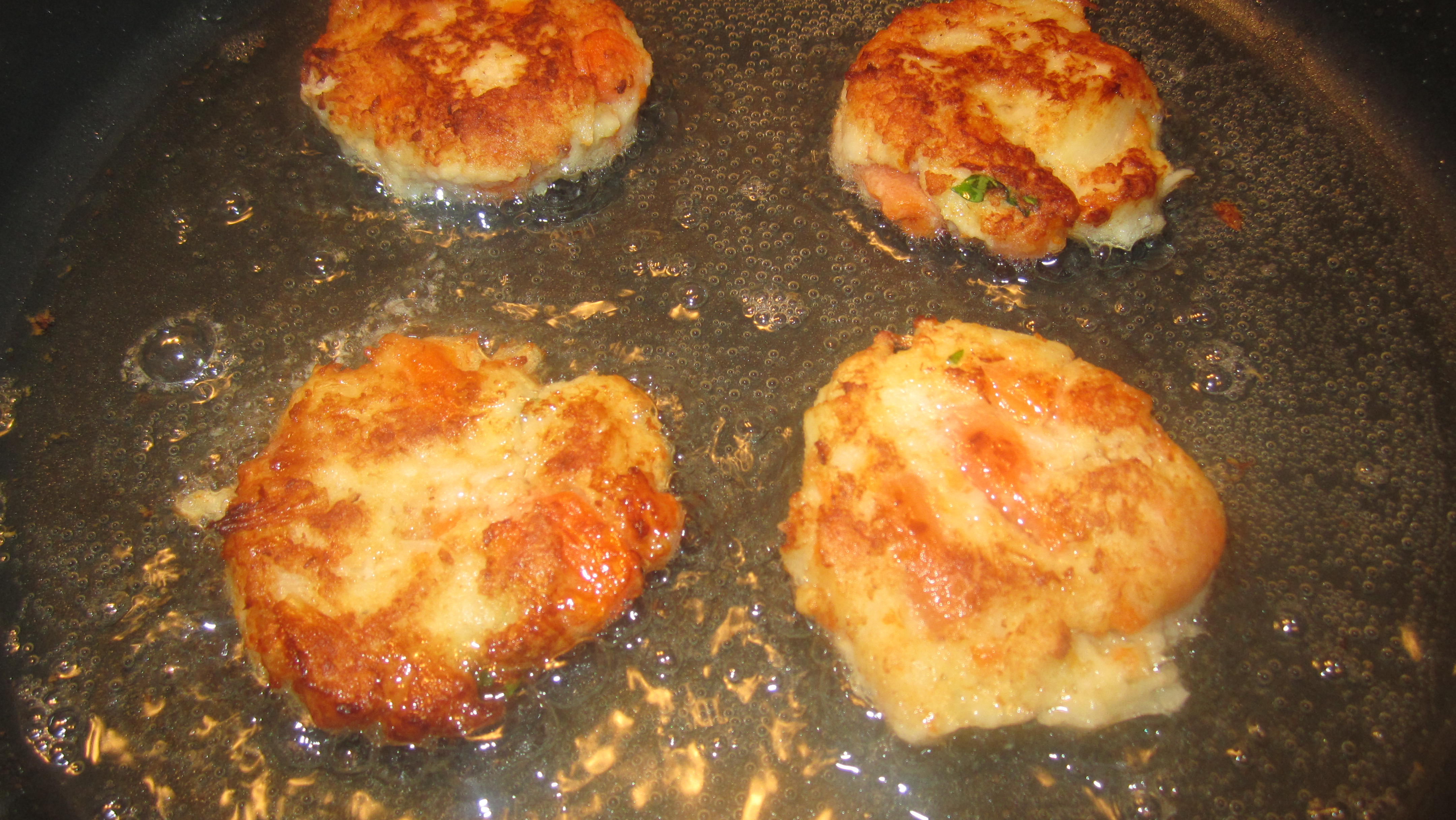 8. Serve with more Parmesan cheese and/or garnish with Parsley.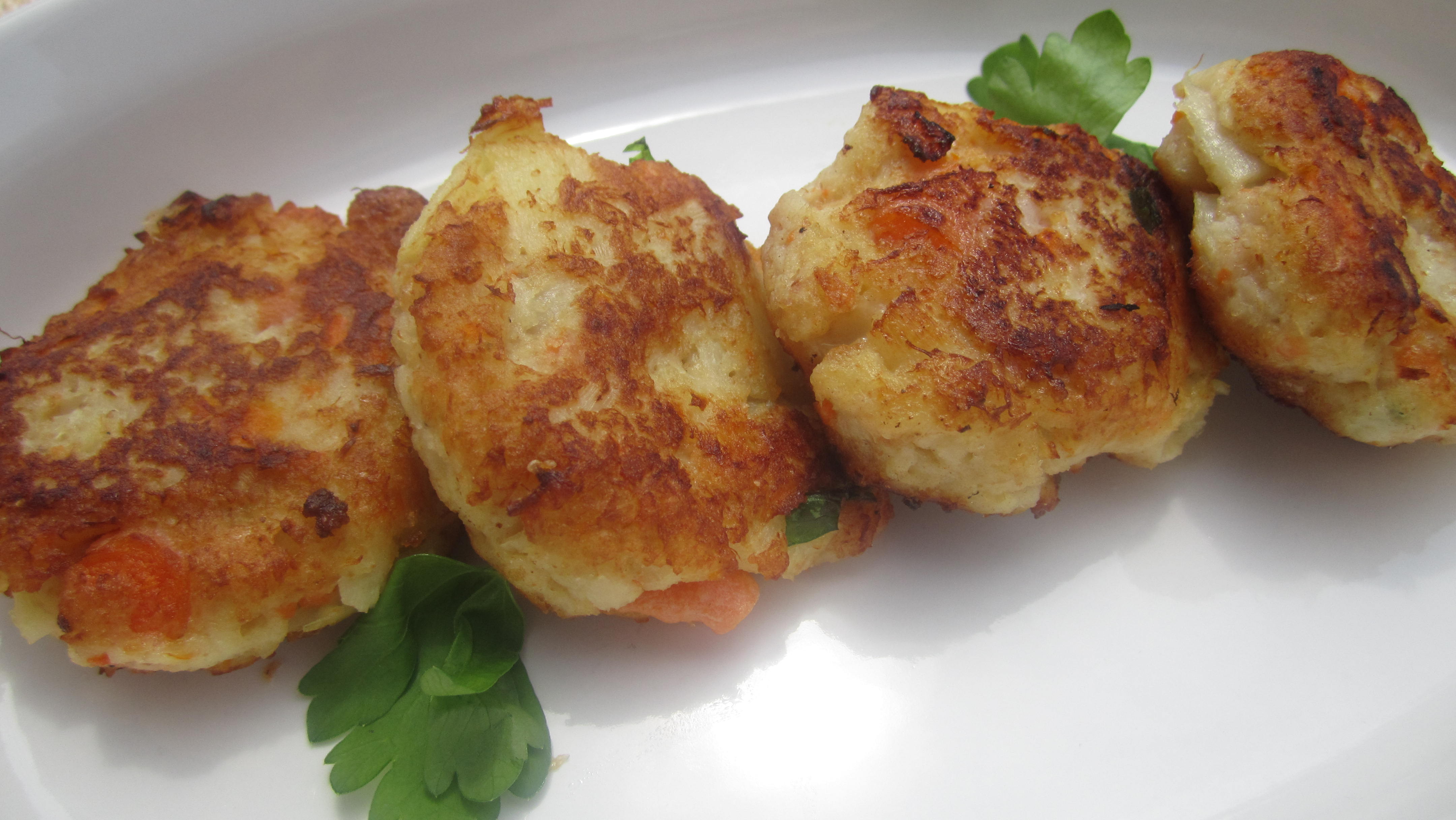 As I have mentioned before, my husband likes to look at my food and tease me by saying, "That looks too healthy to eat." He always takes a bite, he more than always wants more but this time, the most surprising thing happened. My parsnip cakes were gone before lunch! An abnormal day, my mom and sister came over for a quick visit and my husband was coming home at noon (RARE!). I was in the kitchen when I just placed them on a plate and was soaking up any extra oil with paper towels. Mom said, "Mmmm, whatcha cooking?" As I replied, parsnip cakes, I received the EEEWWW look. So I asked, "Have you ever had a parsnip?" She just looked at me like "oh no, what did I walk in on?" When I showed her the plate of the cakes and shoved a fork in their faces, they took a bite. I guess when things are new they are unknown which can scare people away. They hesitantly took a bite. I was waiting and mom grabbed the rest of the cake and walked away muttering "These are pretty good." My sister quickly grabbed another one, "They look like crab cakes!" (We are from Maryland!) As I came back in the kitchen again, they were gone and so was my mom and sister. Hubby walked in – "Mmmm, I'm home. Watcha making?" I said quickly replied "Your late!"
This is a great dish for breakfast or breakfast for dinner. I truly hope you make it as it is delicious! Maybe it will even bring you the luck of the Irish!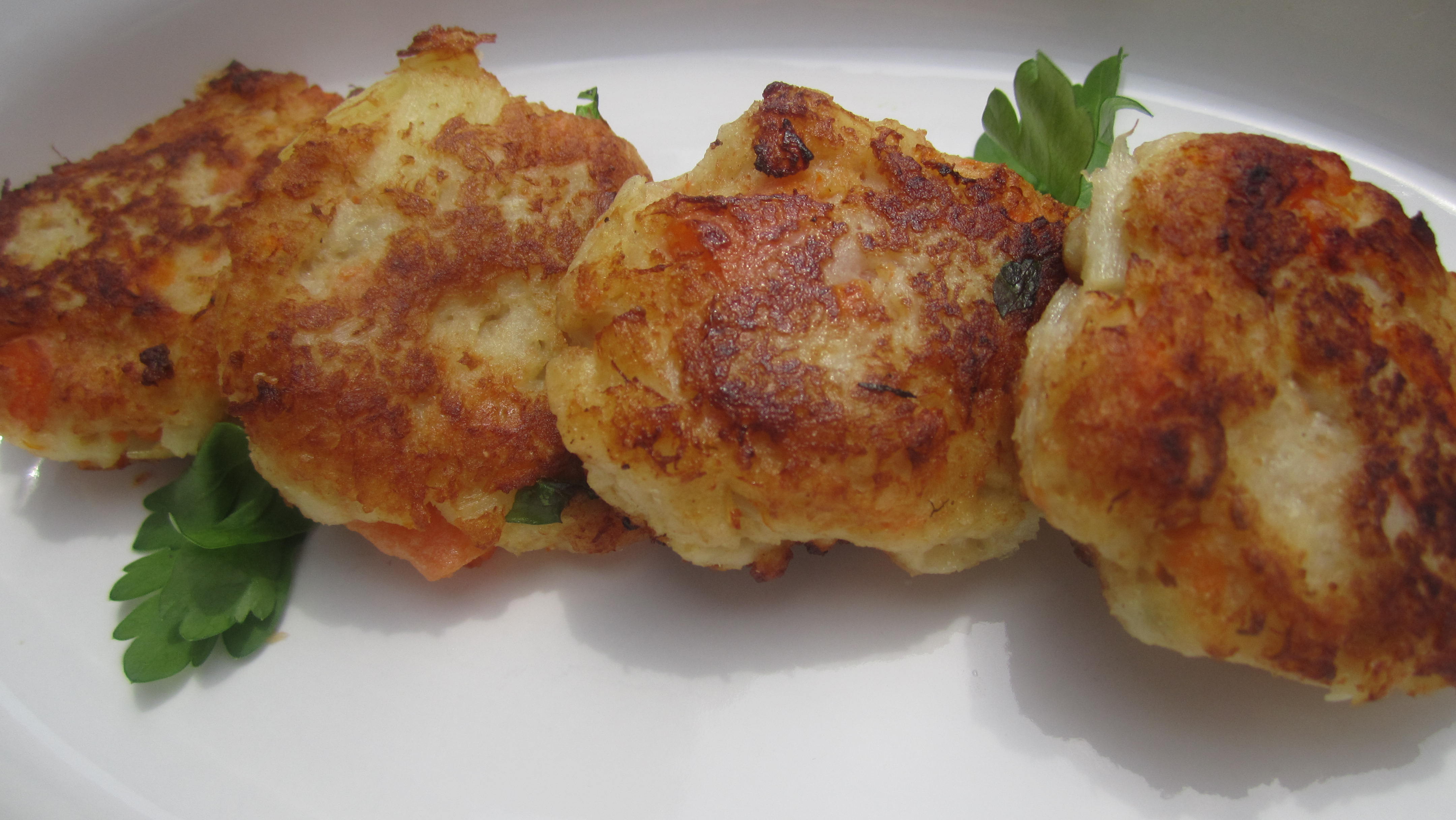 Ready to get hungry? Take a look at what is coming for this event: