Mama's Home
Welcome to Mama's Blissful Bites!
Hi! I'm Mama … or also known as Amber.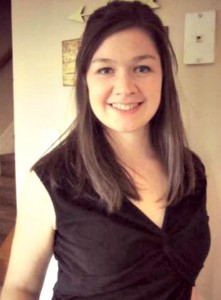 Written in black and white, I will tell you my life story as I walk each step through motherhood creating a healthy lifestyle for not only this mama but her family as well. Stay with me, you'll never know what I you may find. Perhaps a new recipe, children activity, product review, Eco-friendly post, running or whatever I may be in the mood for.
If you ever have any questions, please contact me at mamasblissfulbites@gmail.com
LIVE HEALTHY AND STRONG TOGETHER, ONE STEP AT A TIME

Hi there! How was your day? Did you get outside to play? On most days, I take the kids out to play unless it's raining. I don't like to play in the mud, am I missing out? It looked a little big creepy in Maryland today. There was no sun and the clouds covered the sky like a big old blanket. It was gray all day and I soon had a very ominous feeling while I was out there... Have you ever heard of the saying, if you get pooped on by a bird, it's good luck? I think people just say
…
Read more...
Today was probably one of the best days I've had in a while. After visiting the ER room the other evening for irregular heartbeat, the docs suggested I reduce stress and calm my anxiety, which may or may not be the culprit. Stress and anxiety - I didn't know about those two words until I got older. They stink. When I asked if I could still run, the doctor replied, "I'm not going to tell you no...just take it slow." That's all I needed to hear. I really didn't want my dreams to end so
…
Read more...
This project was on a whim and really fun to do. We read a lot of Christmas books this season. Some of our favorite are: Who can resist the Critters, right? The Gingerbread Man is such an awesome story. We make gingerbread houses and gingerbread cookies after reading this one... and.... Because I believe it's the real meaning of Christmas, we love this book as well. I decided to pull together an easy Christmas Tree Bookmark project to help go through the pages
…
Read more...
I know ahead of the game that there are going to be challenges to face when completing my goal of running my first 10k. Challenges for the at-home trainer with two kids and a very hard working husband, yup, that would be me! I wanted to make sure I confront my challenges and find solutions for them prior to starting, so I did. By doing so, I'm going to better prepare myself for that slump up ahead when/if I need I fall. CHALLENGE #1: No babysitters Not only am a stay-at-home-mom, but I
…
Read more...
Guess what? I'm baaaaaack!!! http://www.youtube.com/watch?v=U18tMfvg9lo I have to be honest, I've always had a thing for Steven Tyler...how could you not with that smile? Anyways, I brought down my buddy (let's call the treadmill Jim) and played him out. The first day work out was R/W 2 miles, alternating between running and walking. "Try alternating between one minute of walking and one minute of running. If this feels too easy, increase the amount of time you run." Click HERE  for
…
Read more...
I have been in such a slump for the past few months. Honestly, a slump. I made a goal last year to run my first ever half-marathon. Did I mention I wasn't a runner? It was also the first time I ever ran. To have such a high goal was pretty, uhm, ambitious of me. By the time summer vacation came, I really took a vacation. I stopped completely and enjoyed two weeks of vaca and unfortunately, never to return to the road again. The rest of the summer past, the Fall season begun and I still didn't 
…
Read more...
With this year almost a close, I wanted to post my races for 2013.  All were 5k's however I'm looking forward to a new beginning in 2014! New Year's Resolutions posted soon! Thank you for all your love and support always! March. 10 2013: KELLY St. Patrick's Day Shamrock 5K. My very first 5k! 39.54.5 June 23, 2013: Baltimore Women's Classic 5k 41.29 July 14, 2013: Pikesville 5k, Miles that Matter 39:50 August 11,2013: Giddy Up 5k 39:08
…
Read more...
When I was little, I can recall my mom in the kitchen making homemade lasagna. There were noodles laid out in paper towels all throughout the kitchen counters and all the cheeses were huddle together on the table waiting to be used. To be honest, it looked like a lot of work and it was. She did it though, because it was my step-fathers favorite meal.  And really, who would blame him? I even love a good slice of lasagna. One day, she substituted those daunting noodles for spaghetti and baked it
…
Read more...
I hope ya'll had a great Thanksgiving Day! I know we sure did. We decided to skip out on all families this year (can you imagine?) and stay home for our own Thanksgiving fun!  Although we usually do visit different families every year, we still have our own Thanksgiving traditions that we make sure to include in the day as well! One tradition is visiting The Symphony of Lights after dinner. It gets us all pumped up for the holiday season! It's a mile of drive-thru Christmas light
…
Read more...
This craft was not intended to be a Thanksgiving key chain. Matter-a-fact, it started off as a turkey headband. You know, those really cute turkey feathered headbands? When I realized I didn't have any 11x17 construction paper to make a band, I was left with turkey feathers. Just turkey feathers so I had to get creative. The children and I started a conversation on things we were thankful for. Okay, more or less we really talked about every toy they had and why it made them
…
Read more...